In modern times, we refer to dictionaries and thesaruses when we need an exact definition or to find the perfect word for an intended purpose. These resources were not available until men of earlier centuries collected definitions and synonyms en masse for the public. Here you'll find a selection of titles about those books and the men who made them happen. Curated by Willie Nettles.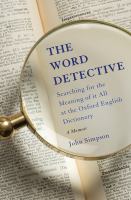 The Word Detective:  Searching for the Meaning of It All at the Oxford English Dictionary:  A Memoir by J. A. Simpson 
book  
OverDrive eBook 
Can you drink a glass of balderdash? What do you call the part of a dog's back it can't scratch? And if, serendipitously, you find yourself in Serendip, then where exactly are you? 
 
The answers to all of these questions — and a great many more — can be found in the pages of the Oxford English Dictionary, the definitive record of the English language. And there is no better guide to the dictionary's many wonderments than the former chief editor of the OED, John Simpson. Simpson spent almost four decades of his life immersed in the intricacies of our language and guides us through its history with charmingly laconic wit. In The Word Detective, an intensely personal memoir and a joyful celebration of English, he weaves a story of how words come into being (and sometimes disappear), how culture shapes the language we use, and how technology has transformed not only the way we speak and write but also how words are made. 
---
The Man Who Made Lists by Joshua Kendall  
book 
hoopla eAudiobook 
Peter Mark Roget – polymath, eccentric, and synonym aficionado – was a complicated man. He was an eminent scholar who absorbed himself in his work, yet he also possessed an allure that endeared him to his mentors and colleagues – not to mention a host of female admirers. But, most notably, Roget made lists. From the age of eight, Roget kept these lists with the intention of ordering the chaotic world around him. After his father's death, his mother became overbearing and despondent. Soon, his sister also descended into mental illness. Despite these tragedies, Roget lived a colorful life full of unexpected twists and discoveries, including narrowly avoiding jail in Napoleon's France, assisting famed physician Thomas Beddoes by personally testing the effects of laughing gas, and inventing the slide rule. Evocative and entertaining, The Man Who Made Lists lets readers join Roget on his worldly adventures and emotional journeys. This rich narrative explores the power of words and the everlasting legacy of a rediscovered genius. 
---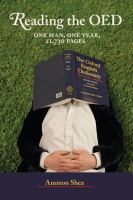 Reading the OED:  One Man, One Year, 21,730 pages by Ammon Shea 
book  
hoopla eAudiobook 
An obsessive word lover's account of reading the entire Oxford English Dictionary, hailed as "the Super Size Me of lexicography." "I'm reading the OED so you don't have to," says Ammon Shea on his slightly masochistic journey to scale the word lover's Mount Everest: the Oxford English Dictionary. In 26 chapters filled with sharp wit, sheer delight, and a documentarian's keen eye, Shea shares his year inside the OED, delivering a hair-pulling, eye-crossing account of reading every word.
---
The Professor and the Madman:  A Tale of Murder, Insanity, and the Making of the Oxford English Dictionary by Simon Winchester 
book 
OverDrive eBook 
The making of the OED was one of the most ambitious projects ever undertaken. As definitions were collected, the overseeing committee, led by Professor James Murray, was stunned to discover that one man, Dr. W. C. Minor, had submitted more than ten thousand. But their surprise would pale in comparison to what they were about to discover when the committee insisted on honoring him. For Dr. Minor, an American Civil War veteran, was also an inmate at an asylum for the criminally insane. 
---
The Dictionary Wars by Peter Martin  
book on CD 
hoopla eAudiobook 
A compelling history of the national conflicts that resulted from efforts to produce the first definitive American dictionary of English. In The Dictionary Wars, Peter Martin recounts the patriotic fervor in the early American republic to produce a definitive national dictionary that would rival Samuel Johnson's 1755 Dictionary of the English Language. But what began as a cultural war of independence from Britain devolved into a battle among lexicographers, authors, scholars, and publishers, all vying for dictionary supremacy and shattering forever the dream of a unified American language. The overwhelming questions in the dictionary wars involved which and whose English was truly American and whether a dictionary of English should attempt to be American at all, independent from Britain. Martin tells the human story of the intense rivalry between America's first lexicographers, Noah Webster and Joseph Emerson Worcester, who fought over who could best represent the soul and identity of American culture. Webster believed an American dictionary, like the American language, ought to be informed by the nation's republican principles, but Worcester thought that such language reforms were reckless and went too far. Their conflict continued beyond Webster's death, when the no-nonsense Merriam brothers acquired publishing rights to Webster's American Dictionary and launched their own language wars. From the beginning of the nineteenth century to the end of the Civil War, the dictionary wars also engaged America's colleges, libraries, newspapers, religious groups, and state legislatures at a pivotal historical moment that coincided with rising literacy and the print revolution. Delving into the personal stories and national debates that arose from the conflicts surrounding America's first dictionaries, The Dictionary Wars examines the linguistic struggles that underpinned the founding and growth of a nation. 
---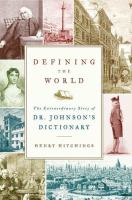 Defining the World: The Extraordinary Story of Dr Johnson's Dictionary by Henry Hitchings
book
In 1746, Samuel Johnson undertook the Herculean task of writing the first comprehensive English dictionary. Imagining he could complete the job in three years, Johnson in fact took more than eight, and the dictionary itself turned out to be as much a work of literature as it was an invaluable reference. In alphabetized chapters, from "Adventurous" to "Zootomy," Henry Hitchings tells of Johnson's toil and triumph and offers a closer look at the definitions themselves, which were alive with invention, poetry, erudition, and, at times, hilarious imprecision. The story of Johnson's adventure into the essence of words is an entertainment that "sparkles on every page". (The Philadelphia Inquirer).
---
The Right Word by Jen Bryant 
book 
2015 Caldecott Honor Book, 2015 Sibert Medal Winner 
For shy young Peter Mark Roget, books were the best companions — and it wasn't long before Peter began writing his own book. But he didn't write stories; he wrote lists. Peter took his love for words and turned it to organizing ideas and finding exactly the right word to express just what he thought. His lists grew and grew, eventually turning into one of the most important reference books of all time. 
 
Readers of all ages will marvel at Roget's life, depicted through lyrical text and brilliantly detailed illustrations. This elegant book celebrates the joy of learning and the power of words. 
---
The Forgotten Founding Father by Joshua Kendall 
book on CD 
Noah Webster's name is now synonymous with the dictionary he created, but although there is much more to his story than that singular achievement, his rightful place in American history has been forgotten over time. Webster hobnobbed with various Founding Fathers and was a young confidant of George Washington and Benjamin Franklin, among others. He started New York City's first daily newspaper, predating Alexander Hamilton's New York Post. His "blue- backed speller" for schoolchildren, his first literary effort, sold millions of copies and influenced early copyright law. He helped found Amherst College and served as a state representative for both Connecticut and Massachusetts. But perhaps most important, Webster was an ardent supporter of a unified, definitively American culture, distinct from the British, at a time when the United States of America were anything but unified — and his dictionary of American English is a testament to that. 
*All summaries courtesy of the publisher unless otherwise noted.