Read a book with fewer than 200 pages.
It's a busy time of year. So keep it short and sweet. This month we challenge you to read a book with fewer than 200 pages. Find recommendations for adults, teens, tweens, and kids. Get more information about the Read 2021 Challenge here.
Adults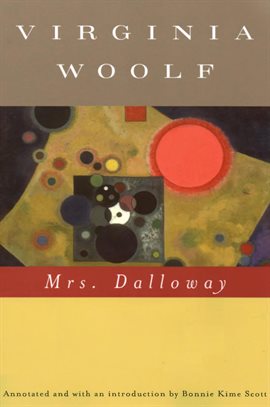 Mrs. Dalloway by Virginia Woolf
book
OverDrive eBook
hoopla eBook
hoopla eAudiobook
Considered to be one of Virginia Woolf's most popular novels, Mrs. Dalloway follows one high-society woman as she goes about her day planning a splendid party for her acquaintances. As she goes about her day, she ponders on the life she could be living had she not married the reliable Richard Dalloway, and instead sought the enigmatic Peter Walsh. At one point, she muses on the fact that she had not the option to be with a close female friend of hers. The novel then takes a turn to follow Septimus Smith, First World War veteran plagued with deferred traumatic stress, through his day in the park. As each journey is laid out, the two individuals lead very different paths. Included in Time's 2005 list of the 100 best English-language novels written since the debut of Time, Mrs. Dalloway, even today, offers timely commentary on issues pertaining to feminism, queerness, mental illness, and existential issues.
---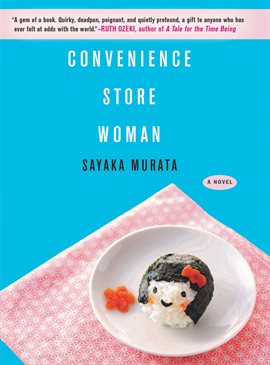 Convenience Store Woman by Sayaka Murata
hoopla eBook
hoopla eAudiobook
Keiko Furukura had always been considered a strange child, and her parents always worried how she would get on in the real world, so when she takes on a job in a convenience store while at university, they are delighted for her. For her part, in the convenience store she finds a predictable world mandated by the store manual, which dictates how the workers should act and what they should say, and she copies her coworkers' style of dress and speech patterns so that she can play the part of a normal person. However, eighteen years later, at age 36, she is still in the same job, has never had a boyfriend, and has only few friends. She feels comfortable in her life, but is aware that she is not living up to society's expectations and causing her family to worry about her. When a similarly alienated but cynical and bitter young man comes to work in the store, he will upset Keiko's contented stasis-but will it be for the better? Sayaka Murata brilliantly captures the atmosphere of the familiar convenience store that is so much part of life in Japan. With some laugh-out-loud moments prompted by the disconnect between Keiko's thoughts and those of the people around her, she provides a sharp look at Japanese society and the pressure to conform, as well as penetrating insights into the female mind. Convenience Store Woman is a fresh, charming portrait of an unforgettable heroine that recalls Banana Yoshimoto, Han Kang, and Amélie.
---
The Stranger by Albert Camus
book
hoopla eAudiobook
When a young Algerian named Meursault kills a man, his subsequent imprisonment and trial are puzzling and absurd. The apparently amoral Meursault–who puts little stock in ideas like love and God–seems to be on trial less for his murderous actions, and more for what the authorities believe is his deficient character.
---
Point Omega by Don Delillo
book
hoopla eAudiobook
In the middle of a desert "somewhere south of nowhere," to a forlorn house made of metal and clapboard, a secret war advisor has gone in search of space and time. Richard Elster, seventy-three, was a scholar-an outsider-when he was called to a meeting with government war planners. They asked Elster to conceptualize their efforts-to form an intellectual framework for their troop deployments, counterinsurgency, orders for rendition. For two years he read their classified documents and attended secret meetings. He was to map the reality these men were trying to create. "Bulk and swagger," he called it. At the end of his service, Elster retreats to the desert, where he is joined by a filmmaker intent on documenting his experience. Jim Finley wants to make a one-take film, Elster its single character-"Just a man against a wall." The two men sit on the deck, drinking and talking. Finley makes the case for his film. Weeks go by. And then Elster's daughter Jessie visits-an "otherworldly" woman from New York-who dramatically alters the dynamic of the story. When a devastating event follows, all the men's talk, the accumulated meaning of conversation and connection, is thrown into question. What is left is loss, fierce and incomprehensible.
---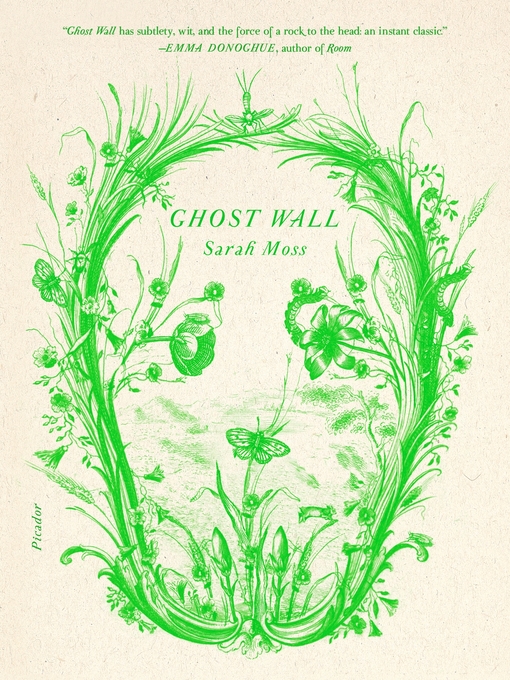 Ghost Wall by Sarah Moss
book
hoopla eAudiobook
The light blinds you; there's a lot you miss by gathering at the fireside.

In the north of England, far from the intrusions of cities but not far from civilization, Silvie and her family are living as if they are ancient Britons, surviving by the tools and knowledge of the Iron Age.

For two weeks, the length of her father's vacation, they join an anthropology course set to reenact life in simpler times. They are surrounded by forests of birch and rowan; they make stew from foraged roots and hunted rabbit. The students are fulfilling their coursework; Silvie's father is fulfilling his lifelong obsession. He has raised her on stories of early man, taken her to witness rare artifacts, recounted time and again their rituals and beliefs–particularly their sacrifices to the bog. Mixing with the students, Silvie begins to see, hear, and imagine another kind of life, one that might include going to university, traveling beyond England, choosing her own clothes and food, speaking her mind.

The ancient Britons built ghost walls to ward off enemy invaders, rude barricades of stakes topped with ancestral skulls. When the group builds one of their own, they find a spiritual connection to the past. What comes next but human sacrifice?

A story at once mythic and strikingly timely, Sarah Moss's Ghost Wall urges us to wonder how far we have come from the "primitive minds" of our ancestors.
---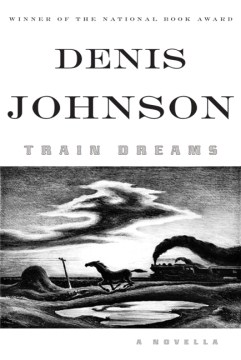 Train Dreams by Denis Johnson
book
hoopla eAudiobook
Denis Johnson's Train Dreams is an epic in miniature, one of his most evocative and poignant fictions.
Robert Grainer is a day laborer in the American West at the start of the twentieth century—an ordinary man in extraordinary times. Buffeted by the loss of his family, Grainer struggles to make sense of this strange new world. As his story unfolds, we witness both his shocking personal defeats and the radical changes that transform America in his lifetime.
Suffused with the history and landscapes of the American West—its otherworldly flora and fauna, its rugged loggers and bridge builders—the new novella by the National Book Award-winning author of Tree of Smoke captures the disappearance of a distinctly American way of life.
---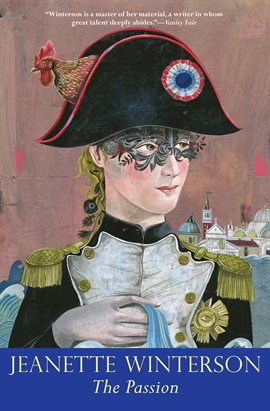 The Passion by Jeannette Winterson
book
hoopla eBook
Jeanette Winterson's novels have established her as one of the most important young writers in world literature. The Passion is perhaps her most highly acclaimed work, a modern classic that confirms her special claim on the novel. Set during the tumultuous years of the Napoleonic Wars, The Passion intertwines the destinies of two remarkable people: Henri, a simple French soldier, who follows Napoleon from glory to Russian ruin; and Villanelle, the red-haired, web-footed daughter of a Venetian boatman, whose husband has gambled away her heart. In Venice's compound of carnival, chance, and darkness, the pair meet their singular destiny.
In her unique and mesmerizing voice, Winterson blends reality with fantasy, dream, and imagination to weave a hypnotic tale with stunning effects.
---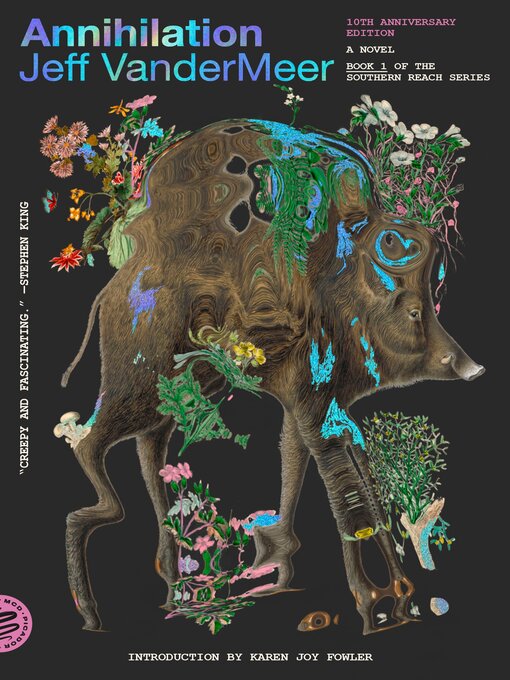 Annihilation by Jeff Vandermeer
book
OverDrive eBook
OverDrive eAudiobook
Area X has been cut off from the rest of the continent for decades. Nature has reclaimed the last vestiges of human civilization. The first expedition returned with reports of a pristine, Edenic landscape; the second expedition ended in mass suicide; the third expedition in a hail of gunfire as its members turned on one another. The members of the eleventh expedition returned as shadows of their former selves, and within weeks, all had died of cancer. In Annihilation, the first volume of Jeff VanderMeer's Southern Reach trilogy, we join the twelfth expedition.
The group is made up of four women: an anthropologist; a surveyor; a psychologist, the de facto leader; and our narrator, a biologist. Their mission is to map the terrain, record all observations of their surroundings and of one another, and, above all, avoid being contaminated by Area X itself.
They arrive expecting the unexpected, and Area X delivers—they discover a massive topographic anomaly and life forms that surpass understanding—but it's the surprises that came across the border with them and the secrets the expedition members are keeping from one another that change everything.
Teens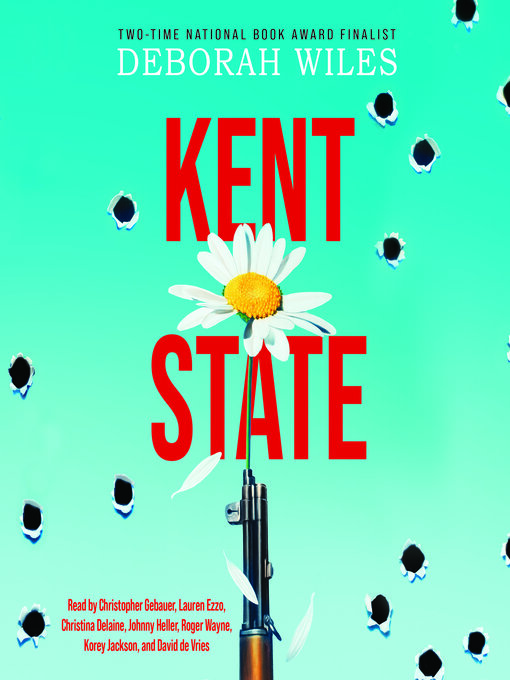 Kent State by Deborah Wiles
book
OverDrive eAudiobook
hoopla eAudiobook
May 4, 1970.
Kent State University.
As protestors roil the campus, National Guardsmen are called in. In the chaos of what happens next, shots are fired and four students are killed. To this day, there is still argument of what happened and why.
Told in multiple voices from a number of vantage points—protestor, Guardsman, townie, student—Deborah Wiles's Kent State gives a moving, terrifying, galvanizing picture of what happened that weekend in Ohio… an event that, even 50 years later, still resonates deeply.
---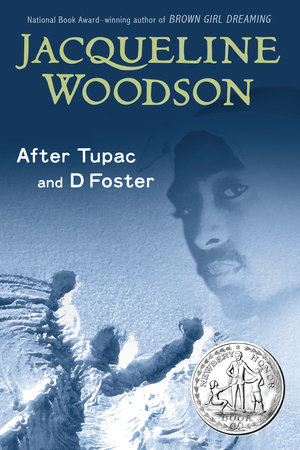 After Tupac and D Foster by Jacqueline Woodson
book
The day D Foster enters Neeka and her best friend's lives, the world opens up for them. Suddenly they're keenly aware of things beyond their block in Queens, things that are happening in the world—like the shooting of Tupac Shakur—and in search of their Big Purpose in life. When—all too soon—D's mom swoops in to reclaim her, and Tupac dies, they are left with a sense of how quickly things can change and how even all-too-brief connections can touch deeply.
---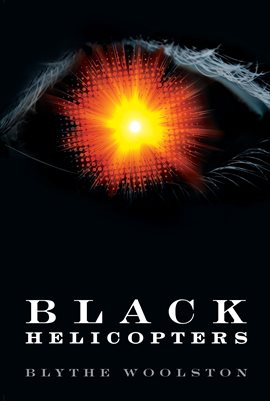 Black Helicopters by Blythe Woolston
book
hoopla eBook
A teenage girl. A survivalist childhood. And now a bomb strapped to her chest. See the world through her eyes in this harrowing and deeply affecting literary thriller.
I'm Valkyrie White. I'm fifteen. Your government killed my family.

Ever since Mabby died while picking beans in their garden — with the pock-a-pock of a helicopter overhead — four-year-old Valley knows what her job is: hide in the underground den with her brother, Bo, while Da is working, because Those People will kill them like coyotes. But now, with Da unexpectedly gone and no home to return to, a teenage Valley (now Valkyrie) and her big brother must bring their message to the outside world — a not-so-smart place where little boys wear their names on their backpacks and young men don't pat down strangers before offering a lift. Blythe Woolston infuses her white-knuckle narrative, set in a day-after-tomorrow Montana, with a dark, trenchant humor and a keen psychological eye. Alternating past-present vignettes in prose as tightly wound as the springs of a clock and as masterfully plotted as a game of chess, she ratchets up the pacing right to the final, explosive end.
---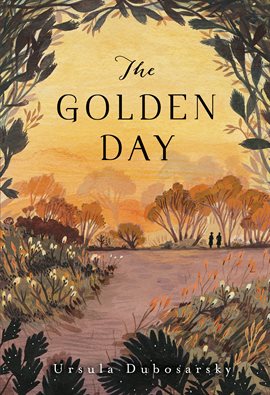 The Golden Day by Ursula Dubosarsky
book
hoopla eBook
When their teacher goes missing during an outing, eleven girls grapple with the aftermath in this haunting, exquisitely told psychological mystery. The Vietnam War rages overseas, but back at home, in a year that begins with the hanging of one man and ends with the drowning of another, eleven schoolgirls embrace their own chilling history when their teacher abruptly goes missing on a field trip. Who was the mysterious poet they had met in the Garden? What actually happened in the seaside cave that day? And most important—who can they tell about it? In beautifully shimmering prose, Ursula Dubosarsky reveals how a single shared experience can alter the course of young lives forever. Part gripping thriller, part ethereal tale of innocence lost, The Golden Day is a poignant study of fear and friendship, and of what it takes to come of age with courage.
---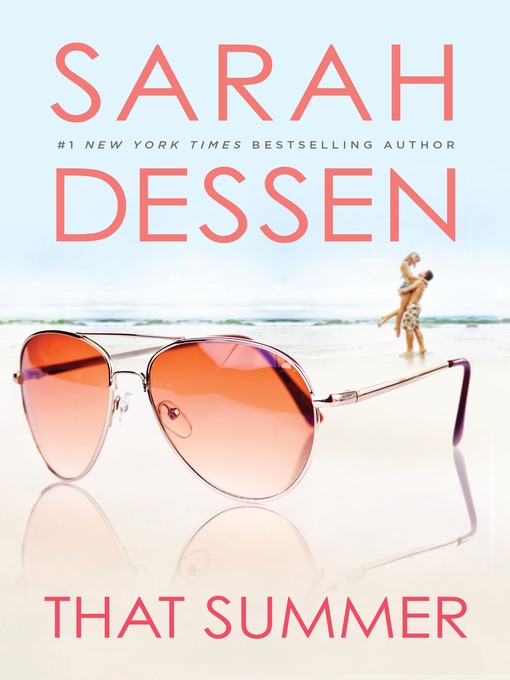 That Summer by Sarah Dessen
book
hoopla eAudiobook
As far as Haven is concerned, there's just too much going on.
Everything is changing, and she's not sure where she fits in. Her father is getting married to the local weather woman. Her sister Ashley is engaged to a man who's just…boring. And Haven, at 15, is nearly six feet tall and still growing.
Then Ashley's old boyfriend shows up, sparking memories of the summer when they were all happy and everything was perfect….
Or was it?
---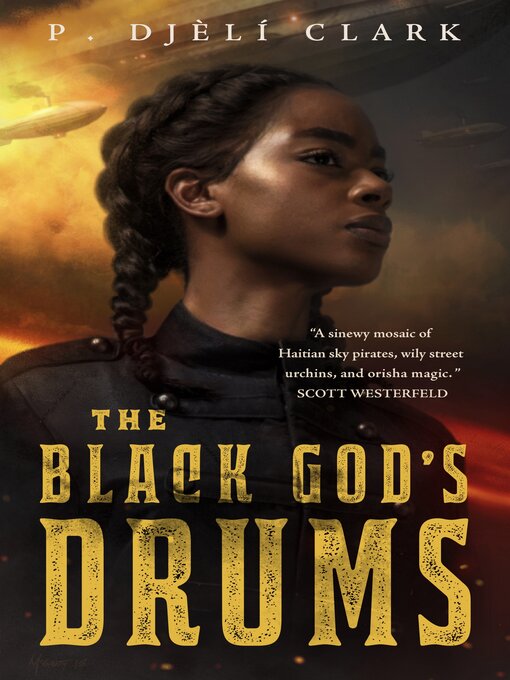 The Black God's Drums by P. Djèlí Clark
book
OverDrive eBook
hoopla eAudiobook
In an alternate New Orleans caught in the tangle of the American Civil War, the wall-scaling girl named Creeper yearns to escape the streets for the air—in particular, by earning a spot on-board the airship Midnight Robber. Creeper plans to earn Captain Ann-Marie's trust with information she discovers about a Haitian scientist and a mysterious weapon he calls The Black God's Drums.
But Creeper also has a secret herself: Oya, the African orisha of the wind and storms, speaks inside her head, and may have her own ulterior motivations.
Soon, Creeper, Oya, and the crew of the Midnight Robber are pulled into a perilous mission aimed to stop the Black God's Drums from being unleashed and wiping out the entirety of New Orleans.
---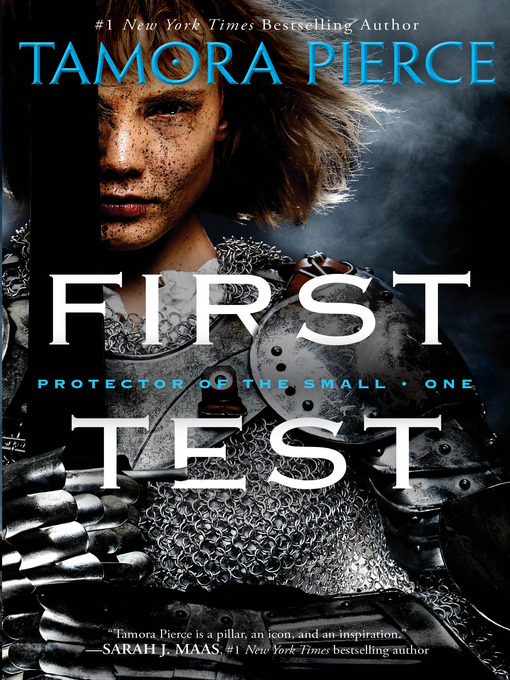 First Test by Tamora Pierce
book
Keladry of Mindelan is the first girl who dares to take advantage of a new rule in Tortall—one that allows females to train for knighthood. After years in the Yamani Islands, she knows that women can be warriors, and now that she's returned home, Kel is determined to achieve her goal. She believes she is ready for the traditional hazing and grueling schedule of a page. But standing in Kel's way is Lord Wyldon. The training master is dead set against girls becoming knights. He says she must pass a one-year trial that no male page has ever had to endure. It's just one more way to separate Kel from her fellow trainees. But she is not to be underestimated. She will fight to succeed, even when the test is unfair.
---
Tears of a Tiger by Sharon M. Draper
book
hoopla eAudiobook
Tigers don't cry—or do they? After the death of his longtime friend and fellow Hazelwood Tiger in a car accident, Andy, the driver, blames himself and cannot get past his guilt and pain. While his other friends have managed to work through their grief and move on, Andy allows death to become the focus of his life. In the months that follow the accident, the lives of Andy and his friends are traced through a series of letters, articles, homework assignments, and dialogues, and it becomes clear that Tigers do indeed need to cry.
Tweens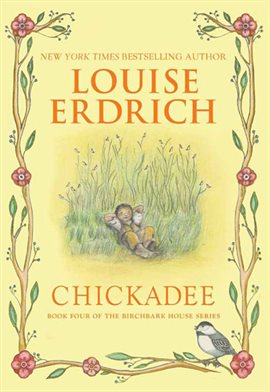 Chickadee by Louise Erdrich
book
OverDrive eBook
hoopla eBook
Twin brothers Chickadee and Makoons have done everything together since they were born—until the unthinkable happens and the brothers are separated.
Desperate to reunite, both Chickadee and his family must travel across new territories, forge unlikely friendships, and experience both unexpected moments of unbearable heartache as well as pure happiness. And through it all, Chickadee has the strength of his namesake, the chickadee, to carry him on.
Chickadee continues the story of one Ojibwe family's journey through one hundred years in America. School Library Journal, in a starred review, proclaimed, "Readers will be more than happy to welcome little Chickadee into their hearts."
---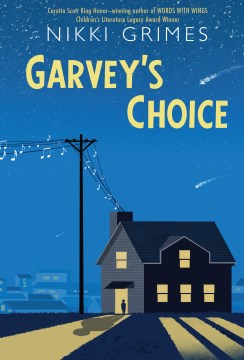 Garvey's Choice by Nikki Grimes
book
book on CD
OverDrive eAudiobook
hoopla eAudiobook
Garvey's father has always wanted Garvey to be athletic, but Garvey is interested in astronomy, science fiction, reading-anything but sports. Feeling like a failure, he comforts himself with food. Garvey is kind, funny, smart, a loyal friend, and he is also overweight, teased by bullies, and lonely. When his only friend encourages him to join the school chorus, Garvey's life changes. The chorus finds a new soloist in Garvey, and through chorus, Garvey finds a way to accept himself, and a way to finally reach his distant father-by speaking the language of music instead of the language of sports. This emotionally resonant novel in verse by award-winning author Nikki Grimes celebrates choosing to be true to yourself.
---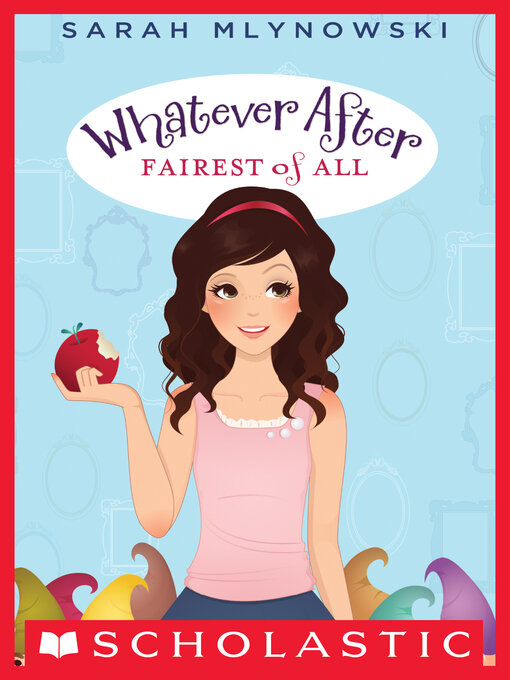 Fairest of All by Sarah Mlynowski
book
OverDrive eBook
hoopla eAudiobook
Mirror, mirror, on the basement wall . . .
Once upon a time my brother and I were normal kids. The next minute? The mirror in our basement slurped us up and magically transported us inside Snow White's fairy tale.
I know it sounds crazy, but it's true.
But hey — we're heroes! We stopped Snow White from eating the poisoned apple. Hooray! Or not. If Snow White doesn't die, she won't get to meet her prince. And then she won't get her happy ending. Oops.
Now it's up to us to:
– Avoid getting poisoned
– Sneak into a castle
– Fix Snow White's story

And then, fingers crossed, find our way home.
---
Tight by Torrey Maldonado
book
OverDrive eBook
OverDrive eAudiobook
Bryan knows what's tight for him—reading comics, drawing superheroes, and hanging out with no drama. But drama is every day where he's from, and that gets him tight, wound up.
And now Bryan's friend Mike pressures him with ideas of fun that are crazy risky. At first, it's a rush following Mike, hopping turnstiles, subway surfing, and getting into all kinds of trouble. But Bryan never really feels right acting so wrong, and drama really isn't him. So which way will he go, especially when his dad tells him it's better to be hard and feared than liked?

But if there's one thing Bryan's gotten from his comic heroes, it's that he has power—to stand up for what he feels . . .

Torrey Maldonado delivers a fast-paced, insightful, dynamic story capturing urban community life. Readers will connect with Bryan's journey as he navigates a tough world with a heartfelt desire for a different life.
---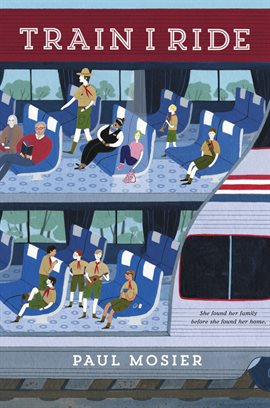 Train I Ride by Paul Mosier
book
hoopla eBook
Rydr is on a train heading east, leaving California, where her gramma can't take care of her anymore, and traveling to Chicago, to live with an unknown relative. She brings with her a backpack, memories both happy and sad, and a box containing something very important.
As Rydr meets her fellow passengers and learns their stories, her own story begins to emerge. It's one of sadness and heartache, and one Rydr would sometimes like to forget.
But as much as Rydr may want to run away from her past, on the train she finds that hope and forgiveness are all around her, and most importantly, within her, if she's willing to look for it.
---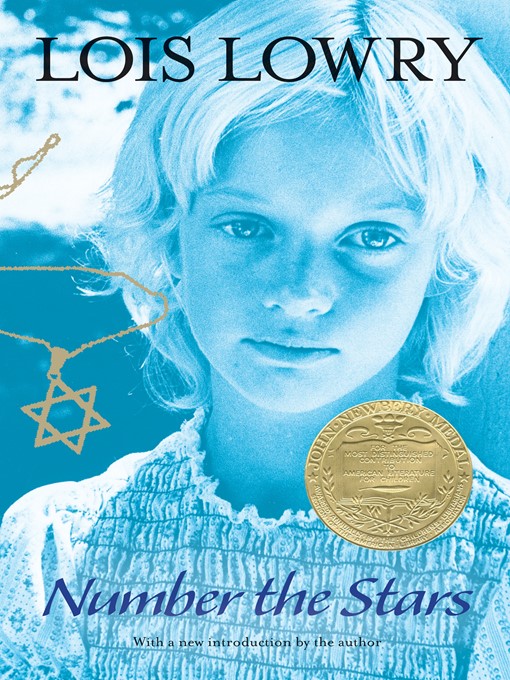 Number the Stars by Lois Lowry
book
OverDrive eBook
OverDrive eAudiobook
hoopla eBook
As the German troops begin their campaign to "relocate" all the Jews of Denmark, Annemarie Johansen's family takes in Annemarie's best friend, Ellen Rosen, and conceals her as part of the family.
Through the eyes of ten-year-old Annemarie, we watch as the Danish Resistance smuggles almost the entire Jewish population of Denmark, nearly seven thousand people, across the sea to Sweden. The heroism of an entire nation reminds us that there was pride and human decency in the world even during a time of terror and war.
---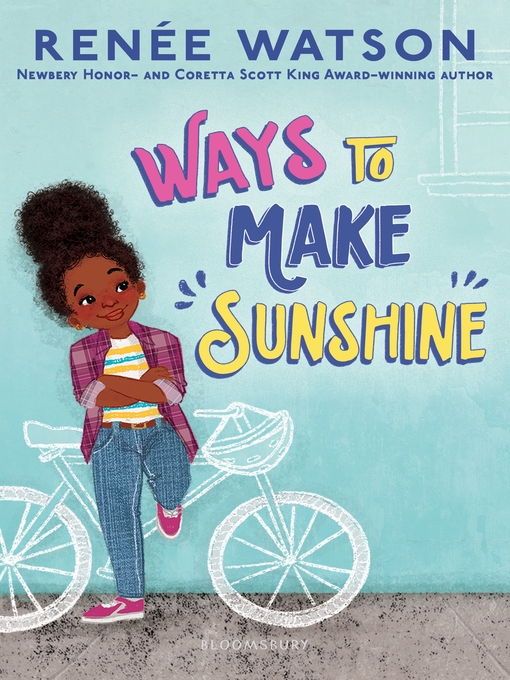 Ways to Make Sunshine by Renée Watson
OverDrive eBook
Ryan Hart can be and do anything. Her name means "king", that she is a leader, and she is determined to keep growing into the name her parents gave her. She is all about trying to see the best in people, to be a good daughter, sister, and friend. But Ryan has a lot on her mind. For instance: Dad finally has a new job, but money is still tight. That means some changes, like moving into a new (old) house, and Dad working the night shift. And with the fourth-grad talent show coming up, Ryan wonders what talent she can perform on stage in front of everyone without freezing. As even more changes and challenges come her way, Ryan always finds a way forward and shows she is a girl who knows how to glow.
---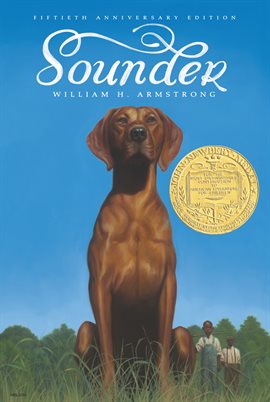 Sounder by William H. Armstrong
book
hoopla eBook
hoopla eAudiobook
An African American boy and his family rarely have enough to eat. Each night, the boy's father takes their dog, Sounder, out to look for food. The man grows more desperate by the day.
When food suddenly appears on the table one morning, it seems like a blessing. But the sheriff and his deputies are not far behind. The ever-loyal Sounder remains determined to help the family he loves as hard times bear down.
This classic novel shows the courage, love, and faith that bind a family together despite the racism and inhumanity they face in the nineteenth-century deep South.
Readers who enjoy timeless dog stories such as Old Yeller and Where the Red Fern Grows will find much to love in Sounder, even as they read through tears at times.
Kids
The Pigeon Has Feelings, Too by Mo Willems
book
How does it feel to be a Pigeon? Well, the bus driver is trying to get him to act happy, but as we all know, this is one bird that is not going to be told what to do! Throughout this hilarious board book, Pigeon runs through his signature gamut of emotions while attempting to thwart his old nemesis.
---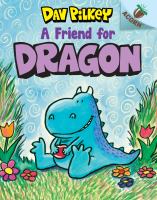 A Friend for Dragon by Dav Pilkey
book
Dragon becomes such close friends with an apple that he deeply mourns its loss and is overjoyed when more grow to take its place.
---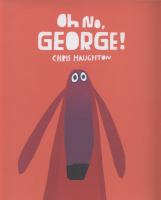 Oh No, George by Chris Haughton
book
Harboring the best of intentions and trusted by his owner to be a well-behaved dog while alone during the day, George resists the temptation to chase cats and dig up flowers but finds his resolve wavering when he spies a mouthwatering cake on the table.
---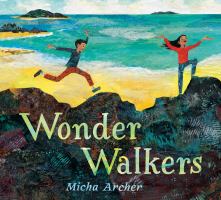 Wonder Walkers by Micha Archer
book
When two curious kids embark on a wonder walk, they let their imaginations soar as they look at the world in a whole new light. They have thought-provoking questions for everything they see: Is the sun the world's light bulb? Is dirt the world's skin? Are rivers the earth's veins? Is the wind the world breathing? I wonder . . . Young readers will wonder too, as they ponder these gorgeous pages and make all kinds of new connections. What a wonderful world indeed.
---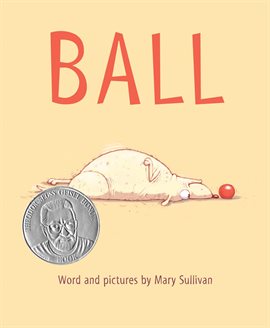 Ball by Mary Sullivan
book
hoopla eBook
A dog with a ball is one of the most relentlessly hopeful creatures on Earth. After his best little-girl pal leaves for school, this dog hits up yoga mom, baby, and even the angry cat for a quick throw. No luck. Forced to go solo, the dog begins a hilarious one-sided game of fetch until naptime's wild, ball-centric dream sequence. The pictures speak a thousand words in this comic book-style ode to canine monomania. Ball? Ball.
---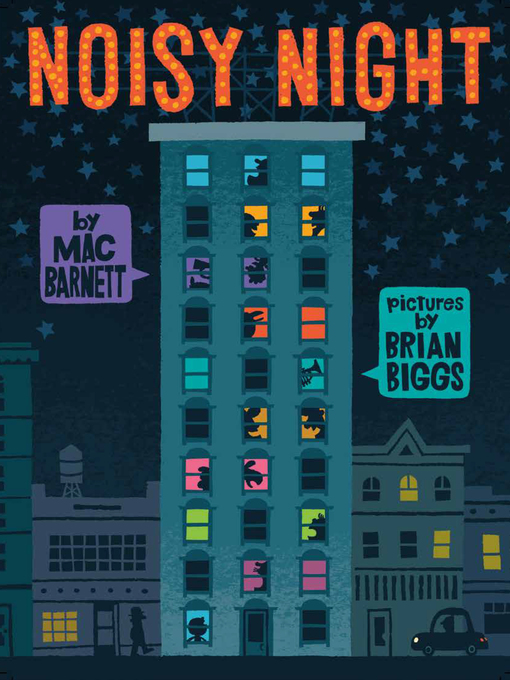 Noisy Night by Mac Barnett
book
It's a noisy night in this city building! The residents of each floor can hear their neighbors above them, and are wondering what's going on above their heads. Climb floor by floor and page by page to find out whose singing, dancing, cheering, and cooing are keeping a grumpy old man awake.
With innovative split-level spreads that offer the feeling of climbing an apartment building floor by floor, this clever and colorful collaboration between New York Times–bestselling author Mac Barnett and gifted illustrator Brian Biggs offers an irresistible investigation of one noisy night.
---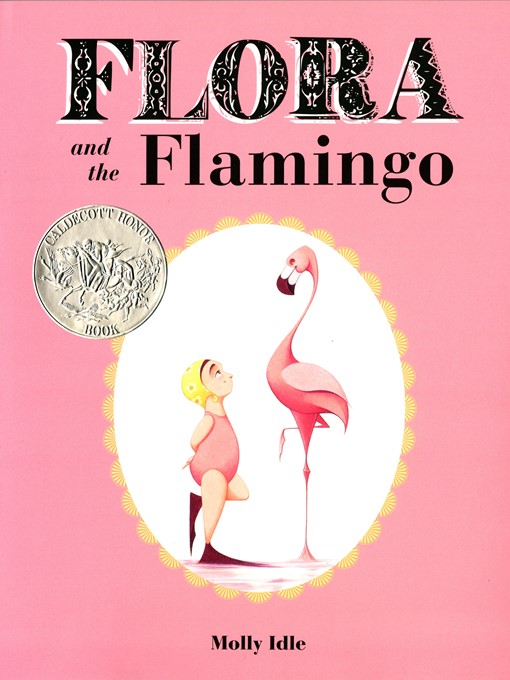 Flora and the Flamingo by Molly Schaar Idle
book
OverDrive eBook
hoopla eBook
In this innovative wordless picture book with interactive flaps, Flora and her graceful flamingo friend explore the trials and joys of friendship through an elaborate synchronized dance. With a twist, a turn, and even a flop, these unlikely friends learn at last how to dance together in perfect harmony. Full of humor and heart, this stunning performance (and splashy ending!) will have readers clapping for more!
---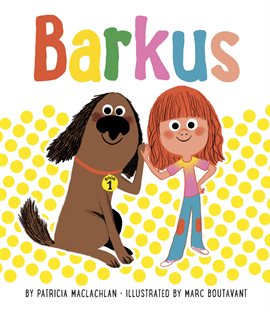 Barkus by Patricia MacLachlan
book
hoopla eBook
hoopla audiobook
Meet Barkus. Barkus is loyal. Barkus is generous. Barkus is family.The exuberant Barkus and his lucky young owner whirl and twirl across the pages of this delightful pre-chapter book series from award-winning author Patricia MacLachlan. The accessible text is ideal for even the newest independent reader, while the warm, humorous story and energetic illustrations will appeal to picture book readers as well as advanced readers.