Explore the strange depths of space, time, and consciousness with this collection of books about life, the universe, and everything. Included is a special spotlight on books and resources related to the LIGO detector right here in Louisiana! Recommended by Ashley Lewis.
Spotlight on LIGO in Livingston, LA and gravitational wave detection:

Predicted by Einstein in his theory of general relativity, gravitational waves carry energy from the collision or explosion of stars. Dying binary stars, for example, rotate faster and faster around each other until they merge, emitting a burst of gravitational waves. It is only with the development of extraordinarily sensitive, highly sophisticated detectors that physicists can now confirm Einstein's prediction.

For more information, visit LIGO's website where there is a recommended reading and videos page.
Ripples in Spacetime by Govert Schilling
hoopla audio
Ripples in Spacetime is an engaging account of the international effort to complete Einstein's project, capture his elusive ripples, and launch an era of gravitational-wave astronomy that promises to explain, more vividly than ever before, our universe's structure and origin. The quest for gravitational waves involved years of risky research and many personal and professional struggles that threatened to derail one of the world's largest scientific endeavors. Govert Schilling takes listeners to sites where these stories unfolded-including Japan's KAGRA detector, Chile's Atacama Cosmology Telescope, the South Pole's BICEP detectors, and the United States' LIGO labs. He explains the seeming impossibility of developing technologies sensitive enough to detect waves from two colliding black holes in the very distant universe, and describes the astounding precision of the LIGO detectors. Along the way Schilling clarifies concepts such as general relativity, neutron stars, and the big bang using language that listeners with little scientific background can grasp.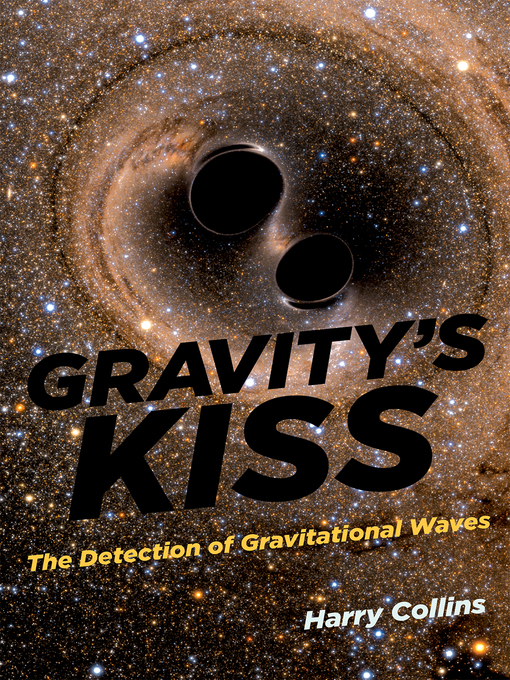 Gravity's Kiss: The Detection of Gravitational Waves by Harry Collins
Overdrive ebook
A fascinating account, written in real time, of the unfolding of a scientific discovery: the first detection of gravitational waves.
Scientists have been trying to confirm the existence of gravitational waves for fifty years. Then, in September 2015, came a "very interesting event" (as the cautious subject line in a physicist's email read) that proved to be the first detection of gravitational waves. In Gravity's Kiss, Harry Collins—who has been watching the science of gravitational wave detection for forty-three of those fifty years and has written three previous books about it—offers a final, fascinating account, written in real time, of the unfolding of one of the most remarkable scientific discoveries ever made. Collins, a sociologist of science who has been embedded in the gravitational wave community since 1972, traces the detection, the analysis, the confirmation, and the public presentation and the reception of the discovery—from the first email to the final published paper and the response of professionals and the public. Collins shows that science today is collaborative, far-flung (with the physical location of the participants hardly mattering), and sometimes secretive, but still one of the few institutions that has integrity built into it.
More Mind-bending Science: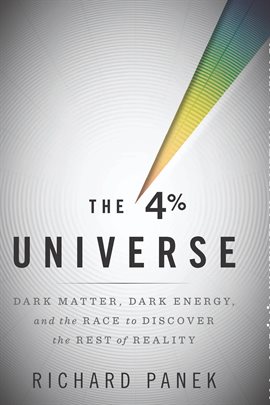 The 4 Percent Universe by Richard Panek
hoopla ebook
hoopla audiobook
The epic, behind-the-scenes story of an astounding gap in our scientific knowledge of the cosmos.In the past few years, a handful of scientists have been in a race to explain a disturbing aspect of our universe: only 4 percent of it consists of the matter that makes up you, me, our books, and every planet, star, and galaxy. The rest—96 percent of the universe—is completely unknown. Richard Panek tells the dramatic story of how scientists reached this conclusion, and what they're doing to find this "dark" matter and an even more bizarre substance called dark energy. Based on in-depth, on-site reporting and hundreds of interviews—with everyone from Berkeley's feisty Saul Perlmutter and Johns Hopkins's meticulous Adam Riess to the quietly revolutionary Vera Rubin—the book offers an intimate portrait of the bitter rivalries and fruitful collaborations, the eureka moments and blind alleys, that have fueled their search, redefined science, and reinvented the universe.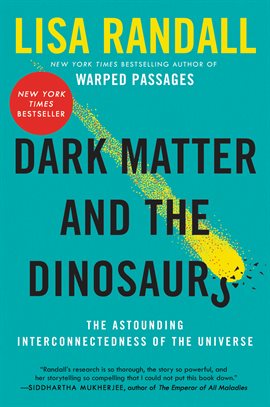 Dark Matter and the Dinosaurs by Lisa Randall
OverDrive ebook
hoopla ebook
hoopla audiobook
In this brilliant exploration of our cosmic environment, the renowned particle physicist and New York Times bestselling author of Warped Passages and Knocking on Heaven's Door uses her research into dark matter to illuminate the startling connections between the furthest reaches of space and life here on Earth.
Sixty-six million years ago, an object the size of a city descended from space to crash into Earth, creating a devastating cataclysm that killed off the dinosaurs, along with three-quarters of the other species on the planet. What was its origin? In Dark Matter and the Dinosaurs, Lisa Randall proposes it was a comet that was dislodged from its orbit as the Solar System passed through a disk of dark matter embedded in the Milky Way. In a sense, it might have been dark matter that killed the dinosaurs.
Working through the background and consequences of this proposal, Randall shares with us the latest findings—established and speculative—regarding the nature and role of dark matter and the origin of the Universe, our galaxy, our Solar System, and life, along with the process by which scientists explore new concepts. In Dark Matter and the Dinosaurs, Randall tells a breathtaking story that weaves together the cosmos' history and our own, illuminating the deep relationships that are critical to our world and the astonishing beauty inherent in the most familiar things.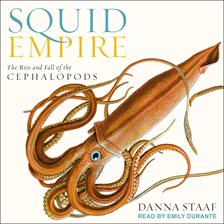 Squid Empire by Danna Staaf
hoopla audiobook
Before there were mammals on land, there were dinosaurs. And before there were fish in the sea, there were cephalopods-the ancestors of modern squid and Earth's first truly substantial animals. Cephalopods became the first creatures to rise from the seafloor, essentially inventing the act of swimming. With dozens of tentacles and formidable shells, they presided over an undersea empire for millions of years. But when fish evolved jaws, the ocean's former top predator became its most delicious snack. Cephalopods had to step up their game. Many species streamlined their shells and added defensive spines, but these enhancements only provided a brief advantage. Some cephalopods then abandoned the shell entirely, which opened the gates to a flood of evolutionary innovations: masterful camouflage, fin-supplemented jet propulsion, perhaps even dolphin-like intelligence. Squid Empire is an epic adventure spanning hundreds of millions of years, from the marine life of the primordial ocean to the calamari on tonight's menu. Anyone who enjoys the undersea world-along with all those obsessed with things prehistoric-will be interested in the sometimes enormous, often bizarre creatures that ruled the seas long before the first dinosaurs.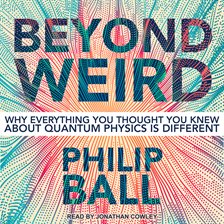 Beyond Weird by Philip Ball
hoopla audiobook
Why Everything You Thought You Knew about Quantum Physics Is Different
Since Niels Bohr said this many years ago, quantum mechanics has only been getting more shocking. We now realize that it's not really telling us that "weird" things happen out of sight, on the tiniest level, in the atomic world: rather, everything is quantum. But if quantum mechanics is correct, what seems obvious and right in our everyday world is built on foundations that don't seem obvious or right at all-or even possible. An exhilarating tour of the contemporary quantum landscape, Beyond Weird is a book about what quantum physics really means-and what it doesn't. Science writer Philip Ball offers an up-to-date, accessible account of the quest to come to grips with the most fundamental theory of physical reality, and to explain how its counterintuitive principles underpin the world we experience.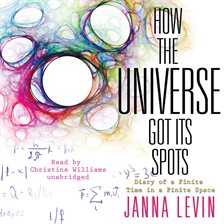 How the Universe Got Its Spots by Janna Levin
hoopla audiobook
The gifted young cosmologist Janna Levin sets out to determine the size of the universe, along the way providing an intimate look at the day-to-day life of a globe-trotting physicist. Nimbly synthesizing geometry, topology, chaos and string theories, Levin shows how the pattern of hot and cold spots left over from the big bang may one day reveal the size and shape of the cosmos. She does so with such originality, lucidity, and even poetry, that How the Universe Got Its Spots becomes a thrilling and deeply personal communication between a scientist and the lay reader.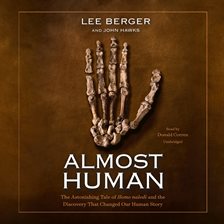 Almost Human by Lee Berger and John Hawks
hoopla audiobook
A story of defiance and determination by a controversial scientist, this is Lee Berger's own take on finding Homo Naledi, an all-new species on the human family tree and one of the greatest discoveries of the twenty-first century. In 2013, Lee Berger, a National Geographic explorer-in-residence, heard of a cache of bones in a hard-to-reach underground cave in South Africa. He put out a call around the world for petite collaborators-men and women small and adventurous enough to be able to squeeze through eight-inch tunnels to reach a sunless cave forty feet underground. With this team, Berger made the discovery of a lifetime: hundreds of prehistoric bones, including entire skeletons of at least fifteen individuals, all perhaps two million years old. Their features combined those of known prehominids like Lucy, the famous Australopithecus, with those more human than anything ever before seen in prehistoric remains. Berger's team had discovered an all-new species, and they called it Homo Naledi. The cave quickly proved to be the richest prehominid site ever discovered, full of implications that shake the very foundation of how we define what makes us human. Did this species come before, during, or after the emergence of Homo sapiens on our evolutionary tree? How did the cave come to contain nothing but the remains of these individuals? Did they bury their dead? If so, they must have had a level of self-knowledge, including an awareness of death. And yet those are the very characteristics used to define what makes us human. Did an equally advanced species inhabit Earth with us, or before us? Berger does not hesitate to address all these questions. Some colleagues question Berger's interpretation of this and other finds. Here, this charismatic and visionary paleontologist counters their arguments and tells his personal story: a rich and readable narrative about science, exploration, and what it means to be human.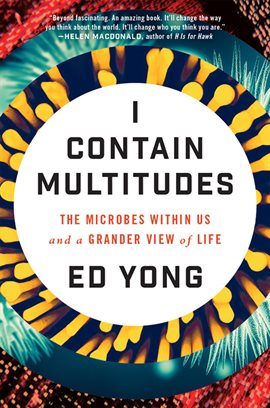 I Contain Multitudes by Ed Yong
hoopla ebook
Joining the ranks of popular science classics like The Botany of Desire and The Selfish Gene, a groundbreaking, wondrously informative, and vastly entertaining examination of the most significant revolution in biology since Darwin-a "microbe's-eye view" of the world that reveals a marvelous, radically reconceived picture of life on earth.
Every animal, whether human, squid, or wasp, is home to millions of bacteria and other microbes. Ed Yong, whose humor is as evident as his erudition, prompts us to look at ourselves and our animal companions in a new light-less as individuals and more as the interconnected, interdependent multitudes we assuredly are.
The microbes in our bodies are part of our immune systems and protect us from disease. In the deep oceans, mysterious creatures without mouths or guts depend on microbes for all their energy. Bacteria provide squid with invisibility cloaks, help beetles to bring down forests, and allow worms to cause diseases that afflict millions of people.
Many people think of microbes as germs to be eradicated, but those that live with us-the microbiome-build our bodies, protect our health, shape our identities, and grant us incredible abilities. In this astonishing book, Ed Yong takes us on a grand tour through our microbial partners, and introduces us to the scientists on the front lines of discovery. It will change both our view of nature and our sense of where we belong in it.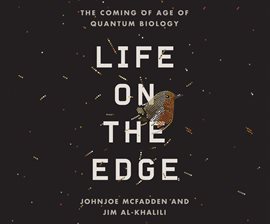 Life on the Edge by Johnjoe McFadden and Jim Al-Khalili
hoopla audiobook
Life is the most extraordinary phenomenon in the known universe; but how did it come to be? Even in an age of cloning and artificial biology, the remarkable truth remains: nobody has ever made anything living entirely out of dead material. Life remains the only way to make life. Are we still missing a vital ingredient in its creation? Jim Al-Khalili and Johnjoe McFadden reveal the hitherto missing ingredient to be quantum mechanics and the strange phenomena that lie at the heart of this most mysterious of sciences. As they brilliantly demonstrate here, life lives on the quantum edge.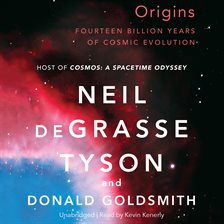 Origins by Neil Degrasse Tyson and Donald Goldsmith
hoopla audiobook
Our true origins are not just human, or even terrestrial, but in fact cosmic. Drawing on scientific breakthroughs and the current cross-pollination among geology, biology, astrophysics, and cosmology, Origins explains the soul-stirring leaps in our understanding of the cosmos. From the first image of a galaxy birth to Spirit rover's exploration of Mars, to the discovery of water on one of Jupiter's moons, coauthors Neil deGrasse Tyson and Donald Goldsmith conduct a galvanizing tour of the cosmos with clarity and exuberance.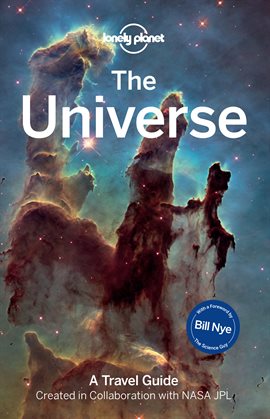 The Universe
hoopla ebook
Let Lonely Planet take you further than ever before with the world's first and only travel guide to the Universe. Developed with the latest data from NASA, we take you from our home on Earth and out into the far reaches of the solar system, then into our neighboring stars and planetary systems, and finally into the rest of our galaxy and the Universe.
This fascinating journey will help you explore space as you would the world with a Lonely Planet guide. Unique to these pages are wonderful comparisons of Earth with the other worlds of our solar system and even those exoplanets orbiting other stars.
You'll discover as much as we know about our celestial neighborhood, and our place in it. In addition to planets and moons, get to know our Sun, explore the asteroid belt and the Kuiper Belt, and learn what lays beyond, in interstellar space. Outside our solar system, travel to some of the notable neighboring stars, stellar systems and exoplanets we've discovered. You'll understand how we search for planets where life might exist and the stars they orbit.
Finally, discover the edge of the observable Universe. Get to know the structure of the Milky Way as well as an orientation to neighboring galaxies like the Andromeda Galaxy, which is visible from Earth. Then explore other galactic formations and learn about galactic clusters and superclusters. By the end of the book, you'll have a sense for the structure of the entire Universe as well as some of the big questions we still have as we ponder our place in it.