Fantastic science fiction to help you escape to thrilling new realms. Recommended by Ashley Lewis.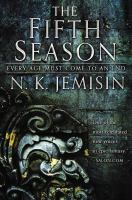 The Fifth Season by N.K. Jemisin
book
OverDrive ebook
OverDrive audiobook
This is the way the world ends…for the last time.
It starts with the great red rift across the heart of the world's sole continent, spewing ash that blots out the sun. It starts with death, with a murdered son and a missing daughter. It starts with betrayal, and long dormant wounds rising up to fester.
This is the Stillness, a land long familiar with catastrophe, where the power of the earth is wielded as a weapon. And where there is no mercy.
---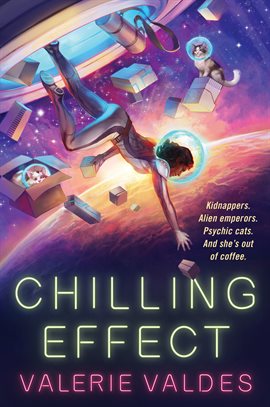 Chilling Effect by Valerie Valdes
hoopla ebook
Freading ebook
Captain Eva Innocente and the crew of La Sirena Negra cruise the galaxy delivering small cargo for even smaller profits. When her sister Mari is kidnapped by The Fridge, a shadowy syndicate that holds people hostage in cryostasis, Eva must undergo a series of unpleasant, dangerous missions to pay the ransom.
But Eva may lose her mind before she can raise the money. The ship's hold is full of psychic cats, an amorous fish-faced emperor wants her dead after she rejects his advances, and her sweet engineer is giving her a pesky case of feelings. The worse things get, the more she lies, raising suspicions and testing her loyalty to her found family.
To free her sister, Eva will risk everything: her crew, her ship, and the life she's built on the ashes of her past misdeeds. But when the dominoes start to fall and she finds the real threat is greater than she imagined, she must decide whether to play it cool or burn it all down.
---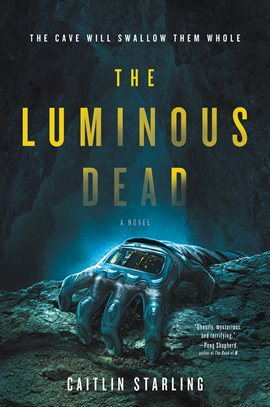 The Luminous Dead by Caitlin Starling
hoopla ebook
hoopla audiobook
Freading ebook
When Gyre Price lied her way into this expedition, she thought she'd be mapping mineral deposits, and that her biggest problems would be cave collapses and gear malfunctions. She also thought that the fat paycheck -enough to get her off-planet and on the trail of her mother – meant she'd get a skilled surface team, monitoring her suit and environment, keeping her safe. Keeping her sane.
Instead, she got Em.
Em sees nothing wrong with controlling Gyre's body with drugs or withholding critical information to "ensure the smooth operation" of her expedition. Em knows all about Gyre's falsified credentials, and has no qualms using them as a leash – and a lash. And Em has secrets, too . . .
As Gyre descends, little inconsistencies – missing supplies, unexpected changes in the route, and, worst of all, shifts in Em's motivations – drive her out of her depths. Lost and disoriented, Gyre finds her sense of control giving way to paranoia and anger. On her own in this mysterious, deadly place, surrounded by darkness and the unknown, Gyre must overcome more than just the dangerous terrain and the Tunneler, which calls underground its home. If she wants to make it out alive, she must confront the ghosts in her own head.
But why can't she shake the feeling she's being followed?
---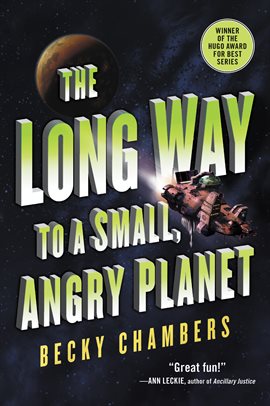 The Long Way to a Small, Angry Planet by Becky Chambers
hoopla ebook
hoopla audiobook
Freading ebook
Follow a motley crew on an exciting journey through space and one adventurous young explorer who discovers the meaning of family in the far reaches of the universe in this light-hearted debut space opera from a rising sci-fi star. Rosemary Harper doesn't expect much when she joins the crew of the aging Wayfarer. While the patched-up ship has seen better days, it offers her a bed, a chance to explore the far-off corners of the galaxy, and most importantly, some distance from her past. An introspective young woman who learned early to keep to herself, she's never met anyone remotely like the ship's diverse crew, including Sissix, the exotic reptilian pilot, chatty engineers Kizzy and Jenks who keep the ship running, and Ashby, their noble captain. Life aboard the Wayfarer is chaotic and crazy – exactly what Rosemary wants. It's also about to get extremely dangerous when the crew is offered the job of a lifetime. Tunneling wormholes through space to a distant planet is definitely lucrative and will keep them comfortable for years. But risking her life wasn't part of the plan. In the far reaches of deep space, the tiny Wayfarer crew will confront a host of unexpected mishaps and thrilling adventures that force them to depend on each other. To survive, Rosemary's got to learn how to rely on this assortment of oddballs – an experience that teaches her about love and trust, and that having a family isn't necessarily the worst thing in the universe.
---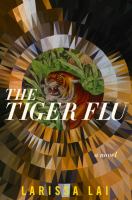 The Tiger Flu by Larissa Lai
book
hoopla ebook
hoopla audiobook
In this visionary novel by Larissa Lai—her first in sixteen years—a community of parthenogenic women, sent into exile by the male-dominated Salt Water City, goes to war against disease, technology, and powerful men that threaten them with extinction. Kirilow is a doctor apprentice whose lover Peristrophe is a "starfish," a woman who can regenerate her own limbs and organs, which she uses to help her clone sisters whose organs are failing. When a denizen from Salt Water City suffering from a mysterious flu comes into their midst, Peristrophe becomes infected and dies, prompting Kirilow to travel to Salt Water City, where the flu is now a pandemic, to find a new starfish who will help save her sisters. There, Kirilow meets Kora, a girl-woman desperate to save her family from the epidemic. Kora has everything Kirilow is looking for, except the will to abandon her own family. But before Kirilow can convince her, both are kidnapped by a group of powerful men to serve as test subjects for a new technology that can cure the mind of the body. Bold, beautiful, and wildly imaginative, The Tiger Flu is at once a female hero's saga, a cyberpunk thriller, and a convention-breaking cautionary tale – a striking metaphor for our complicated times.
---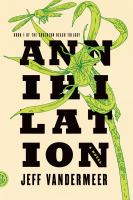 Annihilation by Jeff Vandermeer
book
OverDrive ebook
Area X has been cut off from the rest of the continent for decades. Nature has reclaimed the last vestiges of human civilization. The first expedition returned with reports of a pristine, Edenic landscape; the second expedition ended in mass suicide, the third expedition in a hail of gunfire as its members turned on one another. The members of the eleventh expedition returned as shadows of their former selves, and within weeks, all had died of cancer. In Annihilation, the first volume of Jeff VanderMeer's Southern Reach trilogy, we join the twelfth expedition.
The group is made up of four women: an anthropologist; a surveyor; a psychologist, the de facto leader; and our narrator, a biologist. Their mission is to map the terrain, record all observations of their surroundings and of one another, and, above all, avoid being contaminated by Area X itself.
They arrive expecting the unexpected, and Area X delivers—they discover a massive topographic anomaly and life forms that surpass understanding—but it's the surprises that came across the border with them and the secrets the expedition members are keeping from one another that change everything.
---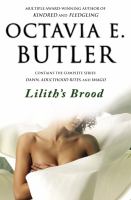 Lilith's Brood by Octavia Butler
book
hoopla ebook (the complete Xenogenesis trilogy)
The newest stage in human evolution begins in outer space. Survivors of a cataclysmic nuclear war awake to find themselves being studied by the Oankali, tentacle-covered galactic travelers whose benevolent appearance hides their surprising plan for the future of mankind. The Oankali arrive not just to save humanity, but to bond with it—crossbreeding to form a hybrid species that can survive in the place of its human forebears, who were so intent on self-destruction. Some people resist, forming pocket communities of purebred rebellion, but many realize they have no choice. The human species inevitably expands into something stranger, stronger, and undeniably alien. Butler's Lilith's Brood is both a thrilling, provocative meditation on the expansion of the human gene pool and an epic story of how it takes more than DNA to make someone human.
---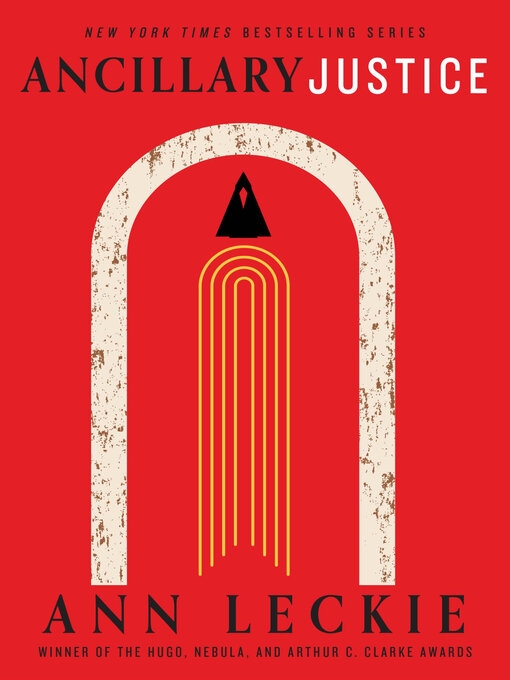 Ancillary Justice By Ann Leckie
OverDrive ebook
On a remote, icy planet, the soldier known as Breq is drawing closer to completing her quest.
Once, she was the Justice of Toren – a colossal starship with an artificial intelligence linking thousands of soldiers in the service of the Radch, the empire that conquered the galaxy.
Now, an act of treachery has ripped it all away, leaving her with one fragile human body, unanswered questions, and a burning desire for vengeance.
---
Blackfish City by Sam Miller
book
hoopla ebook
hoopla audiobook
Freading ebook
After the climate wars, a floating city is constructed in the Arctic Circle, a remarkable feat of mechanical and social engineering, complete with geothermal heating and sustainable energy. The city's denizens have become accustomed to a roughshod new way of living, however, the city is starting to fray along the edges – crime and corruption have set in, the contradictions of incredible wealth alongside direst poverty are spawning unrest, and a new disease called "the breaks" is ravaging the population. When a strange new visitor arrives – a woman riding an orca, with a polar bear at her side – the city is entranced. The "orcamancer," as she's known, very subtly brings together four people – each living on the periphery – to stage unprecedented acts of resistance. By banding together to save their city before it crumbles under the weight of its own decay, they will learn shocking truths about themselves. Blackfish City is a remarkably urgent and ultimately very hopeful novel about political corruption, organized crime, technology run amok, the consequences of climate change, gender identity, and the unifying power of human connection.
---
Semiosis by Sue Burke
book
hoopla audiobook
In Semiosis, debut author Sue Burke's character-driven book of first contact, human survival hinges on a bizarre alliance. Only mutual communication can forge an alliance with the planet's sentient species and prove that mammals are more than tools. Forced to land on a planet they aren't prepared for, human colonists rely on their limited resources to survive. The planet provides a lush but inexplicable landscape—trees offer edible, addictive fruit one day and poison the next, while the ruins of an alien race are found entwined in the roots of a strange plant. Conflicts between generations arise as they struggle to understand one another and grapple with an unknowable alien intellect.