Join the Ascension Parish Library for the Basics of Backyard Beekeeping virtual presentation on Wednesday, July 22, at 6:00 PM using Zoom. If you have a desire to begin the hobby of backyard beekeeping, or you are curious about what is involved with keeping bees, join Chairity Waugh to learn all about backyard beekeeping. Waugh will discuss things to consider before making the commitment, basic beekeeping equipment, basic information about bees and their lifecycle, how to acquire them, tips for inspecting a beehive, and nectar plants in Louisiana.
To learn more on how to become a successful beekeeper, register for this virtual Zoom presentation by calling Gonzales (225) 647-3955, Galvez (225) 622-3955, Dutchtown (225) 673-8699, or Donaldsonville (225) 473-8052. Once registered, you will receive an email with meeting information on how to join the live session.
If you can't make it to the Zoom session or would like more information after attending, check out these resources from the library to supplement your learning.
---
Bee People: Get Stung
DVD
Take an epic adventure with Gregg McMahan, Colorado's own 'Bee Guru' and Tony 'Bees' Planakis as they share extraordinary insight on being a beekeeper.
---
Sweet Remedies: Healing Herbal Honey by Dawn Michelle Combs
book
hoopla ebook
Freading ebook
A guide to making and using medicinal herbal honeys, with dozens of recipes for targeted herb combinations that support daily well-being and ease common ailments, ranging from anxiety and heart health to headache relief, soothing a sore throat, and more.
---
Beginning Beekeeping by Tanya Phillips
book
Featuring more than 120 color photos, Beginning Beekeeping will teach any beginner how to foster and maintain healthy, vibrant colonies. You'll learn how to set up a colony and attract bees, how to incorporate best practices and techniques for keeping colonies strong, and how to troubleshoot and treat a broad range of common hive issues. Along the way, you'll learn how to harvest your honey and keep your bees healthy and happy.
---
Wisdom For Beekeepers: 500 Tips For Successful Beekeeping by James Tew
book
Get the latest buzz on beekeeping. A hot new trend that parallels the growing interest in sustainable farming and locally grown food, beekeeping continues to attract enthusiasts. For the best, solid information on beekeeping for beginners or veterans, you'll want to consult Wisdom for Beekeepers.
500 expert tips from a veteran beekeeper. Whether you reside in the quiet suburbs or a busy city, this delightful collection of 500 expert tips from lifelong beekeeper Jim Tew provides all you need to get started in this rewarding and fascinating hobby.
---
Keeping Bees in Towns & Cities by Luke Dixon
book
hoopla ebook
Keeping Bees in Towns and Cities features everything an urbanite needs to know to start keeping bees: how to select the perfect hive, how to buy bees, how to care for a colony, how to harvest honey, and what to do in the winter. Urban beekeeping has particular challenges and needs, and this book highlights the challenges and presents practices that are safe, legal, and neighbor-friendly.
The text is rounded out with profiles of urban beekeepers from all over the world, including public hives at the Maryland Center for Horticulture, beekeeping on an office balcony in Melbourne, Australia, and a poolside hive at a hotel in Vancouver, British Columbia.
---
The Bee-Friendly Garden: Design an Abundant, Flower-Filled Yard that Nurtures Bees and Supports Biodiversity by Kate Frey
book
In The Bee-Friendly Garden, award-winning garden designer Kate Frey and bee expert Gretchen LeBuhn provide everything you need to know to create a dazzling garden that helps both the threatened honeybee and our own native bees. No matter how small or large your space, and regardless of whether you live in the city, suburbs, or country, just a few simple changes to your garden can fight the effects of colony collapse disorder and the worldwide decline in bee population that threatens our global food chain. There are many personal benefits of having a bee garden as well.
Bee gardens:
– contain a gorgeous variety of flowers
– bloom continuously throughout the seasons
– are organic, pesticide-free, and ecologically sustainable
– develop healthy and fertile soil
– attract birds, butterflies, and other beneficial insects
– increase the quantity of your fruit and vegetable harvest
– improve the quality, flavor, and size of your produce
---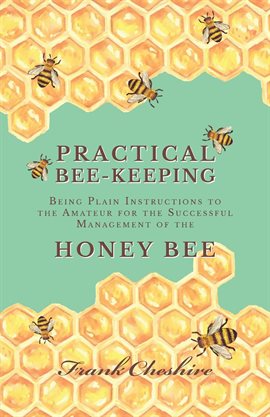 Practical Bee-Keeping by Frank Cheshire
ebook
This vintage book contains a complete and illustrated guide to beekeeping designed for beginners and students. It contains chapters on every aspect of bee and apiary management, and constitutes a fantastic resource for modern keepers and enthusiasts.
---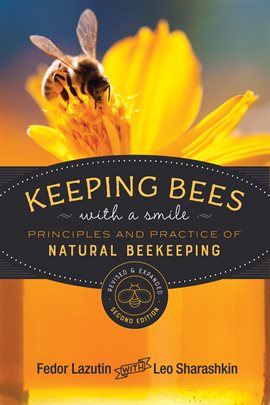 Keeping Bees with a Smile by Fedor Lazutin
ebook
Are you a beginner beekeeper curious about bees or a practicing beekeeper looking for natural alternatives that work? Then this book is for you!
In the second edition of the bestselling beekeeping guide Keeping Bees with a Smile , Fedor Lazutin, one of Europe's most successful natural beekeepers, shares the bee-friendly approach to apiculture that is fun, healthful, rewarding, and accessible to all. This new edition includes dozens of color photographs, new hive management techniques, and an updated version of "Lazutin hive" plans.