If you're looking for some levity, check out these biographies and memoirs by and about some of the biggest names in American comedy. Curated by Willie Nettles.
The Comedians by Kliph Nesteroff 
book 
hoopla ebook 
In The Comedians, comedy historian Kliph Nesteroff brings to life a century of American comedy with real-life characters, forgotten stars, mainstream heroes and counterculture iconoclasts. Based on over two hundred original interviews and extensive archival research, Nesteroff's groundbreaking work is a narrative exploration of the way comedians have reflected, shaped, and changed American culture over the past one hundred years. Starting with the vaudeville circuit at the turn of the last century, Nesteroff introduces the first stand-up comedian – an emcee who abandoned physical shtick for straight jokes. After the repeal of Prohibition, Mafia-run supper clubs replaced speakeasies, and mobsters replaced vaudeville impresarios as the comedian's primary employer. In the 1950s, the late-night talk show brought stand-up to a wide public, while Lenny Bruce, Mort Sahl, and Jonathan Winters attacked conformity and staged a comedy rebellion in coffeehouses. From comedy's part in the Civil Rights movement and the social upheaval of the late 1960s, to the first comedy clubs of the 1970s and the cocaine-fueled comedy boom of the 1980s, The Comedians culminates with a new era of media-driven celebrity in the twenty-first century. 
---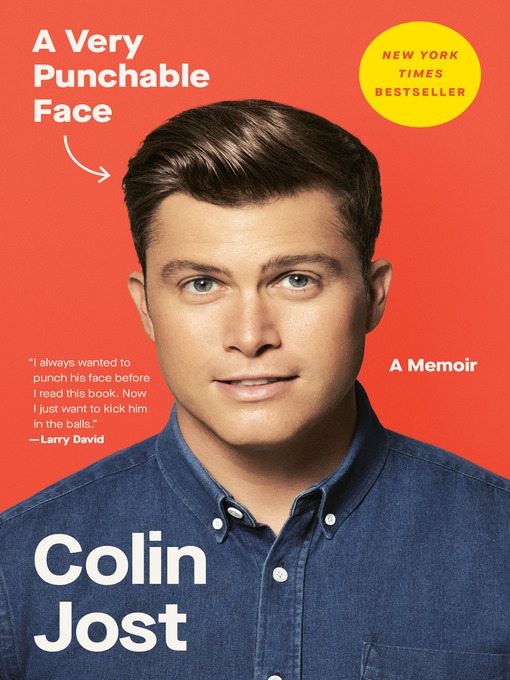 A Very Punchable Face by Colin Jost
book
OverDrive ebook
If there's one trait that makes someone well suited to comedy, it's being able to take a punch—metaphorically and, occasionally, physically.
From growing up in a family of firefighters on Staten Island to commuting three hours a day to high school and "seeing the sights" (like watching a Russian woman throw a stroller off the back of a ferry), to attending Harvard while Facebook was created, Jost shares how he has navigated the world like a slightly smarter Forrest Gump.
You'll also discover things about Jost that will surprise and confuse you, like how Jimmy Buffett saved his life, how Czech teenagers attacked him with potato salad, how an insect laid eggs inside his legs, and how he competed in a twenty-five-man match at WrestleMania (and almost won). You'll go behind the scenes at SNL and Weekend Update (where he's written some of the most memorable sketches and jokes of the past fifteen years). And you'll experience the life of a touring stand-up comedian—from performing in rural college cafeterias at noon to opening for Dave Chappelle at Radio City Music Hall.
For every accomplishment (hosting the Emmys), there is a setback (hosting the Emmys). And for every absurd moment (watching paramedics give CPR to a raccoon), there is an honest, emotional one (recounting his mother's experience on the scene of the Twin Towers' collapse on 9/11). Told with a healthy dose of self-deprecation, A Very Punchable Face reveals the brilliant mind behind some of the dumbest sketches on television, and lays bare the heart and humor of a hardworking guy—with a face you can't help but want to punch.
---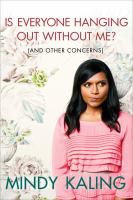 Is Everyone Hanging Out Without Me? (And Other Concerns) by Mindy Kaling
book
OverDrive ebook
Mindy Kaling has lived many lives: the obedient child of immigrant professionals, a timid chubster afraid of her own bike, a Ben Affleck–impersonating Off-Broadway performer and playwright, and, finally, a comedy writer and actress prone to starting fights with her friends and coworkers with the sentence "Can I just say one last thing about this, and then I swear I'll shut up about it?"
Perhaps you want to know what Mindy thinks makes a great best friend (someone who will fill your prescription in the middle of the night), or what makes a great guy (one who is aware of all elderly people in any room at any time and acts accordingly), or what is the perfect amount of fame (so famous you can never get convicted of murder in a court of law), or how to maintain a trim figure (you will not find that information in these pages). If so, you've come to the right book, mostly!
With several conveniently placed stopping points for you to run errands and make phone calls, Is Everyone Hanging Out Without Me? proves that Mindy Kaling really is just a Girl Next Door—not so much literally anywhere in the continental United States, but definitely if you live in India or Sri Lanka.
---
Born a Crime: Stories from a South African Childhood
book
OverDrive ebook
Trevor Noah's unlikely path from apartheid South Africa to the desk of The Daily Show began with a criminal act: his birth. Trevor was born to a white Swiss father and a black Xhosa mother at a time when such a union was punishable by five years in prison. Living proof of his parents' indiscretion, Trevor was kept mostly indoors for the earliest years of his life, bound by the extreme and often absurd measures his mother took to hide him from a government that could, at any moment, steal him away. Finally liberated by the end of South Africa's tyrannical white rule, Trevor and his mother set forth on a grand adventure, living openly and freely and embracing the opportunities won by a centuries-long struggle.
Born a Crime is the story of a mischievous young boy who grows into a restless young man as he struggles to find himself in a world where he was never supposed to exist. It is also the story of that young man's relationship with his fearless, rebellious, and fervently religious mother—his teammate, a woman determined to save her son from the cycle of poverty, violence, and abuse that would ultimately threaten her own life.

The stories collected here are by turns hilarious, dramatic, and deeply affecting. Whether subsisting on caterpillars for dinner during hard times, being thrown from a moving car during an attempted kidnapping, or just trying to survive the life-and-death pitfalls of dating in high school, Trevor illuminates his curious world with an incisive wit and unflinching honesty. His stories weave together to form a moving and searingly funny portrait of a boy making his way through a damaged world in a dangerous time, armed only with a keen sense of humor and a mother's unconventional, unconditional love.
---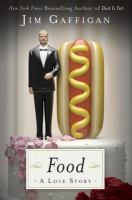 Food: A Love Story by Jim Gaffigan
book
OverDrive audiobook
Bacon. McDonald's. Cinnabon. Hot Pockets. Kale. Stand-up comedian and author Jim Gaffigan has made his career rhapsodizing over the most treasured dishes of the American diet ("choking on bacon is like getting murdered by your lover") and decrying the worst offenders ("kale is the early morning of foods"). Fans flocked to his New York Times bestselling book Dad is Fat to hear him riff on fatherhood but now, in his second book, he will give them what they really crave—hundreds of pages of his thoughts on all things culinary(ish). Insights such as: why he believes coconut water was invented to get people to stop drinking coconut water, why pretzel bread is #3 on his most important inventions of humankind (behind the wheel and the computer), and the answer to the age-old question "which animal is more delicious: the pig, the cow, or the bacon cheeseburger?"
---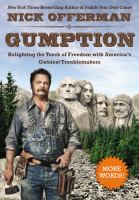 Gumption by Nick Offerman
book
OverDrive audiobook
To millions of people, Nick Offerman is America. Both Nick and his character, Ron Swanson, are known for their humor and patriotism in equal measure.

After the great success of his autobiography, Paddle Your Own Canoe, Offerman now focuses on the lives of those who inspired him. From George Washington to Willie Nelson, he describes twenty-one heroic figures and why they inspire in him such great meaning. He'll combine both serious history with light-hearted humor—comparing, say, George Washington's wooden teeth to his own experience as a woodworker. The subject matter will also allow Offerman to expound upon his favorite topics, which listeners love to hear—areas such as religion, politics, woodworking and handcrafting, agriculture, creativity, philosophy, fashion, and, of course, meat.
---
Funny Man by Mel Brooks
book
A deeply textured and compelling portrait of comedy giant Mel Brooks, covering his rags-to-riches life and triumphant career in television, film, and theater, from one of our greatest film biographers, Patrick McGilligan
Oscar, Emmy, Tony, and Grammy Award-winner Mel Brooks was behind the camera (and sometimes in front of it) on some of the most influential comedy hits of our time, including The 2000 Year Old Man, Get Smart, The Producers, Blazing Saddles, Young Frankenstein, and Spaceballs. But before this actor, writer, director, comedian, and composer entertained the world, his first audience was his family.
Mel Brooks was born Melvin Kaminsky on his family's kitchen table in Brooklyn, New York, in 1926. Growing up in a household too poor to own a radio, Mel was a mischievous child whose role was to make the family laugh. But beyond boyhood, and after he reinvented himself as Mel Brooks, the laughs that came easily inside the Kaminsky home proved more elusive.
Brooks's lifelong crusade to become a brand name of popular humor is at the center of this exhaustively researched and wonderfully novelistic look at Brooks's personal and professional life. McGilligan insightfully navigates the epic ride that has been the famous funny-man's life story, from his childhood in Williamsburg tenements to his breakthrough in early television—working alongside Sid Caesar and Carl Reiner—to Hollywood and Broadway peaks (and valleys).
Funny Man offers a meditation on the Jewish immigrant culture that influenced Brooks, snapshots of the golden age of comedy, behind-the-scenes revelations about the celebrated shows and films, and a telling look at the four-decade romantic partnership with actress Anne Bancroft that superseded Brooks's troubled first marriage. In Funny Man, McGilligan lays bare the strengths and drawbacks that shaped Brooks's psychology, his willpower, his persona, and his comedy, delivering to us a great man's unforgettable life story and an anatomy of the American dream of success.
---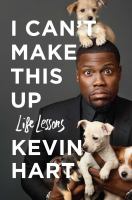 I Can't Make This Up by Kevin Hart
book
OverDrive ebook
New York Times bestselling author, superstar comedian, and Hollywood box office star Kevin Hart turns his immense talent to the written word by writing some words. Some of those words include: the, a, for, above, and even even. Put them together and you have a "hilarious but also heartfelt" (Elle) memoir on survival, success, and the importance of believing in yourself.
It begins in North Philadelphia. He was born an accident, unwanted by his parents. His father was a drug addict who was in and out of jail. His brother was a crack dealer and petty thief. And his mother was overwhelmingly strict, beating him with belts, frying pans, and his own toys.

The odds, in short, were stacked against our young hero. But Kevin Hart, like Ernest Hemingway, J.K. Rowling, and Chocolate Droppa before him, was able to defy the odds and turn it around. In his literary debut, he takes us on a journey through what his life was, what it is today, and how he's overcome each challenge to become the man he is today.
And that man happens to be the biggest comedian in the world, with tours that sell out football stadiums and films that have collectively grossed over $3.5 billion.
He achieved this not just through hard work, determination, and talent. "Hart is an incredibly magnetic storyteller, on the page as he is onstage, and that's what shines through [in this] genial, entertaining guide to a life in comedy" (Kirkus Reviews).
---
Letterman : The Last Giant of Late Night by Jason Zinoman
book
hoopla ebook
hoopla audiobook
The New York Times comedy critic, Jason Zinoman, delivers the definitive story of the life and artistic legacy of David Letterman, the signature comedic voice of a generation.

In a career spanning more than thirty years, David Letterman redefined the modern talk show with an ironic comic style that transcended traditional television. While he remains one of the best-known stars in America, he is also a remote figure whose career has been widely misunderstood. In Letterman, Jason Zinoman, the first comedy critic in the history of the New York Times, mixes ground- breaking reporting with unprecedented access and probing critical analysis to explain the unique entertainer's titanic contributions. Moving from Letterman's early days in Indiana to his retirement, Zinoman has explored behind the scenes of Letterman's television career to shed light on the origins of his revolutionary comedy, its overlooked influences, and how his work intersects with and reveals his famously eccentric personality.

In arguing that Letterman had three great artistic periods, each one a distinct part of his evolution, Zinoman examines captivating segments that defined Late Night with David Letterman — for example, Stupid Pet Tricks and other key broadcasting moments — to illuminate Letterman's relationship with his writers and, in particular, the show's co-creator, Merrill Markoe, with whom Letterman had a long professional and personal connection. To understand popular culture today, it is necessary to understand David Letterman. With this enlightening biography, Zinoman offers a perceptive study of the man and the artist whose caustic voice was crucial to an entire generation of comedians and viewers and whose singular style ushered in new tropes that have become clichés in contemporary comedy.
---
Last Words by George Carlin & Tony Hendra
book
hoopla audiobook
hoopla abridged audiobook
As one of America's preeminent comedic voices, George Carlin saw it all throughout his extraordinary fifty-year career and made fun of most of it. Last Words is the story of the man behind some of the most seminal comedy of the last half century, blending his signature acerbic humor with never-before-told stories from his own life. Carlin's early conflicts, his long struggle with substance abuse, his turbulent relationships with his family, and his triumphs over catastrophic setbacks all fueled the unique comedic worldview he brought to the stage. From the heights of stardom to the low points few knew about, Last Words is told with the same razor-sharp honesty that made Carlin one of the best-loved comedians in American history.
*All book summaries provided by the publisher unless otherwise noted.