In the land of dragons, these teens discover strength and courage they didn't know they had. Curated by Samantha Matherne.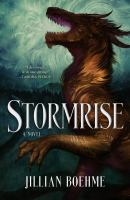 Stormrise by Jillian Boehme
book
hoopla audiobook
A combat warrior will risk everything to awaken the dragons and save her kingdom in Jillian Boehme's epic YA Fantasy debut, Stormrise, inspired by "Twelfth Night" and perfect for fans of Tamora Pierce.
If Rain weren't a girl, she would be respected as a Neshu combat master. Instead, her gender dooms her to a colorless future. When an army of nomads invades her kingdom, and a draft forces every household to send one man to fight, Rain takes her chance to seize the life she wants.
Knowing she'll be killed if she's discovered, Rain purchases powder made from dragon magic that enables her to disguise herself as a boy. Then she hurries to the war camps, where she excels in her training and wrestles with the voice that has taken shape inside her head. The voice of a dragon she never truly believed existed.
As war looms and Rain is enlisted into an elite, secret unit tasked with rescuing the High King, she begins to realize this dragon tincture may hold the key to her kingdom's victory. For the dragons that once guarded her land have slumbered for centuries . . . and someone must awaken them to fight once more.
---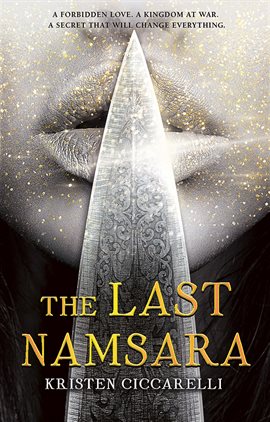 The Last Namsara by Kristen Ciccarelli
hoopla ebook
hoopla audiobook
Freading ebook
Part 1 of the Iskari series

Kristen Ciccarelli's debut fantasy explores an intricately woven world of deception, inner darkness, and dragons that fantasy fans won't be able to resist. In the beginning, there was the Namsara: the child of sky and spirit, who carried love and laughter wherever he went. But where there is light, there must be darkness — and so there was also the Iskari. The child of blood and moonlight. The destroyer. The death-bringer.
These are the legends that Asha, daughter of the king of Firgaard, has grown up learning in hushed whispers, drawn to the forbidden figures of the past. But it isn't until she becomes the fiercest, most feared dragon slayer in the land that she takes on the role of the next Iskari — a lonely destiny that leaves her feeling more like a weapon than a girl.
Asha conquers each dragon and brings its head to the king, but no kill can free her from the shackles that await at home: her betrothal to the cruel commandant, a man who holds the truth about her nature in his palm.
When she's offered the chance to gain her freedom in exchange for the life of the most powerful dragon in Firgaard, she finds that there may be more truth to the ancient stories than she ever could have expected. With the help of a secret friend — a slave boy from her betrothed's household — Asha must shed the layers of her Iskari bondage and open her heart to love, light, and a truth that has been kept from her.
---
House of Dragons by Jessica Cluess
book
When the Emperor dies, the five royal houses of Etrusia attend the Call, where one of their own will be selected to compete for the throne. It is always the oldest child, the one who has been preparing for years to compete in the Trial. But this year is different. This year these five outcasts will answer the call.
THE LIAR: Emilia must hide her dark magic or be put to death. THE SOLDIER: Lucian is a warrior who has sworn to never lift a sword again. THE SERVANT: Vespir is a dragon trainer whose skills alone will keep her in the game. THE THIEF: Ajax knows that nothing is free. He must take what he wants. THE MURDERER: Hyperia was born to rule and will stop at nothing to take her throne.
---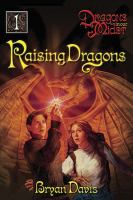 Raising Dragons by Bryan Davis
book
A boy learns of his dragon past; a girl has known of hers for years. They combine their faith, courage, and love to overcome evil, a slayer who seeks to bring an end to dragon heritage, forever.
The kids at school call Billy "Dragon Breath" for good reason. His breath is bad. It isn't the normal, morning-mouth bad; it's the hot-as-fire, "don't-you-dare-get-near-me" bad. Trouble erupts when his hot breath sets off the fire sprinklers in the boys' restroom at school, and his parents learn that they've kept their secret for too long.
Billy finally discovers the secret. His father was once a dragon Now that's a piece of news a guy doesn't deal with every day. Billy feels betrayed, alien, lost. When the dragon slayer traps him on a cold mountaintop in West Virginia, Billy learns to battle with weapons of steel and spirit while relying on a power he doesn't understand, a power that helps him learn to trust again.
Bonnie, an orphan, tries to find a home, someone to love her, even though she feels like a freak because of a body feature that she calls a deformity. But this unusual feature becomes a life-saving attribute as she discovers that her love for others and her faith in a creator hold the answers she's looking for.
---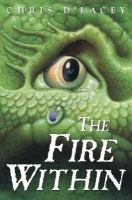 The Fire Within by Chris D'Lacey
book
When David moves in with Liz and Lucy, he discovers a collection of hand crafted, clay dragons that comes to life and has magical powers. David's personalized dragon, Gadzooks, can forecast the future, and inspires him to write a story which reveals the truth behind an unsolved mystery close to home. The story has an unhappy ending, and when David realizes the consequences of it, he is angry. Then David finds Gadzooks crying and near death, and he discovers that these special dragons die when they are not loved. Soon David is forced to save his friend and unlock the powers of the fire within.
---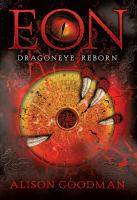 Eon: Dragoneye Reborn by Alison Goodman
book
Eon has been studying the ancient art of Dragon Magic for four years, hoping he'll be able to apprentice to one of the twelve energy dragons of good fortune. But he also has a dark secret. He is actually Eona, a sixteen-year-old girl who has been living a dangerous lie for the chance to become a Dragoneye, the human link to an energy dragon's power. It is forbidden for females to practice the Dragon Magic and, if discovered, Eon faces a terrible death. After a dazzling sword ceremony, Eon's affinity with the twelve dragons catapults him into the treacherous world of the Imperial court where he makes a powerful enemy, Lord Ido. As tension builds and Eon's desperate lie comes to light, readers won't be able to stop turning the pages.
---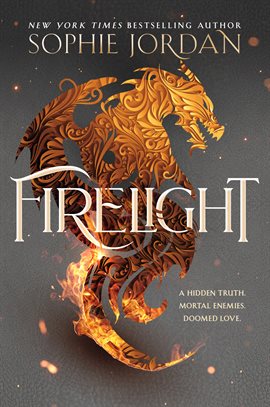 Firelight by Sophie Jordan
hoopla ebook
Freading ebook
Part 1 of the Firelight series
With her rare ability to breathe fire, Jacinda is special even among the draki — the descendants of dragons who can shift between human and dragon forms.
But when Jacinda's rebelliousness forces her family to flee into the human world, she struggles to adapt, even as her draki spirit fades. The one thing that revives it is the gorgeous, elusive Will, whose family hunts her kind. Jacinda can't resist getting closer to him, even though she knows she's risking not only her life but the draki's most closely guarded secret.
Mythical powers and breathtaking romance ignite in this story of a girl who defies all expectations and whose love crosses an ancient divide.
---
Talon by Julie Kagawa
book
hoopla ebook
hoopla audiobook
Freading ebook
Freading ebook — The Talon Saga Volume 1
In this groundbreaking modern fantasy series, dragons walk among us in human form.
Long ago, dragons were hunted to near extinction by the Order of St. George, a legendary society of dragonslayers. Hiding in human form and growing their numbers in secret, the dragons of Talon have become strong and cunning, and they're positioned to take over the world with humans none the wiser.
Ember and Dante Hill are the only sister and brother known to dragonkind. Trained to infiltrate society, Ember wants to live the teen experience and enjoy a summer of freedom before taking her destined place in Talon. But destiny is a matter of perspective, and a rogue dragon will soon challenge everything Ember has been taught. As Ember struggles to accept her future, she and her brother are hunted by the Order of St. George.
Soldier Garret Xavier Sebastian has a mission to seek and destroy all dragons and Talon's newest recruits in particular. But he cannot kill unless he is certain he has found his prey. And nothing is certain about Ember Hill. Faced with Ember's bravery, confidence and all-too-human desires, Garret begins to question everything that the Order has ingrained in him – and what he might be willing to give up to find the truth about dragons.
---
Hunter by Mercedes Lackey
book
hoopla audiobook
Long ago, the barriers between our world and the Otherworld were ripped open, and it's taken centuries to bring back civilization in the wake of the catastrophe. To Joyeaux Charmand, who has been a Hunter in her tight-knit mountain community since she was a child, every Cit without magic deserves her protection from dangerous Othersiders. Then she is called to Apex City, where the best Hunters are kept to protect the most important people.
Joy soon realizes that the city's powerful leaders care more about luring Cits into a false sense of security than protecting them. More and more monsters are getting through the barriers, and the close calls are becoming too frequent to ignore. Yet the Cits have no sense of how much danger they're in. To them, Joy and her corp of fellow Hunters are just action stars they watch on TV.
When an act of sabotage against Joy takes an unbearable toll, Joy uncovers a terrifying conspiracy in the city. There is something much worse than the usual monsters infiltrating Apex . . . and it may be too late to stop them.
---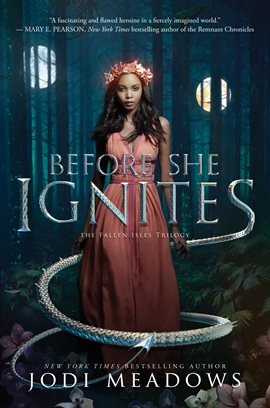 Before She Ignites by Jodi Meadows
hoopla ebook
Freading ebook
Part 1 of the Fallen Isles series
From the New York Times bestselling co-author of My Plain Jane comes a smoldering new fantasy trilogy perfect for fans of Victoria Aveyard and Kristin Cashore about a girl condemned for defending dragons and the inner fire that may be her only chance of escape. Mira has always been a symbol of hope for the Fallen Isles, perfect and beautiful. At least that's how she's forced to appear. But when she uncovers a dangerous secret, Mira is betrayed by those closest to her and sentenced to the deadliest prison in the Fallen Isles. Except Mira is over being a pawn. Fighting to survive against outer threats and inner demons of mental illness, Mira must find her inner fire and the scorching truth about her own endangered magic before her very world collapses.
And that's all before she ignites.
---
Fireborne by Rosaria Munda
book
Annie and Lee were just children when a brutal revolution changed their world, giving everyone–even the lowborn–a chance to test into the governing class of dragonriders.
Now they are both rising stars in the new regime, despite backgrounds that couldn't be more different. Annie's lowborn family was executed by dragonfire, while Lee's aristocratic family was murdered by revolutionaries. Growing up in the same orphanage forged their friendship, and seven years of training have made them rivals for the top position in the dragonriding fleet.
But everything changes when survivors from the old regime surface, bent on reclaiming the city.
With war on the horizon and his relationship with Annie changing fast, Lee must choose to kill the only family he has left or to betray everything he's come to believe in. And Annie must decide whether to protect the boy she loves or step up to be the champion her city needs.
From debut author Rosaria Munda comes a gripping adventure that calls into question which matters most: the family you were born into, or the one you've chosen.
---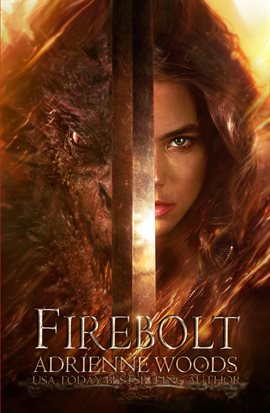 Firebolt by Adrienne Woods
hoopla ebook
hoopla audiobook
Part 1 of the Dragonian series
Dragons. Right. Teenage girls don't believe in fairy tales, and sixteen-year old Elena Watkins was no different.
Until the night a fairy tale killed her father.
Now Elena's in a new world, and a new school. The cutest guy around may be an evil dragon, a Prince wants Elena's heart, and a long dead sorcerer may be waking up to kill her. Oh. And the only way Elena's going to graduate is on the back of a dragon of her own.
Teenage girls don't believe in fairy tales. Now it's time for Elena to believe — in herself.
---
Dealing with Dragons by Patricia C. Wrede 
book 
hoopla ebook 
OverDrive ebook 
Freading ebook 
The Enchanted Forest Chronicles, Book 1 
Meet Princess Cimorene — a princess who refuses to be proper. She is everything a princess is not supposed to be: headstrong, tomboyish smart… and bored. So bored that she runs away to live with a dragon. And not just any dragon, but Kazul, one of the most powerful and dangerous dragons around. Of course, Cimorene has a way of hooking up with dangerous characters, and soon she's coping with a witch, a jinn, a death-dealing talking bird, a stone prince, and some very oily wizards. If this princess ran away to find some excitement, it looks like she's found plenty. 
---
*All summaries are courtesy of the publisher unless otherwise noted.