If you love the gothic fantasy and horror of Tim Burton's films, these are the books for you. Curated by Samantha Matherne.
Anna Dressed in Blood by Kendare Blake
book
hoopla audiobook
A teen ghost hunter sets his sights on the murderous ghost of a girl who has been haunting her house since the '50s: Anna Dressed in Blood.
Cas Lowood has inherited an unusual vocation: He kills the dead.
So did his father before him, until he was gruesomely murdered by a ghost he sought to kill. Now, armed with his father's mysterious and deadly athame, Cas travels the country with his kitchen-witch mother and their spirit-sniffing cat. Together they follow legends and local lore, trying to keep up with the murderous dead while keeping pesky things like the future and friends at bay.
When they arrive in a new town in search of a ghost the locals call Anna Dressed in Blood, Cas doesn't expect anything outside of the ordinary: track, hunt, kill. What he finds instead is a girl entangled in curses and rage, a ghost like he's never faced before. She still wears the dress she wore on the day of her brutal murder in 1958: once white, now stained red and dripping with blood. Since her death, Anna has killed any and every person who has dared to step into the deserted Victorian she used to call home. But she, for some reason, spares Cas's life.
---
Anya's Ghost by Vera Brosgol
graphic novel
Anya could really use a friend. But her new BFF isn't kidding about the "Forever" part . . . Of all the things Anya expected to find at the bottom of an old well, a new friend was not one of them. Especially not a new friend who's been dead for a century.
Falling down a well is bad enough, but Anya's normal life might actually be worse. She's embarrassed by her family, self-conscious about her body, and she's pretty much given up on fitting in at school. A new friend–even a ghost–is just what she needs. Or so she thinks.
Spooky, sardonic, and secretly sincere, Anya's Ghost is a wonderfully entertaining debut from author/artist Vera Brosgol.
---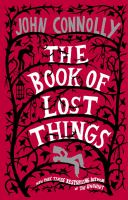 The Book of Lost Things by John Connolly
hoopla audiobook
OverDrive ebook
OverDrive audiobook
High in his attic bedroom, twelve-year-old David mourns the death of his mother. He is angry and alone, with only the books on his shelf for company. But those books have begun to whisper to him in the darkness, and as he takes refuge in his imagination, he finds that reality and fantasy have begun to meld. While his family falls apart around him, David is violently propelled into a land that is a strange reflection of his own world, populated by heroes and monsters, and ruled over by a faded king who keeps his secrets in a mysterious book… The Book of Lost Things.
An imaginative tribute to the journey we must all make through the loss of innocence into adulthood, John Connolly's latest novel is a book for every adult who can recall the moment when childhood began to fade, and for every adult about to face that moment. The Book of Lost Things is a story of hope for all who have lost, and for all who have yet to lose. It is an exhilarating tale that reminds us of the enduring power of stories in our lives.
---
James and the Giant Peach by Roald Dahl
book
book on CD
DVD
hoopla movie soundtrack
OverDrive ebook
After James Henry Trotter's parents are tragically eaten by a rhinoceros, he goes to live with his two horrible aunts, Spiker and Sponge. Life there is no fun, until James accidentally drops some magic crystals by the old peach tree and strange things start to happen. The peach at the top of the tree begins to grow, and before long it's as big as a house. Inside, James meets a bunch of oversized friends–Grasshopper, Centipede, Ladybug, and more. With a snip of the stem, the peach starts rolling away, and the great adventure begins!
---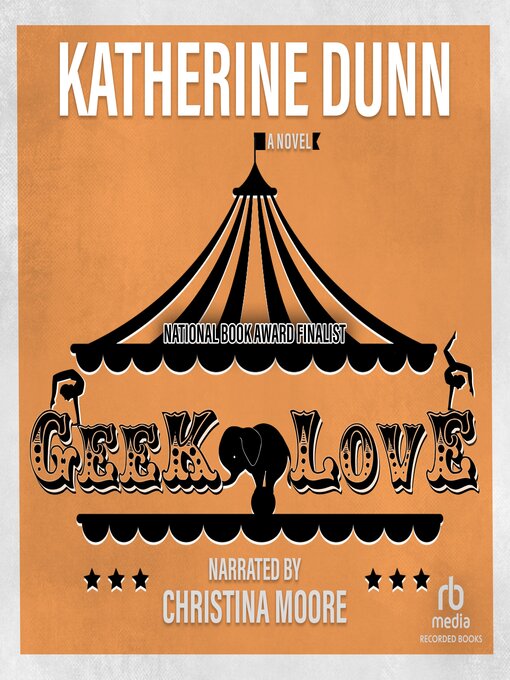 Geek Love by Katherine Dunn
hoopla audiobook
OverDrive ebook
OverDrive audiobook
Here is the unforgettable story of the Binewskis, a circus-geek family whose matriarch and patriarch have bred their own exhibit of human oddities (with the help of amphetamine, arsenic, and radioisotopes). Their offspring include: Arturo the Aquaboy, who has flippers for limbs and a megalomaniac ambition worthy of Genghis Khan; Iphy and Elly, the lissome Siamese twins; albino hunchback Oly; and the outwardly normal Chick, whose mysterious gifts make him the family's most precious—and dangerous—asset.
As the Binewskis take their act across the backwaters of the U.S., inspiring fanatical devotion and murderous revulsion; as its members conduct their own Machiavellian version of sibling rivalry, Geek Love throws its sulfurous light on our notions of the freakish and the normal, the beautiful and the ugly, the holy and the obscene. Family values will never be the same.
---
Coraline by Neil Gaiman
book
graphic novel
DVD
hoopla ebook
hoopla audiobook
OverDrive ebook
OverDrive ebook – Neil Gaiman Young Readers' Collection
Freading ebook
The day after moving to her house, Coraline explores the fourteen doors of her new home. Thirteen can be opened normally, but the Fourteenth is closed and boarded up. When she finally gets it open, she finds a secret passage that leads to another house like her own that is chilling.
---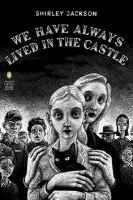 We Have Always Lived in the Castle by Shirley Jackson
book
OverDrive ebook
Alone since four members of the family died of arsenic poisoning, Merricat, Constance, and Julian Blackwood spend their days in happy isolation until cousin Charles appears.
Taking readers deep into a labyrinth of dark neurosis, We Have Always Lived in the Castle is a deliciously unsettling novel about a perverse, isolated, and possibly murderous family and the struggle that ensues when a cousin arrives at their estate.
---
The Night Circus by Erin Morgenstern
book
Large Print book
book on CD
OverDrive ebook
OverDrive audiobook
The circus arrives without warning. No announcements precede it. It is simply there, when yesterday it was not. Within the black-and-white striped canvas tents is an utterly unique experience full of breathtaking amazements. It is called Le Cirque des Rêves, and it is only open at night.
But behind the scenes, a fierce competition is underway: a duel between two young magicians, Celia and Marco, who have been trained since childhood expressly for this purpose by their mercurial instructors. Unbeknownst to them, this is a game in which only one can be left standing, and the circus is but the stage for a remarkable battle of imagination and will. Despite themselves, however, Celia and Marco tumble headfirst into love, a deep, magical love that makes the lights flicker and the room grow warm whenever they so much as brush hands.
True love or not, the game must play out, and the fates of everyone involved, from the cast of extraordinary circus performers to the patrons, hang in the balance, suspended as precariously as the daring acrobats overhead.
Written in rich, seductive prose, this spell-casting novel is a feast for the senses and the heart.
---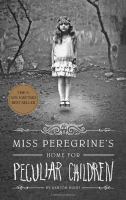 Miss Peregrine's Home for Peculiar Children by Ransom Riggs
book
Spanish book
graphic novel
book on CD
DVD
hoopla movie soundtrack
OverDrive ebook
OverDrive audiobook
A mysterious island. An abandoned orphanage. A strange collection of very curious photographs. It all waits to be discovered in Miss Peregrine's Home for Peculiar Children, an unforgettable novel that mixes fiction and photography in a thrilling reading experience. As our story opens, a horrific family tragedy sets sixteen-year-old Jacob journeying to a remote island off the coast of Wales, where he discovers the crumbling ruins of Miss Peregrine's Home for Peculiar Children. As Jacob explores its abandoned bedrooms and hallways, it becomes clear that the children were more than just peculiar. They may have been dangerous. They may have been quarantined on a deserted island for good reason. And somehow–impossible though it seems–they may still be alive. A spine-tingling fantasy illustrated with haunting vintage photography, Miss Peregrine's Home for Peculiar Children will delight adults, teens, and anyone who relishes an adventure in the shadows.
---
Alice in Zombieland by Gena Showalter
book
hoopla ebook
OverDrive ebook
Freading ebook
A modern-day Alice in Wonderland meets the undead…
Alice in Zombieland, the first book in The White Rabbit Chronicles, introduces readers to a world newly overrun by zombies…and the one girl who may be able to save mankind.
She won't rest until she's sent every walking corpse back to its grave.
Had anyone told Alice Bell that her entire life would change course between one heartbeat and the next, she would have laughed. But that's all it took. One heartbeat. A blink, a breath, a second, and everything she knew and loved was gone.
Her father was right. The monsters are real.
To avenge her family, Ali must learn to fight the undead. To survive, she must learn to trust the baddest of the bad boys, Cole Holland. But Cole has secrets of his own, and if Ali isn't careful, those secrets might just prove to be more dangerous than the zombies.
---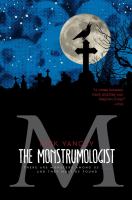 The Monstrumologist: William James Henry by Richard Yancey
book
hoopla audiobook
"These are the secrets I have kept. This is the trust I never betrayed. But he is dead now and has been for nearly ninety years, the one who gave me his trust, the one for whom I kept these secrets. The one who saved me . . . and the one who cursed me."

So starts the diary of Will Henry, orphan and assistant to a doctor with a most unusual specialty: monster hunting. In the short time he has lived with the doctor, Will has grown accustomed to his late-night callers and dangerous business. But when one visitor comes with the body of a young girl and the monster that was feeding on her, Will's world is about to change forever. The doctor has discovered a baby Anthropophagi–a headless monster that feeds through the mouthfuls of teeth in its chest–and it signals a growing number of Anthropophagi. Now Will and the doctor must face the horror threatening to overtake and consume our world before it is too late.
The Monstrumologist is the first stunning gothic adventure in a series that combines the spirit of HP Lovecraft with the storytelling ability of Rick Riordan.
---
*All summaries are courtesy of the publisher unless otherwise noted.