Love, revenge, murder. The streets are a dangerous place for women in these seductive tales of urban romance. Curated by Jessica Schiefelbein.
The Coldest Winter Ever by Sister Souljah
book
OverDrive ebook
Ghetto-born, Winter is the young, wealthy daughter of a prominent Brooklyn drug-dealing family. Quick-witted, sexy, and business-minded, she knows and loves the streets like the curves of her own body. But when a cold Winter wind blows her life in a direction she doesn't want to go, her street smarts and seductive skills are put to the test of a lifetime. Unwilling to lose, this ghetto girl will do anything to stay on top.
---
The Cartel by Ashley & JaQuavis
book
OverDrive ebook
hoopla ebook
The port of Miami brings in millions of dollars worth of cocaine every year, and The Cartel controls eighty percent of it. The Diamond family is a force to be reckoned with, but all hell breaks loose when they lose their leader. The most ruthless gangster Miami has ever seen, Carter Diamond leaves behind a wife, twin sons, a daughter, and a secret. The secret is his illegitimate son, Carter Jones. When Young Carter learns of his father's death, he comes to town and is introduced to the legacy of The Cartel. Miamor is a woman who uses her beauty to enhance her skill as a contract killer. She is the leader of The Murder Mamas. When her crew is hired to take down The Cartel, they get caught slipping, and Miamor loses her sister in the process. She is determined to get revenge from The Cartel. Unknowingly, she meets the son of Carter Diamond, and he immediately catches her heart. She is sleeping with the enemy, and when she finds out, she is torn between love and revenge. Young Carter and Miamor lead two different lifestyles. They are on opposing teams, and when their worlds collide, the truth will be unveiled in an unpredictable ending.
---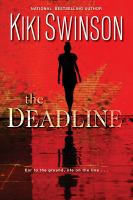 The Deadline by Kiki Swinson
book
hoopla ebook
As an off-air TV news journalist, Khloé Mercer covers the tough Norfolk, Virginia, neighborhood she grew up in. But between a hostile boss and stiff competition, she has to break a major exclusive to save her job—and lock down the coveted anchor desk slot she feels she deserves.
When a murder takes place on her home turf, Khloé has easy access to the dirty truth behind it. But she'll have to decide whether to exploit every angle and leverage any favor to make her career explode big-time—or keep quiet and keep herself, and her family, safe.

Once the ruthless power brokers behind the hit put Khloé in their sights, they start brutally cleaning up loose ends. Now with an inescapable target on her back and odds racking up against her, she'll find nowhere is safe, and ambition may be her most dangerous enemy . . .
---
Thug Matrimony by Wahida Clark
book
book on CD
OverDrive ebook
hoopla ebook
hoopla audiobook
In Wahida Clark's phenomenal, gritty new novel, Angel is getting ready to marry the man of her dreams, but his past isn't about to let go…
Angel, Jaz, Tasha and Kyra are four girlfriends pulling themselves out of the ghetto and trying to bring their hearts up to higher ground with them. Now Angel has started her own law practice and new life with Kaylin. But when an unwanted guest crashes their wedding, all the rage and bloodlust from the hood comes bustin' out – and Angel's gonna need every prayer in heaven to make it to the altar alive…
---
Imitation of Wife by LA Jill Hunt
book
book on CD
OverDrive ebook
OverDrive audiobook
hoopla ebook
Dealing with the aftermath of her husband's affair has not been easy for Sylvia Blackwell. When she vowed to stay by his side for better or for worse, she never imagined that would mean becoming a parent to Jordan, his troubled teenage love child. Now Sylvia is facing a new dilemma that could not only be the final straw that breaks her fragile marriage, but could also shatter her already strained relationship with her sister, Janelle.
Tricia King never suspected there was trouble in her marriage. After all, she couldn't have asked for a better husband than Titus. He's everything she expected in a mate: a good provider, a great father, responsible, and supportive. She has no idea something is missing from their relationship until she finds out what he was giving someone else. Hurt and confused, she finds herself being counseled by a most unlikely ally.
Janelle was warned by her sister about the sting of karma and the futility of dating a married man, and she has come face to face with the reality of her actions. Her secret relationship with Titus is now open for everyone to see, including the new man in her life, Sherrod. Janelle is now in the center of a battle between the man she loves and the family she's trying to hold on to.
---
He Played Me by Ms. L.B.
book
Have you ever had a flashback over your entire life and thought about every horrible decision you have ever made? How different your life could have been if only you had made the right decisions? This is a story of how lust, love, lies and sex can lead you down a dark path full of passion, jealousy, hate, betrayals, and ultimately your demise.
Yazmin has been in a sexless, loveless marriage for the past two years. She is content, but not happy. That is until the charming and powerful Jai comes strolling into her life. He is everything she desires in man, charming, handsome with just the right amount of street swag. But everything that glitters isn't gold! And sometimes the grass looks greener on the other side because its fake!
Nadia has been in an abusive marriage for the past ten years. She has enjoyed a lavish life of fancy cars, exotic trips, diamonds and furs, but not without enduring the countless black eyes, outside kids, and being pimped out by her husband that has come along with it. What would it take for her to realize nothing her husband ever gave her was more valuable than her life?
Jai is charming, controlling, and manipulative. He uses his power and money to control and mistreat every woman in his life. He sees women as nothing more than trophies, used to boast his ego. That is, until he meets the beautiful and sexy Yazmin.
---
Twisted Intentions by B.M. Hardin
book
We all want something. Are you willing to do whatever it takes to get it?
Ms. Merci Miller is. And after surviving her worst nightmare, finally, there's a light at the end of the tunnel.
She sees something she isn't supposed to see; a crime. But she finds a way to use pain to her advantage this time. Her intentions are pure. And just a little bit twisted. And for a while, things are just as sweet as forehead kisses.
And then, suddenly, Merci is reminded of her past, and forced to face her biggest fear.
"He's back, Merci. Your worst nightmare is here."
But the man who hurt her is supposed to be dead.
Or is it all in Merci's head?
---
You're the Best Part by Chenell Parker
book
Life! It's been one let down after another, but I'm not one to complain. I've lost more than I've gained but still, things could be worse. I've lived my best life until life started getting the best of me. With no place to live and only a car to call my own, I've had to make some tough decisions. I learned at a young age not to depend on anyone, family included. Instead of crying about what I didn't have, I made the best out of what I did have. Love was nowhere in the cards for me before I met HIM. I tried to run but I was never fast enough. After a while, I slowed down and let him catch up with me. He didn't know my past but he didn't judge me once he learned about it. He had my back, even when I wasn't around. That's loyalty. He had my best interest even when my own family didn't. That's love. He told me his innermost thoughts and I told him mine. That's intimacy. Even after having his own heart broken once before, he still opened up and let me in. That's trust. I was a small piece of the puzzle that he was trying to put together. And as he always said, I was the best part.
---
Butterfly by Ashley Antoinette
book
OverDrive ebook
OverDrive audiobook
"Run away from the boy that gives you butterflies, he's going to break your heart."
Morgan Atkins had been told that phrase ever since she was a little girl and still she allowed herself to fall for the boy that made her heart flutter. After losing her first love, Morgan is terrified to love again. She's settled for a comfortable life with a respectable man. She has everything. She's living in the lap of luxury and although she's comfortable, she's bored out of her mind.
When a ghost from her past blows into town, she finds herself entangled in an illicit affair. It's wrong, but she can't fight the butterflies he gives her and honestly, she doesn't want to. She can't hide the natural attraction she feels and soon, she's so deeply involved that she can no longer tell where the boundary between right and wrong lies. Her heart is telling her one thing, but her head is saying another. Morgan Atkins has always been a spoiled girl, and she tries to have it all, but when she's forced to choose between a good man and a bad boy, someone will end up hurt. Someone just may end up dead.
---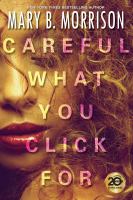 Careful What You Click For by Mary B. Morrison
book
Large Print book
book on CD
OverDrive ebook
hoopla ebook
For Jordan, Victoria, Kingston, and Chancelor, exciting, fast-paced Atlanta offers everything their hometowns couldn't. But career success is easy compared to the city's dating scene of users, losers, and gold diggers. So they decide online dating might just be the answer—as long as they take precautions, work their perfect odds-beating plan, and have each other's backs. With luck, and prayers, they'll fulfill their fantasies and find real love at the same time.
An accomplished lawyer, Jordan must look hard at potential suitors. But Terrence seems to be the honest man of her dreams, until accusations and her career threaten to come between them.
Sixty-something real estate pro Victoria thinks young men equal satisfaction that a good Christian woman like her deserves, but anything-goes sex makes her bet more than she can afford to lose.
Basketball star Kingston has the perfect life and wife, but exploring what he really wants on the downlow is a game he may not win.
And for marketing guru Chancelor, the net is a paradise of prey, but the consequences could blow more than his schemes apart.
Soon enough, thanks to secret agendas, lies, and truths they can't even admit to themselves, all four friends' lives are in danger of being upended. And the results could rack up a price no one can pay.
---
**All summaries are courtesy of the publisher unless otherwise noted.