Humans have been fascinated by the fantastical creature known as the unicorn for centuries. According to some lore, unicorns are magical creatures whose horns are said to have healing powers. From finding unicorns in our world to visiting other lands they occupy, you can read a story featuring unicorns in celebration of our Tails and Tales 2021 Summer Reading Program. Check out the Fun with Unicorns collection on hoopla for ebooks, audiobooks, and streaming movies. Curated by Samantha Matherne.
Adults and Teens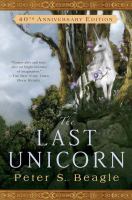 The Last Unicorn by Peter S. Beagle
book
graphic novel
Experience the magic of Peter S. Beagle's classic tale about a lone unicorn's search for her kind — hailed by The Atlantic as "one of the best fantasy novels ever."
The unicorn lived in a lilac wood, and she lived all alone. So she ventured out from the safety of the enchanted forest on a quest for others of her kind. Joined along the way by the bumbling magician Schmendrick and the indomitable Molly Grue, the unicorn learns all about the joys and sorrows of life and love before meeting her destiny in the castle of a despondent monarch and confronting the creature that would drive her kind to extinction.
---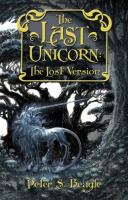 The Last Unicorn: The Lost Version by Peter S. Beagle
book
Beagle's modern fantasy classic, The Last Unicorn (1968), didn't come easily. He stalled on the first draft, returning to the concept only after a cross-country motor-scooter trip and his book about it, I See by My Outfit (1965). While the first draft opens the same as the novel, the principal characters other than the unicorn are different. There's a weary, tattered dragon, who apprises the unicorn of how the world beyond her forest has changed since the heyday of mythic beasts like themselves. Better, there's Azazel and Webster, a two-headed demon kicked out of hell because Webster loudly resisted such infernal improvements as turning off the flames and relegating Satan to figurehead status. The heads' bickering Beagle now seems as in character with his and his road buddy's banter in I See by My Outfit, and Beagle says he gave up on the first version because he couldn't continue the satire of religion the demon introduced.
---
The Unicorn Anthology edited by Peter S. Beagle and Jacob Weisman
book
hoopla ebook
Freading ebook
Here are sixteen lovely, powerful, intricate, and unexpected unicorn tales from fantasy icons including Garth Nix, Peter S. Beagle, Patricia A. McKillip, Bruce Coville, Carrie Vaughn, and more. In this volume you will find two would-be hunters who enlist an innkeeper to find a priest hiding the secret of the last unicorn. A time traveler tries to corral an unruly mythological beast that might never have existed at all. The lover and ex-boyfriend of a dying woman join forces to find a miraculous remedy in New York City. And a small-town writer of historical romances discovers a sliver of a mysterious horn in a slice of apple pie.
---
The Magic Kingdom of Landover: Volume 1 by Terry Brooks
book
Capture the fantasy, thrills, and far-flung adventure of the first three novels in Terry Brooks's enchanting Magic Kingdom of Landover series.
Chicago lawyer Ben Holiday can't fathom what lies ahead when he purchases Landover, a magical kingdom of chivalry and sorcery, from Meeks, the mysterious seller who placed the ad. Weary and jaded, Ben clings to the ad's promise: "Escape into your dreams." But Landover is not the enchanted idyll he expected.
The kingdom is in ruin. The barons refuse to recognize Ben as King, a dragon is decimating the countryside, and a demon lord has challenged any prospective ruler to a fatal duel. To make matters worse, the Paladin, renowned champion of the Kings of Landover, seems to be merely a legend.
Ben's only allies are a bumbling court magician, a talking dog turned court scribe, and the beautiful Willow, who is part girl, part tree. With his friends in tow, Ben sets out to claim the throne. But when Meeks decides he wants Landover back, Ben will face supernatural foes of every stripe to prove himself worthy of the kingship. The question is: Can he survive?
Books 1-3 included: Magic Kingdom for Sale – Sold, The Black Unicorn, Wizard at Large
---
The Outstretched Shadow by Mercedes Lackey
book
hoopla audiobook
Deep in Obsidian Mountain, the Demons are waiting. Since their defeat in the last great war, they've been biding their time. Very soon now, when the Demons rise to make war, there will be no alliance between High and Wild Magic to stand against them.
Kellen Tavadon, son of the Arch-Mage Lycaelon, thought he knew the way the world worked. His father, leading the wise and benevolent Council of Mages, protected and guided the citizens of the Golden City of the Bells. Young Mages in training — all men, for women were unfit to practice magic — memorized the intricate details of High Magic and aspired to seats on the council. Then he found the forbidden Books of Wild Magic-or did they find him?
The three slim volumes woke Kellen to the wide world outside the City's isolating walls. Their Magic was not dead, strangled by rules and regulations. It felt like a living thing, guided by the hearts and minds of those who practiced it and benefited from it. Questioning everything he has known, Kellen discovers too many of the City's dark secrets. Banished, with the Outlaw Hunt on his heels, Kellen invokes Wild Magic and finds himself running for his life with a unicorn at his side.
Kellen's life changes almost faster than he can understand or accept. Rescued by a unicorn, healed by a female Wild Mage who knows more about Kellen than anyone outside the City should, meeting Elven royalty and Elven warriors, and plunged into a world where the magical beings he has learned about as abstract concepts are flesh and blood creatures, Kellen both revels in and fears his new freedom. Especially once he learns about Demons. He'd always thought they were another abstract concept, a stand-in for ultimate evil. But if centaurs and dryads are real, then Demons surely are as well. And the one thing all the Mages of the City agreed on was that practicing Wild Magic corrupted a Mage. Turned him into a Demon. Would that be Kellen's fate?
Deep in Obsidian Mountain, the Demons are waiting. Since their defeat in the last great War, they've been biding their time, sowing the seeds of distrust and discontent between their human and Elven enemies. Very soon now, when the Demons rise to make war, there will be no alliance between High and Wild Magic to stand against them. And all the world will belong to the Endarkened.
Tweens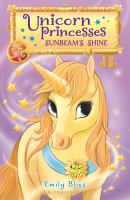 Sunbeam's Shine by Emily Bliss
book
Full of sparkle and friendship, this sweet chapter book series stars magical unicorn princesses of the Rainbow Realm, an enchanted land ruled by a circle of unicorn princesses, and Cressida Jenkins, a human girl they invite into their world.
---
Bad Unicorn by Platte F. Clark
book
OverDrive ebook
In this start to a hilarious middle-grade fantasy trilogy, Max Spencer discovers that a killer unicorn is hunting him.
It wasn't Max Spencer's idea to fight robots, lead an army, or save the world. It just so happens that he's the only living person who can read the most fantastical book ever written: The Codex of Infinite Knowability. The Codex is no ordinary book, and among other things, it describes a unicorn named Princess the Destroyer.
Princess the Destroyer is no ordinary unicorn. She loves nothing more than hunting down, killing, and eating other creatures. After all, what's the point of having a sharp horn on your forehead if you don't use it for destructive purposes? And right now Princess has a very definite purpose: Find Max and retrieve the lost Codex for an evil sorcerer and his mysterious master. If she can do that, she's been promised an all-the-humans-you-can-eat buffet in Texas.
Stuck in another world and with a carnivorous unicorn on his trail, Max must find the courage to save himself, his friends, and, oh yeah…the entire human race.
---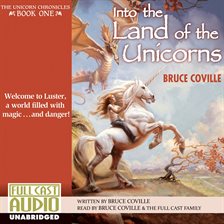 Into the Land of the Unicorns by Bruce Coville
hoopla audiobook
hoopla series audiobooks
Part 1 of the Unicorn Chronicles series
On a wintry night Cara and her grandmother are pursued into St. Christopher's church by an unknown man. Clutching her grandmother's mysterious amulet, Cara escapes into Luster, the Land of the Unicorns. Soon she is traveling across a beautiful but dangerous world to bring her grandmother's message to the oldest unicorn of all.
---
Bo's Magical New Friend by Rebecca Elliott
book
Meet Rainbow Tinseltail and the unicorns of Sparklegrove Forest in this magical series from the creator of the bestselling Owl Diaries series!
This series is part of Scholastic's early chapter book line Branches, aimed at newly independent readers. With easy-to-read text, high-interest content, fast-paced plots, and illustrations on every page, these books will boost reading confidence and stamina.
Bo Tinseltail loves going to Sparklegrove School with the other unicorns. Every unicorn has a magical power. Bo is a Wish Unicorn with the power to grant wishes. Bo has lots of friends, but one thing Bo wants more than anything is a best friend. When a new unicorn named Sunny Huckleberry pops into the forest, will Bo's big wish finally come true? And what will Sunny's Unicorn Power be?
---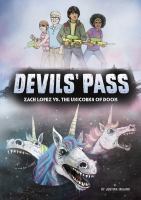 Zach Lopez vs. the Unicorns of Doom by Justina Ireland
book
hoopla ebook
When eighth-grader Zach Lopez starts school (where his mother is the newly appointed principal) in Devil's Pass, Minnesota, he expects to be miserable; after all he is a transplant from Los Angeles and the only Puerto Rican in the school. What he does not expect is the sinkhole in the middle of the park with a connection to the "otherside" and a town regularly beset by the monsters who come through it. But he soon learns that Devil's Pass specializes in the weird and dangerous.
---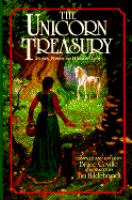 The Unicorn Treasury compiled and edited by Bruce Coville
book
Filled with the most popular legends about the mythical unicorn and including original poems and stories, this collection brings together the singular talents of Bruce Coville, Madeleine L'Engle, Jane Yolen, C. S. Lewis, Myra Cohn Livingston, and many others. A perfect companion to Coville's own bestselling Unicorn Chronicles, this is an ideal book for the child who has always wondered about these glorious beasts.
Kids
Unicorns 101 by Cale Atkinson
book
A laugh-out-loud picture book that finally sets the record straight about unicorns.
Unicorns. You love them, but how much do you really know about them? Join Professors Glitter Pants, Sprinkle Steed, Star Hoof, and Sugar Beard, plus their trusty lab assistant, Pete, as they reveal mind-blowing unicorn facts never before available to the public.
For example:
* Buttercup Sparklecheeks was the first unicorn to trot on Pluto
* At one time in history, there were dino-corns
* One unicorn accidentally made it rain waffles for a week
* Unicorns have giant slides inside their homes
* Rare and exotic unicorns include the mer-corn and the hamster-corn
Full of eye-popping illustrations and nonstop, sidesplitting laughs, plus a removable Unicorn Scientist diploma at the end of the book, Unicorns 101 will have children eager to enroll, time and time again.
---
Sparkly New Friends by Heather Ayris Burnell
book
Unicorn and Yeti run into each other (literally) while looking for sparkly things, and despite some differences (for instance Unicorn is magic, Yeti is not), the two become friends over a shared love of hot chocolate with rainbow sprinkles.
---
Unicorn Magic by Sabina Gibson
book
Can Periwinkle discover her own special unicorn magical power in the Forever Forest?
In the Forever Forest, all the unicorns have magic in their horns. Periwinkle worries she'll never discover her special power. Her friends help her realize that magic comes from within. This inspirational story of friendship and inner strength is illustrated with handmade felt characters.
---
Unicorn Day by Diana Murray
book
OverDrive ebook
hoopla ebook
hoopla audiobook
hoopla movies
Hooray! Hooray! It's Unicorn Day! When unicorns come out to play. The most important rule of Unicorn Day is to have fun, fun, fun!
The unicorns are celebrating their favorite day of the year, complete with rainbows, cupcakes, butterflies, and all sorts of joyful things. But when it's revealed there's an impostor in their midst, the party comes to a screeching halt. Will the unicorns welcome all and continue their fun in all its glittery glory?
---
How to Catch a Unicorn by Adam Wallace
book
hoopla audiobook
hoopla movies
Can YOU catch the unicorn? You'll have to use your brain. So set your traps and prep your team to pet that rainbow mane!
The kids are looking for something fun to do, so they set their sights on going to the zoo! And isn't riding a rainbow made by a unicorn the perfect way to get there?
Shenanigans and hijinks ensue as the friendly unicorn visits his fellow animal buddies while the kids give chase to try to pet that coveted rainbow mane. The fun never ends with tricky traps and glitter galore!
Movies
The Last Unicorn
DVD
The last unicorn discovers that she can save her brothers and sisters only if she challenges the Red Bull, and travels to the castle of the evil Lord Haggard to do so.
---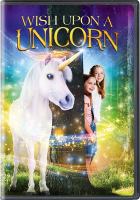 Wish Upon a Unicorn
DVD
Two sisters, Mia and Emma, and their father move from the city to the country to live on a farm with their grandmother. They miraculously discover and befriend a baby unicorn named Rocco. Rocco has magical powers and gives the girls a little bit of luck and a lot of laughter which makes the adjustment to their new home and school a bit easier.
*All summaries courtesy of the publisher unless otherwise noted.