Writers of horror novels know well that casting children as the antagonist will always send a shiver up the spines of readers because it seems so unnatural. Some of the most chilling stories are the ones that showcase the possibility of sociopathic or abusive children and teens. These cautionary tales are sure to make you shiver. Curated by Tabor Millien.
Adult Fiction
We Need to Talk About Kevin by Lionel Shriver
Book
hoopla eAudiobook
OverDrive eBook
DVD
hoopla movie
Eva never really wanted to be a mother. And certainly not the mother of a boy who murdered seven of his fellow high school students, a cafeteria worker, and a much-adored teacher in a school shooting two days before his sixteenth birthday.
Neither nature nor nurture exclusively shapes a child's character. But Eva was always uneasy with the sacrifices and social demotion of motherhood. Did her internalized dislike for her own son shape him into the killer he's become? How much is her fault?
Now, two years later, it is time for her to come to terms with Kevin's horrific rampage, all in a series of startlingly direct correspondences with her estranged husband, Franklin.
A piercing, unforgettable, and penetrating exploration of violence and responsibility, a book that the Boston Globe describes as "impossible to put down" is a stunning examination of how tragedy affects a town, a marriage, and a family.
---
The Fifth Child by Doris Lessing
book
In the unfettered atmosphere of the late 1960s, a couple builds a life based on their belief in the superior value of tradition and normalcy. A large house, a large family, all the expected pleasantries convince them they can remain untouched by dark events–until the birth of their fifth child, a gruesome, insatiably hungry, violent child.
---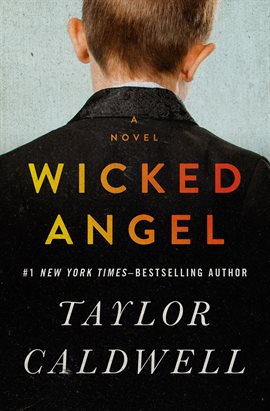 Wicked Angel by Taylor Caldwell
hoopla eBook
hoopla eAudiobook
Freading eBook
A tale of family horror in the tradition of The Bad Seed and The Omen from the #1 New York Times–bestselling author of Dialogues with the Devil. To his mother, Angelo is the most beautiful and brilliant child in the world. She caters to his every whim and dismisses his malicious outbursts as childish pranks. But as Angelo grows older, his behavior only becomes more disturbing. A pet dog disappears. A playground run-in leaves one of his teachers with a broken arm. Still, his mother refuses to believe that anything is wrong with her precious angel. His father and his aunt, however, have begun to suspect that behind Angelo's cherubic smile lurks a dark and twisted monster who preys on the innocent. But how do they reveal Angelo's true nature before it's too late?
---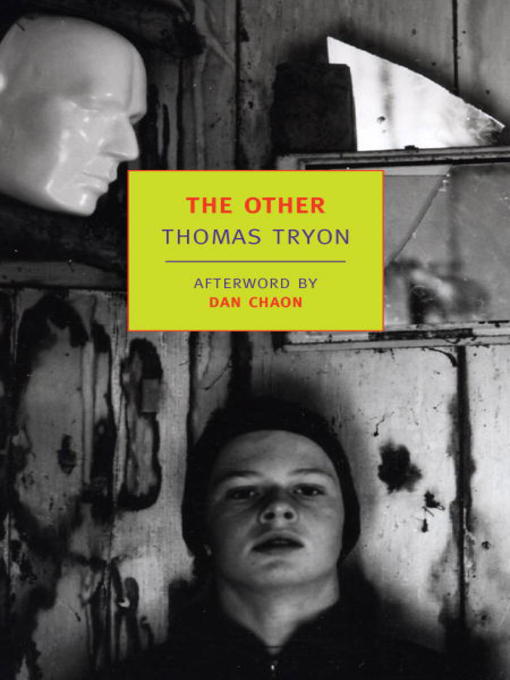 The Other by Thomas Tryon
OverDrive eBook
Holland and Niles Perry are identical thirteen-year-old twins. They are close, close enough, almost, to read each other's thoughts, but they couldn't be more different. Holland is bold and mischievous, a bad influence, while Niles is kind and eager to please, the sort of boy who makes parents proud. The Perrys live in the bucolic New England town their family settled centuries ago, and as it happens, the extended clan has gathered at its ancestral farm this summer to mourn the death of the twins' father in a most unfortunate accident. Mrs. Perry still hasn't recovered from the shock of her husband's gruesome end and stays sequestered in her room, leaving her sons to roam free. As the summer goes on, though, and Holland's pranks become increasingly sinister, Niles finds he can no longer make excuses for his brother's actions.
Thomas Tryon's best-selling novel about a homegrown monster is an eerie examination of the darkness that dwells within everyone. It is a landmark of psychological horror that is a worthy descendent of the books of James Hogg, Robert Louis Stevenson, Shirley Jackson, and Patricia Highsmith.
---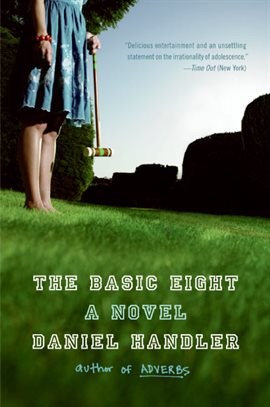 The Basic Eight by Daniel Handler
hoopla eBook
OverDrive eBook
Freading eBook
Flannery Culp wants you to know the whole story of her spectacularly awful senior year. Tyrants, perverts, tragic crushes, gossip, cruel jokes, and the hallucinatory effects of absinthe — Flannery and the seven other friends in the Basic Eight have suffered through it all. But now, on tabloid television, they're calling Flannery a murderer, which is a total lie. It's true that high school can be so stressful sometimes. And it's true that sometimes a girl just has to kill someone. But Flannery wants you to know that she's not a murderer at all — she's a murderess.
---
Baby Teeth by Zoje Stage
book
Large Print book
OverDrive eBook
OverDrive eAudiobook
hoopla eAudiobook
MEET HANNA: Seven-year-old Hanna is a sweet-but-silent angel in the eyes of her adoring father, Alex. He's the only person who understands her. But her mother Suzette stands in her way, and she'll try any trick she can think of to get rid of her. Ideally for good.
MEET SUZETTE: Suzette loves her daughter, but after years of expulsions and strained home schooling, her precarious health and sanity are weakening day by day. She's also becoming increasingly frightened by Hanna's little games, while her husband Alex remains blind to the failing family dynamics. Soon, Suzette starts to fear that maybe their supposedly innocent baby girl may have a truly sinister agenda.
A battle of wills between mother and daughter reveals the frailty and falsehood of familial bonds in award-winning playwright and filmmaker Zoje Stage's tense novel of psychological suspense, Baby Teeth.
Young Adult Fiction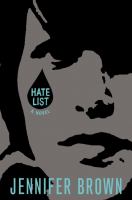 Hate List by Jennifer Brown
book
hoopla eAudiobook
OverDrive eBook
Five months ago, Valerie Leftman's boyfriend, Nick, opened fire on their school cafeteria. Shot trying to stop him, Valerie inadvertently saved the life of a classmate, but was implicated in the shootings because of the list she helped create. A list of people and things she and Nick hated. The list he used to pick his targets. Now, after a summer of seclusion, Val is forced to confront her guilt as she returns to school to complete her senior year. Haunted by the memory of the boyfriend she still loves and navigating rocky relationships with her family, former friends, and the girl whose life she saved, Val must come to grips with the tragedy that took place and her role in it in order to make amends and move on with her life.
---
Dreamland by Sarah Dessen
book
book on CD
hoopla eAudiobook
Sarah Dessen delivers a riveting tale of a confused teen languishing in a destructive relationship. Mesmerized by the affluent Rogerson Biscoe, Caitlin O'Koren abandons parents and friends for the seductive lure of his exciting yet dangerous world. But the pain of Rogerson's controlling rage soon shatters the pleasure of their romance. Trapped in a dizzying maelstrom of abuse, Caitlin seeks the solace of a drug-induced dreamland.
---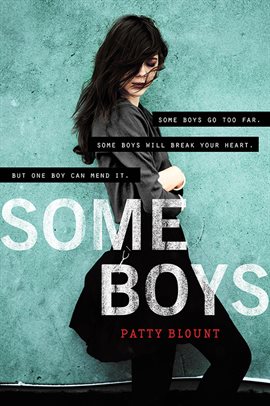 Some Boys by Patty Blount
hoopla eBook
hoopla eAudiobook
Freading eBook
Some boys go too far. Some boys will break your heart. But one boy can make you whole.
Some girls say no. Some boys don't listen. When Grace meets Ian, she's afraid. Afraid he'll reject her like the rest of the school, like her own family. After she accuses Zac, the town golden boy, of rape, everyone turns against her. Ian wouldn't be the first to call her a slut and a liar. Except Ian doesn't reject her. He's the one person who looks past the taunts and the names and the tough-girl act to see the real Grace. He's the one who gives her the courage to fight back. He's also Zac's best friend.
---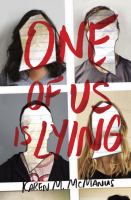 One of Us is Lying by Karen M. McManus
book
OverDrive eBook
OverDrive eAudiobook
Pay close attention and you might solve this.
On Monday afternoon, five students at Bayview High walk into detention.
Bronwyn, the brain, is Yale-bound and never breaks a rule.
Addy, the beauty, is the picture-perfect homecoming princess.
Nate, the criminal, is already on probation for dealing.
Cooper, the athlete, is the all-star baseball pitcher.
And Simon, the outcast, is the creator of Bayview High's notorious gossip app.
Only, Simon never makes it out of that classroom. Before the end of detention, Simon's dead. And according to investigators, his death wasn't an accident. On Monday, he died. But on Tuesday, he'd planned to post juicy reveals about all four of his high-profile classmates, which makes all four of them suspects in his murder. Or are they the perfect patsies for a killer who's still on the loose? Everyone has secrets, right? What really matters is how far you would go to protect them.
*All summaries courtesy of the publisher unless otherwise noted.