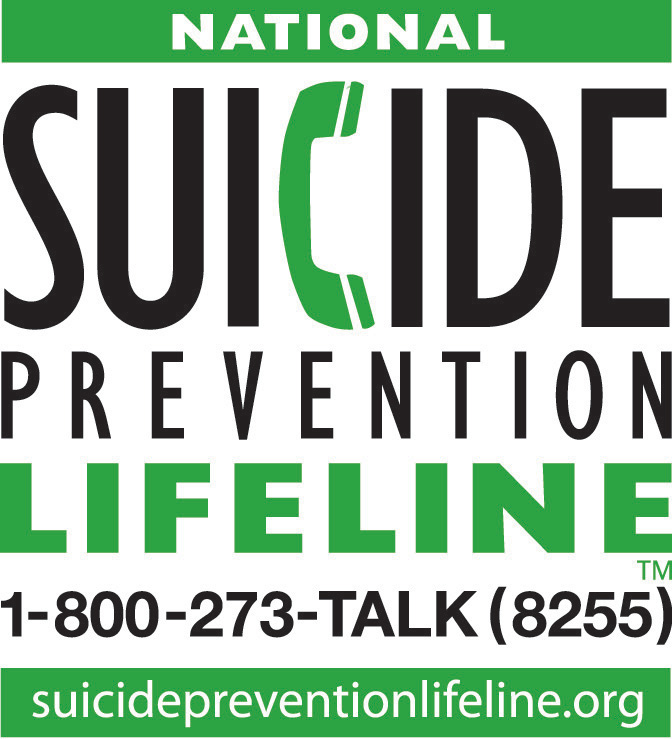 If you or someone you know is at risk of suicide, contact the National Suicide Prevention Lifeline at 1-800-273-8255, or click here for a web-based chat option.
Llame al número 1-888-628-9454 por ayuda en español.
Click here for more options for Deaf/Hard of Hearing individuals, veterans, and for disaster distress helplines.
You can also text HOME to 741741 to connect with a Crisis Counselor at the Crisis Text Line.
This post provides suggested reading, online resources, and suggested watching and listening for all those affected by suicide, depression, and suicidal ideation.
Suggested Reading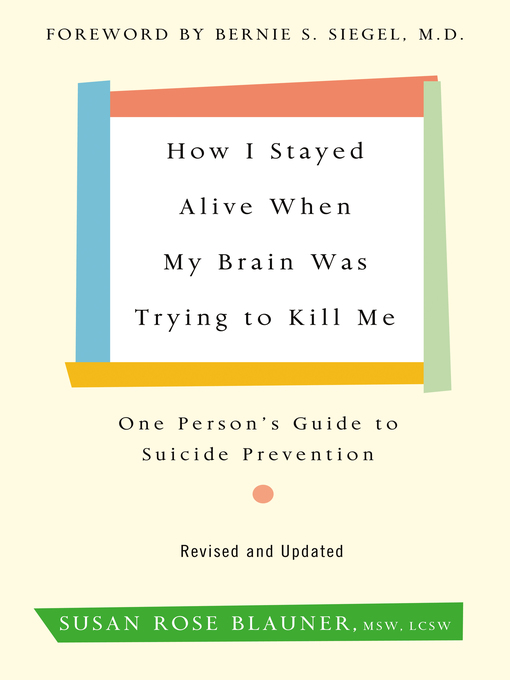 How I Stayed Alive When My Brain Was Trying to Kill Me by Susan Rose Blauner
book
OverDrive eBook
hoopla eBook

Suicide has touched the lives of nearly half of all Americans, yet it is rarely talked about openly. In her highly acclaimed book, Susan Blauner—a survivor of multiple suicide attempts—offers guidance and hope for those contemplating ending their lives and for their loved ones.

In How I Stayed Alive When My Brain Was Trying to Kill Me, Susan Blauner is the perfect emissary for a message of hope and a program of action for these millions of people. A survivor of multiple suicide attempts, she explains the complex feelings and fantasies that surround suicidal thoughts. In a direct, nonjudgmental, and loving voice, she offers affirmations and suggestions for those experiencing life-ending thoughts, and for their friends and family.

With an introduction by Bernie Siegel, M.D., this important, timely book has now been updated with a revised resources section, and a new chapter on the author's experiences since the book's initial publication.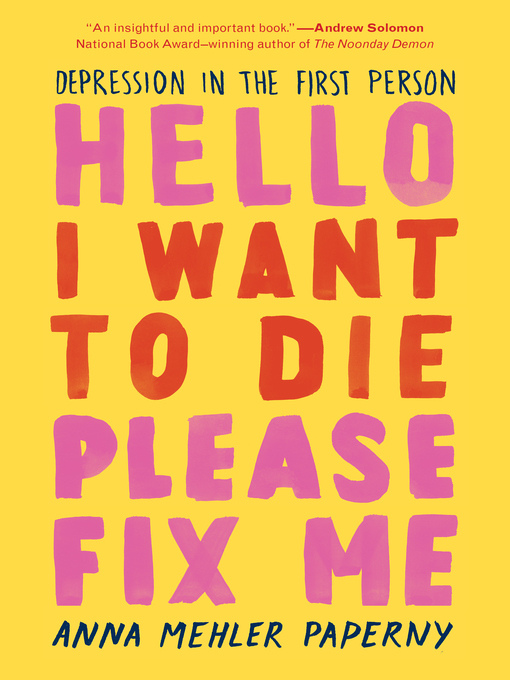 Hello I Want to Die Please Fix Me by Anna Mehler Paperny
book
OverDrive eBook
OverDrive eAudiobook
hoopla eBook
hoopla eAudiobook

In her early twenties, investigative journalist Anna Mehler Paperny had already landed her dream job. On the surface, her life was great. Nevertheless, she spiraled out, attempted suicide (the first of more attempts to follow), and landed in the ICU and then in a psych ward before setting out to tackle her recovery.

In Hello I Want to Die Please Fix Me, Mehler Paperny turns her journalist's eye on her own experience and others'–in the ward; as an outpatient; facing family, friends, and coworkers; finding the right meds; trying to stay insured and employed. She interviews psychiatrists and other experts to reveal how primitive our methods of healing the brain still are–and provides an invaluable guide to a system struggling, and often failing, to help those in need. At once heartrending and humorous, outraging and serious, this is essential reading for anyone touched by depression–and that's everyone.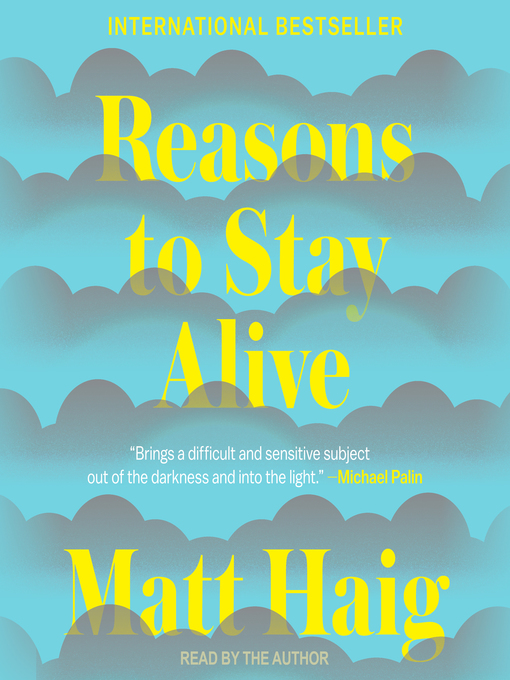 Reasons to Stay Alive by Matt Haig
OverDrive eAudiobook
hoopla eAudiobook

Like nearly one in five people, Matt Haig suffers from depression. Reasons to Stay Alive is his inspiring account of how, minute by minute and day by day, he overcame the disease with the help of reading, writing, and the love of his parents and his girlfriend (now wife), Andrea. And eventually, he learned to appreciate life all the more for it. Everyone's lives are touched by mental illness; if we do not suffer from it ourselves, then we have a friend or loved one who does. Haig's frankness about his experiences is both inspiring to those who feel daunted by depression and illuminating to those who are mystified by it. Above all, his humor and encouragement never let us lose sight of hope. Speaking as his present self to his former self in the depths of depression, Haig is adamant that the oldest cliche is the truest-there is light at the end of the tunnel. He teaches us to celebrate the small joys and moments of peace that life brings, and reminds us that there are always reasons to stay alive.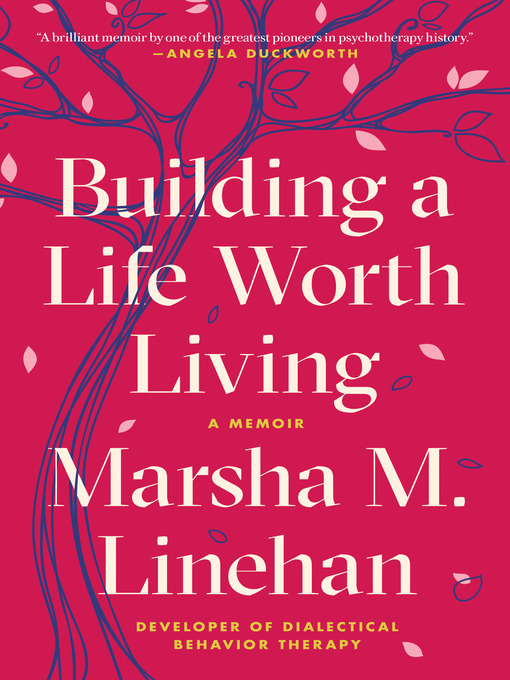 Building a Life Worth Living by Marsha Linehan
OverDrive eBook
OverDrive eAudiobook

Over the years, DBT had saved the lives of countless people fighting depression and suicidal thoughts, but Linehan had never revealed that her pioneering work was inspired by her own desperate struggles as a young woman. Only when she received this question did she finally decide to tell her story.

In this remarkable and inspiring memoir, Linehan describes how, when she was eighteen years old, she began an abrupt downward spiral from popular teenager to suicidal young woman. After several miserable years in a psychiatric institute, Linehan made a vow that if she could get out of emotional hell, she would try to find a way to help others get out of hell too, and to build a life worth living. She went on to put herself through night school and college, living at a YWCA and often scraping together spare change to buy food. She went on to get her PhD in psychology, specializing in behavior therapy. In the 1980s, she achieved a breakthrough when she developed Dialectical Behavioral Therapy, a therapeutic approach that combines acceptance of the self and ways to change. Linehan included mindfulness as a key component in therapy treatment, along with original and specific life-skill techniques. She says, "You can't think yourself into new ways of acting; you can only act yourself into new ways of thinking."

Throughout her extraordinary scientific career, Marsha Linehan remained a woman of deep spirituality. Her powerful and moving story is one of faith and perseverance. Linehan shows, in Building a Life Worth Living, how the principles of DBT really work—and how, using her life skills and techniques, people can build lives worth living.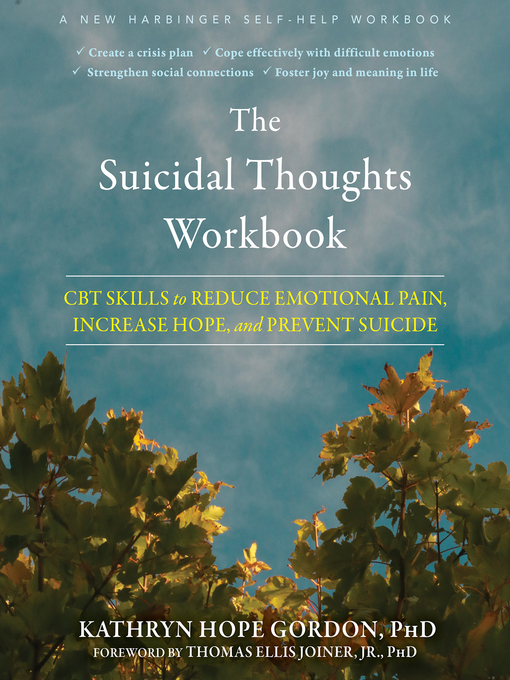 The Suicidal Thoughts Workbook by Kathryn Hope Gordon
OverDrive eBook
hoopla eBook

If you're struggling with suicidal thoughts, please know that you are not alone and that you are worthy of help. Your life and well-being matter. When you're suffering, life's challenges can feel overwhelming and even insurmountable. This workbook is here to help you find relief and solutions when suicidal thoughts take over.

Grounded in cognitive behavioral therapy (CBT), this compassionate workbook offers practical tools to guide you toward a place of hope. It will help you identify your reasons for living, manage intense emotions and painful thoughts, and create a safe environment when you are in a crisis. You'll also find ways to strengthen social connections, foster self-compassion, and rediscover activities that bring joy and meaning to your life. This workbook is here to support you. However you are feeling at this moment, remember the following: You are worth it, you are loved, and you matter.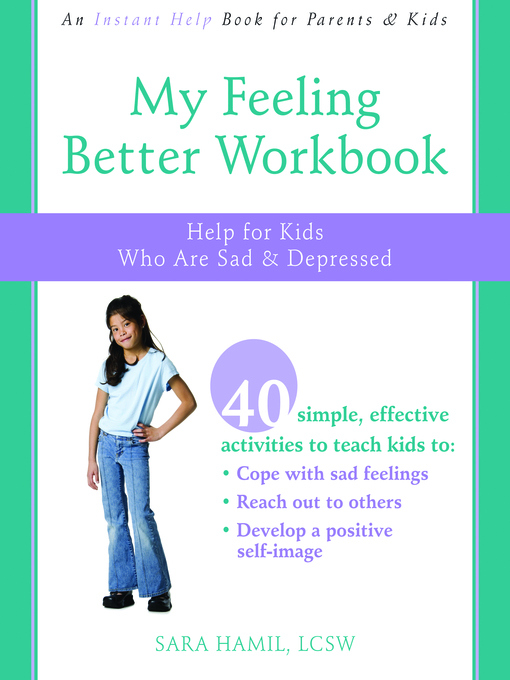 My Feeling Better Workbook by Sarah W. Hamil
book
OverDrive eBook

There are many ways to help children who are sad and depressed, and you might not even realize how much you can do to make your child feel better. By working through this book, guiding your child through just one activity a day, you can empower him or her with the skills necessary to overcome sadness and low self-esteem and live an active, joyful life.

The forty-two simple activities in this workbook help kids explore their feelings and combat the negative self-talk that depletes their motivation and self-esteem. Based on cognitive behavioral therapy, play therapy, and art therapy, this series of activities is designed to help children cope with painful feelings and feel happy again. Studies have shown that teaching these social and emotional skills to children at the onset of their depression can prevent it from becoming more serious in adolescence and beyond. Once children learn these skills, they will not only feel better, but also become more self-confident, capable, and willing to enjoy the best of what life has to offer.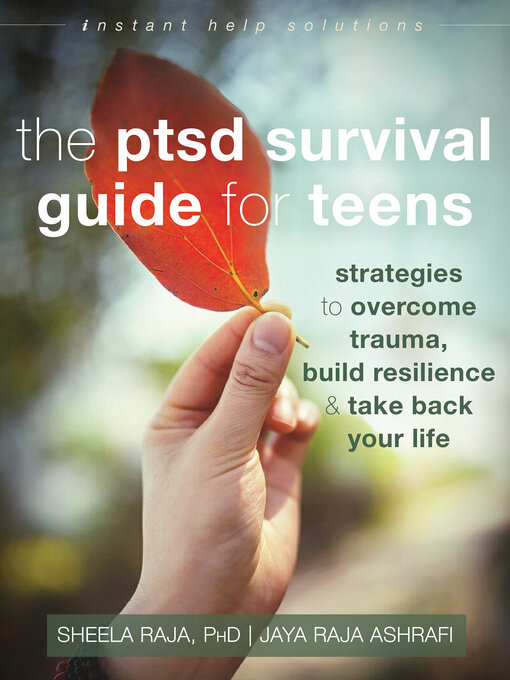 The PTSD Survival Guide for Teens by Sheela Raja
book
OverDrive eBook

If you've experienced trauma or suffer from post-traumatic stress disorder (PTSD), the world can seem like a very frightening place. You may even question your own deeply held beliefs, as well as the motives of others. It's important for you to know that you aren't alone, and there isn't anything wrong with you. Many teens have suffered traumatic events, and there are solid skills you can learn that will help you recover. So, how can you begin healing and start building the life you were always meant to lead

In this compassionate guide, you'll find skills based in cognitive behavioral therapy (CBT), dialectical behavior therapy (DBT), and acceptance and commitment therapy (ACT) to help you tackle anxiety and harmful avoidance behaviors; manage negative emotions; cope with flashbacks and nightmares; and develop trusting, healthy relationships—even if your trust in others has been shaken to the core. You'll also learn more about the diagnosis and symptoms of PTSD and understand what kind of help is available to you.

Whether you've been diagnosed with PTSD or are simply living with the aftereffects of a traumatic event, you shouldn't have to suffer alone. This book will help you to find strength within so you can move forward.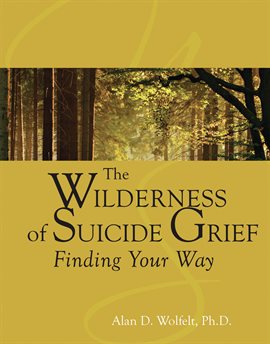 The Wilderness of Suicide Grief by Alan Wolfelt
book
hoopla eBook

Presenting the idea of wilderness as a sustained metaphor for grief, this compassionate guide explores the unique responses inherent to the grief felt by those who have experienced the suicide of a loved one and offers information about coping with such a profound loss. Likening the death of a loved one to the experience of being wrenched from normal life and dropped down in the middle of nowhere, the handbook employs 10 touchstones, or trail markers, that survivors use to begin to make their way through the new landscape. Each touchstone gently guides readers through the entire grieving process and includes topics such as dispelling misconceptions regarding suicide, exploring feelings, and embracing the uniqueness of a loss.
Online Resources
The National Institute of Mental Health: Suicide Prevention provides concise and scientifically-based information about suicide warning signs, risk factors, treatments and therapies, and ongoing research.
The Centers for Disease Control and Prevention also provides information about suicide, including statistics and prevention strategies.
The Tragedy of Suicide, via Teen Health and Wellness, provides information for teens who are at risk for suicide, have at-risk friends, or are mourning a friend lost to suicide. Information includes warning signs for loved ones and scientifically-based strategies for coping with suicidal thoughts. Teen Health and Wellness provides similar pages for depression, self-harm, and other mental illnesses.
MedlinePlus provides access to statistics, journal articles, and other clinical information, as well as resources for parents and family members of those at risk for suicide.
American Foundation for Suicide Prevention provides suicide intervention resources as well as networking and advocacy for those who wish to get involved with suicide prevention. They have state chapters, including one for Louisiana. You can also search for a local bereavement support group here.
Suggested Watching and Listening
My Ascension is a documentary film by an Ascension Parish resident that explores her experience as a survivor of a suicide attempt. This page provides a few clips that discuss suicide prevention and survival.
NIMH Multimedia About Suicide Prevention presents clinical and social information regarding a range of topics related to suicide.
Talk Saves Lives Series by American Foundation for Suicide Prevention provides information to help communities recognize and address risk factors for suicide.
Fireflies Unite with Kea is a weekly podcast sharing the perspectives of people thriving with mental illness.
The UNNI Podcast uplifts the voices of suicide survivors and experts.