Calling all thespians! Check out these YA titles set in the dramatic world of theater, then explore Hoopla Digital's collection of Broadway cast recordings. Curated by Ashley Lee.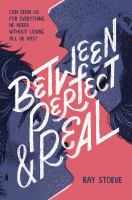 Between Perfect and Real by Ray Stoeve
book
book on CD
hoopla eBook
Freading eBook
Dean Foster knows he's a trans guy. He's watched enough YouTube videos and done enough questioning to be sure. But everyone at his high school thinks he's a lesbian–including his girlfriend Zoe, and his theater director, who just cast him as a "nontraditional" Romeo. He wonders if maybe it would be easier to wait until college to come out. But as he plays Romeo every day in rehearsals, Dean realizes he wants everyone to see him as he really is now–not just on the stage, but everywhere in his life. Dean knows what he needs to do. Can playing a role help Dean be his true self?
---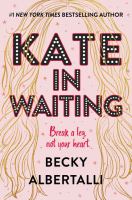 Kate in Waiting by Becky Albertalli
book
Contrary to popular belief, best friends Kate Garfield and Anderson Walker are not codependent. Carpooling to and from theater rehearsals? Environmentally sound and efficient. Consulting each other on every single life decision? Basic good judgment. Pining for the same guys from afar? Shared crushes are more fun anyway.
But when Kate and Andy's latest long-distance crush shows up at their school, everything goes off-script. Matt Olsson is talented and sweet, and Kate likes him. She really likes him. The only problem? So does Anderson.
Turns out, communal crushes aren't so fun when real feelings are involved. This one might even bring the curtains down on Kate and Anderson's friendship.
---
This Tiny Perfect World by Lauren Gibaldi
book
OverDrive eBook
Freading eBook
Penny loves her small-town Florida life, and she has her future mapped out. She's going to community college after graduation to stay close to home and her best friend, Faye. She'll take over the family diner that her dad has been managing since her mother died. And one day, she'll marry her high school sweetheart, Logan.
But when she unexpectedly lands a scholarship to a prestigious summer theater camp, she is thrust into a world of competition and self-doubt. And suddenly, her future gets a little hazy. As she meets new friends, including Chase, a talented young actor with big-city dreams, she begins to realize that maybe the life everyone (including her) expects her to lead is not the one she was meant to have.
---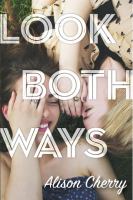 Look Both Ways by Alison Cherry
book
Thoughtful, funny, and steeped in the wild drama of growing up, Alison Cherry's novel is the story of a girl hoping she's found a place to belong . . . only to learn that neither talent nor love is as straightforward as she thinks.
A summer away from the city is the beginning of everything for Brooklyn Shepard. Her acting apprenticeship at the Allerdale Playhouse is a chance to prove that she can carve out a niche all her own, surrounded by people who don't know anything about her or her family of superstar performers. Brooklyn immediately hits it off with her roommate, Zoe, and soon their friendship turns into something more. Brooklyn wants to see herself as someone who's open to everything and everyone, but as her feelings for Zoe intensify, so do her doubts. As she questions her sexuality, her role as an artist, and her place in her family, Brooklyn discovers that neither talent nor love are as straightforward as she thinks.
---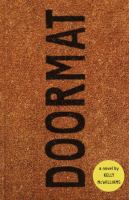 Doormat: A Novel by Kelly McWilliams
book
Fourteen-year-old Jaime is used to her best friend, Melissa, being the center of attention. Melissa wants to be a model—she's beautiful, popular, and talented. There's just one small problem—Melissa thinks she's pregnant, and she wants Jaime's help. But there's not much Jaime can do. Melissa refuses to tell her parents; Jaime refuses to be the same old reliable doormat. She's got a lead in the school play and a new friendship with Zach. Jaime is changing, too. And she's sick of being stepped on!
---
The Love Curse of Melody McIntyre by Robin Talley
book
audiobook on Playaway
Lead actor need a breath mint? She's on it. Comic relief bust a seam? Mel's sewing kit is at the ready. Not only is her Plan A foolproof, she's got a Plan B, and a Plan C, because actors can be total fools. What she doesn't have? Success with love. Every time she falls for someone during rehearsals, both the romance and the show end in catastrophe. So Mel swears off love until the upcoming production of Les Mis is over. Of course, Mel didn't count on Odile Rose, rising star in the acting world, auditioning for the spring production. And she definitely didn't expect Odile to be sweet and funny, and care as much about the play's success as Mel. Which means that Melody McIntyre's only plan now is trying desperately not to fall in love.
---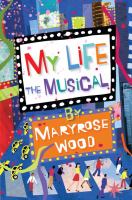 My life, the Musical by Maryrose Wood
book
To best friends and devoted theater fans Emily and Philip, Aurora is no ordinary Broadway musical. Their love for the hit show (whose reclusive author has never been named) is nothing short of an obsession. Thanks to a secret loan from Emily's grandma Rose, seeing the Saturday matinee has become a weekly ritual that makes real life seem dull and drab by comparison.
But when the theater chat rooms start buzzing with crazy rumors that Aurora might close, Emily and Philip find themselves grappling with some truly show-stopping questions. What, exactly, is the one sure thing in show business? How will they pay back the money they owe Grandma Rose? And why hasn't Philip asked Emily out on a real date? As they go to hilarious lengths to indulge their passion for Aurora, Emily and Philip must face the fact that all shows close sooner or later. But first they'll put their friendship to the ultimate test, solve Broadway's biggest mystery, and spend one unforgettable night at the theater.
---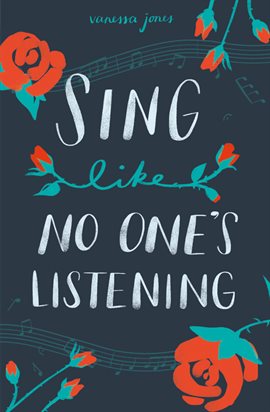 Sing Like No One's Listening by Vanessa Jones
hoopla eBook
Nettie Delaney has just been accepted into a prestigious performing arts school, the very same school her superstar mother attended. With her mother's shadow hanging over her, Nettie has her work cut out for her, and everyone is watching. To make matters worse, Nettie hasn't been able to sing a single note since her mother died. Whenever she tries, she just clams up. But if Nettie's going to survive a demanding first year and keep her place in a highly coveted program, she'll have to work through her grief and deliver a showstopper or face expulsion.
All may not be lost, however, when Nettie stumbles upon a mysterious piano player in an empty studio after class. Masked behind a curtain, can Nettie summon the courage to find her voice? Or will the pressure and anxiety of performing come crashing down?
All about finding and raising your voice, and not throwing away your shot, Vanessa Jones's well-crafted journey of grief and healing will pull readers along with its strong narrative voice and satisfying sense of mystery.
---
Dramarama by E. Lockhart
book
Two theater-mad, self-invented fabulositon Ohio teenagers.
One boy, one girl. One gay, one straight. One black, one white.
And SUMMER DRAMA CAMP.
It's a season of hormones, gold lame, hissy fits, jazz hands, song and dance, true love, and unitards that will determine their future–and test their friendship.
---
How to Stage a Catastrophe by Rebecca Donnelly
book
hoopla eBook
Sidney plans to be the director of the Juicebox Theater when he grows up. For now, he handles the props, his best friend Folly works the concession stand, and his sister May hangs out in the spotlight. But the theater is in danger of closing, and the kids know they need a plan to save it and fast. When they join a local commerce club to earn money, Sid and Folly uncover some immoral business practices, and it gives them a great idea for saving the theater. That is, if you can call extortion a great idea. Hilarious and heartwarming, the mission to save a failing community theater unites a riotous cast of characters in this offbeat middle-grade novel.
---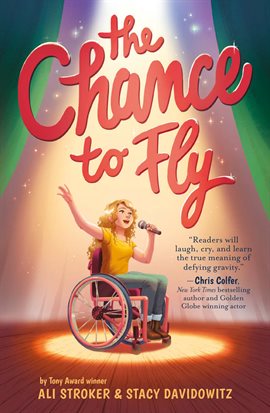 Chance to Fly by Ali Stroker, Stacy Davidowitz
hoopla eBook
Freading eBook
Thirteen-year-old Nat Beacon loves a lot of things: her dog Warbucks, her best friend Chloe, and competing on her wheelchair racing team, the Zoomers, to name a few. But there's one thing she's absolutely OBSESSED with: MUSICALS! From Hamilton to Les Mis, there's not a cast album she hasn't memorized and belted along to. She's never actually been in a musical though, or even seen an actor who uses a wheelchair for mobility on stage. Would someone like Nat ever get cast?

But when Nat's family moves from California to New Jersey, Nat stumbles upon auditions for a kids' production of Wicked, one of her favorite musicals ever! And she gets into the ensemble! The other cast members are super cool and inclusive (well, most of them) -especially Malik, the male lead and cutest boy Nat's ever seen. But when things go awry a week before opening night, will Nat be able to cast her fears and insecurities aside and "Defy Gravity" in every sense of the song title?
---
Broadway Music on hoopla!
*All summaries courtesy of the publisher unless otherwise noted.