Check out these mystery and thriller series featuring police detectives. Curated by Ashley Lee.
Eve Ronin series by Lee Goldberg 
books 
large print book
Book #1 Lost Hills 
A video of Deputy Eve Ronin's off-duty arrest of an abusive movie star goes viral, turning her into a popular hero at a time when the Los Angeles County Sheriff's Department is plagued by scandal. The sheriff, desperate for more positive press, makes Eve the youngest female homicide detective in the department's history. 
Now Eve, with a lot to learn and resented by her colleagues, has to justify her new badge. Her chance comes when she and her burned-out, soon-to-retire partner are called to the blood-splattered home of a missing single mother and her two kids. The horrific carnage screams multiple murder—but there are no corpses.
Eve has to rely on her instincts and tenacity to find the bodies and capture the vicious killer, all while battling her own insecurities and mounting pressure from the media, her bosses, and the bereaved family. It's a deadly ordeal that will either prove her skills…or totally destroy her.
---
Peter Decker and Rina Lazarus series by Faye Kellerman
books
OverDrive eBooks
OverDrive eAudiobook
hoopla eBooks
hoopla eAudiobooks
Freading eBooks

Book #1 The Ritual Bath
Detective Peter Decker of the LAPD is stunned when he gets the report. Someone has shattered the sanctuary of a remote yeshiva community in the California hills with an unimaginable crime. One of the women was brutally raped as she returned from the mikvah, the bathhouse where the cleansing ritual is performed.
The crime was called in by Rina Lazarus, and Decker is relieved to discover that she is a calm and intelligent witness. She is also the only one in the sheltered community willing to speak of this unspeakable violation. As Rina tries to steer Decker through the maze of religious laws the two grow closer. But before they get to the bottom of this horrendous crime, revelations come to light that are so shocking that they threaten to come between the hard-nosed cop and the deeply religious woman with whom he has become irrevocably linked.
---
Dublin Murder Squad series by Tana French 
books
OverDrive eBooks
OverDrive eAudiobooks 
hoopla eAudiobook 
Book #1 In the Woods 
As dusk approaches a small Dublin suburb in the summer of 1984, mothers begin to call their children home. But on this warm evening, three children do not return from the dark and silent woods. When the police arrive, they find only one of the children gripping a tree trunk in terror, wearing blood-filled sneakers, and unable to recall a single detail of the previous hours. 
 
Twenty years later, the found boy, Rob Ryan, is a detective on the Dublin Murder Squad and keeps his past a secret. But when a twelve-year-old girl is found murdered in the same woods, he and Detective Cassie Maddox—his partner and closest friend—find themselves investigating a case chillingly similar to the previous unsolved mystery. Now, with only snippets of long-buried memories to guide him, Ryan has the chance to uncover both the mystery of the case before him and that of his own shadowy past. 
 
Richly atmospheric, stunning in its complexity, and utterly convincing and surprising to the end, In the Woods is sure to enthrall fans of Mystic River and The Lovely Bones. 
---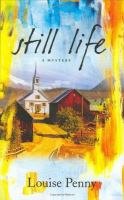 Chief Inspector Gamache series by Louise Penny
books
large print books
book on CD
OverDrive eBooks
OverDrive eAudiobooks
hoopla eAudiobooks

Book #1 Still Life
Chief Inspector Armand Gamache of the Surêté du Québec and his team of investigators are called in to the scene of a suspicious death in a rural village south of Montreal. Jane Neal, a local fixture in the tiny hamlet of Three Pines, just north of the U.S. border, has been found dead in the woods. The locals are certain it's a tragic hunting accident and nothing more, but Gamache smells something foul in these remote woods, and is soon certain that Jane Neal died at the hands of someone much more sinister than a careless bowhunter.
Still Life introduces not only an engaging series hero in Inspector Gamache, who commands his forces—and this series—with integrity and quiet courage, but also a winning and talented new writer of traditional mysteries in the person of Louise Penny.
---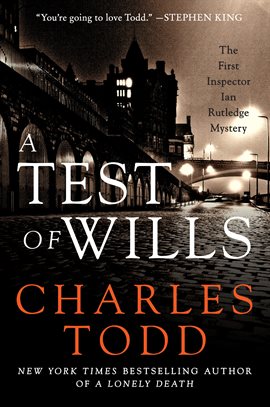 Inspector Ian Rutledge series by Charles Todd
books
books on CD
OverDrive eBooks
hoopla eBooks
hoopla eAudiobooks (complete series)
Freading eBooks

Book #1 The Test of Wills
The first novel to feature war-damaged Scotland Yard inspector Ian Rutledge, A Test of Wills is the book that brought author Charles Todd into the spotlight. This Edgar® and Anthony Award-nominated, New York Times Notable mystery brilliantly evokes post-World War I Great Britain and introduces readers to one of crime fiction's most compelling series protagonists. Here the shell-shocked Rutledge struggles to retain his fragile grip on sanity while investigating the death of a popular army colonel, murdered, it appears, by a decorated war hero with ties to the Royal Family. A phenomenal writer, a twisting puzzle, a character-rich re-creation of an extraordinary time and place…it all adds up to one exceptional read that will delight fans of Elizabeth George, Martha Grimes, Jacqueline Winspear, Ruth Rendell, and other masters of the British procedural.
---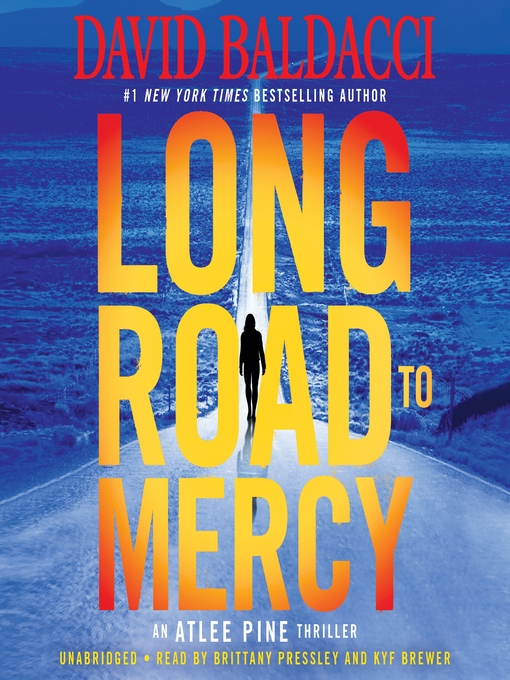 Atlee Pine series by David Baldacci
books
large print books
books on CD
OverDrive eBooks
OverDrive eAudiobook
Book #1 Long Road to Mercy
FBI Agent Atlee Pine's life was never the same after her twin sister Mercy was kidnapped–and likely killed–thirty years ago. After a lifetime of torturous uncertainty, Atlee's unresolved anger finally gets the better of her on the job, and she finds she has to deal with the demons of her past if she wants to remain with the FBI. Atlee and her assistant Carol Blum head back to Atlee's rural hometown in Georgia to see what they can uncover about the traumatic night Mercy was taken and Pine was almost killed. But soon after Atlee begins her investigation, a local woman is found ritualistically murdered, her face covered with a wedding veil–and the first killing is quickly followed by a second bizarre murder. Atlee is determined to continue her search for answers, but now she must also set her sights on finding a potential serial killer before another victim is claimed. But in a small town full of secrets–some of which could answer the questions that have plagued Atlee her entire life–digging deeper into the past could be more dangerous than she realizes . . .
---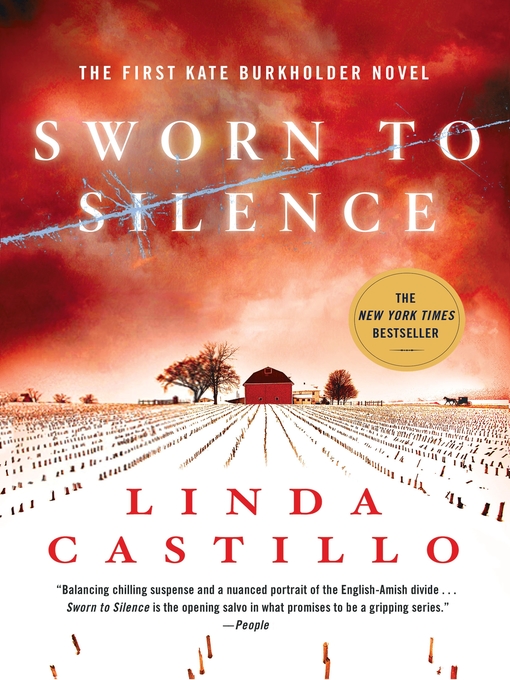 Kate Burkholder series by Linda Castillo
books
large print books
books on CD
OverDrive eBooks
OverDrive eAudiobook
Book #1 Sworn to Silence 
In the sleepy rural town of Painters Mill, Ohio, the Amish and "English" residents have lived side by side for two centuries. But sixteen years ago, a series of brutal murders shattered the peaceful farming community. In the aftermath of the violence, the town was left with a sense of fragility, a loss of innocence. Kate Burkholder, a young Amish girl, survived the terror of the Slaughterhouse Killer but came away from its brutality with the realization that she no longer belonged with the Amish. 
 
Now, a wealth of experience later, Kate has been asked to return to Painters Mill as chief of police. Her Amish roots and big city law enforcement background make her the perfect candidate. She's certain she's come to terms with her past—until the first body is discovered in a snowy field. Kate vows to stop the killer before he strikes again. But to do so, she must betray both her family and her Amish past—and expose a dark secret that could destroy her.
---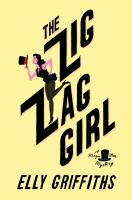 Brighton Mysteries series by Elly Griffith
book
OverDrive eBooks
hoopla eBooks
hoopla eAudiobook
Book#1 The Zig Zag Girl
Brighton, 1950. The body of a girl is found cut into three pieces. Detective Inspector Edgar Stephens is convinced the killer is mimicking a famous magic trick—the Zig Zag Girl. The inventor of the trick, Max Mephisto, is an old war friend of Edgar's. They served together in a shadowy unit called the Magic Men, a special ops troop that used stage tricks to confound the enemy.  Max is on the traveling show circuit, touring seaside towns with ventriloquists, sword-swallowers and dancing girls. He's reluctant to leave this world to help Edgar investigate, but advises him to identify the victim quickly — it takes a special sidekick to do the Zig Zag Girl. Those words come back to haunt Max when the dead girl turns out to be Ethel, one of his best assistants to date. He's soon at Edgar's side, hunting for Ethel's killer.   Another death, another magic trick: Edgar and Max are sure the answer to the murders lies in their army days. And when Edgar receives a letter warning of another "trick" on the way — the Wolf Trap — he knows they're all in the killer's sights. 
---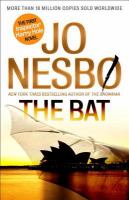 Harry Hole series by Jo Nesbo
books
large print books
book on CD
OverDrive eBooks
OverDrive eAudiobook
hoopla eBooks
hoopla eAudiobook
Book#1 The Bat
Inspector Harry Hole of the Oslo Crime Squad is dispatched to Sydney to observe a murder case. Harry is free to offer assistance, but he has firm instructions to stay out of trouble. The victim is a twenty-three year old Norwegian woman who is a minor celebrity back home. Never one to sit on the sidelines, Harry befriends one of the lead detectives, and one of the witnesses, as he is drawn deeper into the case. Together, they discover that this is only the latest in a string of unsolved murders, and the pattern points toward a psychopath working his way across the country. As they circle closer and closer to the killer, Harry begins to fear that no one is safe, least of all those investigating the case.
---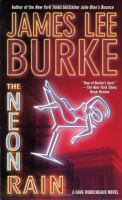 Dave Robicheaux series by James Lee Burke
book
large print books
book on CD
OverDrive eBooks
OverDrive eAudiobooks
hoopla eAudiobook
Book#1 The Neon Rain
New Orleans Detective Dave Robicheaux has fought too many battles: in Vietnam, with police brass, with killers and hustlers, and the bottle. Lost without his wife's love, Robicheaux haunts the intense and heady French Quarter—the place he calls home, and the place that nearly destroys him when he beomes involved in the case of a young prostitute whose body is found in a bayou. Thrust into the seedy world of drug lords and arms smugglers, Robicheaux must face down the criminal underworld and come to terms with his own bruised heart and demons to survive.
---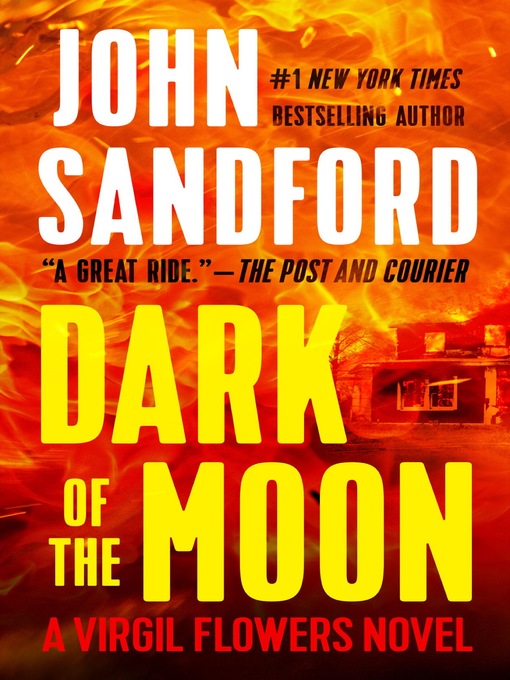 Virgil Flowers series by John Sanford
books
large print books
books on CD
book on CD (abridged)
OverDrive eBooks
OverDrive eAudiobook
Book#1 Dark of the Moon
Virgil Flowers kicked around for a while before joining the Minnesota Bureau of Criminal Apprehension. First it was the army and the military police, then the police in St. Paul, and finally Lucas Davenport brought him into the BCA, promising him, "We'll only give you the hard stuff."
He's been doing the hard stuff for three years now, but never anything like this.
In the small town of Bluestem, a house way up on a ridge explodes into flames, its owner, a man named Judd, trapped inside. There are a lot of reasons to hate him, Flowers discovers. In fact, he concludes, you'd probably have to dig around to find a person who doesn't despise Judd.
And that isn't even why Flowers came to Bluestem. Three weeks before, there'd been another murder, two, in fact, a doctor and his wife, the doctor found propped up in his backyard, both eyes shot out. Flowers knows two things: this wasn't a coincidence, and it had to be personal.
But just how personal is something even he doesn't realize, and may not find out until too late. Because the next victim may be himself.