Discover adult and teen titles by authors outside the US. Curated by Ashley Lee.
Adult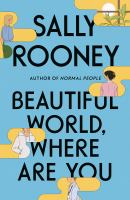 Beautiful World, Where Are You: A Novel by Sally Rooney from Ireland
book
book on CD
OverDrive eBook
Alice, a novelist, meets Felix, who works in a warehouse, and asks him if he'd like to travel to Rome with her.
In Dublin, her best friend, Eileen, is getting over a break-up, and slips back into flirting with Simon, a man she has known since childhood.
Alice, Felix, Eileen, and Simon are still young–but life is catching up with them. They desire each other, they delude each other, they get together, they break apart. They have sex, they worry about sex, they worry about their friendships and the world they live in. Are they standing in the last lighted room before the darkness, bearing witness to something? Will they find a way to believe in a beautiful world?
---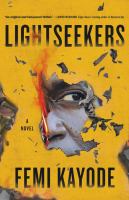 Lightseekers by Femi Kayode from Nigeria
book
When Dr. Philip Taiwo is called on by a powerful Nigerian politician to investigate the public torture and murder of three university students in remote Port Harcourt, he has no idea that he's about to be enveloped by a perilous case that is far from cold.
Philip is not a detective. He's an investigative psychologist, an academic more interested in figuring out the why of a crime than actually solving it. But when he steps off the plane and into the dizzying frenzy of the provincial airport, he soon realizes that the murder of the Okriki Three isn't as straightforward as he thought. With the help of his loyal and streetwise personal driver, Chika, Philip must work against those actively conspiring against him to parse together the truth of what happened to these students.
A thrilling and atmospheric mystery, and an unforgettable portrait of the contemporary Nigerian sociopolitical landscape, Lightseekers is a wrenching novel tackling the porousness between the first and third worlds, the enduring strength of tribalism and homeland identity, and the human need for connection in the face of isolation.
---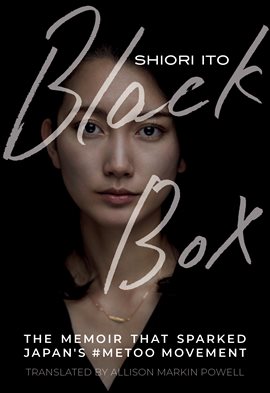 Black Box by Shiori Ito from Japan
hoopla eBook
Black Box is a riveting, sobering memoir that chronicles one woman's struggle for justice, calling for changes to an industry-and in society at large-to ensure that future victims if sexual assault can come forward without being silenced and humiliated.

2015, an aspiring young journalist named Shiori Ito charged prominent reporter Noriyuki Yamaguchi with rape. After meeting up for drinks and networking, Ito remembers regaining consciousness in a hotel room while being assaulted. But when she went to the police, Ito was told that her case was a "black box"-untouchable and unprosecutable.

Upon publication in 2017, Ito's searing account foregrounded the #MeToo movement in Japan and became the center of an urgent cultural and legal shift around recognizing sexual assault and gender-based violence. As international outlets covered every step of her story-even documenting it in the BBC film Japan's Secret Shame-this book launched a societal reckoning. At the end of 2019, Ito won a civil case against Yamaguchi.

With careful and quiet fury, Black Box recounts a broken system of repression and violence-but it also heralds the beginning of a new solidarity movement seeking a more equitable path toward justice.
---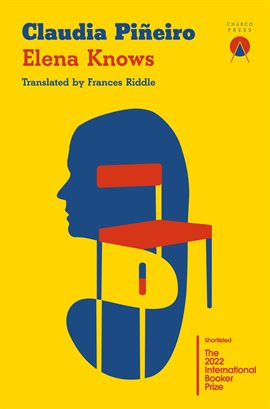 Elena Knows by Claudia Piñeiro from Argentina
hoopla eBook
After Rita is, found dead in a church she used to attend, the official investigation into the incident is quickly closed. Her sickly mother is the only person still determined to find the culprit.
Chronicling a difficult journey across the suburbs of the city, an old debt and a revealing conversation, Elena Knows unravels the secrets of its characters and the hidden facets of authoritarianism and hypocrisy in our society.
---
The Sanatorium by Sarah Pearse from The United Kingdom
book
large print book
OverDrive eBook
You won't want to leave. . . until you can't.

Half-hidden by forest and overshadowed by threatening peaks, Le Sommet has always been a sinister place. Long plagued by troubling rumors, the former abandoned sanatorium has since been renovated into a five-star minimalist hotel.

An imposing, isolated getaway spot high up in the Swiss Alps is the last place Elin Warner wants to be. But Elin's taken time off from her job as a detective, so when her estranged brother, Isaac, and his fianc e, Laure, invite her to celebrate their engagement at the hotel, Elin really has no reason not to accept.

Arriving in the midst of a threatening storm, Elin immediately feels on edge–there's something about the hotel that makes her nervous. And when they wake the following morning to discover Laure is missing, Elin must trust her instincts if they hope to find her. With the storm closing off all access to the hotel, the longer Laure stays missing, the more the remaining guests start to panic.

Elin is under pressure to find Laure, but no one has realized yet that another woman has gone missing. And she's the only one who could have warned them just how much danger they are all in. . .
---
My Sweet Girl by Amanda Jayatissa from Sri Lanka
book
OverDrive eBook
Paloma thought her perfect life would begin once she was adopted and made it to America, but she's about to find out that no matter how far you run, your past always catches up to you…

Ever since she was adopted from a Sri Lankan orphanage, Paloma has had the best of everything–schools, money, and parents so perfect that she fears she'll never live up to them.
Now at thirty years old and recently cut off from her parents' funds, she decides to sublet the second bedroom of her overpriced San Francisco apartment to Arun, who recently moved from India. Paloma has to admit, it feels good helping someone find their way in America–that is until Arun discovers Paloma's darkest secret, one that could jeopardize her own fragile place in this country.
Before Paloma can pay Arun off, she finds him face down in a pool of blood. She flees the apartment but by the time the police arrive, there's no body–and no evidence that Arun ever even existed in the first place.
Paloma is terrified this is all somehow tangled up in the desperate actions she took to escape Sri Lanka so many years ago. Did Paloma's secret die with Arun or is she now in greater danger than ever before?
---
The Girl Who Died by Ragnar Jónasson from Iceland
book
OverDrive eBook
Una wants nothing more than to teach, but she has been unable to secure steady employment in Reykjavík. Her savings are depleted, her love life is nonexistent, and she cannot face another winter staring at the four walls of her shabby apartment. Celebrating Christmas and ringing in 1986 in the remote fishing hamlet of Skálar seems like a small price to pay for a chance to earn some teaching credentials and get her life back on track.
But Skálar isn't just one of Iceland's most isolated villages, it is home to less than a dozen people. Una's only students are two girls aged seven and nine. Teaching them only occupies so many hours in a day and the few adults she interacts with are civil but distant. She only seems to connect with Th r, a man she shares an attraction with but who is determined to keep her at arm's length.
As darkness descends throughout the bleak winter, Una finds herself more often than not in her rented attic space–the site of a local legendary haunting–drinking her loneliness away. She is plagued by nightmares of a little girl in a white dress singing a lullaby. And when a sudden tragedy echoes an event long buried in Skálar's past, the villagers become even more guarded, leaving a suspicious Una seeking to uncover a shocking truth that's been kept secret for generations.
---
Teens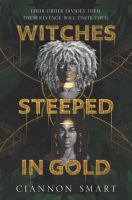 Witches Steeped in Gold by Ciannon Smart from England
book
Divided by their order. United by their vengeance.
Iraya has spent her life in a cell, but every day brings her closer to freedom–and vengeance.
Jazmyne is the Queen's daughter, but unlike her sister before her, she has no intention of dying to strengthen her mother's power.
Sworn enemies, these two witches enter a precarious alliance to take down a mutual threat. But power is intoxicating, revenge is a bloody pursuit, and nothing is certain–except the lengths they will go to win this game.
---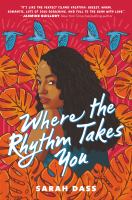 Where the Rhythm Takes You by Sarah Dass from Tobago
book
Inspired by Jane Austen's Persuasion, Where the Rhythm Takes You is a romantic, mesmerizing novel of first love and second chances.
Seventeen-year-old Reyna has spent most of her life at the Plumeria, her family's gorgeous seaside resort in Tobago. But what once seemed like paradise is starting to feel more like purgatory. It's been two years since Reyna's mother passed away, two years since Aiden-her childhood best friend, first kiss, first love, first everything-left the island to pursue his music dreams.
Reyna's friends are all planning their futures and heading abroad. Even Daddy seems to want to move on, leaving her to try to keep the Plumeria running.
And that's when Aiden comes roaring back into her life-as a VIP guest at the resort.
Aiden is now one-third of DJ Bacchanal-the latest, hottest music group on the scene. While Reyna has stayed exactly where he left her, Aiden has returned to Tobago with his Grammy-nominated band and two gorgeous LA socialites. And he may (or may not be) dating one of them.
---
Everything That Burns by Gita Trelease
book
audiobook on Playaway
hoopla eAudiobook
Camille Durbonne gambled everything she had to keep herself and her sister safe. But as the people of Paris starve and mobs riot, safety may no longer be possible…
…Not when Camille lives for the rebellion. In the pamphlets she prints, she tells the stories of girls living at society's margins. But as her writings captivate the public, she begins to suspect a dark magic she can't control lies at the heart of her success. Then Louis XVI declares magic a crime and all magicians traitors to France. As bonfires incinerate enchanted books and special police prowl the city, the time for magic–and those who work it–is running out.
In this new Paris where allegiances shift and violence erupts, the answers Camille seeks set her on a perilous path, one that may cost her the boy she loves–even her life. If she can discover who she truly is before vengeful forces unmask her, she may still win this deadly game of revolution.
---
Rising Like a Storm by Tanaz Bhathena from Canada
book
In the concluding installment to the Wrath of Ambar duology from masterful author Tanaz Bhathena, Gul and Cavas must unite their magical forces–and hold onto their growing romance–to save their kingdom from tyranny.
With King Lohar dead and a usurper queen in power, Gul and Cavas face a new tyrannical government that is bent on killing them both. Their roles in King Lohar's death have not gone unnoticed, and the new queen is out for blood. What she doesn't know is that Gul and Cavas have a connection that runs deeper than romance, and together, they just might have the strength and magic to end her for good.
Then a grave mistake ends with Cavas taken prisoner by the government. Gul must train an army of warriors alone. With alliances shifting and the thirst for vengeance growing, the fate of Ambar seems ever more uncertain. It will take every ounce of strength, love, and sacrifice for Gul and Cavas to reach their final goal–and build a more just world than they've ever known.