The United States of America is a country made of up indigenous people and immigrants from many different countries around the world. Novels featuring modern teen immigrants offer inside views of unique experiences. Curated by Samantha Matherne.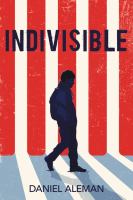 Indivisible by Daniel Aleman
book
Playaway audiobook
This timely, moving debut novel follows a teen's efforts to keep his family together as his parents face deportation.
Mateo Garcia and his younger sister, Sophie, have been taught to fear one word for as long as they can remember: deportation. Over the past few years, however, the fear that their undocumented immigrant parents could be sent back to Mexico started to fade. Ma and Pa have been in the United States for so long, they have American-born children, and they're hard workers and good neighbors. When Mateo returns from school one day to find that his parents have been taken by ICE, he realizes that his family's worst nightmare has become a reality. With his parents' fate and his own future hanging in the balance, Mateo must figure out who he is and what he is capable of, even as he's forced to question what it means to be an American.
Daniel Aleman's Indivisible is a remarkable story–both powerful in its explorations of immigration in America and deeply intimate in its portrait of a teen boy driven by his fierce, protective love for his parents and his sister.
---
In the Key of Nira Ghani by Natasha Deen
book
A Guyanese girl must find the balance between her parents' "old world" expectations and traditions while pursuing her dream of being a great trumpeter in this contemporary, coming-of-age story, written by an #OwnVoices author.
Nira Ghani has always dreamed of becoming a musician. Her Guyanese parents, however, have big plans for her to become a scientist or doctor. Nira's grandmother and her best friend, Emily, are the only people who seem to truly understand her desire to establish an identity outside of the one imposed on Nira by her parents. When auditions for jazz band are announced, Nira realizes it's now or never to convince her parents that she deserves a chance to pursue her passion.
As if fighting with her parents weren't bad enough, Nira finds herself navigating a new friendship dynamic when her crush, Noah, and notorious mean-girl, McKenzie "Mac," take a sudden interest in her and Emily, inserting themselves into the fold. So, too, does Nira's much cooler (and very competitive) cousin Farah. Is she trying to wiggle her way into the new group to get closer to Noah? Is McKenzie trying to steal Emily's attention away from her? As Farah and Noah grow closer and Emily begins to pull away, Nira's trusted trumpet "George" remains her constant, offering her an escape from family and school drama.
But it isn't until Nira takes a step back that she realizes she's not the only one struggling to find her place in the world. As painful truths about her family are revealed, Nira learns to accept people for who they are and to open herself in ways she never thought possible.
A relatable and timely contemporary, coming-of age story, In the Key of Nira Ghani explores the social and cultural struggles of a teen in an immigrant household.
---
Lobizona by Romina Garber
book
Playaway audiobook
Hoopla eAudiobook
Some people ARE illegal.
Lobizonas do NOT exist.
Both of these statements are false.
Manuela Azul has been crammed into an existence that feels too small for her. As an undocumented immigrant who's on the run from her father's Argentine crime-family, Manu is confined to a small apartment and a small life in Miami, Florida.
Until Manu's protective bubble is shattered.
Her surrogate grandmother is attacked, lifelong lies are exposed, and her mother is arrested by ICE. Without a home, without answers, and finally without shackles, Manu investigates the only clue she has about her past–a mysterious Z emblem–which leads her to a secret world buried within our own. A world connected to her dead father and his criminal past. A world straight out of Argentine folklore, where the seventh consecutive daughter is born a bruja and the seventh consecutive son is a lobizona, a werewolf. A world where her unusual eyes allow her to belong.
As Manu uncovers her own story and traces her real heritage all the way back to a cursed city in Argentina, she learns it's not just her U.S. residency that's illegal. . . it's her entire existence.
---
Picture Us in the Light by Kelly Loy Gilbert
book
Hoopla eAudiobook
Danny Cheng has always known his parents have secrets. But when he discovers a taped-up box in his father's closet filled with old letters and a file on a powerful Bay Area family, he realizes there's much more to his family's past than he ever imagined.
Danny has been an artist for as long as he can remember and it seems his path is set, with a scholarship to RISD and his family's blessing to pursue the career he's always dreamed of. Still, contemplating a future without his best friend, Harry Wong, by his side makes Danny feel a panic he can barely put into words. Harry's and Danny's lives are deeply intertwined and as they approach the one-year anniversary of a tragedy that shook their friend group to its core, Danny can't stop asking himself if Harry is truly in love with his girlfriend, Regina Chan.
When Danny digs deeper into his parents' past, he uncovers a secret that disturbs the foundations of his family history and the carefully constructed facade his parents have maintained begins to crumble. With everything he loves in danger of being stripped away, Danny must face the ghosts of the past in order to build a future that belongs to him in this complex, lyrical novel.
---
Sanctuary by Paola Mendoza & Abby Sher
book
It's 2032, and in this near-future America, all citizens are chipped and everyone is tracked–from buses to grocery stores. It's almost impossible to survive as an undocumented immigrant, but that's exactly what sixteen-year-old Vali is doing. She and her family have carved out a stable, happy life in small-town Vermont, but when Vali's mother's counterfeit chip starts malfunctioning and the Deportation Forces raid their town, they are forced to flee. Now on the run, Vali and her family are desperately trying to make it to her tía Luna's in California, a sanctuary state that is currently being walled off from the rest of the country. But when Vali's mother is detained before their journey even really begins, Vali must carry on with her younger brother across the country to make it to safety before it's too late. Gripping and urgent, co-authors Paola Mendoza and Abby Sher have crafted a narrative that is as haunting as it is hopeful in envisioning a future where everyone can find sanctuary.
---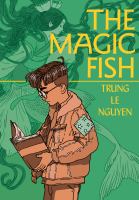 The Magic Fish by Trung Le Nguyen
graphic novel
OverDrive graphic novel
Tien and his mother may come from different cultures–she's an immigrant from Vietnam still struggling with English; he's been raised in America–but through the fairy tales he checks out from the local library, those differences are erased.
But as much as Tien's mother's English continues to improve as he reads her tales of love, loss, and travel across distant shores, there's one conversation that still eludes him–how to come out to her and his father. Is there even a way to explain what he's going through in Vietnamese? And without a way to reveal his hidden self, how will his parents ever accept him?
This beautifully illustrated graphic novel speaks to the complexity of family and how stories can bring us together even when we don't know the words.
---
You Bring the Distant Near by Mitali Perkins
book
This elegant Young Adult novel captures the immigrant experience for one Indian-American family with humor and heart. Told in alternating teen voices across three generations, You Bring the Distant Near explores sisterhood, first loves, friendship, and the inheritance of culture–for better or worse.
From a grandmother worried that her children are losing their Indian identity to a daughter wrapped up in a forbidden biracial love affair to a granddaughter social-activist fighting to preserve Bengali tigers, award-winning author Mitali Perkins weaves together the threads of a family growing into an American identity.
Here is a sweeping story of five women at once intimately relatable and yet entirely new.
---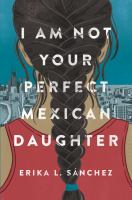 I am Not Your Perfect Mexican Daughter by Erika L. Sánchez
book
The Absolutely True Diary of a Part-Time Indian meets Jane the Virgin in this poignant but often laugh-out-loud funny contemporary novel about a teenage girl who loses her sister and finds herself amid the pressures, expectations, and stereotypes of growing up in a Mexican American home.
When her sister, considered the perfect Mexican daughter by her parents, dies, Julia tries to reassemble the shattered pieces of her family despite her own grief and her mother's penchant for pointing out every possible way Julia has failed.
---
The Grief Keeper by Alexandra Villasante
book
Seventeen-year-old Marisol has always dreamed of being American, learning what Americans and the US are like from television and Mrs. Rosen, an elderly expat who had employed Marisol's mother as a maid. When she pictured an American life for herself, she dreamed of a life like Aimee and Amber's, the title characters of her favorite American TV show. She never pictured fleeing her home in El Salvador under threat of death and stealing across the US border as an illegal, but after her brother is murdered and her younger sister, Gabi's, life is also placed in equal jeopardy, she has no choice, especially because she knows everything is her fault. If she had never fallen for the charms of a beautiful girl named Liliana, Pablo might still be alive, her mother wouldn't be in hiding and she and Gabi wouldn't have been caught crossing the border.
But they have been caught and their asylum request will most certainly be denied. With truly no options remaining, Marisol jumps at an unusual opportunity to stay in the United States. She's asked to become a grief keeper, taking the grief of another into her own body to save a life. It's a risky, experimental study, but if it means Marisol can keep her sister safe, she will risk anything. She just never imagined one of the risks would be falling in love, a love that may even be powerful enough to finally help her face her own crushing grief.
The Grief Keeper is a tender tale that explores the heartbreak and consequences of when both love and human beings are branded illegal.
---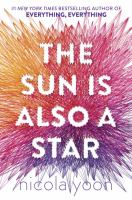 The Sun is Also a Star by Nicola Yoon
book
OverDrive eBook
OverDrive eAudiobook
Natasha, whose family is hours away from being deported, and Daniel, a first-generation Korean American who strives to live up to his parents' expectations, unexpectedly fall in love and must determine which path they will choose in order to be together.
Natasha is a girl who believes in science and facts. Not fate. Not destiny. Daniel has always been the good son, the good student. Never the poet. Or the dreamer. Every moment in their lives has brought them to this single moment. A million futures lie before them. Which will come true?