Hollywood is filled with drama, real and on-screen, so it is no surprise that many authors have set their own stories in the tumultuous city of glittering, blinding lights where nothing can stay secret for long. Curated by Tabor Millien.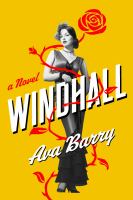 Windhall by Ava Barry
book
Hoopla ebook
1940s Hollywood was an era of decadence and director Theodore Langley was its king. Paired with Eleanor Hayes as his lead actress, Theo ruled the Golden Age of Hollywood. That ended when Eleanor's mangled body was discovered in Theo's rose garden and he was charged with her murder. The case was thrown out before it went to trial and Theo fled L.A., leaving his crawling estate, Windhall, to fall into ruin. He hasn't been seen since.
Decades later, investigative journalist Max Hailey, raised by his gran on stories of old Hollywood, is sure that if he could meet Theo, he could prove once and for all that the famed director killed his leading lady. When a copycat murder takes place near Windhall, the long reclusive Theo returns to L.A., and it seems Hailey finally has his chance. When Hailey gets his hands on Theo's long-missing journals, he reads about Eleanor's stalkers and her role in Theo's final film, The Last Train to Avalon, a film so controversial it was never released to the public. In the months leading up to her death, something had left her so terrified she stopped coming to work. The more Hailey learns about Avalon, the more convinced he becomes that the film could tell him who killed Eleanor and why she had to die. But the implications of Avalon reach far beyond Eleanor's murder, and Hailey must race to piece together the murders of the past and present before it's too late.
---
Hollywood Spy by Susan Elia MacNeal
book
OverDrive eBook
Los Angeles, 1943. As the Allies beat back the Nazis in the Mediterranean and the United States military slowly closes in on Tokyo, Walt Disney cranks out wartime propaganda and the Cocoanut Grove is alive with jazz and swing every night. But behind this sunny façade lies a darker reality. Up in the lush foothills of Hollywood, a woman floats lifeless in the pool of one of California's trendiest hotels.
When American-born secret agent and British spy Maggie Hope learns that this woman was engaged to her former fiancée, John Sterling, and that he suspects her death was no accident, intuition tells her he's right. Leaving London under siege is a lot to ask–but John was once the love of Maggie's life . . . and she can't say no.
Maggie struggles with seeing her lost love again, but more shocking is the realization that her country is as divided and convulsed with hatred as Europe. The Zoot Suit Riots loom large in Los Angeles, and the Ku Klux Klan casts a long shadow everywhere. But there is little time to dwell on memories once she starts digging into the case. As she traces a web of deception from the infamous Garden of Allah to the iconic Carthay Circle Theater, she discovers things aren't always the way things appear in the movies–and the political situation in America is more complicated, and dangerous, than the newsreels would have them all believe.
---
Prince of Beverly Hills by Stuart Woods
book
large print book
book on CD
Rick Barron, a sharp, capable detective on the Beverly Hills force, finds himself demoted after a run-in with a superior officer, but he soon lands a job other cops only dream about: the security detail for Centurion Pictures, one of the hottest studios in the midst of Hollywood's golden age of the late 1930s. As the protector of the studio's interests, Barron looks after the elite of filmdom's stars – among them Clete Barrow, a British leading man with a penchant for parties, and Glenna Gleason, a peach of a talent on the verge of stardom. Rick's easy charm has society columnists dubbing him "the Prince of Beverly Hills," the white knight of movie stars, until he stumbles across a murder cover-up and a blackmail scam that threaten the studio's business and may have origins with some unsavory characters. When two suspicious deaths begin to look like a double murder, and an attempt is made on someone who has become an intimate friend, Barron knows he is up against wise guys whose stakes are nothing less than do-or-die. A dicey war of nerves is on.
---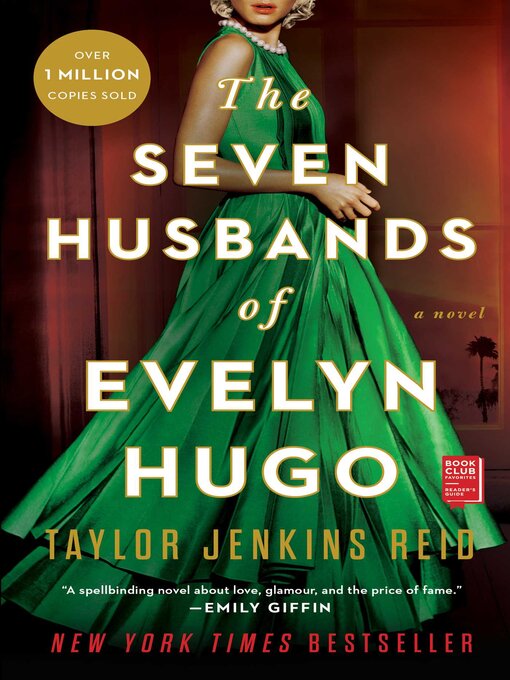 The Seven Husbands of Evelyn Hugo by Taylor Jenkins Reid
book
large print book
OverDrive eBook
OverDrive eAudiobook
Aging and reclusive Hollywood movie icon Evelyn Hugo is finally ready to tell the truth about her glamorous and scandalous life. But when she chooses unknown magazine reporter Monique Grant for the job, no one is more astounded than Monique herself. Why her? Why now?
Monique is not exactly on top of the world. Her husband has left her, and her professional life is going nowhere. Regardless of why Evelyn has selected her to write her biography, Monique is determined to use this opportunity to jumpstart her career. Summoned to Evelyn's luxurious apartment, Monique listens in fascination as the actress tells her story. From making her way to Los Angeles in the 1950s to her decision to leave show business in the '80s, and, of course, the seven husbands along the way, Evelyn unspools a tale of ruthless ambition, unexpected friendship, and a great forbidden love. Monique begins to feel a very real connection to the legendary star, but as Evelyn's story near its conclusion, it becomes clear that her life intersects with Monique's own in tragic and irreversible ways.
---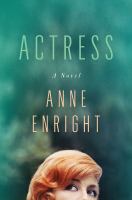 Actress by Anne Enright
book
large print book
book on CD
Hoopla eAudiobook
OverDrive eAudiobook
Katherine O'Dell is an Irish theater legend. As her daughter Norah retraces her mother's celebrated career and bohemian life, she delves into long-kept secrets, both her mother's and her own. Katherine began her career on Ireland's bus-and-truck circuit before making it to London's West End, Broadway, and finally Hollywood. Every moment of her life is a star turn, with young Norah standing in the wings. But the mother-daughter romance cannot survive Katherine's past or the world's damage. With age, alcohol, and dimming stardom, her grip on reality grows fitful and, fueled by a proud and long-simmering rage, she commits a bizarre crime.
Her mother's protector, Norah understands the destructive love that binds an actress to her audience, but also the strength that an actress takes from her art. Once the victim of a haunting crime herself, Norah eventually becomes a writer, wife, and mother, finding her way to her own hard-won joy. Actress is a book about the freedom we find in our work and in the love we make and keep.
---
West of Sunset by Stewart O'Nan
large print book
Hoopla eAudiobook
In 1937 F. Scott Fitzgerald was a troubled, uncertain man whose literary success was long over. In poor health, with his wife consigned to a mental asylum and his finances in ruins, he struggled to make a new start as a screenwriter in Hollywood. By December of 1940, he would be dead of a heart attack.
Those last three years of Fitzgerald's life, often obscured by the legend of his earlier Jazz Age glamour, are the focus of Stewart O'Nan's gorgeously and gracefully written novel. With flashbacks to key moments from Fitzgerald's past, the story follows him as he arrives on the MGM lot, falls in love with brassy gossip columnist Sheilah Graham, begins work on The Last Tycoon, and tries to maintain a semblance of family life with the absent Zelda and daughter.
Scottie Fitzgerald's orbit of literary fame and the golden age of Hollywood is brought vividly to life through the novel's romantic cast of characters, from Dorothy Parker and Ernest Hemingway to Humphrey Bogart. A sympathetic and deeply personal portrait of a flawed man who never gave up, even as his every wish and hope seemed thwarted, West of Sunset confirms O'Nan as "possibly our best working novelist" (Salon).
---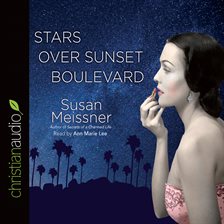 Stars over Sunset Boulevard by Susan Meissner
Hoopla eAudiobook
Los Angeles, Present Day. When an iconic hat worn by Scarlett O'Hara in Gone With the Wind ends up in Christine McAllister's vintage clothing boutique by mistake, her efforts to return it to its owner take her on a journey more enchanting than any classic movie.
Los Angeles, 1938. Violet Mayfield sets out to reinvent herself in Hollywood after her dream of becoming a wife and mother falls apart and lands a job on the film-set of Gone With the Wind. There, she meets enigmatic Audrey Duvall, a once-rising film star who is now a fellow secretary. Audrey's zest for life and their adventures together among Hollywood's glitterati enthrall Violet…until each woman's deepest desires collide. What Audrey and Violet are willing to risk, for themselves and for each other, to ensure their own happy endings will shape their friendship, and their lives, far into the future.
---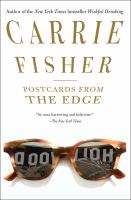 Postcards from the Edge by Carrie Fisher
book
When we first meet the extraordinary young actress Suzanne Vale, she's feeling like "something on the bottom of someone's shoe, and not even someone interesting." Suzanne is in the harrowing and hilarious throes of drug rehabilitation, trying to understand what happened to her life and how she managed to land in a "drug hospital." Just as Fisher's first film role–the precocious teenager in Shampoo–echoed her own Beverly Hills upbringing, her first book is set within the world she knows better than anyone else: Hollywood. This stunning literary debut chronicles Suzanne's vivid, excruciatingly funny experiences inside the clinic and as she comes to terms with life in the outside world. Postcards from the Edge is more than a book about stardom and drugs. It is a revealing look at the dangers–and delights–of all our addictions, from money and success to sex and insecurity.