Get swept away in a feel-good love story. Recommended by Ethel Rosemond.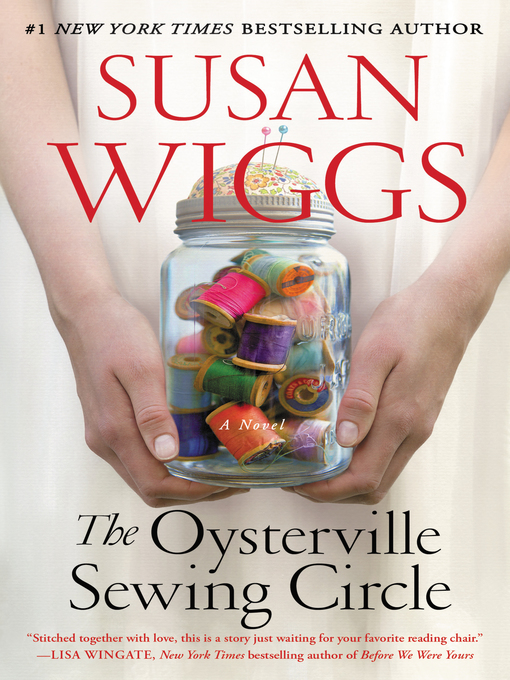 The Oysterville Sewing Circle by Susan Wiggs
Overdrive ebook
At the break of dawn, Caroline Shelby rolls into Oysterville, Washington, a tiny hamlet at the edge of the raging Pacific. She's come home. Home to a place she thought she'd left forever, home of her heart and memories, but not her future. Ten years ago, Caroline launched a career in the glamorous fashion world of Manhattan. But her success in New York imploded on a wave of scandal and tragedy, forcing her to flee to the only safe place she knows.
And in the backseat of Caroline's car are two children who were orphaned in a single chilling moment—five-year-old Addie and six-year-old Flick. She's now their legal guardian—a role she's not sure she's ready for.
But the Oysterville she left behind has changed. Her siblings have their own complicated lives and her aging parents are hoping to pass on their thriving seafood restaurant to the next generation. And there's Will Jensen, a decorated Navy SEAL who's also returned home after being wounded overseas. Will and Caroline were forever friends as children, with the promise of something more . . . until he fell in love with Sierra, Caroline's best friend and the most beautiful girl in town. With her modeling jobs drying up, Sierra, too, is on the cusp of reinventing herself.
Caroline returns to her favorite place: the sewing shop owned by Mrs. Lindy Bloom, the woman who inspired her and taught her to sew. There she discovers that even in an idyllic beach town, there are women living with the deepest of secrets. Thus begins the Oysterville Sewing Circle—where women can join forces to support each other through the troubles they keep hidden.
Yet just as Caroline regains her creativity and fighting spirit, and the children begin to heal from their loss, an unexpected challenge tests her courage and her heart. This time, though, Caroline is not going to run away. She's going to stand and fight for everything—and everyone—she loves.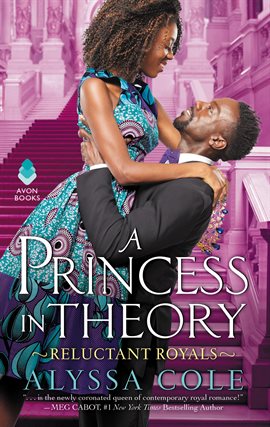 A Princess in Theory by Alyssa Cole
hoopla ebook
hoopla audiobook
Between grad school and multiple jobs, Naledi Smith doesn't have time for fairy tales…or patience for the constant emails claiming she's betrothed to an African prince. Sure. Right. Delete! As a former foster kid, she's learned that the only things she can depend on are herself and the scientific method, and a silly e-mail won't convince her otherwise.

Prince Thabiso is the sole heir to the throne of Thesolo, shouldering the hopes of his parents and his people. At the top of their list? His marriage. Ever dutiful, he tracks down his missing betrothed. When Naledi mistakes the prince for a pauper, Thabiso can't resist the chance to experience life – and love – without the burden of his crown.

The chemistry between them is instant and irresistible, and flirty friendship quickly evolves into passionate nights. But when the truth is revealed, can a princess in theory become a princess ever after?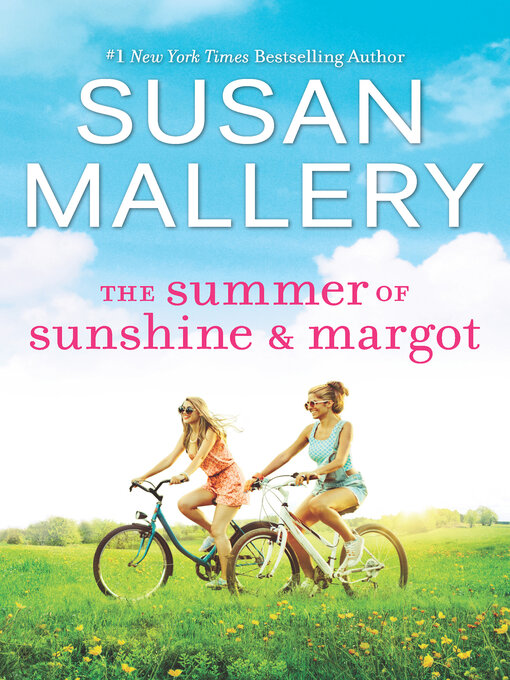 The Summer of Sunshine and Margot by Susan Mallery
Overdrive ebook
The Baxter sisters come from a long line of women with disastrous luck in love. But this summer, Sunshine and Margot will turn disasters into destiny…

As an etiquette coach, Margot teaches her clients to fit in. But she's never faced a client like Bianca, an aging movie star who gained fame—and notoriety—through a campaign of shock and awe. Schooling Bianca on the fine art of behaving like a proper diplomat's wife requires intensive lessons, forcing Margot to move into the monastery turned mansion owned by the actress's intensely private son. Like his incredible home, Alec's stony exterior hides secret depths Margot would love to explore. But will he trust her enough to let her in?
Sunshine has always been the good-time sister, abandoning jobs to chase after guys who used her, then threw her away. No more. She refuses to be "that girl" again. This time, she'll finish college, dedicate herself to her job as a nanny, and she 100 per cent will not screw up her life again by falling for the wrong guy. Especially not the tempting single dad who also happens to be her boss.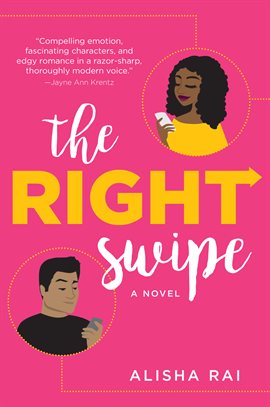 The Right Swipe by Alisha Rai
hoopla ebook
hoopla audiobook
Rhiannon Hunter may have revolutionized romance in the digital world, but in real life she only swipes right on her career – and the occasional hookup. The cynical dating app creator controls her love life with a few key rules. Only there aren't any rules to govern her attraction to her newest match, former pro-football player Samson Lima. The sexy and seemingly sweet hunk woos her one magical night… and disappears.

Rhi thought she'd buried her hurt over Samson ghosting her, until he suddenly surfaces months later, still big, still beautiful – and in league with a business rival. He says he won't fumble their second chance, but she's wary. A temporary physical partnership is one thing, but a merger of hearts? Surely that's too high a risk…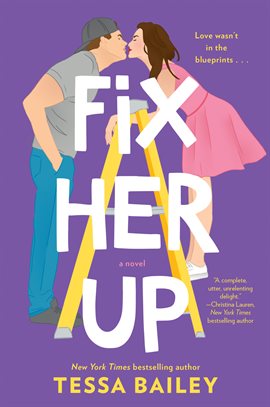 Fix Her Up by Tessa Bailey
hoopla ebook
hoopla audiobook
Georgette Castle's family runs the best home renovation business in town, but she picked balloons instead of blueprints and they haven't taken her seriously since. Frankly, she's over it. Georgie loves planning children's birthday parties and making people laugh, just not at her own expense. She's determined to fix herself up into a Woman of the World… whatever that means.

Living her best life means facing the truth: Georgie hasn't been on a date since, well, ever. Nobody's asking the town clown out for dinner, that's for sure. Maybe if people think she's having a steamy love affair, they'll acknowledge she's not just the "little sister" who paints faces for a living. And who better to help demolish that image than the resident sports star and tabloid favorite.
Travis Ford was major league baseball's hottest rookie when an injury ended his career. Now he's flipping houses to keep busy and trying to forget his glory days. But he can't even cross the street without someone recapping his greatest hits. And then there's Georgie, his best friend's sister, who is not a kid anymore. When she proposes a wild scheme – that they pretend to date, to shock her family and help him land a new job – he agrees. What's the harm? It's not like it's real. But the girl Travis used to tease is now a funny, full-of-life woman and there's nothing fake about how much he wants her…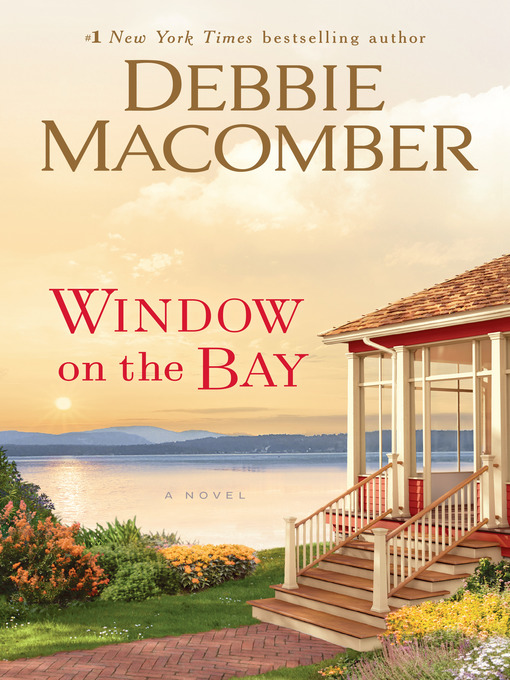 Window on the Bay by Debbie Macomber
Overdrive ebook
Jenna Boltz's life is at a crossroads. After a messy divorce from her surgeon husband nearly twenty years ago, she raised her two children on her own, juggling motherhood with her beloved job as a Seattle intensive-care nurse. Now that Paul and Allie have gone to college and moved out, Jenna can't help but wonder what her future holds.

Her best friend, Maureen, is excited for Jenna's newfound independence. Now is the perfect time to finally book the trip to Paris they've been dreaming of since their college days. But when it comes to life's other great adventure—dating—Jenna still isn't sure she's ready to let love in . . . until an unexpected encounter begins to change her mind.

When Jenna's elderly mother breaks her hip, Dr. Rowan Lancaster saves the day. Despite his silent, stoic exterior, Rowan is immediately smitten with Jenna. And even though Jenna is hesitant about becoming involved with another surgeon, she has to admit that she's more than a little intrigued. But when Jenna's children approach her with shocking news, she realizes that she needs to have faith in love and embrace the unexpected—before the life she has always dreamed of passes her by.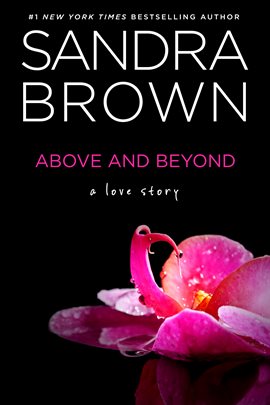 Above and Beyond by Sandra Brown
hoopla ebook
hoopla audiobook
While serving his country, Trevor Rule experienced the wrenching heartache of losing his best friend in a brutal attack. His grief is coupled with guilt when he falls in love with that friend's wife by reading letters she'd written to her husband.

Kyla gave birth the same day she learned that her husband had been killed in a terrorist assault on Marine barracks. That was almost two years ago. Now, Kyla is struggling to rear her son alone…and wrestling with the longing generated by the handsome stranger who fortuitously enters their lives.

Except Trevor's entrance into Kyla's life isn't accidental. He has sought her out not only because he feels he owes her and her child a debt he can never repay, but also because he remembers the impassioned words she wrote to her husband. Which Trevor took to heart.

Will her growing love be strong enough to forgive his deception?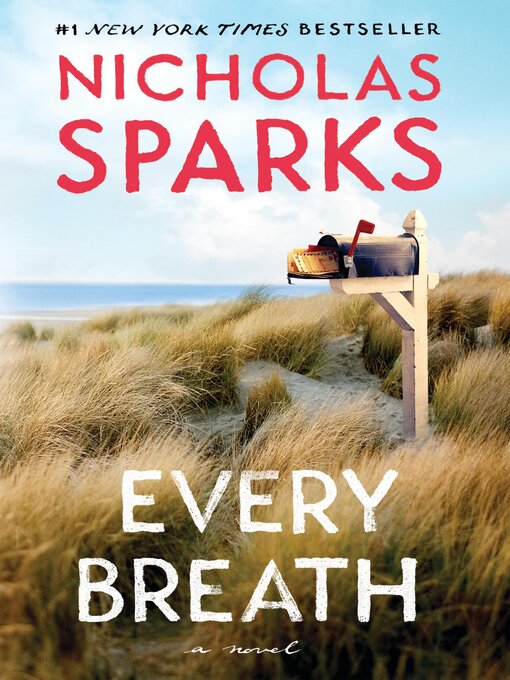 Every Breath by Nicholas Sparks
Overdrive ebook
Overdrive audiobook
Hope Anderson is at a crossroads. At thirty-six, she's been dating her boyfriend, an orthopedic surgeon, for six years. With no wedding plans in sight, and her father recently diagnosed with ALS, she decides to use a week at her family's cottage in Sunset Beach, North Carolina, to ready the house for sale and mull over some difficult decisions about her future.
Tru Walls has never visited North Carolina but is summoned to Sunset Beach by a letter from a man claiming to be his father. A safari guide, born and raised in Zimbabwe, Tru hopes to unravel some of the mysteries surrounding his mother's early life and recapture memories lost with her death. When the two strangers cross paths, their connection is as electric as it is unfathomable . . . but in the immersive days that follow, their feelings for each other will give way to choices that pit family duty against personal happiness in devastating ways.

Illuminating life's heartbreaking regrets and enduring hope, EVERY BREATH explores the many facets of love that lay claim to our deepest loyalties—while asking the question, How long can a dream survive?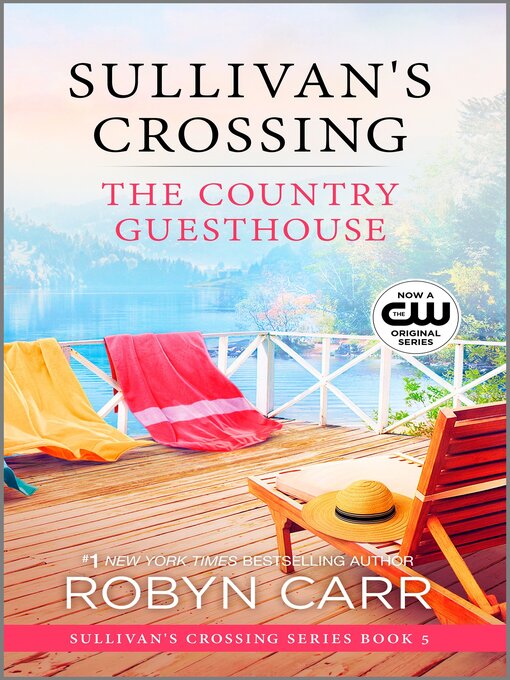 The Country Guesthouse by Robyn Carr
Overdrive ebook
Hannah Russell's carefully crafted plans for her life have been upended without warning. When her best friend died suddenly, Hannah became guardian to a five-year-old named Noah. With no experience at motherhood, she's terrified she's not up to the challenge. She and Noah need time to get to know each other, so she decides to rent a country house with stunning views on a lake in rural Colorado.
When they arrive at the house, they are greeted by the owner, a handsome man who promises to stay out of their way. But his clumsy Great Dane, Romeo, has other ideas and Noah immediately bonds with the lovable dog. As Hannah learns to become a mother, Owen Abrams, who is recovering from his own grief, can't help but be drawn out of his solitude by his guests.
But life throws more challenges at this unlikely trio and they are tested in ways they never thought possible. All three will discover their strengths and, despite their differences, they will fight to become a family. And the people of Sullivan's Crossing will rally around them to offer all of the support they need.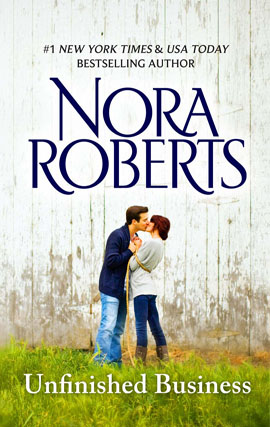 Unfinished Business by Nora Roberts
Overdrive ebook
What was she doing here? Hyattown had changed very little in the years Vanessa Sexton had been away. In some ways her high school sweetheart, Brady Tucker, hadn't changed much either–he was still lean, athletic, rugged…But the once reckless boy had become a solid, dependable man. He'd stood her up on the most important night of her life; could she ever trust him again?

So Vanessa had finally come home, Brady thought. She could still turn him inside out with one of her sultry looks. He couldn't believe she hadn't forgiven him for that night twelve years ago–but he'd had his reasons for not showing up. He'd let her leave town then–but he wasn't going to let her get away this time…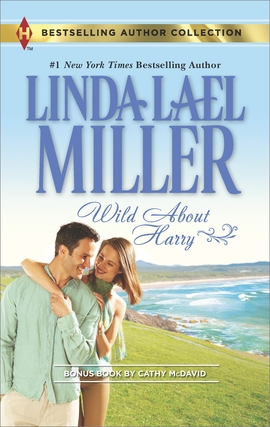 Wild About Harry by Linda Lael Miller
Overdrive ebook
Amy Ryan strictly defined herself in three ways: successful businesswoman, devoted mother and grieving widow. Wild certainly never entered into the description. That is, until she met powerful Australian businessman Harry Griffith. Suddenly, Amy was doing all kinds of wild things–enjoying romantic dinners, taking spontaneous luxury vacations, falling in love.

And yet, a part of her was still devoted to her husband, still wanted to touch him, hold him, talk to him. But Harry demanded nothing less than all of Amy. How could she love Harry, without betraying her husband?