Memoirs, letters, and primary sources bring true tales of World War II to life in these ebook titles from hoopla. Recommended by Kristine Price.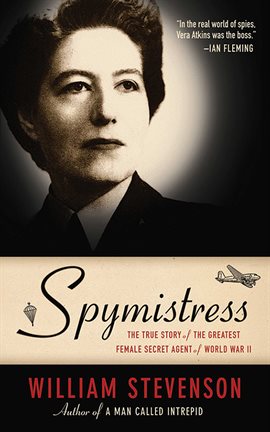 Spymistress by William Stevenson
hoopla ebook
The true story of the greatest female secret agent of World War II. Shares the story of Vera Atkins, legendary spy and holder of the Legion of Honor. Written by William Stevenson, the only person whom she trusted to write her biography. She was stunning. She was ruthless. She was brilliant and had a will of iron. Born Vera Maria Rosenberg in Bucharest, she became Vera Atkins. William Stephenson, the spymaster who would later be known as "Intrepid," recruited her when she was twenty-three. Vera spent most of the 1930s running too many dangerous espionage missions to count. When war was declared in 1939, her many skills made her one of the leaders of the Special Operations Executive (SOE), a covert intelligence agency formed by, and reporting to, Winston Churchill. She trained and recruited hundreds of agents, including dozens of women. Their job was to seamlessly penetrate deep behind the enemy lines. As General Dwight D. Eisenhower said, the fantastic exploits and extraordinary courage of the SOE agents and the French Resistance fighters "shortened the war by many months." They are celebrated, as they should be. But Vera Atkins's central role has been hidden until after she died; William Stevenson promised to wait and publish her story posthumously. Now, Vera Atkins can be celebrated and known for the hero she was: the woman whose beauty, intelligence, and unwavering dedication proved key in turning the tide of World War II.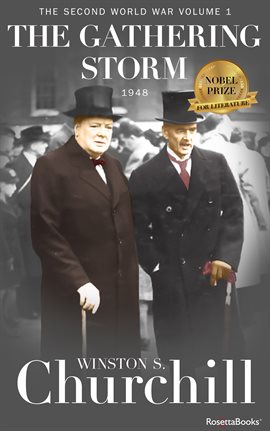 The Gathering Storm, 1948 by Winston Churchill
hoopla ebook
This book is the first in Winston Churchill's monumental six-volume account of the struggle between the Allied Powers in Europe against Germany and the Axis during World War II. Told from the unique viewpoint of a British prime minister, it is also the story of one nation's heroic role in the fight against tyranny. Having learned a lesson at Munich they would never forget, the British refused to make peace with Hitler, defying him even after France had fallen and it seemed as though the Nazis were unstoppable. What lends this work its tension and power is Churchill's inclusion of primary source material. We are presented with not only Churchill's retrospective analysis of the war, but also memos, letters, orders, speeches, and telegrams, day-by-day accounts of reactions as the drama intensifies. We listen as strategies and counter-strategies unfold in response to Hitler's conquest of Europe, planned invasion of England, and assault on Russia. Together they give a mesmerizing account of the crucial decisions made as the fate of the world hangs in the balance. The Gathering Storm covers the Treaty of Versailles, the rise of Adolf Hitler, the capitulation of Munich, and the entry of Britain into the war. This book makes clear Churchill's feeling that the Second World War was a largely senseless but unavoidable conflict – and shows why Churchill earned the Nobel Prize in Literature in 1953, in part because of this awe-inspiring work.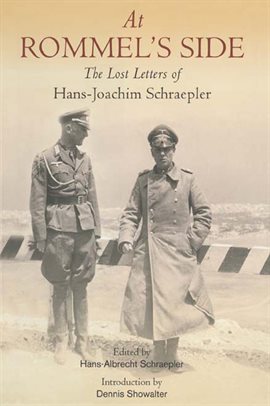 At Rommel's Side by Hans-Joachim Schraepler
hoopla ebook
Erwin Rommel, Hitler's so-called 'Desert Fox', is possibly the most famous German Field-Marshal of WWII. He is widely regarded as the one of the most skilled commanders of desert warfare and, in contrast to other leaders of Nazi Germany, is considered to have been a chivalrous and humane officer. The letters of his adjutant provide a unique picture of Rommel during his time in Libya. Hans-Joachim Schraepler was by Rommel's side in North Africa for ten crucial months in 1940-41. During that time, he wrote to his wife almost every day. In most cases, the correspondence went via the usual channels but occasionally he used other methods to avoid the censor's gaze. Through his letters, Schraepler supplies a vivid image of the first phase of the North Africa campaign. He covers the siege of Tobruk, the capture of Benghazi, and the difficulties experienced by those fighting in Cyrenica and the wider North African theatre. He also complains that the Italian were poor Allies, lacking training and leadership, and that Berlin regarded North Africa as a theatre of only secondary importance. Schraepler also provides insights into Rommel's character – his dynamism and tactical skill, along with the growing 'cult of personality' which seemed to surround him. One of his unofficial tasks, for example, was to respond in Rommel's name to much of the fan mail that arrived at the Afrikakorps HQ. Hans-Albrecht Schraepler was only seven years old when his father died. The cache of letters was held by his mother and remained untouched for sixty years. His father's last letter, found the day of his death, remains unfinished.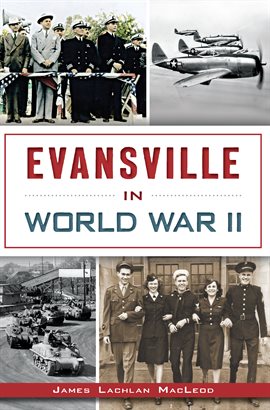 Evansville In World War II by James Lachlan MacLeod
hoopla ebooks
During World War II, the city of Evansville manufactured vast amounts of armaments that were vital to the Allied victory. The Evansville Ordnance Plant made 96 percent of all .45-caliber ammunition used in the war, while the Republic Aviation Plant produced more than 6,500 P-47 Thunderbolts, almost half of all P-47s built during the war. At its peak, the local shipyard employed upward of eighteen thousand men and women who forged 167 of the iconic Landing Ship Tank vessels. In this captivating and fast-paced account, University of Evansville historian James Lachlan MacLeod reveals the enormous influence these wartime industries had on the social, economic, and cultural life of the city.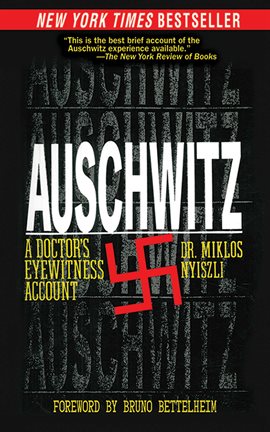 Auschwitz by Miklos Nyiszli
hoopla ebook
When the Nazis invaded Hungary in 1944, they sent virtually the entire Jewish population to Auschwitz. A Jew and a medical doctor, Dr. Miklos Nyiszli was spared from death for a grimmer fate: to perform "scientific research" on his fellow inmates under the supervision of the infamous "Angel of Death," Dr. Josef Mengele. Nyiszli was named Mengele's personal research pathologist. Miraculously, he survived to give this terrifying and sobering account.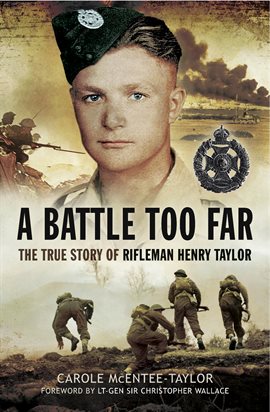 A Battle Too Far by Carole McEntee-Taylor
hoopla ebook
A Battle Too Far is the true story of Rifleman Henry Taylor 6923581, late 7th Battalion, The Rifle Brigade (1stBattalion London Rifle Brigade) and is based on his diaries and recollections as told to his son Lawrence. The Foreword is by Lt-Gen Sir Christopher Wallace, Chairman of The Royal Green Jackets (Rifles) Museum in Winchester.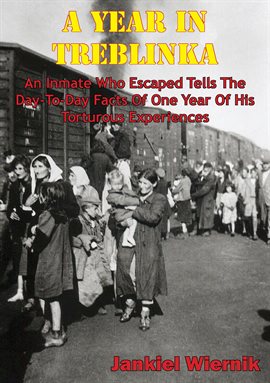 A Year In Treblinka by Jankiel Wiernik
hoopla ebook
Jankiel Wiernik was a Jewish property manager in Warsaw when the Nazis invaded Poland, and he was forced into the ghetto in 1940. Despite surviving the horrors of the ghetto at the advanced age of 52, he was sent to a fate worse than death at the notorious death camp at Treblinka, which he immortalized in his memoirs.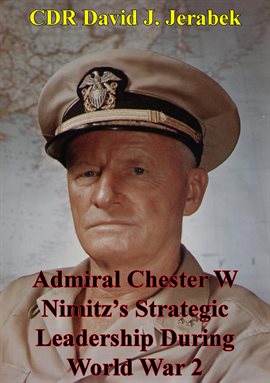 Admiral Chester W Nimitz's Strategic Leadership During World War 2 by CDR David J. Jerabek
hoopla ebook
Admiral Chester W. Nimitz, Commander-in-Chief, Pacific Fleet and Pacific Ocean Area during World War II, commanded the most powerful naval force ever assembled and was arguably the individual most responsible for the Allied victory in that theater. His unique abilities serve well as a model for all who aspire to fill a strategic leadership role. Some of his competencies were derived from natural ability, while others were learned, and honed, through education, training, and experience. This report analyzes Admiral Nimitz's strategic leader competencies and evaluates his contributions in achieving a total victory in the Pacific for the Allied powers.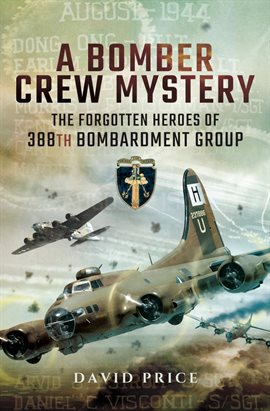 A Bomber Crew Mystery by David Price
hoopla ebook
An antique trophy inspires a quest to uncover the history of an outstanding crew of WWII airmen who first flew into combat on D-Day.
After discovering a discarded trophy in an Edinburgh antique shop, author David Price endeavored to tell the stories of the men whose names had been engraved upon it. Praised as 'Outstanding Crew of the Month', the members of 388th Bombardment Group set out on their very first mission on June 6, 1944 – D-Day. This baptism of fire heralded the start of an illustrious career in battle. During August and September of 1944, they took part in over thirty perilous missions. And yet the details of their endeavors have largely been forgotten. Here, the history of 388th Bombardment Group's service is told in great detail from interviews with each surviving member of the group, together with family members, in an effort to glean more information about their wartime deeds, and to reunite them with the trophy that they won in the midst of it. A Bomber Crew Mystery serves as a poignant and evocative tribute to the 388th Bombardment Group, as well as all those who fought in the skies of the Second World War.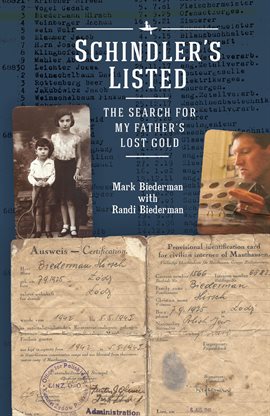 Schindler's Listed by Mark Biederman
hoopla ebook
This is the extraordinary story of the author's twenty-year quest to find gold coins, which his father's family buried in their backyard in Poland just prior to being deported by the Nazis into concentration camps. His father survived the war but died when the author was a teenager, leaving him only with the knowledge that he had buried coins somewhere in Poland, and no information about his family. During his quest, Biederman uncovers many interesting and disturbing facts about his father and mother and their families, such as the fact that his father was the third person on Oskar Schindler's list and had a chance meeting with Adolph Hitler, and that his mother was selected as a cook for the infamous Dr. Josef Mengele. The book details the author's quest to unearth his family's past and his father's treasure and continues with his parent's amazing post-war years in Europe and their eventual arrival in North America.