Magical worlds, Mayan relics, fables, and, of course, dragons. Go on an epic journey with the characters from these engaging middle grade fantasy novels. Recommended by Willie Nettles.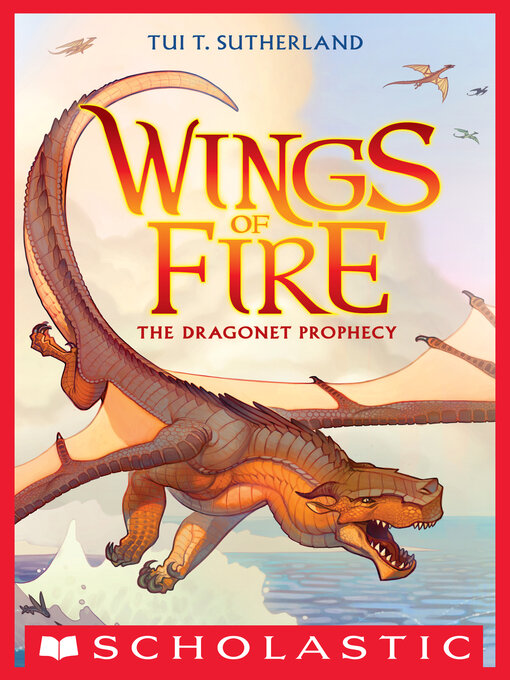 Wings of Fire: The Dragonnet Prophecy by Tui Sutherland
Overdrive ebook
hoopla audiobook
The seven dragon tribes have been at war for generations, locked in an endless battle over an ancient, lost treasure. A secret movement called the Talons of Peace is determined to bring an end to the fighting, with the help of a prophecy — a foretelling that calls for great sacrifice. Five dragonets are collected to fulfill the prophecy, raised in a hidden cave and enlisted, against their will, to end the terrible war.
The Storm Runner by J.C. Cervantez
hoopla ebook
Zane has always enjoyed exploring the dormant volcano near his home in New Mexico, even though hiking it is challenging. He'd much rather hang out there with his dog, Rosie, than go to middle school, where kids call him Sir Limps a Lot, McGimpster, or Uno–for his one good leg. What Zane doesn't know is that the volcano is a gateway to another world and he is at the center of a powerful prophecy. A new girl at school, Brooks, informs him that he's destined to release an evil god from the ancient Maya relic he is imprisoned in–unless she can find and remove it first. Together they return to the volcano, where all kinds of crazy happens. Brooks turns into a hawk, a demon attacks them in a cave, and Rosie gives her all while trying to protect Zane. When Zane decides to save his dog no matter the cost, he is thrust into an adventure full of surprising discoveries, dangerous secrets, and an all-out war between the gods, one of whom happens to be his father. To survive, Zane will have to become the Storm Runner. But how can he run when he can't even walk well without a cane?
Dragon Pearl by Yoon Ha Lee
hoopla ebook
Rick Riordan Presents Yoon Ha Lee's space opera about thirteen-year-old Min, who comes from a long line of fox spirits. But you'd never know it by looking at her. To keep the family safe, Min's mother insists that none of them use any fox-magic, such as Charm or shape-shifting. They must appear human at all times. Min feels hemmed in by the household rules and resents the endless chores, the cousins who crowd her, and the aunties who judge her. She would like nothing more than to escape Jinju, her neglected, dust-ridden, and impoverished planet. She's counting the days until she can follow her older brother, Jun, into the Space Forces and see more of the Thousand Worlds. When word arrives that Jun is suspected of leaving his post to go in search of the Dragon Pearl, Min knows that something is wrong. Jun would never desert his battle cruiser, even for a mystical object rumored to have tremendous power. She decides to run away to find him and clear his name. Min's quest will have her meeting gamblers, pirates, and vengeful ghosts. It will involve deception, lies, and sabotage. She will be forced to use more fox-magic than ever before, and to rely on all of her cleverness and bravery. The outcome may not be what she had hoped, but it has the potential to exceed her wildest dreams. This sci-fi adventure with the underpinnings of Korean mythology will transport you to a world far beyond your imagination.
Crenshaw by Katherine Applegate
Overdrive ebook
Overdrive audiobook
In her first novel since winning the Newbery Medal, Katherine Applegate delivers an unforgettable and magical story about family, friendship, and resilience.
Jackson and his family have fallen on hard times. There's no more money for rent. And not much for food, either. His parents, his little sister, and their dog may have to live in their minivan. Again.
Crenshaw is a cat. He's large, he's outspoken, and he's imaginary. He has come back into Jackson's life to help him. But is an imaginary friend enough to save this family from losing everything?
Beloved author Katherine Applegate proves in unexpected ways that friends matter, whether real or imaginary.
Tristan Strong Punches a Hole in the Sky by Kwame Mbalia
Overdrive audibook
Seventh grader Tristan Strong feels anything but strong ever since he failed to save his best friend when they were in a bus accident together. All he has left of Eddie is the journal his friend wrote stories in. Tristan is dreading the month he's going to spend on his grandparents' farm in Alabama, where he's being sent to heal from the tragedy. But on his first night there, a sticky creature shows up in his bedroom and steals Eddie's notebook. Tristan chases after it—is that a doll?—and a tug-of-war ensues between them underneath a Bottle Tree. In a last attempt to wrestle the journal out of the creature's hands, Tristan punches the tree, accidentally ripping open a chasm into the MidPass, a volatile place with a burning sea, haunted bone ships, and iron monsters that are hunting the inhabitants of this world. Tristan finds himself in the middle of a battle that has left black American folk heroes John Henry and Brer Rabbit exhausted. In order to get back home, Tristan and these new allies will need to entice the god Anansi, the Weaver, to come out of hiding and seal the hole in the sky. But bartering with the trickster Anansi always comes at a price. Can Tristan save this world before he loses more of the things he loves?
The Girl Who Drank The Moon by Kelly Barnhill
hoopla ebook
Overdrive ebook
Overdrive audiobook
Winner of the Newberry Medal! Every year, the people of the Protectorate leave a baby as an offering to the witch who lives in the forest. They hope this sacrifice will keep her from terrorizing their town. But the witch in the Forest, Xan, is kind. She shares her home with a wise Swamp Monster and a Perfectly Tiny Dragon. Xan rescues the children and delivers them to welcoming families on the other side of the forest, nourishing the babies with starlight on the journey. One year, Xan accidentally feeds a baby moonlight instead of starlight, filling the ordinary child with extraordinary magic. Xan decides she must raise this girl, whom she calls Luna, as her own. As Luna's thirteenth birthday approaches, her magic begins to emerge–with dangerous consequences. Meanwhile, a young man from the Protectorate is determined to free his people by killing the witch. Deadly birds with uncertain intentions flock nearby. A volcano, quiet for centuries, rumbles just beneath the earth's surface. And the woman with the Tiger's heart is on the prowl . . . The author of the highly acclaimed, award-wininng novel, The Witch's Boy, has written an epic coming-of-age fairy tale destined to be a modern classic.
The Fork, the Witch, and the Worm by Christopher Paolini.
Overdrive audiobook
The internationally bestselling fantasy sensation is back, with brand-new stories set in the world of Eragon and the Inheritance Cycle!
A wanderer and a cursed child. Spells and magic. And dragons, of course. Welcome back to the world of Alagaësia.
It's been a year since Eragon departed Alagaësia in search of the perfect home to train a new generation of Dragon Riders. Now he is struggling with an endless sea of tasks: constructing a vast dragonhold, wrangling with suppliers, guarding dragon eggs, and dealing with belligerent Urgals and haughty elves. Then a vision from the Eldunarí, unexpected visitors, and an exciting Urgal legend offer a much-needed distraction and a new perspective.
This volume features three original stories set in Alagaësia, interspersed with scenes from Eragon's own unfolding adventure. Included is an excerpt from the memoir of the unforgettable witch and fortune-teller Angela the herbalist . . . penned by Angela Paolini, the inspiration for the character, herself!
Relish the incomparable imagination of Christopher Paolini in this thrilling new collection of stories based in the world of the Inheritance Cycle.
Howl's Moving Castle by Diana Wynn Jones
Overdrive ebook
Diana Wynne Jones's entrancing, classic fantasy novel is filled with surprises at every turn. This middle grade novel is an excellent choice for tween readers in grades 5 to 6, especially during homeschooling. It's a fun way to keep your child entertained and engaged while not in the classroom.
Sophie has the great misfortune of being the eldest of three daughters, destined to fail miserably should she ever leave home to seek her fate. But when she unwittingly attracts the ire of the Witch of the Waste, Sophie finds herself under a horrid spell that transforms her into an old lady. Her only chance at breaking it lies in the ever-moving castle in the hills: the Wizard Howl's castle. To untangle the enchantment, Sophie must handle the heartless Howl, strike a bargain with a fire demon, and meet the Witch of the Waste head-on. Along the way, she discovers that there's far more to Howl—and herself—than first meets the eye.
In this giant jigsaw puzzle of a fantasy, people and things are never quite what they seem. Destinies are intertwined, identities exchanged, lovers confused. The Witch has placed a spell on Howl. Does the clue to breaking it lie in a famous poem? And what will happen to Sophie Hatter when she enters Howl's castle?