Murder, mystery, and mayhem. These suspenseful psychological thrillers and mysteries will challenge you to figure out who did it and…who's watching. Recommended by Cara Adams.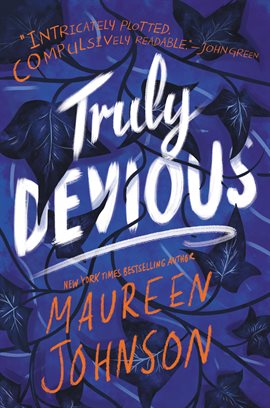 Truly Devious by Maureen Johnson
Part 1 of the Truly Devious series
hoopla ebook
hoopla audiobook
New York Times bestselling author Maureen Johnson weaves a delicate tale of murder and mystery in the first book of a striking new series, perfect for fans of Agatha Christie and E. Lockhart. Ellingham Academy is a famous private school in Vermont for the brightest thinkers, inventors, and artists. It was founded by Albert Ellingham, an early twentieth century tycoon, who wanted to make a wonderful place full of riddles, twisting pathways, and gardens. A place, he said, where learning is a game. Shortly after the school opened, his wife and daughter were kidnapped. The only real clue was a mocking riddle listing methods of murder, signed with the frightening pseudonym Truly, Devious. It became one of the great unsolved crimes of American history. True-crime aficionado Stevie Bell is set to begin her first year at Ellingham Academy, and she has an ambitious plan: She will solve this cold case. That is, she will solve the case when she gets a grip on her demanding new school life and her housemates: the inventor, the novelist, the actor, the artist, and the jokester. But something strange is happening. Truly Devious makes a surprise return, and death revisits Ellingham Academy. The past has crawled out of its grave. Someone has gotten away with murder. The two interwoven mysteries of this first book in the Truly Devious series dovetail brilliantly, and Stevie Bell will continue her relentless quest for the murderers in books two and three.
What Waits in the Woods by Kieran Scott
Overdrive ebook
Seeing things. You were just seeing things. For city girl Callie Velasquez, nothing sounds more terrifying than a night out in the wilderness. But, wanting to bond with her popular new friends, Lissa and Penelope, she agrees to join them on a camping trip. At least Callie's sweet new boyfriend, Jeremy, will be coming too. But nothing goes as planned. The group loses half their food supply. Then they lose their way. And with strange sounds all around her—the snap of a twig, a sinister laugh—Callie wonders if she's losing her mind. Tensions swirl among the group, with dark secrets suddenly revealed. And then, things take a fatal turn: Callie stumbles upon a cold dead body in the woods. Is the murderer close by, watching them? Callie has to figure out where she can turn and who she can trust, before her own life is at stake. Kieran Scott weaves a thrilling mystery that explores love, loyalty—and the dangerous decisions we make in order to survive.
The Cheerleaders by Kara Thomas
Overdrive ebook
There are no more cheerleaders in the town of Sunnybrook.
First there was the car accident—two girls dead after hitting a tree on a rainy night. Not long after, the murders happened. Those two girls were killed by the man next door. The police shot him, so no one will ever know his reasons. Monica's sister was the last cheerleader to die. After her suicide, Sunnybrook High disbanded the cheer squad. No one wanted to be reminded of the girls they'd lost.
That was five years ago. Now the faculty and students at Sunnybrook High want to remember the lost cheerleaders. But for Monica, it's not that easy. She just wants to forget.
Only, Monica's world is starting to unravel. There are the letters in her stepdad's desk, an unearthed, years-old cell phone, a strange new friend at school. . . . Whatever happened five years ago isn't over. Some people in town know more than they're saying. And somehow, Monica is at the center of it all.
There are no more cheerleaders in Sunnybrook, but that doesn't mean anyone else is safe.
One of Us Is Lying by Karen M. McManus
Overdrive ebook
Pay close attention and you might solve this.
On Monday afternoon, five students at Bayview High walk into detention.
Bronwyn,  the brain,  is Yale-bound and never breaks a rule.
Addy,  the beauty,  is the picture-perfect homecoming princess.
Nate,  the criminal, is already on probation for dealing.
Cooper,  the athlete, is the all-star baseball pitcher.
And  Simon,  the outcast, is the creator of Bayview High's notorious gossip app.

Only, Simon never makes it out of that classroom. Before the end of detention, Simon's dead. And according to investigators, his death wasn't an accident. On Monday, he died. But on Tuesday, he'd planned to post juicy reveals about all four of his high-profile classmates, which makes all four of them suspects in his murder. Or are they the perfect patsies for a killer who's still on the loose?
Everyone has secrets, right? What really matters is how far you would go to protect them.
In The Hall With The Knife by Diana Peterfreund
Part 1 of the Clue Mystery series
Hoopla ebook
A murderer could be around every corner in this thrilling YA trilogy based on the board game CLUE!

When a storm strikes at Blackbrook Academy, an elite prep school nestled in the woods of Maine, a motley crew of students – including Beth "Peacock" Picach, Orchid McKee, Vaughn Green, Sam "Mustard" Maestor, Finn Plum, and Scarlet Mistry – are left stranded on campus with their headmaster. Hours later, his body is found in the conservatory and it's very clear his death was no accident. With this group of students who are all hiding something, nothing is as it seems, and everyone has a motive for murder. Fans of the CLUE board game and cult classic film will delight in Diana Peterfreund's modern reimagining of the brand, its characters, and the dark, magnificent old mansion with secrets hidden within its walls.
We Told Six Lies by Victoria Scott
Hoopla ebook
Remember how many lies we told, Molly? It's enough to make my head spin. You were wild when I met you, and I was mad for you. But then something happened. And now you're gone.
But don't worry. I'll find you. I just need to sift through the story of us to get to where you might be. I've got places to look, and a list of names.
The police have a list of names, too. See now? There's another lie. There is only one person they're really looking at, Molly.
And that's yours truly.
With Malice by Eileen Cook
Hoopla ebook
For fans of We Were Liars and The Girl on the Train comes a chilling, addictive psychological thriller about a teenage girl who cannot remember the last six weeks of her life. Eighteen-year-old Jill Charron's senior trip to Italy was supposed to be the adventure of a lifetime. And then the accident happened. Waking up in a hospital room, her leg in a cast, stitches in her face, and a big blank canvas where the last 6 weeks should be, Jill comes to discover she was involved in a fatal accident in her travels abroad. She was jetted home by her affluent father in order to receive quality care. Care that includes a lawyer. And a press team. Because maybe the accident…wasn't an accident. Wondering not just what happened, but what she did, Jill tries to piece together the events of the past six weeks before she loses her thin hold on her once-perfect life.
Dreamfall by Amy Plum
Part 1 of the Dreamfall series
Hoopla ebook
A Nightmare on Elm Street meets Inception in this gripping psychological thriller from international bestselling author Amy Plum. Seven teenagers who suffer from debilitating insomnia agree to take part in an experimental new procedure to cure it because they think it can't get any worse. But they couldn't be more wrong.

When the lab equipment malfunctions, the patients are plunged into a terrifying dream world where their worst nightmares have come to life – and they have no memory of how they got there. Hunted by monsters from their darkest imaginations and tormented by secrets they'd rather keep buried, these seven strangers will be forced to band together to face their biggest fears. And if they can't find a way to defeat their dreams, they will never wake up.

Dreamfall is perfect for fans of dark and edgy young adult novels from authors like Danielle Vega, Natasha Preston, Kendare Blake, and Madeleine Roux. It is the first book in a spine-tingling duology full of action, suspense, and horror that's sure to keep readers on the edge of their seats until the very last page.
The Color Of Lies by CJ Lyons
Hoopla ebook
From New York Times and USA Today bestselling author CJ Lyons comes The Color of Lies, a world drenched in color and mystery. High school senior Ella Cleary has always been good at reading people. Her family has a rare medical condition called synesthesia that scrambles the senses – her Gram Helen sees every sound, and her uncle Joe can literally taste words. Ella's own synesthesia manifests itself as the ability to see colors that reveal people's true emotions…until she meets a guy she just can't read. Alec is a mystery to Ella, a handsome, enigmatic young journalist who makes her feel normal for the first time in her life. That is, until he reveals the real reason why he sought her out – he wants to learn the truth behind her parents' deaths, the parents that Ella had always been told died in a fire. Alec turns Ella's world upside down when he tells her their deaths were definitely not an accident. After learning her entire life has been a lie, Ella doesn't know who she can trust or even who she really is. With her adoptive family keeping secrets and the evidence mixing fact and fiction, the only way for Ella to learn the truth about her past is to find a killer. Perfect for fans of Caroline B. Cooney, Ally Carter, and Jennifer Brown, The Color of Lies blurs the lines between black-and-white facts and the kaleidoscope of reality.
Monday's Not Coming by Tiffany D. Jackson
Overdrive ebook
From the critically acclaimed author of Allegedly, Tiffany D. Jackson, comes a gripping new novel perfect for fans of E. Lockhart and Gillian Flynn about the mystery of one teenage girl's disappearance and the traumatic effects of the truth.
Monday Charles is missing, and only Claudia seems to notice. Claudia and Monday have always been inseparable—more sisters than friends. So when Monday doesn't turn up for the first day of school, Claudia's worried.
When she doesn't show for the second day, or second week, Claudia knows that something is wrong. Monday wouldn't just leave her to endure tests and bullies alone. Not after last year's rumors and not with her grades on the line. Now Claudia needs her best—and only—friend more than ever. But Monday's mother refuses to give Claudia a straight answer, and Monday's sister April is even less help.
As Claudia digs deeper into her friend's disappearance, she discovers that no one seems to remember the last time they saw Monday. How can a teenage girl just vanish without anyone noticing that she's gone?