Heartwarming, inspiring, and uplifting. Here's your feel-good fiction. Recommended by Jessica Shiefelbein.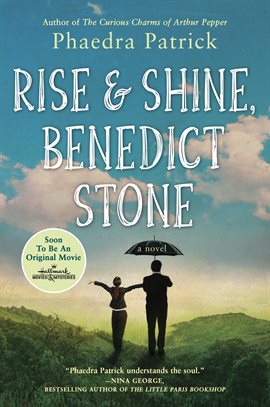 Rise and Shine, Benedict Stone by Phaedra Patrick
hoopla ebook
Phaedra Patrick's debut novel, The Curious Charms of Arthur Pepper, was hailed as "poignant" and "utterly endearing." Now she returns with Rise and Shine, Benedict Stone, a gem of a novel about family, forgiveness and one man's second chance at happiness.
Moonstone for empathy. Azurite for memories. Lapis lazuli for truth… In the quiet village of Noon Sun, Benedict Stone has settled into a complacent and predictable routine. Business at his jewelry shop has dried up; his marriage is on the rocks. His life is in desperate need of a jump start… And then a surprise arrives at his door. Gemma is Benedict's audacious teenage niece-the daughter of his estranged brother, Charlie. The two Stone brothers had a falling out and haven't spoken in almost two decades, since Charlie left for America. Reckless and stubborn, Gemma invites herself into Benedict's world and turns his orderly life upside down. But she might just be exactly what he needs to get his life back on track… Filled with colorful characters and irresistible charm, Rise and Shine, Benedict Stone is a luminous reminder of the unbreakable bonds of family, and shows that having someone to embrace life with is always better than standing on your own.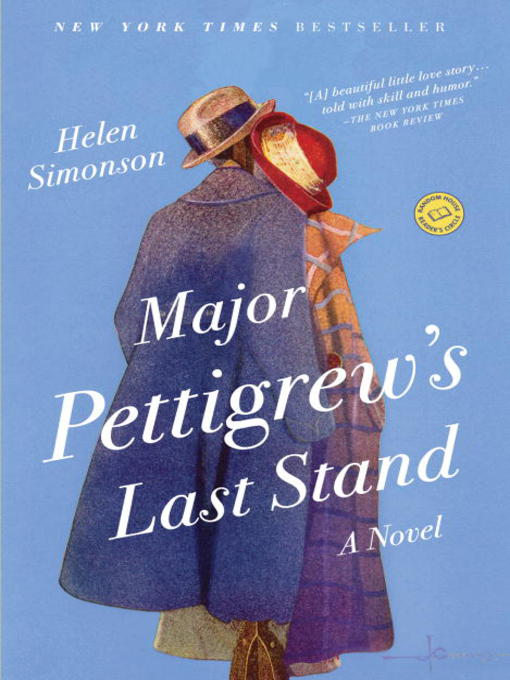 Major Pettigrew's Last Stand by Helen Simonson
Overdrive ebook
Overdrive audiobook
You are about to travel to Edgecombe St. Mary, a small village in the English countryside filled with rolling hills, thatched cottages, and a cast of characters both hilariously original and as familiar as the members of your own family. Among them is Major Ernest Pettigrew (retired), the unlikely hero of Helen Simonson's wondrous debut. Wry, courtly, opinionated, and completely endearing, Major Pettigrew is one of the most indelible characters in contemporary fiction, and from the very first page of this remarkable novel he will steal your heart.

The Major leads a quiet life valuing the proper things that Englishmen have lived by for generations: honor, duty, decorum, and a properly brewed cup of tea. But then his brother's death sparks an unexpected friendship with Mrs. Jasmina Ali, the Pakistani shopkeeper from the village. Drawn together by their shared love of literature and the loss of their respective spouses, the Major and Mrs. Ali soon find their friendship blossoming into something more. But village society insists on embracing him as the quintessential local and her as the permanent foreigner. Can their relationship survive the risks one takes when pursuing happiness in the face of culture and tradition?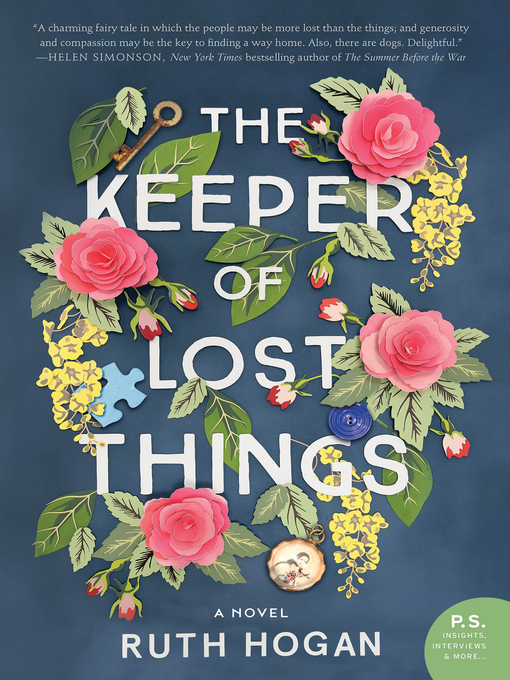 Keeper of Lost Things by Ruth Hogan
Overdrive ebook
Overdrive audiobook
A charming, clever, and quietly moving debut novel of of endless possibilities and joyful discoveries that explores the promises we make and break, losing and finding ourselves, the objects that hold magic and meaning for our lives, and the surprising connections that bind us.
Anthony Peardew is the keeper of lost things. Forty years ago, he carelessly lost a keepsake from his beloved fiancée, Therese. That very same day, she died unexpectedly. Brokenhearted, Anthony sought consolation in rescuing lost objects—the things others have dropped, misplaced, or accidently left behind—and writing stories about them. Now, in the twilight of his life, Anthony worries that he has not fully discharged his duty to reconcile all the lost things with their owners. As the end nears, he bequeaths his secret life's mission to his unsuspecting assistant, Laura, leaving her his house and and all its lost treasures, including an irritable ghost.
Recovering from a bad divorce, Laura, in some ways, is one of Anthony's lost things. But when the lonely woman moves into his mansion, her life begins to change. She finds a new friend in the neighbor's quirky daughter, Sunshine, and a welcome distraction in Freddy, the rugged gardener. As the dark cloud engulfing her lifts, Laura, accompanied by her new companions, sets out to realize Anthony's last wish: reuniting his cherished lost objects with their owners.
Long ago, Eunice found a trinket on the London pavement and kept it through the years. Now, with her own end drawing near, she has lost something precious—a tragic twist of fate that forces her to break a promise she once made.
As the Keeper of Lost Objects, Laura holds the key to Anthony and Eunice's redemption. But can she unlock the past and make the connections that will lay their spirits to rest?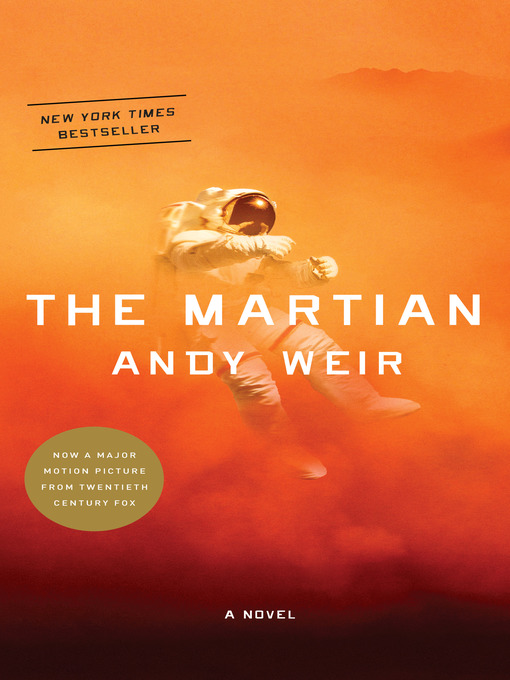 The Martian by Andy Weir
Overdrive ebook
Nominated as one of America's best-loved novels by PBS's The Great American Read.
Six days ago, astronaut Mark Watney became one of the first people to walk on Mars.
Now, he's sure he'll be the first person to die there. After a dust storm nearly kills him and forces his crew to evacuate while thinking him dead, Mark finds himself stranded and completely alone with no way to even signal Earth that he's alive—and even if he could get word out, his supplies would be gone long before a rescue could arrive.
Chances are, though, he won't have time to starve to death. The damaged machinery, unforgiving environment, or plain-old "human error" are much more likely to kill him first.
But Mark isn't ready to give up yet. Drawing on his ingenuity, his engineering skills—and a relentless, dogged refusal to quit—he steadfastly confronts one seemingly insurmountable obstacle after the next. Will his resourcefulness be enough to overcome the impossible odds against him?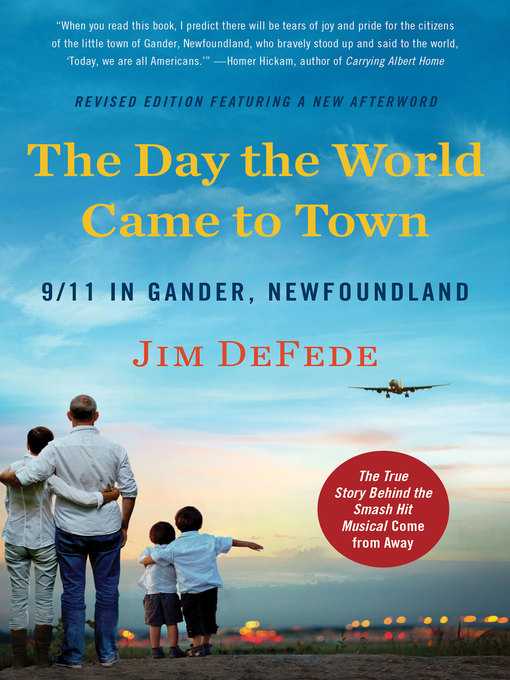 The Day the World Came to Town by Jim DeFede
Overdrive ebook
When 38 jetliners bound for the United States were forced to land at Gander International Airport in Canada by the closing of U.S. airspace on September 11, the population of this small town on Newfoundland Island swelled from 10,300 to nearly 17,000. The citizens of Gander met the stranded passengers with an overwhelming display of friendship and goodwill.
As the passengers stepped from the airplanes, exhausted, hungry and distraught after being held on board for nearly 24 hours while security checked all of the baggage, they were greeted with a feast prepared by the townspeople. Local bus drivers who had been on strike came off the picket lines to transport the passengers to the various shelters set up in local schools and churches. Linens and toiletries were bought and donated. A middle school provided showers, as well as access to computers, email, and televisions, allowing the passengers to stay in touch with family and follow the news.
Over the course of those four days, many of the passengers developed friendships with Gander residents that they expect to last a lifetime. As a show of thanks, scholarship funds for the children of Gander have been formed and donations have been made to provide new computers for the schools. This book recounts the inspiring story of the residents of Gander, Canada, whose acts of kindness have touched the lives of thousands of people and been an example of humanity and goodwill.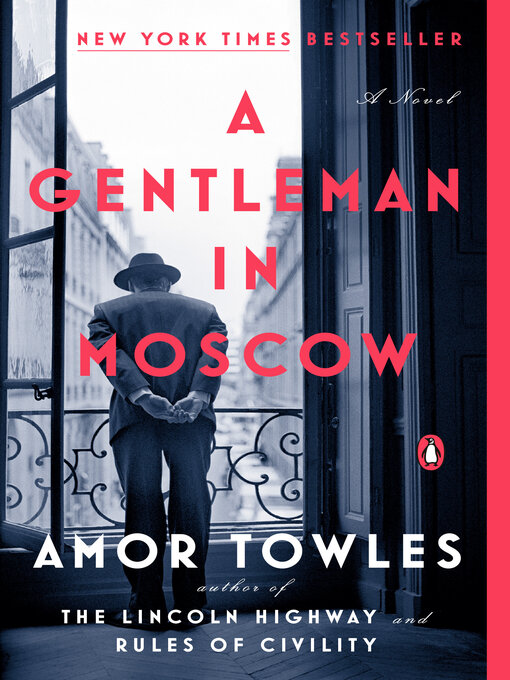 Gentleman in Moscow by Amor Towles
Overdrive ebook
Overdrive audiobook
In 1922, Count Alexander Rostov is deemed an unrepentant aristocrat by a Bolshevik tribunal, and is sentenced to house arrest in the Metropol, a grand hotel across the street from the Kremlin. Rostov, an indomitable man of erudition and wit, has never worked a day in his life, and must now live in an attic room while some of the most tumultuous decades in Russian history are unfolding outside the hotel's doors. Unexpectedly, his reduced circumstances provide him entry into a much larger world of emotional discovery.
Brimming with humor, a glittering cast of characters, and one beautifully rendered scene after another, this singular novel casts a spell as it relates the count's endeavor to gain a deeper understanding of what it means to be a man of purpose.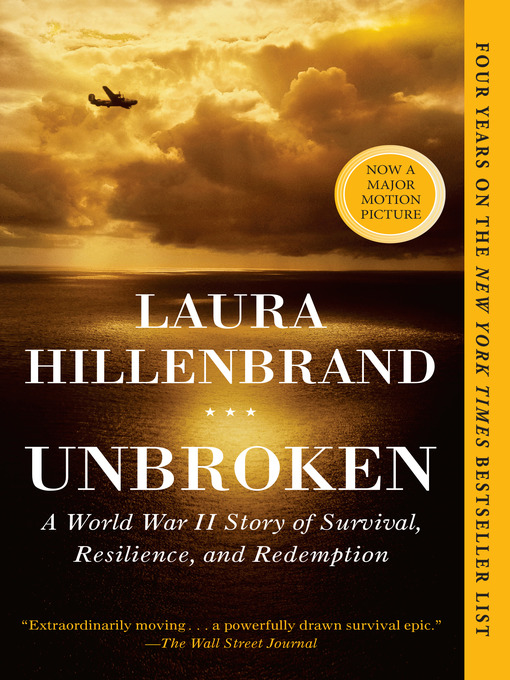 Unbroken by Laura Hillenbrand
Overdrive ebook
Overdrive audiobook
In boyhood, Louis Zamperini was an incorrigible delinquent. As a teenager, he channeled his defiance into running, discovering a prodigious talent that had carried him to the Berlin Olympics. But when World War II began, the athlete became an airman, embarking on a journey that led to a doomed flight on a May afternoon in 1943. When his Army Air Forces bomber crashed into the Pacific Ocean, against all odds, Zamperini survived, adrift on a foundering life raft. Ahead of Zamperini lay thousands of miles of open ocean, leaping sharks, thirst and starvation, enemy aircraft, and, beyond, a trial even greater. Driven to the limits of endurance, Zamperini would answer desperation with ingenuity; suffering with hope, resolve, and humor; brutality with rebellion. His fate, whether triumph or tragedy, would be suspended on the fraying wire of his will. Unbroken is an unforgettable testament to the resilience of the human mind, body, and spirit, brought vividly to life.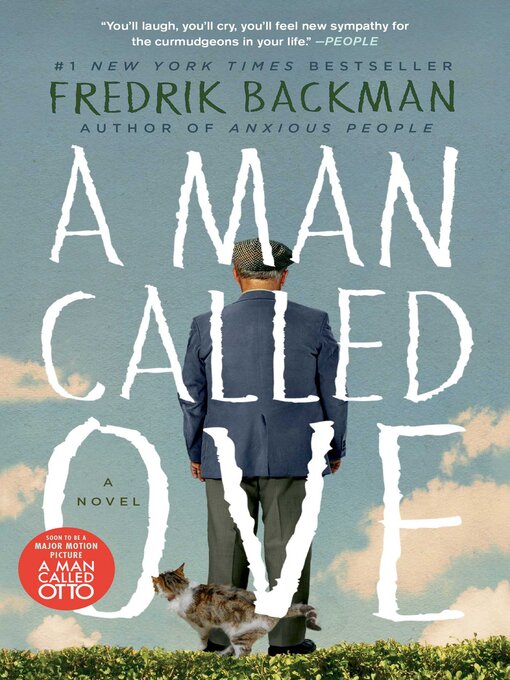 Man called Ove by Fredrik Backman
Overdrive ebook
Overdrive audiobook
In this "charming debut" (People) from one of Sweden's most successful authors, a grumpy yet loveable man finds his solitary world turned on its head when a boisterous young family moves in next door.
Meet Ove. He's a curmudgeon—the kind of man who points at people he dislikes as if they were burglars caught outside his bedroom window. He has staunch principles, strict routines, and a short fuse. People call him "the bitter neighbor from hell." But must Ove be bitter just because he doesn't walk around with a smile plastered to his face all the time?

Behind the cranky exterior there is a story and a sadness. So when one November morning a chatty young couple with two chatty young daughters move in next door and accidentally flatten Ove's mailbox, it is the lead-in to a comical and heartwarming tale of unkempt cats, unexpected friendship, and the ancient art of backing up a U-Haul. All of which will change one cranky old man and a local residents' association to their very foundations.