Mysteries and….cats? Whether it's a mystery-solving cat, a psychic who communicates with animals, or live peacocks on the lawn, these animal-centric cozy mysteries are sure to entertain! Recommended by Kristine Price.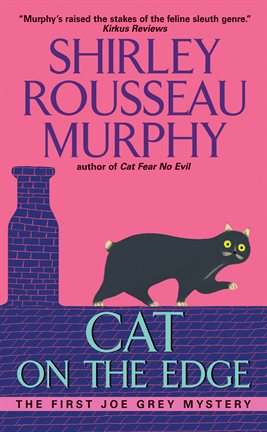 Cat on the Edge by Shirley Rousseau Murphy
Book 1 of the Joe Grey series
hoopla ebook
hoopla audiobook
It's been quite a week for Joe Grey. First the large, powerful feline discovers that, through some strange, inexplicable phenomenon, he now has the ability to understand human language. Then he discovers he can speak it as well! It's a nightmare for a cat who'd prefer to sleep the day away carefree, but Joe can handle it. That is, until he has the misfortune to witness a murder in the alley behind Jolly's Deli — and worse, to be seen witnessing it. With all of his nine lives suddenly at risk, Joe's got no choice but to get to the bottom of the heinous crime — because his mouse-hunting days are over for good unless he can help bring a killer to justice.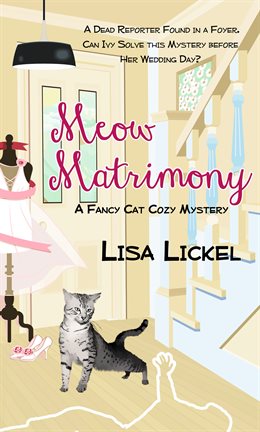 Meow Matrimony by Lisa Lickel
Part of the Fancy Cat Cozy Mysteries series
hoopla ebook
Ivy Preston has waited a long time to get married. This time she plans to do more than make it to the altar. But when Ivy tries to do a good deed and stumbles over a body, she and her former fiancé, Stanley, are accused of the crime. Ivy hopes she's not the only one who believes in their innocence.
Worse than being framed for murder, when one of her beloved kittens falls ill, Ivy must face her greatest fears. How will she ever parent a child if she can't even take care of a cat…and for that matter, how will she be the type of wife her devoted fiancé needs?
Through the love and support of her mom, fiancé, and friends, Ivy is determined to clear Stanley's good name, and her own. With nuptials looming, Ivy hopes not only to find a killer, but to make it to her own wedding.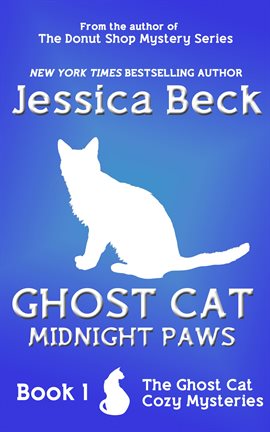 Midnight Paws by Jessica Beck
Book 1 of the Ghost Cat Cozy Mysteries series
hoopla ebook
When Christy Blake loses one of her two cats, Midnight, and her boss in what looks like a robbery attempt at her secondhand shop, Memories and Dreams, she thinks it's the end of the world. But Midnight isn't ready to go anywhere just yet, so he comes back as a ghost cat to help her track down his killer. Clearly there is a bond between Christy and Midnight.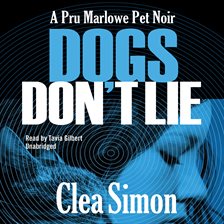 Dogs Don't' Lie by Clea Simon
Book 1 of the Pru Marlowe Pet Noir series
hoopla audiobook
Pru Marlowe isn't your ordinary animal psychic. A tough girl on the run from her own gift, Pru left the big city to return to her picturesque Berkshires hometown looking for a little peace. Too bad that her training as an animal behaviorist got her mixed up with Lily, a rescue dog, and Charles, the dog's guardian. Now Charles is dead, and Lily appears to be headed for the same end, for after all, Lily is a pit bull, a fighting-ring dropout. And Lily is far too traumatized to give Pru a clear picture of what she has witnessed. But Pru knows something about bad girls trying to clean up, and, with a sense of justice strong enough to overcome her dislike of human society, she takes the case. Listening to the animals, Pru picks up clues and learns there are secrets in the pretty little town that make murder look simple. Unable to tell anyone about her psychic abilities, uncertain at times about her own sanity, Pru comes to realize that if she clears Lily, she'll likely become the prime suspect—or the next victim. While the only creature she can totally trust is her crotchety tabby cat, Wallis, Pru must uncover the real killer—and find a way to live with her gift—before the real beasts in the town savage her and those she has come to love.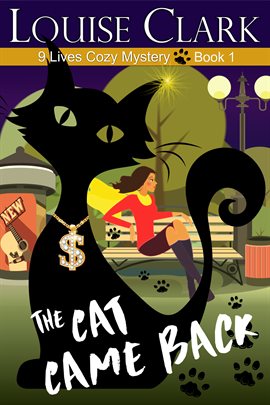 The Cat Came Back by Louise Clark
Book 1 of the 9 Lives Cozy Mystery series
hoopla ebook
Stormy the Cat, rescued by journalist Quinn Armstrong, is not what he seems. Young mother Christy Jamieson just learned her husband, Frank, embezzled his trust fund, sold their Vancouver mansion, and ran off with a socialite. Worse, Frank's trustees are telling Christy to let them handle it. But they aren't doing anything, and Frank's enemies are coming after her and her daughter. Desperate to find Frank and fend off his enemies, Christy asks Quinn for help. His price: the dirt on Frank. But the closer Christy and Quinn get to the dangerous truth, the more convinced they become that Stormy the cat is the only the one who knows where Frank is.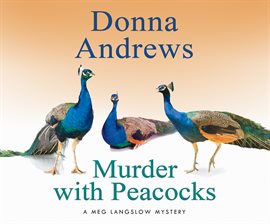 Murder with Peacocks by Donna Andrews
Book 1 of the Meg Lanslow Mystery series
hoopla audiobook
*This title is part of the hoopla BONUS BORROWS COLLECTION! For a limited time, this is one of 1000+ titles you can borrow without using any of your monthly hoopla Borrows!*

Meg Langslow's summer is not going swimmingly. In her small Virginia hometown, she's the maid of honor at the nuptials of three loved ones' each of whom has dumped the planning in her hands. One bride is set on including a Native American herbal purification ceremony while another wants live peacocks on the lawn. Only help from the town's drop-dead gorgeous hunk keeps Meg afloat in a sea of relatives and outrageous neighbors. But when an offensive newcomer who hints at skeletons in the guests' closets is found dead under suspicious circumstances, level-headed Meg's to-do list extends from flower arrangements and bridal registries to catching a killer' before the next event is her own funeral.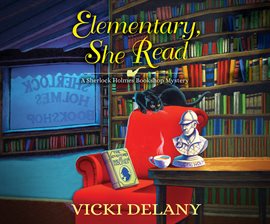 Elementary, She Read by Vicki Delany
Book 1 of the Sherlock Holmes Bookshop Mystery series
hoopla audiobook
Gemma Doyle, a transplanted Englishwoman, has returned to the quaint town of West London on Cape Cod to manage her Great Uncle Arthur's Sherlock Holmes Bookshop and Emporium. The shop-located at 222 Baker Street-specializes in the Holmes canon and pastiche and is also the home of Moriarty the cat. When Gemma finds a rare and potentially valuable magazine containing the first Sherlock Holmes story hidden in the bookshop, she and her friend Jayne (who runs the adjoining Mrs. Hudson's Tea Room) set off to find the owner, only to stumble upon a dead body. The highly perceptive Gemma is the police's first suspect, so she puts her consummate powers of deduction to work to clear her name, investigating a handsome rare-books expert, the dead woman's suspiciously unmoved son, and a whole family of greedy characters desperate to cash in on their inheritance. But when Gemma and Jayne accidentally place themselves at a second murder scene, it's a race to uncover the truth before the detectives lock them up for good.