Find your path to peace, mindful awareness, or hygge with these books and audiobooks that help you tend to your mental health. Recommended by Ashley Lee.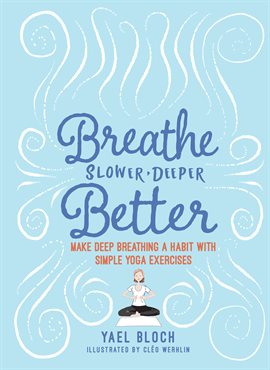 Breathe Slower, Deeper, Better by Yael Bloch
Make Deep Breathing a Habit with Simple Yoga Exercises
hoopla Bonus Borrow ebook
Become a master of your breath-and of your health and wellbeing-with this simple, illustrated guide to yogic breathing. "Take a breather"-a phrase that's said and heard every day in response to stressful or challenging circumstances, and yet few are truly aware of how the vital mechanisms of breathing work. Learning the proper way to breathe, deeply and with mindful awareness, is a simple, fast, and nourishing route to wellness in body, mind, and spirit. Breathe Slower, Deeper, Better is a clear and authoritative guide to becoming master of the breath. Grounded by basic anatomy and easy evaluations to understand your current breathing habits, it not only explains why and how breathing matters to health, but also how to build better daily habits for improved quality of life. Inspired by yoga and mindfulness meditation principles, these 20+ illustrated exercises, when practiced regularly, can improve overall physical health as well as specific concerns such as digestive issues, insomnia, anxiety, and other emotional stressors.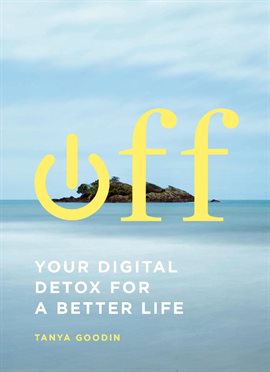 Off: Your Digital Detox For A Better Life by Tanya Goodin
hoopla Bonus Borrow ebook
Walk down any street, stroll through any park, step into a bar or restaurant, and everyone is glued to their mobile devices. Many of us struggle with the near-constant urge to check our phones-the average person interacts with their device more than 2,600 times a day-and this dependence is affecting our relationships, our work, and our quality of life. It seems the technology that was supposed to connect us has tipped us in the other direction, creating unnecessary stress and distance in our lives.

Off: Your Digital Detox for a Better Life isn't about reverting to a tech-free way of life-it's about balance. Digital entrepreneur Tanya Goodin offers a guide that will free up hours of your time and lead you back to the pastimes (and people) you love. Learn to cultivate a healthier relationship with your digital devices by adopting simple practices that encourage mindfulness, deeper connection to others, more restful sleep, and increased creativity. Illustrated with serene and inspiring photography, Off will help you free yourself from technology and be more present in your own life.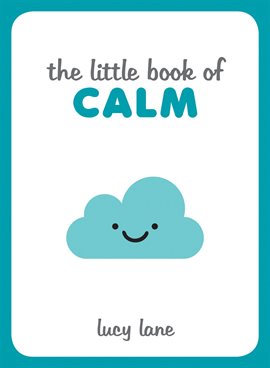 The Little Book of Calm by Lucy Lane
hoopla ebook
Breathe in… and out… and find calm with this little book. With tips and techniques to help you let go of stress and unwind, and a raft of quotes to inspire and center you, this book is the antidote to the bustle of everyday life. Let this be your guide to staying calm, collected and feeling good.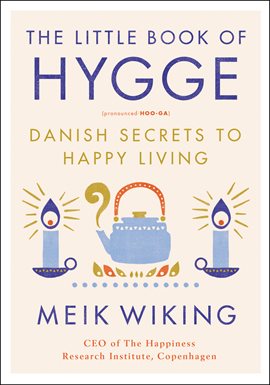 The Little Book of Hygge: Danish Secrets To Happy Living by Meik Wiking
Overdrive ebook
hoopla ebook
hoopla audiobook
Embrace Hygge (pronounced hoo-ga) and become happier with this definitive guide to the Danish philosophy of comfort, togetherness, and well-being.
Why are Danes the happiest people in the world? The answer, says Meik Wiking, CEO of the Happiness Research Institute in Copenhagen, is Hygge. Loosely translated, Hygge is a sense of comfort, togetherness, and well-being. "Hygge is about an atmosphere and an experience," Wiking explains. "It is about being with the people we love. A feeling of home. A feeling that we are safe."
Hygge is the sensation you get when you're cuddled up on a sofa, in cozy socks under a soft throw, during a storm. It's that feeling when you're sharing comfort food and easy conversation with loved ones at a candlelit table. It is the warmth of morning light shining just right on a crisp blue-sky day.
The Little Book of Hygge introduces you to this cornerstone of Danish life, and offers advice and ideas on incorporating it into your own life, such as:
Get comfy. Take a break.
Be here now. Turn off the phones.
Turn down the lights. Bring out the candles.
Build relationships. Spend time with your tribe.
Give yourself a break from the demands of healthy living. Cake is most definitely Hygge.
Live life today, like there is no coffee tomorrow.
From picking the right lighting to organizing a Hygge get-together to dressing hygge, Wiking shows you how to experience more joy and contentment the Danish way.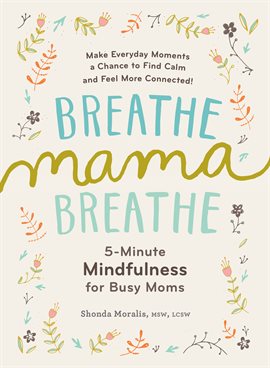 Breathe Mama, Breathe by Shonda Moralis
5-Minute Mindfulness for Busy Moms
hoopla ebook
hoopla audiobook
Easy-to-follow practices that will help moms find quick, daily opportunities to reset and refocus with mindfulness. Moms can feel as if they are sprinting through life, crashing onto the pillow at day's end only to start again the next morning. In Breathe, Mama, Breathe, psychotherapist Shonda Moralis outlines the benefits of daily meditation and shows moms how to do it-in just five minutes! Plus, she shares over 60 "mindful breaks" that will help moms tune into their own well-being (along with everyone else's): Eat a mindful breakfast-with no phone, TV, or newspaper! Cuddle your child and take three deep breaths together. Give yourself a mindful mommy high five-because moms can use positive reinforcement, too. Every mom-whether caring for a new baby, an overscheduled grade-schooler, or an angsty teen-can become a mindful mama!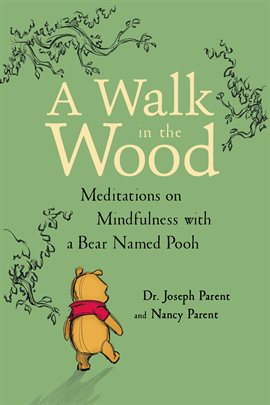 A Walk in the Wood by Dr. Joseph Parent, Nancy Parent
Meditations on Mindfulness with a Bear Named Pooh
hoopla ebook
hoopla audiobook
Part inspiration, part information, our story is based on walking meditation, also known as mindful walking; an active practice that requires you to be consciously aware and moving in the environment rather than sitting with your eyes closed. Just as The Life-Changing Magic of Tidying Up, Marie Kondo's mega-selling book (over 4 million copies sold worldwide) provides readers with a life/spiritual philosophy embedded in the how-to of minimalism (with practical tips for de-cluttering of one's home), A Walk in the Wood provides a narrative grounded in the simple act of slowing down, observing what is around us, and being present. Appealing to adults who are actively searching ways to join the JOMO movement (Joy of Missing Out and being content just "being"), A Walk in the Wood also makes for a perfect gift for stressed-out family members and friends.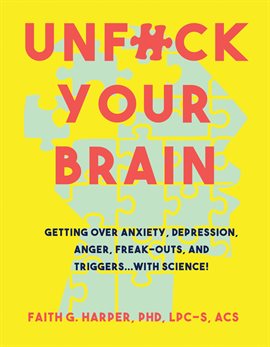 Unf#ck Your Brain by Faith G. Harper, PHD, LPC-S, ACS
Using Science to Get Over Anxiety, Depression, Anger, Freak-Outs, and Triggers
hoopla Bonus Borrow ebook
hoopla audiobook
Our brains are doing our best to help us out, but they can be real *ssholes sometimes. Sometimes it seems like your own brain is out to get you-melting down in the middle of the grocery store, picking fights with your date, getting you addicted to something, or shutting down completely at the worst possible moments. You already told your brain firmly that it isn't good to do these things. But your brain has a mind of its own. That's where this book comes in. With humor, patience, and lots of swearing, Dr. Faith shows you the science behind what's going on in your skull and talks you through the process of retraining your brain to respond appropriately to the non-emergencies of everyday life. If you're working to deal with old traumas, or if you just want to have a more measured and chill response to situations you face all the time, this book can help you put the pieces of the puzzle together and get your life and brain back.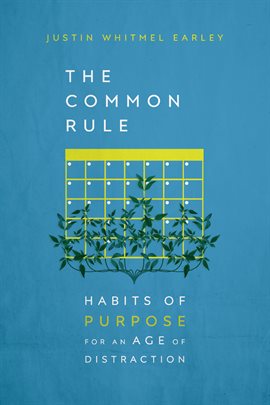 The Common Rule by Justin Whitmel Earley
Overdrive ebook
hoopla ebook
hoopla audiobook
Habits form us more than we form them. The modern world is a machine of a thousand invisible habits, forming us into anxious, busy, and depressed people. We yearn for the freedom and peace of the gospel, but remain addicted to our technology, shackled by our screens, and exhausted by our routines. But because our habits are the water we swim in, they are almost invisible to us. What can we do about it? The answer to our contemporary chaos is to practice a rule of life that aligns our habits to our beliefs. The Common Rule offers four daily and four weekly habits, designed to help us create new routines and transform frazzled days into lives of love for God and neighbor. Justin Earley provides concrete, doable practices, such as a daily hour of phoneless presence or a weekly conversation with a friend. These habits are "common" not only because they are ordinary, but also because they can be practiced in community. They have been lived out by people across all walks of life—businesspeople, professionals, parents, students, retirees—who have discovered new hope and purpose. As you embark on these life-giving practices, you will find the freedom and rest for your soul that comes from aligning belief in Jesus with the practices of Jesus.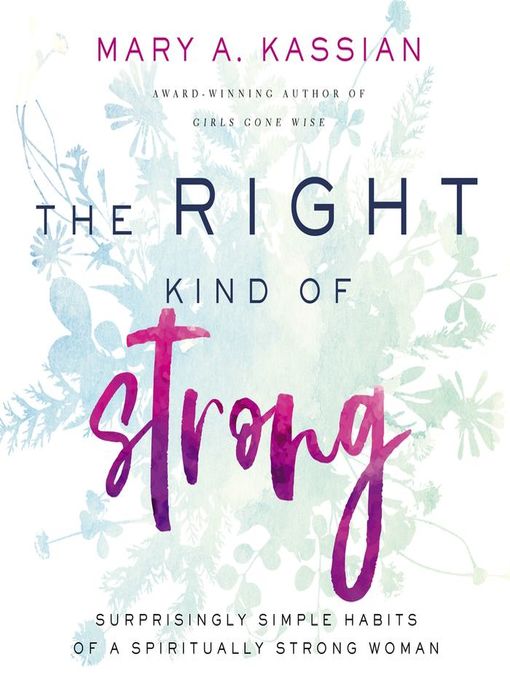 The Right Kind of Strong by Mary Kassian
Overdrive audiobook
Spanish-language hoopla audiobook
Award-winning author Mary Kassian provides readers a biblical guide to becoming the strong, resilient, capable women God created them to be.
Our culture teaches us that it's important for women to be strong. The Bible agrees. Unfortunately, culture's idea of what makes a woman strong doesn't always align with the Bible's. As a result, Christians often have a skewed view of what constitutes strength. In The Right Kind of Strong, Mary Kassian delves into Paul's exhortation in 2 Timothy about the women of the church in Ephesus and uncovers warnings and truths about seven habits that can sap women's strength. She reveals how, by guarding against these seven pitfalls, Christian women can walk in freedom and grow to be strong God's way.