Do you love fantasy novels, but haven't read some of the classics? Here are our recommendations for some of the oldies, but goodies. Recommended by Samantha Matherne.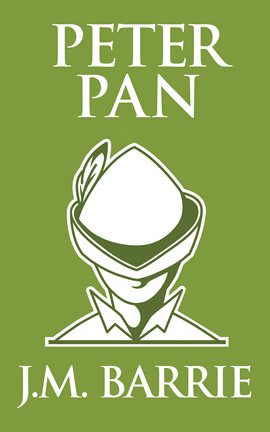 Peter Pan by J. M. Barrie
hoopla ebook
hoopla Spanish-language ebook
hoopla audiobook
Overdrive audiobook
Other editions available on hoopla, including children's picture books and illustrated editions.
Originally a highly popular, long-running play (1904-1913), Peter Pan is the timeless classic about a magical young boy who refused to grow old. Published as a novel known as both "Peter and Wendy" and "The Boy Who Couldn't Grow Up" in 1911, the story follows Peter's relationship with Wendy, where he eventually persuades her to join him in the fairy tale world of Neverland to be a mother to him and his friends, The Lost Boys. But not all is safe in Neverland, as Peter's evil adversary Captain Hook tries to thwart Peter and his friend's fun on multiple occasions. This story is filled with action, adventure, family bonds, and an infamous ticking crocodile.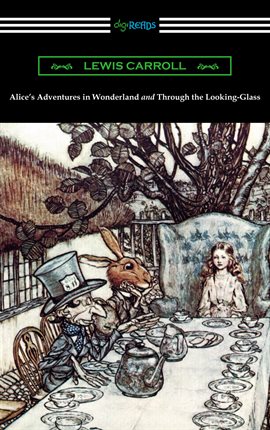 Alice's Adventures in Wonderland & Through the Looking Glass by Lewis Carroll
hoopla ebook
hoopla audiobook
Overdrive ebook
Other editions available on hoopla, including children's picture books and illustrated editions.
During a boat trip up the Isis River with Reverend Robinson Duckworth and the three young daughters of Henry Liddell, one of whom is named Alice, Lewis Carroll, the pen name of Charles Lutwidge Dodgson, invents a story about a bored little girl named Alice who goes looking for an adventure. Several years later this tale would be forever immortalized as "Alice's Adventures in Wonderland." The story begins with Alice idly passing away the time next to a river when she sees a White Rabbit in a waistcoat with a pocket watch pass by. She follows the rabbit down the rabbit hole and ends up in the fantasy world of Wonderland. Alice's Adventures in Wonderland is filled with a plethora of interesting and fantastical creatures. Along with the persistently tardy White Rabbit, Alice encounters a blue Caterpillar smoking a hookah, the mischievously grinning Cheshire Cat, a Mad Hatter, a March Hare, and a sleepy little Dormouse, with whom she attends a tea party, the King and Queen of Hearts, along with many other curious characters. Beloved my millions of children and adults ever since its first publication, Alice's Adventures in Wonderland is a classic tale of fantasy that has been cherished by readers ever since its first publication and will surely delight for many years to come. Also included in this volume is the sequel, Through the Looking-Glass.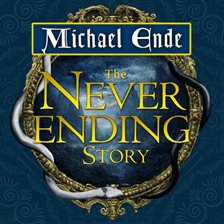 The Neverending Story by Michael Ende
hoopla audiobook
In this classic fantasy novel from author Michael Ende, small and insignificant Bastian Balthazar Bux is nobody's idea of a hero, least of all his own. Then, through the pages of an ancient, mysterious book, he discovers the enchanted world of Fantastica, and only Bastian himself can save the fairy people who live there. Shy, awkward Bastian is amazed to discover that he has become a character in the mysterious book he is reading and that he has an important mission to fulfill.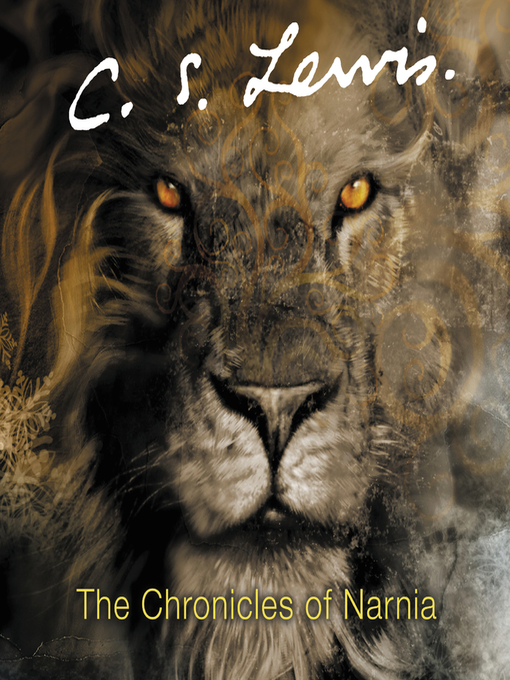 The Chronicles of Narnia series by C. S. Lewis
All Overdrive editions in the series.
All hoopla editions, including ebook, audiobook, and Spanish-language editions.
For over sixty years, readers of all ages have been enchanted by the magical realms, the epic battles between good and evil, and the unforgettable creatures of Narnia.
Seven titles in the series: The Chronicles of Narnia—The Magician's Nephew; The Lion, the Witch and the Wardrobe; The Horse and His Boy; Prince Caspian; The Voyage of the Dawn Treader; The Silver Chair; and The Last Battle.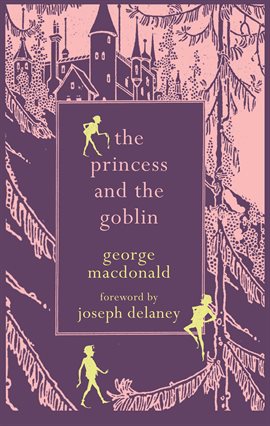 The Princess and the Goblin by George MacDonald
hoopla ebook
hoopla audiobook
All hoopla editions, including children's picture books and a movie adaptation.
Full of exquisite moonlit scenes that play out like dreams, and underground escapades descending into nightmare, this is a must-read for all fantasy aficionados and fans of Tolkien, Lewis, and Rowling. Eight-year-old Princess Irene lives a lonely life in a wild, desolate, mountainous kingdom, with only her nursemaid Lootie for company. She is protected from the outside world and oblivious to the existence of goblins, hideous creatures that live underground and only come out at night. One day, while out walking, Irene and Lootie get lost. As night falls, strange shadows creep out from under boulders and around corners, closing in on them. Terrified, they try to run but the goblins give chase. It is then they run into Curdie, the brave miner's son who knows how to scare the goblins away. He leads the pair to safety, back to the castle. While working late one night in the mines Curdie overhears the goblins' diabolical plan. The terrible goblin Queen plans to kidnap the princess and force her to marry her son, so humans will be forced to accept goblins as their rulers. Can they be stopped and the kingdom be saved before it is too late? Before the creation of Middle Earth or Narnia, George MacDonald was inventing wonderful kingdoms and populating them with magical creatures and enchanted beings, such as this unique, compelling fantasy.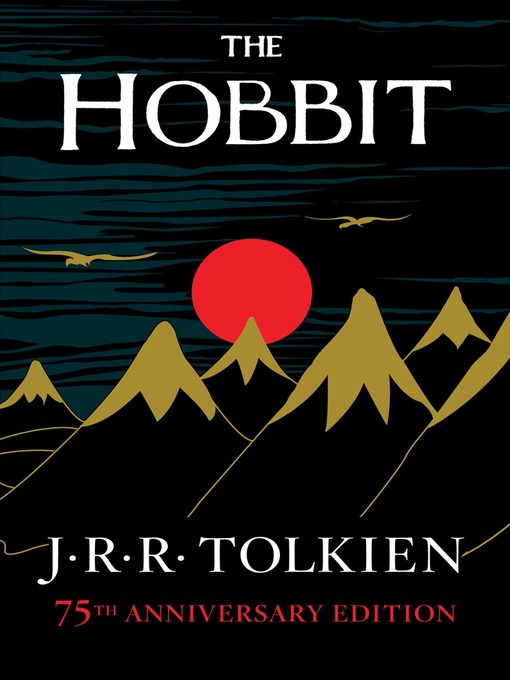 The Hobbit by J. R. R. Tolkien
hoopla ebook
Overdrive ebook
A great modern classic and the prelude to The Lord of the Rings.
Bilbo Baggins is a hobbit who enjoys a comfortable, unambitious life, rarely traveling any farther than his pantry or cellar. But his contentment is disturbed when the wizard Gandalf and a company of dwarves arrive on his doorstep one day to whisk him away on an adventure. They have launched a plot to raid the treasure hoard guarded by Smaug the Magnificent, a large and very dangerous dragon. Bilbo reluctantly joins their quest, unaware that on his journey to the Lonely Mountain he will encounter both a magic ring and a frightening creature known as Gollum.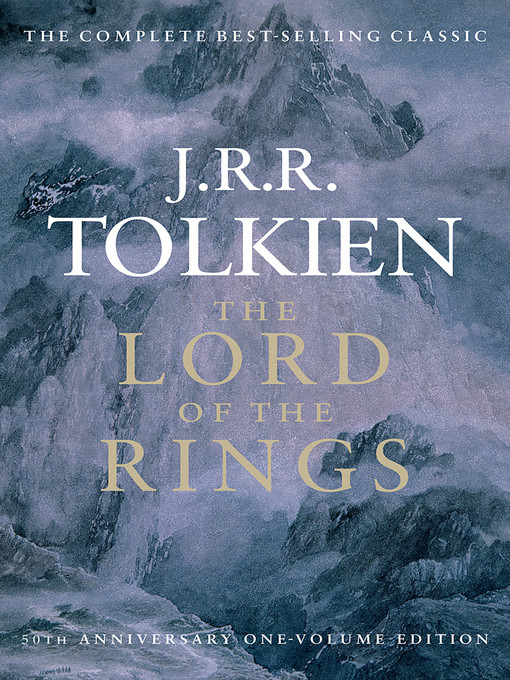 Lord of the Rings series by J. R. R. Tolkien
3-volume Overdrive ebook
All Overdrive editions, including a children's biography of Tolkien.
Fellowship of the Ring audiobook: hoopla
The Two Towers audiobook: hoopla
The Return of the King audiobook: hoopla
"One Ring to rule them all, One Ring to find them, One Ring to bring them all and in the darkness bind them."

In ancient times the Rings of Power were crafted by the Elven-smiths, and Sauron, the Dark Lord, forged the One Ring, filling it with his own power so that he could rule all others. But the One Ring was taken from him, and though he sought it throughout Middle-earth, it remained lost to him. After many ages it fell by chance into the hands of the hobbit Bilbo Baggins.
From Sauron's fastness in the Dark Tower of Mordor, his power spread far and wide. Sauron gathered all the Great Rings to him, but always he searched for the One Ring that would complete his dominion.
When Bilbo reached his eleventy-first birthday he disappeared, bequeathing to his young cousin Frodo the Ruling Ring and a perilous quest: to journey across Middle-earth, deep into the shadow of the Dark Lord, and destroy the Ring by casting it into the Cracks of Doom.
The Lord of the Rings tells of the great quest undertaken by Frodo and the Fellowship of the Ring: Gandalf the Wizard; the hobbits Merry, Pippin, and Sam; Gimli the Dwarf; Legolas the Elf; Boromir of Gondor; and a tall, mysterious stranger called Strider.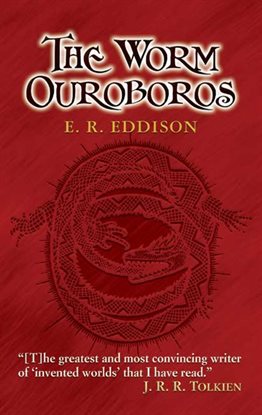 The Worm Ouroboros by E. R. Eddison
4 hoopla ebook editions
This is the book that shaped the landscape of contemporary science fiction and fantasy. When The Lord of the Rings first appeared, the critics inevitably compared it to this 1922 landmark work. Tolkien himself frankly acknowledged its influence, with warm praise for its imaginative appeal. The story of a remote planet's great war between two kingdoms, it ranks as the Iliad of heroic fantasy. In the best traditions of Homeric epics, Norse sagas, and Arthurian myths, author E. R. Eddison weaves a compelling adventure, with a majestic, Shakespearean narrative style. His sweeping tale recounts battles between warriors and witches on fog-shrouded mountaintops and in the ocean's depths–along with romantic interludes, backroom intrigues, and episodes of direst treachery. Generations of readers have joyfully lost themselves in the timeless worlds of The Worm Ouroboros.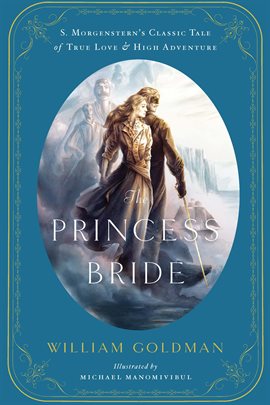 The Princess Bride by William Goldman
hoopla ebook
Overdrive audiobook
movie soundtrack
Here William Goldman's beloved story of Buttercup, Westley, and their fellow adventurers finally receives a beautiful illustrated treatment. A tale of true love and high adventure, pirates, princesses, giants, miracles, fencing, and a frightening assortment of wild beasts-The Princess Bride is a modern storytelling classic. As Florin and Guilder teeter on the verge of war, the reluctant Princess Buttercup is devastated by the loss of her true love, kidnapped by a mercenary and his henchman, rescued by a pirate, forced to marry Prince Humperdinck, and rescued once again by the very crew who absconded with her in the first place. In the course of this dazzling adventure, she'll meet Vizzini-the criminal philosopher who'll do anything for a bag of gold; Fezzik-the gentle giant; Inigo-the Spaniard whose steel thirsts for revenge; and Count Rugen-the evil mastermind behind it all. Foiling all their plans and jumping into their stories is Westley, Princess Buttercup's one true love and a very good friend of a very dangerous pirate.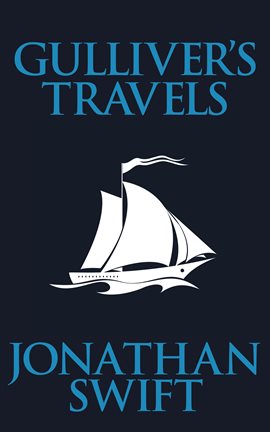 Gulliver's Travels by Jonathan Swift
hoopla ebook
hoopla audiobook
All editions on hoopla, including abridged editions and movies
Shipwrecked and cast adrift, Lemuel Gulliver wakes to find himself on Lilliput, an island inhabited by little people whose height makes their quarrels over fashion and fame seem ridiculous. His subsequent encounters with the crude giants of Brobdingnag, the philosophical Houyhnhnms, and the brutish Yahoos give him further insight into human behavior. Presented through Swift's satiric hall of distorting mirrors, mankind is cast as diminished, magnified, and bestial-the composite of which is an uncompromising reflection of human nature.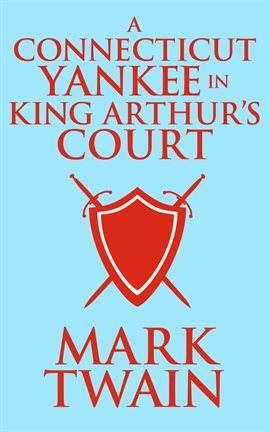 A Connecticut Yankee in King Arthur's Court by Mark Twain
hoopla ebook
hoopla audiobook
A Connecticut Yankee in King Arthur's Court is a humorous 1889 novel by American writer Mark Twain. In it, a Connecticut engineer is accidentally transported back to the time of King Arthur. He convinces the inhabitants of that time that he is a magician, and uses his knowledge of modern technology to stun them with such feats as demolitions, fireworks, and the shoring up of a holy well. Twain wrote the book as a satire of Romantic notions of chivalry after a dream in which he was a knight himself, noting the inconvenient weight of the armor.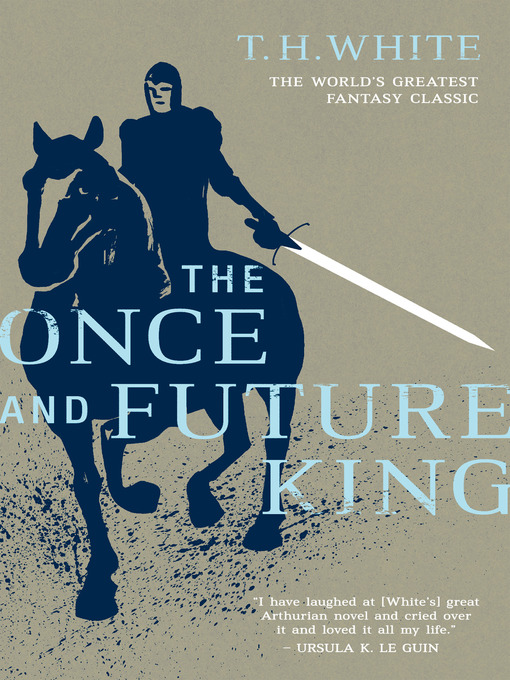 The Once and Future King by T. H. White
Overdrive ebook
T. H. White's masterful retelling of the saga of King Arthur is a fantasy classic as legendary as Excalibur and Camelot, and a poignant story of adventure, romance and magic that has enchanted readers for generations.
Once upon a time, a young boy called "Wart" was tutored by a magician named Merlyn in preparation for a future he couldn't possibly imagine. A future in which he would ally himself with the greatest knights, love a legendary queen, and unite a country dedicated to chivalrous values. A future that would see him crowned and known for all time as Arthur, King of the Britons.
During Arthur's reign, the kingdom of Camelot was founded to cast enlightenment on the Dark Ages, while the knights of the Round Table embarked on many a noble quest. But Merlyn foresaw the treachery that awaited his liege: the forbidden love between Queen Guenever and Lancelot, the wicked plots of Arthur's half-sister Morgause and the hatred she fostered in Mordred that would bring an end to the king's dreams for Britain—and to the king himself.