Minecraft cookies. Chocolate cakes and cauldron frogs. Skywalker Verrine. Supreme Dalek Cake. Bring your pop culture favorites into the kitchen with these recipes and more. There's something for geeks, bookworms, music lovers, and television and broadway enthusiasts! Recommended by Samantha Matherne.
For the Geeks: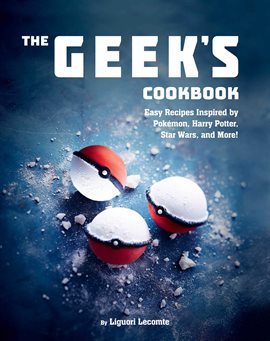 The Geek's Cookbook by Liguori Lecomte
hoopla ebook
The Geek's Cookbook is the fun and easy geeky recipe book with dishes from all your favorite shows, movies, and video games. Binge-watching your favorite season of Dexter, Breaking Bad, or The Walking Dead? Planning a Pokémon Go gaming party or a Harry Potter viewing party? Need sustenance to fuel your attempt to achieve the impossible and watch all six Star Wars movies in a row? Enter The Geek's Cookbook, your guide to cooking all sorts of treats and goodies to nourish your inner (or outer) geek.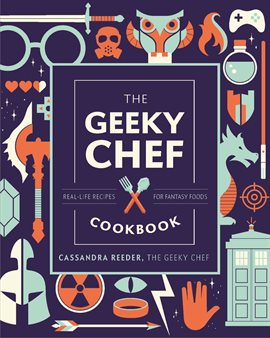 The Geeky Chef Cookbook by Cassandra Reeder
hoopla ebook
You've watched the TV shows and movies, played the video games, and read the books. Now it's time to level-up your geek factor…into the kitchen. From Game of Thrones, The Hunger Games, and Star Trek to Doctor Who, The Legend of Zelda, and World of Warcraft, The Geeky Chef compiles over 60 delectable, ethereal, and just plain odd-yet oddly delicious-recipes that you can re-create right in your own home.
A self-proclaimed nerd with a fondness for cooking, author Cassandra Reeder, creator of The Geeky Chef blog, has thoroughly researched every dish to make the final product look and taste as close to the source material as possible. With easy-to-follow step-by-step instructions and fun themed photos, these simple recipes will soon have you unlocking achievements in the kitchen, no matter if you're cooking for yourself, a friend, or even a viewing party.
So if you've ever found yourself thirsting for Lon Lon Milk, drooling over Pumpkin Pasties, or being a tad bit curious about Cram, this cookbook is for you. Fantasy foods are fantasy no longer!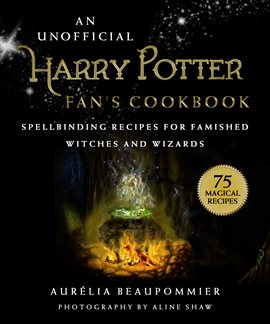 An Unofficial Harry Potter Fan's Cookbook by Aurélia Beaupommier
hoopla ebook
From cauldron cakes and chocolate frogs to everyday meals in the Weasley household, one of the most spectacular aspects of Harry Potter is the food. Now with this fantastical cookbook, you can create breakfast, entrees, desserts, and drinks inspired by some of your favorite aspects of the Harry Potter universe!
Whether you like sweet or savory, hot or cold, this variety of recipes from across the Wizarding World are sure to impress your friends and family. Easy, step-by-step recipes will bring out your inner witch or wizard and have you prepping feasts worthy of the Hogwarts Great Hall. So whip out your wands and your aprons and get cooking with An Unofficial Harry Potter Fan's Cookbook!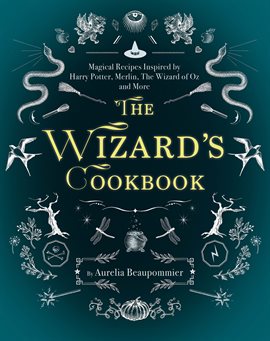 The Wizard's Cookbook by Aurelia Beaupommier
hoopla ebook
The definitive cookbook for everyone who loves fantasy and lore! Aurélia Beaupommier pays tribute to all sorcerers, fairies, elves, mages, witches, and magicians within this spellbinding cookbook! In The Wizard's Cookbook, you'll find recipes inspired by your favorite magical stories, eras, and lands-from history, myth, and fantasy.
Inspired by the most famous wizards in history, from Merlin to Dumbledore to Mary Poppins, The Wizard's Cookbook includes magical dishes that are both quick and easy to prepare for any occasion. Beaupommier provides a beautiful spread of festive themed dishes to enchant your guests. Recipes are accompanied by beautiful full-page color photographs of the delectable food and drinks. In addition to the sustenance necessary to battle your nemesis-whether it be a dragon or an empty stomach-this book also includes recipes to prepare divine desserts and devilish snacks, as well as intoxicating potions and elixirs to quench your thirst. Whether you're a beginner or an expert wizard, open this spell book, grab your wand, and . . . Abracadabra! You'll create delicious, bewitching recipes from The Wizard's Cookbook that are sure to teleport you and those dining with you to another world.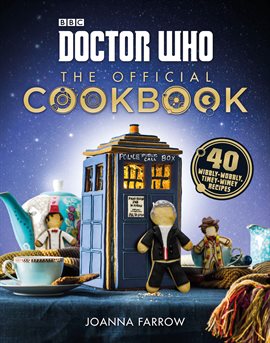 Doctor Who: The Official Cookbook by Joanna Farrow
hoopla ebook
Have your Doctor Who and eat it too with this out-of-this-world cookbook featuring fun, imaginative recipes for the whole family, based on the wildly popular BBC series Doctor Who. Doctor Who: The Official Cookbook features a cornucopia of delicious, easy-to-make recipes-from the simple, to the showstoppers-with an exciting Whovian twist. Enjoy the Doctor's own favorite, fish fingers and custard, share some Cyberman Pie with friends, treat the family to Cassandra Pizza, or indulge your sweet tooth with a Supreme Dalek Cake. Throwing a viewing party of your favorite episodes? Serve up some Ood Rolls, Salt and Pepper Sontarans, and Weeping Angel Food Cake. And don't forget the centerpiece for every Whovian get-together, a Gingerbread TARDIS and, of course, 12 Cookie Doctors. Illustrated with stills from the television show and seasoned with fun food ephemera and quotes from the Doctor's universe, Doctor Who: The Official Cookbook has something weird, wacky, and tasty for every fan.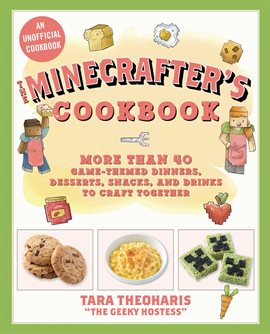 The Minecrafter's Cookbook by Theoharis Tara
hoopla ebook
The Minecrafter's Cookbook brings the Overworld to life with over 40 fantastic, Minecraft-themed recipes that kids and parents can make together. From main courses that will fill your hunger bar; to enchanted snacks that Alex and Steve couldn't survive without; to party-friendly, game-themed desserts and potion drinks, there is plenty in this book to enchant young gamers and their families. Kids will love the accompanying illustrations of their favorite characters and scenes, while parents will appreciate the simple, step-by-step directions to guide them as they craft.
For the Music Lovers: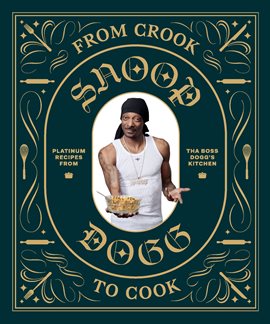 From Crook To Cook by Snoop Dogg & Martha Stewart
hoopla ebook
Welcome to tha Boss Dogg's Kitchen! The first cookbook and recipe book from Tha Dogg. You've seen Snoop work his culinary magic on VH1's Emmy-nominated Martha and Snoop's Potluck Dinner Party, and now, Tha Dogg's up in your kitchen… with his first cookbook that delivers 50 recipes straight from Snoop's own collection. Snoop's cookbook features OG staples like Baked Mac & Cheese and Fried Bologna Sandwiches with Chips, and new takes on classic weeknight faves like Soft Flour Tacos and Easy Orange Chicken. And it don't stop… Snoop's giving a taste of the high life with remixes on upper echelon fare such as Lobster Thermidor and Filet Mignon. But we gotta keep it G with those favorite munchies too, ya know? From chewy Starbursts to those glorious Frito BBQ Twists, you should have an arsenal of snacks that'll satisfy.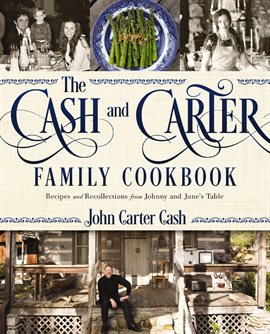 The Cash and Carter Family Cookbook by John Carter Cash
hoopla ebook
Come to the table with Johnny and June Carter Cash. People the world over loved Johnny and June Carter Cash for their charismatic stage presence and powerful, soul-stirring music. But those who knew them personally remember them best for their warm hospitality and the meals from their kitchen. Family, friends, and fellow artists were always welcomed to a beautiful table set with June's fine linens, china, and crystal–and to a table overflowing not only with Southern comfort food but also international dishes the couple gathered on tours around the world. In The Cash and Carter Family Cookbook, John Carter Cash shares the stories and recipes that flowed from his family's dinner table. From Johnny's Old Iron-Pot Chili recipe and June's Tomato, Red Onion, and Avocado Salad to Jamaican Peas and Rice and Veal Cutlets with Caper Cream Sauce, the family favorites collected here are perfect for an intimate gathering or for hosting a crowd. In addition, the book contains the memories and reminiscences of the musicians and film stars welcomed in the home, from Loretta Lynn and Adam Clayton of U2 to Jane Seymour and Billy Bob Thornton. The Cash and Carter Family Cookbook is perfect for Carter and Cash fans as well as anyone who wants to experience the love, comfort, and hospitality of sitting at Johnny and June's table.
For the Bookworms: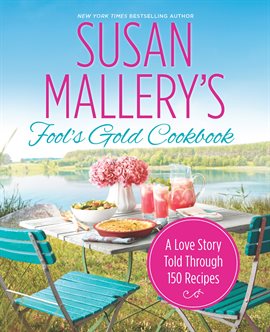 Susan Mallery's Fool's Gold Cookbook : A Love Story Told Through 150 Recipes by Susan Mallery
Overdrive ebook
hoopla ebook
New York Times bestselling author Susan Mallery invites you to taste the local cuisine of her beloved fictional town and share in a year's worth of deliciously seasonal recipes.
Fool's Gold is known as the Land of Happy Endings, but it's also the land of hearty appetites. Throughout the series, the residents of Fool's Gold have found joy, comfort, and good times through food. Now two local Fool's Gold chefs will also find love through food. Join them as they flirt, fight, and fall in love, one season at a time.
The more than 150 recipes and dozens of gorgeous photographs in this book will inspire you to find perfection in the simple and the seasonal. And with all of Fool's Gold with you in the kitchen, your every celebration will have a happy ending.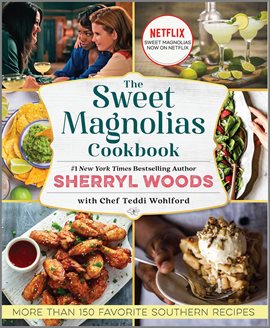 The Sweet Magnolias Cookbook by Sherryl Woods
hoopla ebook
Fill your home with the freshly baked scent of luscious apple pie, the sizzle of peachy grilled chicken or the beckoning aroma of juicy roast lamb, all brought to life in this charming collection of recipes. New York Times bestselling author Sherryl Woods invites you into the world of Serenity, South Carolina, where good food and good friends await. Based on her beloved Sweet Magnolias series, this gorgeous cookbook is full of Southern classics and heartwarming stories of friendship and fun. Join Dana Sue Sullivan, a popular character and Southern cook herself, as she shares her favorite down-home recipes as well as secrets, stories, and small-town gossip from the world of the Sweet Magnolias! Whether you're making flaky, buttery, too-good-to-be-true biscuits, or spicy seafood gumbo, the 150 recipes found in these pages will bring your family and friends together to celebrate the comforts of home. From legendary margarita nights to indulgent Sunday brunches to heartening holiday meals, every recipe in this book is sure to infuse your life and your kitchen with the warmth of the South and the comfort of good food.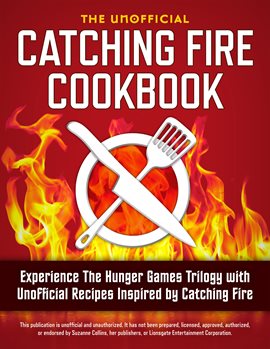 Catching Fire Cookbook by Various Authors
hoopla ebook
Savor the post-apocalyptic world of Panem one dish at a time with the Catching Fire Cookbook. Offering over 65 recipes, the Catching Fire Cookbook serves fans an authentic taste of the food from Catching Fire, whether foraged for in the impoverished District 12 or devoured at the lavish banquets of the Capitol. Satisfy your appetite with the recipes savored by the tributes in Catching Fire: Peeta's Multigrain Bread, Chicken with Orange Sauce, and Parsley Mashed Potatoes.
For the Television and Broadway Enthusiasts: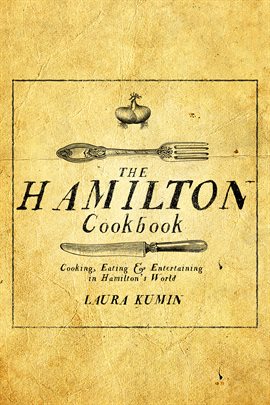 The Hamilton Cookbook by Laura Kumin
hoopla ebook
What was it like to eat with Alexander Hamilton, the Revolutionary War hero, husband, lover, and family man? In The Hamilton Cookbook, you'll discover what he ate, what his favorite foods were, and how his food was served to him. With recipes and tips on ingredients, you'll be able to recreate a meal Hamilton might have eaten after a Revolutionary War battle or as he composed the Federalist Papers. From his humble beginnings in the West Indies to his elegant life in New York City after the American Revolution, Alexander Hamilton's life fascinated his contemporaries. In many books and now in the hit Broadway musical Hamilton, many have chronicled his exploits, triumphs, and foibles. Now, in The Hamilton Cookbook, you can experience first-hand what it would be like to eat with Alexander Hamilton, his family and his contemporaries, featuring such dishes as cauliflower florets two ways, fried sausages and apples, gingerbread cake, and, of course, apple pie.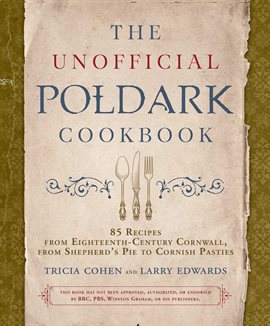 The Unofficial Poldark Cookbook by Tricia Cohen & Larry Edwards
hoopla ebook
85 Recipes from eighteenth-century Cornwall, from shepherd's pie to Cornish pasties.
Celebrate the magic that is Poldark with the unofficial kitchen companion. Featuring authentic recipes from Georgian England that have been modernized for the contemporary palate, The Unofficial Poldark Cookbook also includes the history behind the show, references to its characters and events, and tips on how to recreate meals from eighteenth-century Cornwall in the modern day.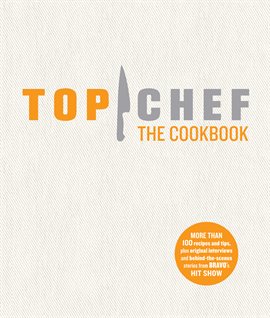 Top Chef: The Cookbook by Various Authors
hoopla ebook
Top Chef presents the official companion cookbook to the No. 1 rated food show on cable television! Featuring 100 fabulous recipes from the first three seasons of the show, including dishes from the Elimination Rounds and the Quick-Fire Challenges, Top Chef: The Cookbook invites fans into the hottest kitchen on prime time. In-depth discussions with contestants, judges, and crew reveal the inner workings of the show, and lavish photographs take readers behind the scenes into the Top Chef pantry and the competition sites. This cookbook will have aspiring culinary contenders reliving classic show moments and relishing new recipes!