Because the pandemic is hard enough. Recommended by Carrie Goodall.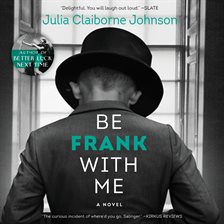 Be Frank With Me by  Julia Claiborne Johnson
hoopla ebook
hoopla audiobook
Reclusive literary legend M. M. "Mimi" Banning has been holed up in her Bel Air mansion for years. But after falling prey to a Bernie Madoff-style ponzi scheme, she's flat broke. Now Mimi must write a new book for the first time in decades, and to ensure the timely delivery of her manuscript, her New York publisher sends an assistant to monitor her progress. The prickly Mimi reluctantly complies-with a few stipulations: No Ivy-Leaguers or English majors. Must drive, cook, tidy. Computer whiz. Good with kids. Quiet, discreet, sane. When Alice Whitley arrives at the Banning mansion, she's put to work right away-as a full-time companion to Frank, the writer's eccentric nine-year-old, a boy with the wit of Noel Coward, the wardrobe of a 1930s movie star, and very little in common with his fellow fourth-graders. As she slowly gets to know Frank, Alice becomes consumed with finding out who Frank's father is, how his gorgeous "piano teacher and itinerant male role model" Xander fits into the Banning family equation-and whether Mimi will ever finish that book. Full of heart and countless "only-in-Hollywood" moments, Be Frank with Me is a captivating and unconventional story of an unusual mother and son, and the intrepid young woman who finds herself irresistibly pulled into their unforgettable world.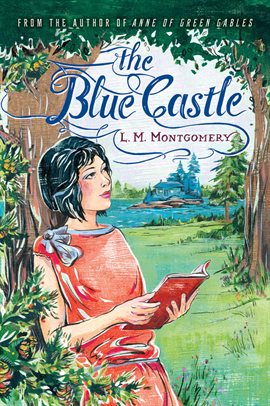 The Blue Castle by L.M. Montgomery
hoopla ebook
hoopla audiobook
All her life, Valancy Stirling lived on a quiet little street in an ugly little house and never dared to contradict her domineering mother and her unforgiving aunt. Then she got a letter-and decided that very day things need to change. For the first time in her life, she does exactly what she wants to and says exactly what she feels. At first her family thinks she's gone around the bend. But soon Valancy discovers more surprises and adventure than she ever thought possible.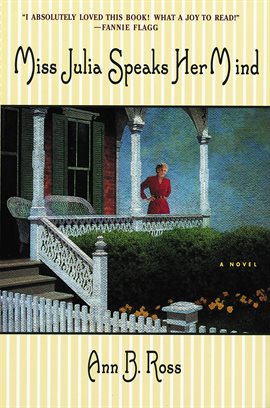 Miss Julia Speaks Her Mind by Ann B. Ross
hoopla ebook
Miss Julia, a recently bereaved and newly wealthy widow, is only slightly bemused when one Hazel Marie Puckett appears at her door with a youngster in tow and unceremoniously announces that the child is the bastard son of Miss Julia's late husband. Suddenly, this longtime church member and pillar of her small Southern community finds herself in the center of an unseemly scandal-and the guardian of a wan nine-year-old whose mere presence turns her life upside down.
With razor-sharp wit and perfect "Steel Magnolia" poise, Miss Julia speaks her mind indeed-about a robbery, a kidnapping, and the other disgraceful events precipitated by her husband's death. Fast-paced and charming, with a sure sense of comic drama, a cast of crazy characters, and a strong Southern cadence, Miss Julia Speaks Her Mind will delight readers from first page to last.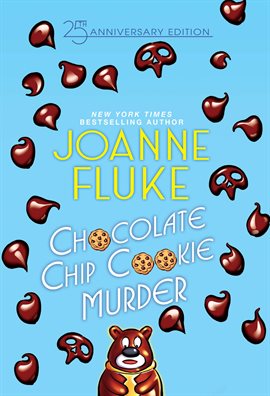 Chocolate Chip Cookie Murder by  Joanne Fluke
hoopla ebook
Take one amateur sleuth. Mix in some eccentric Minnesota locals. Add a generous dollop of crackling suspense, and you've got the recipe for this delicious new mystery series featuring Hannah Swensen, the red-haired, cookie-baking heroine whose gingersnaps are almost as tart as her mouth and whose penchant for solving crime is definitely stirring things up.
Hannah already has her hands full trying to dodge her mother's attempts to marry her off while running The Cookie Jar, Lake Eden's most popular bakery. But once Ron LaSalle, the beloved delivery man from the Cozy Cow Dairy, is found murdered behind her bakery with Hannah's famous Chocolate Chip Crunchies scattered around him, her life just can't get any worse. Determined not to let her cookies get a bad reputation, she sets out to track down a killer. But if she doesn't watch her back, Hannah's sweet life may get burned to a crisp.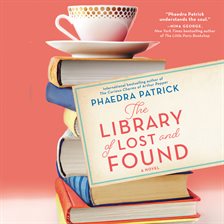 Library of Lost and Found by Phaedra Patrick
hoopla ebook
A librarian's discovery of a mysterious book sparks the journey of a lifetime in the delightful new novel from the international bestselling author of The Curious Charms of Arthur Pepper. Librarian Martha Storm has always found it easier to connect with books than people-though not for lack of trying. She keeps careful lists of how to help others in her superhero-themed notebook. And yet, sometimes it feels like she's invisible. All of that changes when a book of fairy tales arrives on her doorstep. Inside, Martha finds a dedication written to her by her best friend-her grandmother Zelda-who died under mysterious circumstances years earlier. When Martha discovers a clue within the book that her grandmother may still be alive, she becomes determined to discover the truth. As she delves deeper into Zelda's past, she unwittingly reveals a family secret that will change her life forever. Filled with Phaedra Patrick's signature charm and vivid characters, The Library of Lost and Found is a heartwarming and poignant tale of how one woman must take control of her destiny to write her own happy ending.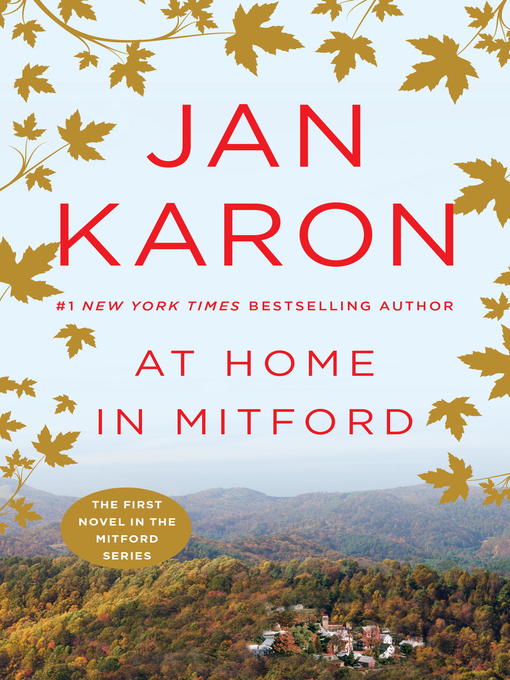 At Home in Mitford by Jan Karon
Overdrive ebook
Overdrive audiobook
It's easy to feel at home in Mitford. In these high, green hills, the air is pure, the village is charming, and the people are generally lovable. Yet, Father Tim, the bachelor rector, wants something more. Enter a dog the size of a sofa who moves in and won't go away. Add an attractive neighbor who begins wearing a path through the hedge. Now, stir in a lovable but unloved boy, a mystifying jewel theft, and a secret that's sixty years old. Suddenly, Father Tim gets more than he bargained for. And readers get a rich comedy about ordinary people and their ordinary lives.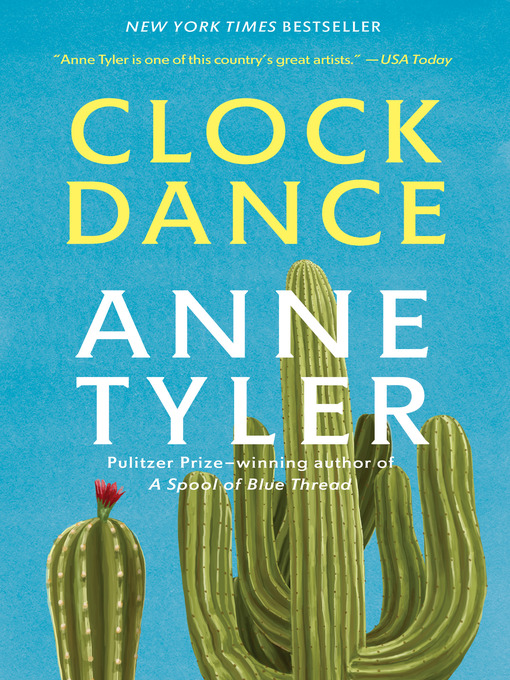 Clock Dance by Anne Tyler
Overdrive ebook
Overdrive audiobook
Willa Drake can count on one hand the defining moments of her life. In 1967, she is a schoolgirl coping with her mother's sudden disappearance. In 1977, she is a college coed considering a marriage proposal. In 1997, she is a young widow trying to piece her life back together. And in 2017, she yearns to be a grandmother but isn't sure she ever will be. Then, one day, Willa receives a startling phone call from a stranger. Without fully understanding why, she flies across the country to Baltimore to look after a young woman she's never met, her nine-year-old daughter, and their dog, Airplane. This impulsive decision will lead Willa into uncharted territory—surrounded by eccentric neighbors who treat each other like family, she finds solace and fulfillment in unexpected places. A bewitching novel of hope and transformation, Clock Dance gives us Anne Tyler at the height of her powers.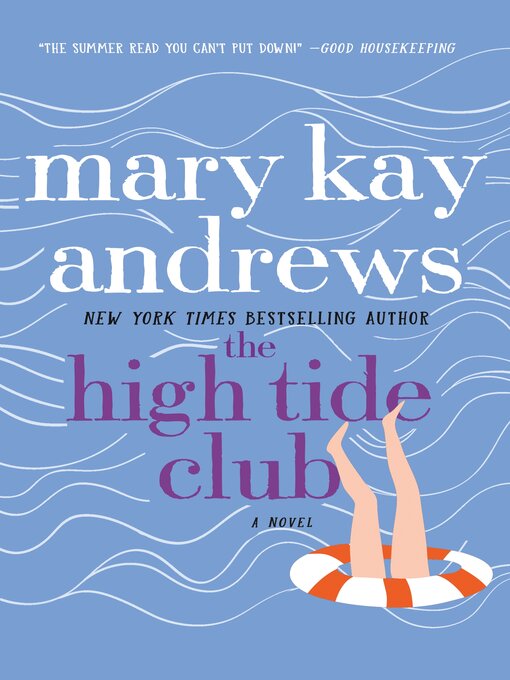 The High Tide Club by Mary Kay Andrews
Overdrive ebook
Overdrive audiobook
When ninety-nine-year-old heiress Josephine Bettendorf Warrick summons Brooke Trappnell to Talisa Island, her 20,000 acre remote barrier island home, Brooke is puzzled. Everybody in the South has heard about the eccentric millionaire mistress of Talisa, but Brooke has never met her. Josephine's cryptic note says she wants to discuss an important legal matter with Brooke, who is an attorney, but Brooke knows that Mrs. Warrick has long been a client of a prestigious Atlanta law firm.
Over a few meetings, the ailing Josephine spins a tale of old friendships, secrets, betrayal and a long-unsolved murder. She tells Brooke she is hiring her for two reasons: to protect her island and legacy from those who would despoil her land, and secondly, to help her make amends with the heirs of the long dead women who were her closest friends, the girls of The High Tide Club—so named because of their youthful skinny dipping escapades—Millie, Ruth and Varina. When Josephine dies with her secrets intact, Brooke is charged with contacting Josephine's friends' descendants and bringing them together on Talisa for a reunion of women who've never actually met.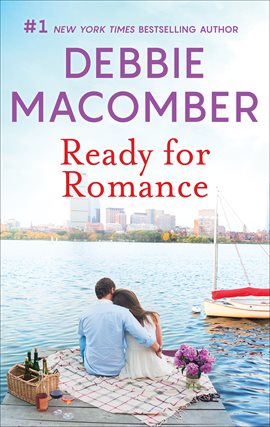 Ready For Romance by  Debbie Macomber
hoopla ebook
Will a schoolgirl crush ruin one woman's chance at finding her true love? At fourteen, Jessica Kellerman was madly in love with Evan Dryden, one of the boys next door, much to the amusement of both their families. Now, ten years later, she's about to start working for the Dryden brothers, Evan and Damian. But no one will let her forget her girlish infatuation, and Jessica finds it frustrating in the extreme. Because she's in love with a Dryden, all right-but it's Damian, not Evan. And this time she knows it's not puppy love; it's the real thing. How can she convince Damian of her true feelings when he's still trying to push her toward his brother?