This collection of graphic novels for young readers has a little bit of everything. From award-winners about kids trying to fit in, to superheroes, to hardcore lady types, these wonderfully illustrated graphic novels are sure to be a hit. Recommended by Willie Nettles.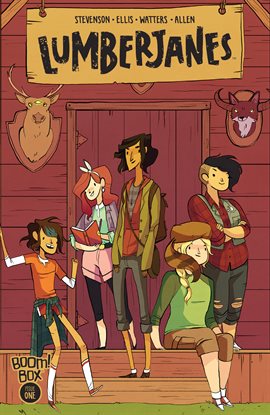 Lumberjanes by Shannon Watters, Grace Ellis, Noelle Stevenson 
hoopla ebook: Vol 1
hoopla ebooks: all volumes
At Miss Qiunzella Thiskwin Penniquiqul Thistle Crumpet's Camp for Hardcore Lady Types, things are not what they seem. Three-eyed foxes. Secret caves. Anagrams! Luckily, Jo, April, Mal, Molly, and Ripley are five rad, butt-kicking best pals determined to have an awesome summer together…and they're not gonna let a magical quest or an array of supernatural critters get in their way! The mystery keeps getting bigger, and it all begins here. Presented as the Lumberjanes Field Manual featuring a cover gallery and early character designs by Noelle Stevenson and Brooke Allen.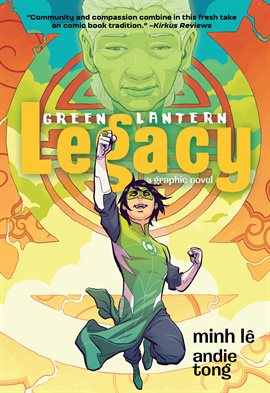 Green Lantern Legacy by Minh Lee 
hoopla ebook
Thirteen-year-old Tai Pham lives in the apartment above his grandmother's store, where his bedroom is crammed with sketchpads and comic books. But not even his most imaginative drawings could compare to the colorful adventure he's about to embark on. 
When Tai inherits his grandmother's jade ring, he soon finds out it's more than it appears. Suddenly he's being inducted into a group of space cops known as the Green Lanterns, his neighborhood is being overrun by some racist bullies, and every time he puts pen to paper, he's forced to confront that he might not be creative enough or strong enough to uphold his ba's legacy.
Now Tai must decide what kind of hero he wants to be: will he learn to soar above his insecurities or will the past keep him grounded?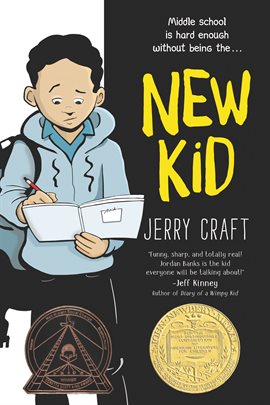 New Kid by Gerry Craft 
hoopla ebook
Overdrive audiobook
Perfect for fans of Raina Telgemeier and Gene Luen Yang, New Kid is a timely, honest graphic novel about starting over at a new school where diversity is low and the struggle to fit in is real, from award-winning author-illustrator Jerry Craft. 
Seventh grader Jordan Banks loves nothing more than drawing cartoons about his life. But instead of sending him to the art school of his dreams, his parents enroll him in a prestigious private school known for its academics, where Jordan is one of the few kids of color in his entire grade.
As he makes the daily trip from his Washington Heights apartment to the upscale Riverdale Academy Day School, Jordan soon finds himself torn between two worlds-and not really fitting into either one. Can Jordan learn to navigate his new school culture while keeping his neighborhood friends and staying true to himself?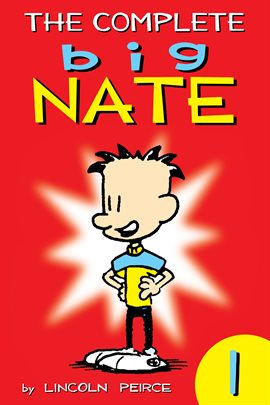 The Complete Big Nate Volume 1 by Lincoln Pierce 
hoopla ebook: Vol 1
hoopla ebooks: all volumes
Overdrive: Volumes 1-3
The Complete Big Nate collects every daily and Sunday cartoon ever syndicated. Presented in a numbered series of e-books, each containing one year's worth of strips, this is a goldmine for all Big Nate fans to see many cartoons that have never been published in books. Aspiring cartoonist Nate Wright is the star of Big Nate. As a popular middle-grade book character, Nate is 11 years old, four-and-a-half feet tall, and the all-time record holder for detentions in school history. He's a self-described genius and sixth grade Renaissance Man. Nate, who lives with his dad and older sister, has a habit of annoying his family, friends, and teachers with his sarcasm.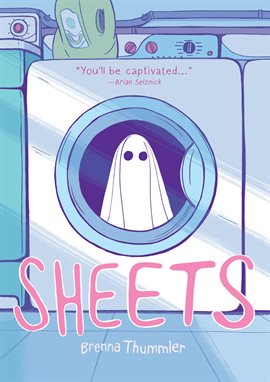 Sheets by Brenna Thumler 
hoopla ebook
Marjorie Glatt feels like a ghost. A practical thirteen year old in charge of the family laundry business, her daily routine features unforgiving customers, unbearable P.E. classes, and the fastidious Mr. Saubertuck who is committed to destroying everything she's worked for. Wendell is a ghost. A boy who lost his life much too young, his daily routine features ineffective death therapy, a sheet-dependent identity, and a dangerous need to seek purpose in the forbidden human world. When their worlds collide, Marjorie is confronted by unexplainable disasters as Wendell transforms Glatt's Laundry into his midnight playground, appearing as a mere sheet during the day. While Wendell attempts to create a new afterlife for himself, he unknowingly sabotages the life that Marjorie is struggling to maintain. Sheets illustrates the determination of a young girl to fight, even when all parts of her world seem to be conspiring against her. It proves that second chances are possible whether life feels over or life is over. But above all, it is a story of the forgiveness and unlikely friendship that can only transpire inside a haunted laundromat.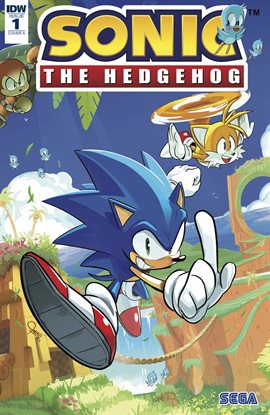 Sonic the Hedgehog Volume 1 by Ian Flynn 
hoopla ebook: Vol 1
hoopla ebooks: all volumes
The evil genius Dr. Eggman has been foiled-but the work of Sonic the Hedgehog isn't over yet! In the aftermath of the latest epic battle, rogue robots continue to attack small villages around the world. In order to succeed, Sonic will need the help of his friends Tails, Knuckles, and Amy, along with some new and surprising allies. This new collection from acclaimed writer Ian Flynn features the blue blur like you've never seen him before. Gotta go fast!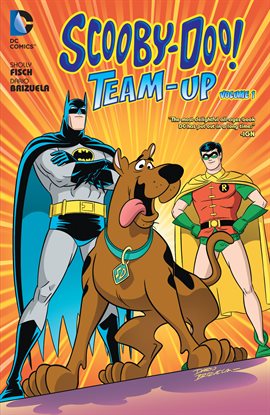 Scooby Doo Team Up Volume 1 by Sholly Fisch 
hoopla ebook: Vol 1
hoopla ebook: all volumes
JINKIES! When their investigation of possible Man-Bat sightings leads to a run-in with the Dynamic Duo themselves, Scooby-Doo and the Mystery Inc. gang are invited to join the society of super detectives known as the Mystery Analysts of Gotham City! The team from the Mystery Machine couldn't be more excited to meet their idols, and when the villainous Scarecrow attacks at their very first meeting, Scooby may finally realize his dream of fighting crime as the amazing Dog Wonder! From the super-powered squad of writer Sholly Fisch (ALL-NEW BATMAN: THE BRAVE AND THE BOLD) and artist Dario Brizuela (GREEN LANTERN: THE ANIMATED SERIES) comes six all-new adventures featuring everyone's favorite teen detectives in SCOOBY-DOO TEAM-UP!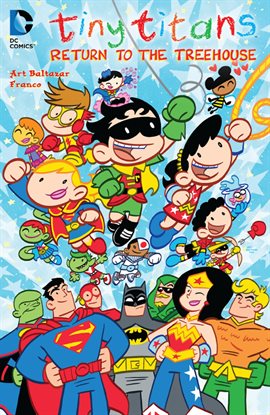 Tiny Titans Volume 1 by Art Balthazar 
hoopla ebook: Vol 1
hoopla ebooks: all volumes
You'll see what life is like for the very young heroes of Sidekick Elementary and learn what could go wrong when the kids spend an afternoon in the Batcave. These all-ages tales from the DC Universe, beautifully written and illustrated by Art Baltazar and Franco, will entertain new readers and seasoned fans of comics.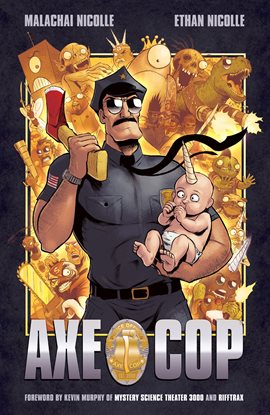 Axe Cop Vol. 1 by Malachi Nicole 
hoopla ebook: Vol 1
hoopla ebooks: all volumes
Bad guys, beware! Evil aliens, run for your lives! Axe Cop is here, and he's going to chop your head off! We live in a strange world, and our strange problems call for strange heroes. That's why Axe Cop – along with his partner Flute Cop and their pet T. rex Wexter – is holding tryouts to build the greatest team of heroes ever assembled. Created by five-year-old Malachai Nicolle and illustrated by his older brother, the cartoonist Ethan Nicolle, Axe Cop Volume 1 collects the entire original run of the hit webcomic that has captured the world's attention with its insanely imaginative adventures. Whether he's fighting gun-toting dinosaurs, teaming up with Ninja Moon Warriors, or answering readers' questions via his insightful advice column, "Ask Axe Cop," the adventures of Axe Cop and his incomparable team of crime fighters will delight and perplex even the most stoic of readers.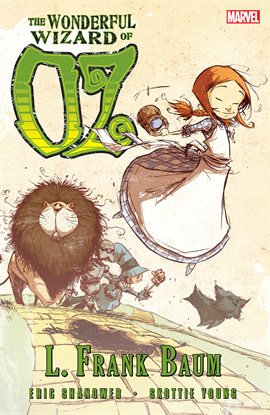 Oz: The Wonderful Wizard of Oz adapted by Eric Shanower
hoopla ebook: Vol 1
hoopla ebook: entire series 
The premier American fantasy adventure gets the Merry Marvel treatment! Eisner Award-winning writer/artist Eric Shanower (Age of Bronze) teams up with fan-favorite artist Skottie Young (New X-Men) to bring L. Frank Baum's beloved classic to life! When Kansas farm girl Dorothy flies away to the magical Land of Oz, she fatally flattens a Wicket Witch, liberates a Scarecrow and is hailed by the Munchkin people as a great sorcerer…but all she really wants to know is: how does she get home?