Use these guides and cookbooks to transform your diet and develop healthy eating habits. Recommended by Ashley Lee.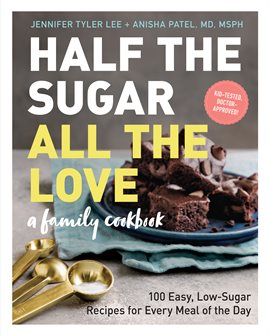 Half the Sugar, All the Love by Jennifer Tyler Lee and Anisha Patel, MD. MSPH
hoopla ebook
A cookbook for cutting sugar: 100 delicious, family-friendly recipes-from breakfast to dessert. Sugar consumption is a health hazard for kids-and parents are eager to reduce their family's sugar intake in all parts of their daily meals. Half the Sugar, All the Love is the only programmatic family cookbook for reducing sugar in all parts of a meal, with medically backed guidelines and recipes.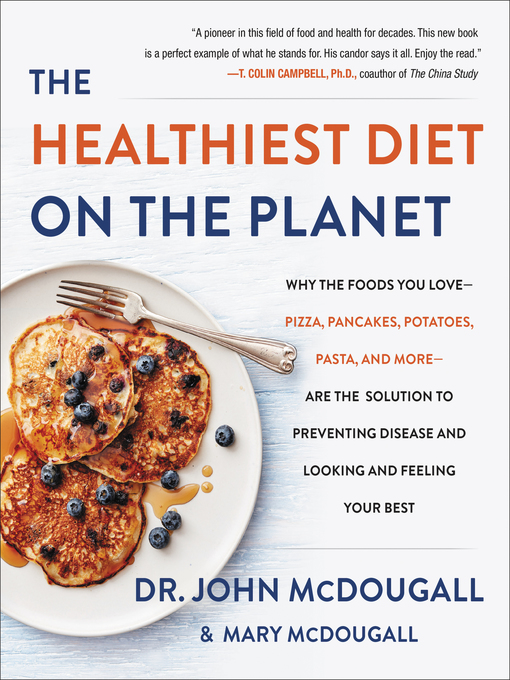 The Healthiest Diet On The Planet by Dr. John McDougall and Mary McDougall
Why the Foods You Love – Pizza, Pancakes, Potatoes, Pasta, and More – Are the Solution to Preventing Disease and Looking and Feeling Your Best 
Overdrive ebook
hoopla audiobook 
The bestselling author and internationally celebrated physician and expert on nutrition offers an appealing, approachable health solution-eat the foods you love to lose weight and get healthy. 
 
For years, we've been told that a healthy diet is heavy on meat, poultry, and fish, and avoids carbohydrates, particularly foods high in starch-empty calories harmful to our bodies. 
 
But what if everything we've heard was backwards? High in calories and cholesterol, animal fats and proteins too often leave you hungry and lead to overeating and weight gain. They are often the root causes of a host of avoidable health problems-from indigestion, ulcers, and constipation to obesity, diabetes, heart disease, and cancer. On the other hand, complex carbohydrates like whole grains, legumes, tubers, and other starches provide your body with essential proteins and nutrients that satisfy the appetite while simultaneously fighting illness. But Americans eat far too few calories from carbohydrates-only about forty percent, according to Dr. John McDougall, internationally renowned expert on nutrition and health, featured on the documentary Forks Over Knives. 
 
The Healthiest Diet on the Planet helps us reclaim our health by enjoying nutritious starches, vegetables, and fruits. McDougall takes on the propaganda machines pushing dangerous, high-fat fad diets and cuts through the smoke and mirrors of the diet industry. He offers a clear, proven guide to what we should and shouldn't eat to prevent disease, slow the aging process, improve our physical fitness, be kind to the environment, and be our most attractive selves. Featuring two dozen color photos and mouth-watering, easy-to-follow recipes for buckwheat pancakes, breakfast tortillas, baked potato skins, rainbow risotto, red lentil soup, green enchiladas, dairy-free lasagna and pizza, and more, The Healthiest Diet on the Planet will help you look great, feel better, and forever change the way you think about health and nutrition.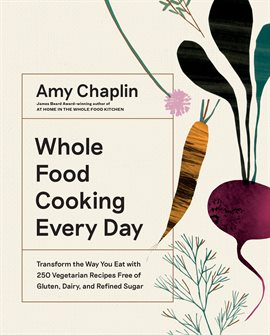 Whole Food Cooking Every Day by Amy Chaplin
Transform the Way You Eat with 250 Vegetarian Recipes Free of Gluten, Dairy, and Refined Sugar
hoopla ebook
Eating whole foods can transform a diet, and mastering the art of cooking these foods can be easy with the proper techniques and strategies. In 20 chapters, Chaplin shares ingenious recipes incorporating the foods that are key to a healthy diet: seeds and nuts, fruits and vegetables, whole grains, and plant-based foods. Chaplin shares her secrets for eating healthy every day: mastering some key recipes and reliable techniques and then varying the ingredients based on the occasion, the season, and what you're craving. Once the reader learns one of Chaplin's base recipes, whether for gluten-free muffins, millet porridge, or baked marinated tempeh, the ways to adapt and customize it are endless: change the fruit depending on the season, include nuts or seeds for extra protein, or even change the dressing or flavoring to keep a diet varied. Chaplin encourages readers to seek out local and organic ingredients, stock their pantries with nutrient-rich whole food ingredients, prep ahead of time, and most important, cook at home.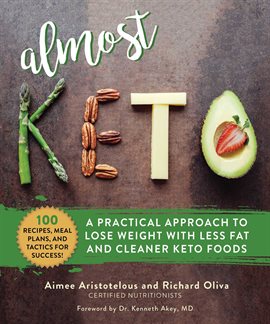 Almost Keto by Aimee Aristotelous and Richard Oliva
A Practical Approach to Lose Weight with Less Fat and Cleaner Keto Foods
hoopla ebook
The Keto diet continues to grow in popularity as people across the country are learning more and more about it. However, there is conflicting research regarding the safety of consuming unlimited amounts of items such as bacon, cheese, fatty cuts of meats, and fried pork rinds. A large percentage of Keto dieters find the 70-80 percent fat intake requirement unsustainable, and even worrisome due to potential health implications. Many people are curious about the Keto lifestyle, given the weight loss results they hear about from others, but will not attempt the diet as the fat intake requirement sounds daunting.

Almost Keto will provide a formal, lower fat, higher fiber, higher micro-nutrient nutrition plan while still employing cleaner keto-approved foods. It will help readers yield positive weight loss and blood sugar level results while providing a more sustainable and healthier lifestyle. A practical how-to guide with nutrition education (cited with studies), Almost Keto also provides over 100 recipes that incorporate keto-approved foods.

Nutritionist Aimee Aristotelous will break down the different types of Keto, the principles and foundation of the diet, as well as niche Keto foods to know and what to eliminate. She will debunk mainstream dietary myths, provide sample meal plans, and offer dozens of delicious, Keto-friendly recipes you'll want to try immediately.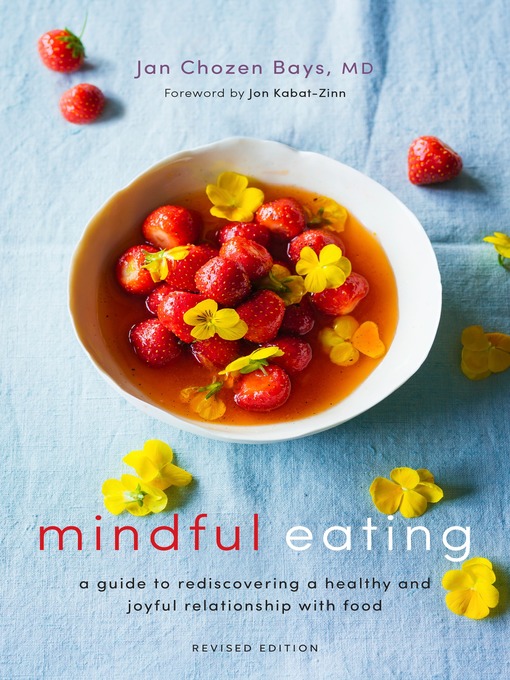 Mindful Eating: A guide to rediscovering a healthy and joyful relationship with food by Jan Chozen Bays
Overdrive ebook
Turn food from foe to friend with this bestselling guide to developing healthy eating habits through mindfulness—from a Zen teacher.
Food. It should be one of life's great pleasures, yet many of us have such a conflicted relationship with it that we miss out on that most basic of satisfactions. But it is possible—and not really all that difficult—to reclaim the joy of eating, according to Dr. Jan Bays. Mindfulness is the key. Her approach involves bringing one's full attention to the process of eating—to all the tastes, smells, thoughts, and feelings that arise during a meal. She shows you how to:

· Tune into your body's own wisdom about what, when, and how much to eat
· Eat less while feeling fully satisfied
· Identify your habits and patterns with food
· Develop a more compassionate attitude toward your struggles with eating
· Discover what you're really hungry for

Whether you are overweight, suffer from an eating disorder, or just want to get more out of life, this book offers a simple tool that can transform your relationship with food into one of ease and delight.

This new edition, updated throughout, contains a new chapter on how to provide children with a foundation in mindful eating that will serve them well all the rest of their lives. It also includes a link to a 75-minute online audio program of mindful eating exercises led by the author.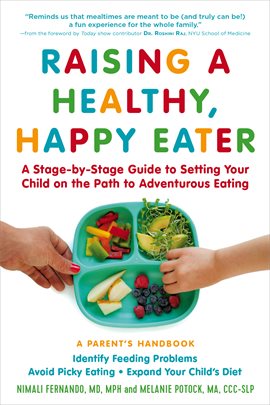 Raising a Healthy, Happy Eater by Nimali Fernando and Melanie Potock
A Stage-by-Stage Guide to Setting Your Child on the Path to Adventurous Eating
hoopla ebook
hoopla audiobook
How to Raise a Healthy, Adventurous Eater (in a Chicken-Nugget World) Pediatrician Nimali Fernando and feeding therapist Melanie Potock (aka Dr. Yum and Coach Mel) know the importance of giving your child the right start on his or her food journey-for good health, motor skills, and even cognitive and emotional development. In Raising a Healthy, Happy Eater they explain how to expand your family's food horizons, avoid the picky eater trap, identify special feeding needs, and put joy back into mealtimes, with:
–Advice tailored to every stage from newborn through school-age
–Real-life stories of parents and kids they have helped
–Wisdom from cultures across the globe on how to feed kids
–Helpful insights on the sensory system, difficult mealtime behaviors, and everything from baby-led weaning to sippy cups
–And seven passport stamps for good parenting: joyful, compassionate, brave, patient, consistent, proactive, and mindful.
Raising a Healthy, Happy Eater shows the way to lead your baby, toddler, or young child on the path to adventurous eating. Grab your passport and go!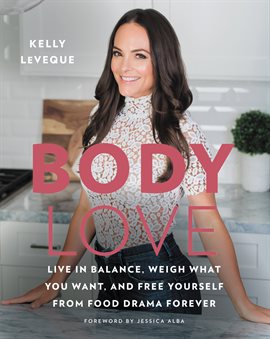 Body Love by Kelly Leveque
hoopla ebook
Celebrity favorite health and wellness consultant Kelly LeVeque shares her secrets for losing weight, attuning ourselves to our bodies' needs, and freeing ourselves from food drama in this essential wellness guide, which includes 88 delectable recipes!

In this inspirational yet practical book, the nutritional consultant and holistic healthcare expert who has helped celebrities such as Jessica Alba, Molly Sims, Chelsea Handler, and Emmy Rossum improve their health and achieve their goals shows you how to get beyond the food drama of cyclical fad diets and feel and look great by eating well. Kelly's Food Freedom program helps you set yourself up for success, eliminating cravings, mood swings, and other symptoms caused by food drama. Start your day with her Fab Four Smoothies, including a Strawberry Shortcake Smoothie and a Mango Kale Madness Smoothie, which pack protein, fat, fiber, and carbs to balance your blood sugar and keep you full and happy. After breakfast, you'll thrive with her Fab Four recipes, including Turkey-Stuffed Delicata Squash, Spicy Salmon Nori Burritos, and Anti-Inflammatory Detox Salad, which include the Fab Four food groups-protein, fat, fiber, and greens-that play a role in day-long satiety. Kelly also teaches you how to elongate your blood sugar curve to stay full and happy, and make yourself insulin aware. Kelly has studied the science behind familiar diets to understand how they trigger the body to lose pounds-and why they aren't sustainable. Instead, she offers a better choice: her four-step Food Freedom program that helps you find your wellness balance between eating enough and deciding how you feel. Once you find your balance, you will lose weight, lose fat, increase lean muscle mass, and drop at least one size. You'll also enjoy thicker, shinier hair; clear, glowing skin; a remarkable improvement in your overall appearance; reduced joint pain and other inflammations; increased energy; and better sleep.

Filled with tips and resources on supplements and cleansing, dozens of delicious, healthy recipes and advice on how to adjust your eating when traveling and on vacation, Body Love is your one-stop resource to living clean and happy!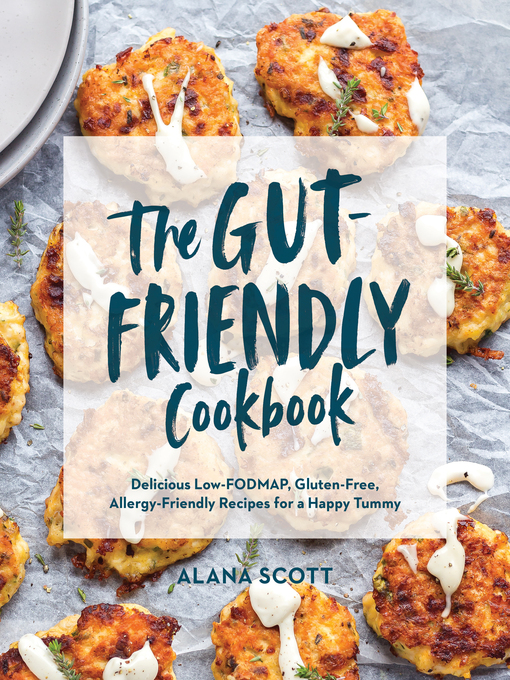 The Gut-Friendly Cookbook by Alana Scott
Overdrive ebook
More than 100 fresh low-FODMAP recipes—the go-to diet for digestive issues, including IBS.
Recent studies have shown that a low-FODMAP diet—one that eliminates certain carbohydrates that can trigger gas, bloating, and other digestive issues—can help followers to feel better fast. Created by Monash University in Melbourne, Australia, the diet has become a worldwide sensation. Because the offending foods often seem like healthy choices (apples, cauliflower, and garlic can all cause tummy discomfort), it can be a challenge to pull together meals.
Enter Alana Scott and her wonderful cookbook. Scott, who suffers from irritable bowel syndrome (IBS), began developing recipes so she could enjoy eating again. In The Gut-Friendly Cookbook, she shares more than 100 recipes for delicious dinners, breakfasts, lunches, and snacks, plus sweet treats, gorgeous photographs of each recipe, and plenty of easy-to-read background information on FODMAPs, a shopping guide, and advice on how to change your eating through the whole cycle of the low-FODMAP journey. The recipes have all been reviewed and approved by a FODMAP- trained registered dietitian.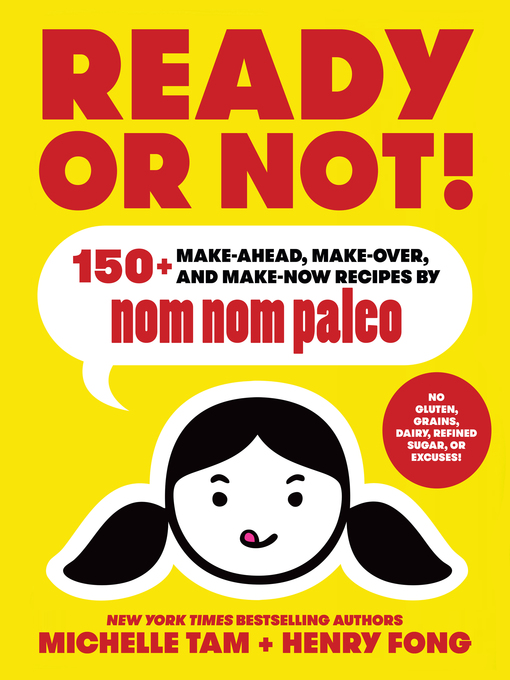 Ready or Not! by Michelle Tame and Henry Fong
150+ Make-Ahead, Make-Over, and Make-Now Recipes by Nom Nom Paleo
Overdrive ebook
You know how it is: some days, you're fired up and ready to cook; other days, you dread the thought of making dinner. More often than not, you find yourself floating somewhere between inspiration and desperation. What's a crazy busy (but kind of lazy) home cook to do? The answer: pick up this book. Ready or Not makes healthy Paleo home cooking a breeze, no matter if there's time to prepare or just minutes to spare. Whether you're a fastidious planner or a last-minute improviser, you'll find plenty of deliciously nourishing options, from make-ahead feasts to lightning-fast leftover makeovers. Presented in Nom Nom Paleo's deliriously fun comic book style, Ready or Not makes Paleo cooking easy, no matter how much time you have. In fact, this cookbook is organized into color-coded sections to match your readiness level:
•GET SET! First, stock your kitchen with essential building blocks–from store-bought necessities to D.I.Y. ingredients that'll set you up for anytime cooking.
•READY! Got time to cook? Turn to these recipes for make-ahead meals and spectacular dishes like Pressure Cooker Bo Ssäm and Strawberry Almond Semifreddo!
•KINDA READY! Learn how to transform pantry staples and leftovers into impromptu meals that'll satisfy the most discriminating palates.
•NOT READY! Emergency meals can be delicious, too. In this section, you'll find super-fast recipes like savory stir-fries and sheet pan suppers.
Along with colorfully written and gorgeously photographed step-by-step recipes presented in a cheeky cartoon format, Ready or Not features kitchen hacks, Paleo ingredient guides, meal plans, shopping lists and more!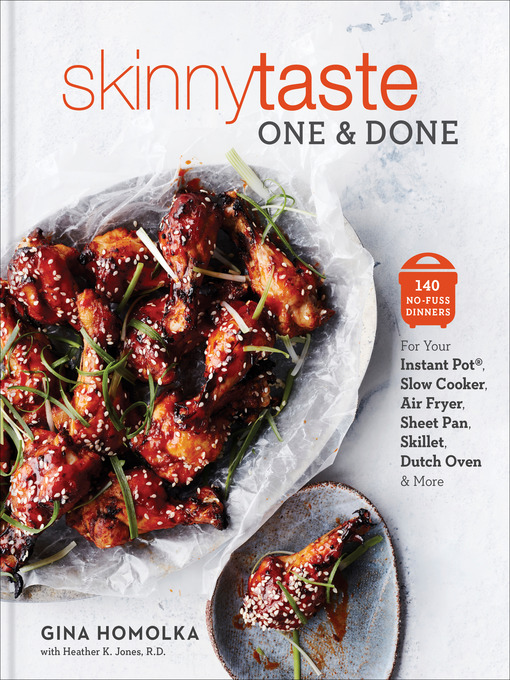 Skinnytaste One and Done by Gina Homolka
Overdrive ebook
For your Instant Pot®, electric pressure cooker, air fryer, slow cooker, multi-cooker, Dutch oven, sheet pan, skillet, and more—140 healthy and delicious recipes that are big on flavor and low on calories and cleanup.
Skinnytaste One and Done is the perfect resource for busy home cooks looking for easy, good-for-you dinnertime solutions. #1 New York Times bestselling author Gina Homolka incorporates her healthy, flavor-forward recipes with everyone's favorite way to cook—in one vessel, whether a sheet pan or multi-cooker, and everything in-between. No matter if you'd like to lose weight or just eat a little healthier, this book will make your weeknight dinner routine even simpler with satisfying, all-in-one recipes. Cooking in a single vessel means streamlined dinners with minimal fuss and cleanup—a huge plus after a long day.
The cookbook is organized by vessels that include everyday cooking equipment such as an Instant Pot®, a sheet pan, a Dutch oven, a skillet, a slow cooker, and an air fryer. As always, the recipes are big on flavor and light on calories, and now more convenient than ever. With 140 healthy, family-friendly recipes, 120 full-color photos, nutritional information for every recipe, and Gina's signature cooking tips, Skinnytaste One and Done will be a weeknight game changer. Even if you don't own all of the appliances, Gina gives alternative cooking directions using everyday cooking equipment where possible, so you won't miss out.