These stories take you into unusual libraries and bookstores. The list includes a mysterious time-defying library, a mobile bookshop, a library-turned-escape room, the historical Packhorse Library, and more. Recommended by Samantha Matherne.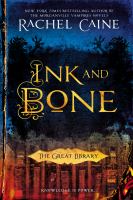 Ink and Bone by Rachel Caine 
book 
In an exhilarating new series, New York Times bestselling author Rachel Caine rewrites history, creating a dangerous world where the Great Library of Alexandria has survived the test of time.
 Ruthless and supremely powerful, the Great Library is now a presence in every major city, governing the flow of knowledge to the masses. Alchemy allows the Library to deliver the content of the greatest works of history instantly, but the personal ownership of books is expressly forbidden.  

Jess Brightwell believes in the value of the Library, but the majority of his knowledge comes from illegal books obtained by his family, who are involved in the thriving black market. Jess has been sent to be his family's spy, but his loyalties are tested in the final months of his training to enter the Library's service.  
 When he inadvertently commits heresy by creating a device that could change the world, Jess discovers that those who control the Great Library believe that knowledge is more valuable than any human life, and soon both heretics and books will burn. 
---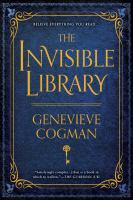 The Invisible Library by Genevieve Cogman 
book 
large print book 
OverDrive ebook 
Irene is a professional spy for the mysterious Library, a shadowy organization that collects important works of fiction from all of the different realities. Most recently, she and her enigmatic assistant Kai have been sent to an alternative London. Their mission: Retrieve a particularly dangerous book. The problem: By the time they arrive, it's already been stolen.  
 
London's underground factions are prepared to fight to the death to find the tome before Irene and Kai do, a problem compounded by the fact that this world is chaos-infested, the laws of nature bent to allow supernatural creatures and unpredictable magic to run rampant. To make matters worse, Kai is hiding something—secrets that could be just as volatile as the chaos-filled world itself. 
 
Now Irene is caught in a puzzling web of deadly danger, conflicting clues, and sinister secret societies. And failure is not an option because it isn't just Irene's reputation at stake, it's the nature of reality itself.
---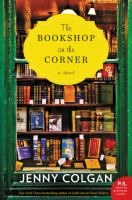 The Bookshop on the Corner by Jenny Colgan 
book 
hoopla ebook 
hoopla audiobook
Freading ebook
Nina is a literary matchmaker. Pairing a reader with that perfect book is her passion and also her job. Or at least it was. Until yesterday, she was a librarian in the hectic city. But now the job she loved is no more.  
Determined to make a new life for herself, Nina moves to a sleepy village many miles away. There she buys a van and transforms it into a bookmobile — a mobile bookshop that she drives from neighborhood to neighborhood, changing one life after another with the power of storytelling.
From helping her grumpy landlord deliver a lamb, to sharing picnics with a charming train conductor who serenades her with poetry, Nina discovers there's plenty of adventure, magic, and soul in a place that's beginning to feel like home, a place where she just might be able to write her own happy ending. 
---
Escape from Mr. Lemoncello's Library by Chris Grabenstein 
book 
OverDrive ebook 
When Kyle learns that the world's most famous game maker, Luigi Lemoncello, has designed the town's new library and is having an invitation-only lock-in on opening night, he's determined to be there! But the tricky part isn't getting into the library—it's getting out. Because when morning comes, the doors stay locked. Kyle and the other kids must solve every clue and figure out every secret puzzle to find the hidden escape route!  

Don't miss bonus content in the back of the book—extra puzzles, an author Q&A, and more! And look for the puzzle-packed sequels—Mr. Lemoncello's Library Olympics and Mr. Lemoncello's Great Library Race! 
---
The Library of the Unwritten by A. J. Hackwith
book
Claire is head librarian of the Unwritten Wing–a neutral space in Hell where all the stories unfinished by their authors reside. Her job includes keeping an eye on restless stories that risk materializing as characters and escaping the Library. When a hero escapes, Claire must capture him.
---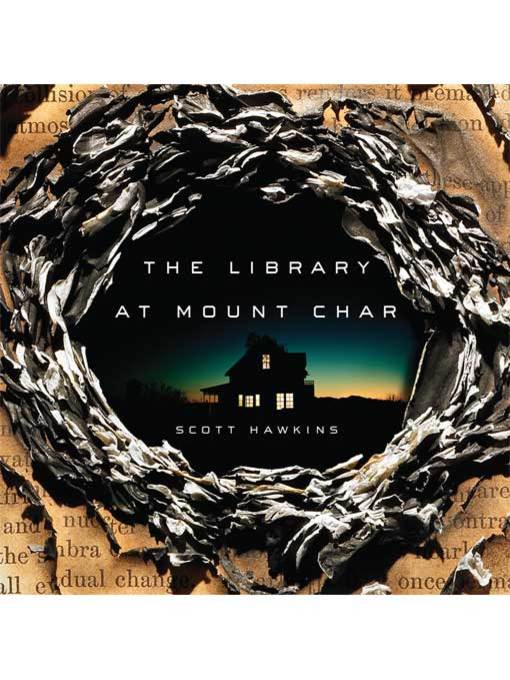 The Library at Mount Char by Scott Hawkins
hoopla audiobook
OverDrive audiobook
Neil Gaiman meets Joe Hill in this astonishingly original, terrifying, and darkly funny contemporary fantasy. Carolyn's not so different from the other human beings around her. She's sure of it. She likes guacamole and cigarettes and steak. She knows how to use a phone. She even remembers what clothes are for. After all, she was a normal American herself, once. That was a long time ago, of course – before that time she calls "adoption day," when she and a dozen other children found themselves being raised by a man they learned to call father. Father could do strange things. He could call light from darkness. Sometimes he raised the dead. And when he was disobeyed, the consequences were terrible. In the years since Father took her in, Carolyn hasn't gotten out much. Instead, she and her adopted siblings have been raised according to Father's ancient Pelapi customs. They've studied the books in his library and learned some of the secrets behind his equally ancient power. Sometimes, they've wondered if their cruel tutor might secretly be God. Now, Father is missing. And if God is truly dead, the only thing that matters is who will inherit his library – and with it, power over all creation. As Carolyn gathers the tools she needs for battle to come, fierce competitors for this prize align against her. But Carolyn can win. She's sure of it. What she doesn't realize is that her victory may come at an unacceptable price. Because in becoming God, she's forgotten a great deal about being human.
---
The Bookshop of Yesterdays by Amy Meyerson
book
hoopla audiobook
Miranda Brooks grew up in the stacks of her eccentric Uncle Billy's bookstore, solving the inventive scavenger hunts he created just for her. But on Miranda's twelfth birthday, Billy has a mysterious falling-out with her mother and suddenly disappears from Miranda's life. She doesn't hear from him again until sixteen years later when she receives unexpected news: Billy has died and left her Prospero Books, which is teetering on bankruptcy–and one final scavenger hunt.
When Miranda returns home to Los Angeles and to Prospero Books–now as its owner–she finds clues that Billy has hidden for her inside novels on the store's shelves, in locked drawers of his apartment upstairs, in the name of the store itself. Miranda becomes determined to save Prospero Books and to solve Billy's last scavenger hunt. She soon finds herself drawn into a journey where she meets people from Billy's past, people whose stories reveal a history that Miranda's mother has kept hidden–and the terrible secret that tore her family apart.
---
The Giver of Stars by Jojo Moyes
book
large print book
book on CD
OverDrive ebook
OverDrive audiobook
Alice Wright marries handsome American Bennett Van Cleve hoping to escape her stifling life in England. But small-town Kentucky quickly proves equally claustrophobic, especially living alongside her overbearing father-in-law. So when a call goes out for a team of women to deliver books as part of Eleanor Roosevelt's new traveling library, Alice signs on enthusiastically.
The leader, and soon Alice's greatest ally, is Margery, a smart-talking, self-sufficient woman who's never asked a man's permission for anything. They will be joined by three other singular women who become known as the Packhorse Librarians of Kentucky.

What happens to them—and to the men they love—becomes an unforgettable drama of loyalty, justice, humanity and passion. These heroic women refuse to be cowed by men or by convention. And though they face all kinds of dangers in a landscape that is at times breathtakingly beautiful, at others brutal, they're committed to their job: bringing books to people who have never had any, arming them with facts that will change their lives.

Based on a true story rooted in America's past, The Giver of Stars is unparalleled in its scope and epic in its storytelling. Funny, heartbreaking, enthralling, it is destined to become a modern classic—a richly rewarding novel of women's friendship, of true love, and of what happens when we reach beyond our grasp for the great beyond.
---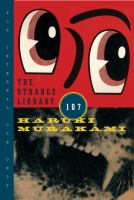 The Strange Library by Haruki Murakami
book
Opening the flaps on this unique little book, readers will find themselves immersed in the strange world of best-selling Haruki Murakami's wild imagination. The story of a lonely boy, a mysterious girl, and a tormented sheep man plotting their escape from a nightmarish library, the book is like nothing else Murakami has written. Designed by Chip Kidd and fully illustrated, in full color, throughout, this small format, 96 page volume is a treat for book lovers of all ages.
---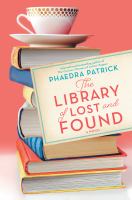 The Library of Lost and Found by Phaedra Patrick
book
large print book
book on CD
hoopla audiobook
Librarian Martha Storm has always found it easier to connect with books than people–though not for lack of trying. She keeps careful lists of how to help others in her superhero-themed notebook. And yet, sometimes it feels like she's invisible.
All of that changes when a book of fairy tales arrives on her doorstep. Inside, Martha finds a dedication written to her by her best friend–her grandmother Zelda–who died under mysterious circumstances years earlier. When Martha discovers a clue within the book that her grandmother may still be alive, she becomes determined to discover the truth. As she delves deeper into Zelda's past, she unwittingly reveals a family secret that will change her life forever.
Filled with Phaedra Patrick's signature charm and vivid characters, The Library of Lost and Found is a heartwarming and poignant tale of how one woman must take control of her destiny to write her own happy ending.
---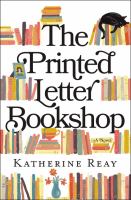 The Printed Letter Bookshop by Katherine Reay
book
large print book
hoopla ebook
hoopla audiobook
Freading ebook
One of Madeline Cullen's happiest childhood memories is of working with her Aunt Maddie in the quaint and cozy Printed Letter Bookshop. But by the time Madeline inherits the shop nearly twenty years later, family troubles and her own bitter losses have hardened Madeline's heart toward her once-treasured aunt–and the now struggling bookshop left in her care.
While Madeline intends to sell the shop as quickly as possible, the Printed Letter's two employees have other ideas. Reeling from a recent divorce, Janet finds sanctuary within the books and within the decadent window displays she creates. Claire, though quieter than the acerbic Janet, feels equally drawn to the daily rhythms of the shop and its loyal clientele, finding a renewed purpose within its walls.
When Madeline's professional life falls apart, and a handsome gardener upends all her preconceived notions, she questions her plans and her heart. Has she been too quick to dismiss her aunt's beloved shop? And even if she has, the women's best combined efforts may be too little, too late.
---
The Book Woman of Troublesome Creek by Kim Michele Richardson
book
large print book
OverDrive ebook
hoopla ebook
hoopla audiobook
Freading ebook
A young outcast braves the hardships of Kentucky's Great Depression and brings truly magical objects to her people: books. Inspired by the brave women of the Packhorse Library Project.
Cussy Mary Carter is the last of her kind, her skin the colour of a blue damselfly in these dusty hills. But that doesn't mean she's got nothing to offer. As a member of the Packhorse Library Project, Cussy delivers books to the hillfolk of Troublesome Creek, hoping to spread learning in these desperate times. But not everyone is so keen on Cussy's family or the Library Project, and the hardscrabble Kentuckians are quick to blame a Blue for any trouble in their small town.
---
Mr. Penumbra's 24-Hour Bookstore by Robin Sloan
book
book on CD
Overdrive ebook
hoopla audiobook
The Great Recession has shuffled Clay Jannon out of his life as a San Francisco web-design drone—and serendipity, sheer curiosity, and the ability to climb a ladder like a monkey has landed him a new gig working the night shift at Mr. Penumbra's 24-Hour Bookstore. But after just a few days on the job, Clay begins to realize that this store is even more curious than the name suggests. There are only a few customers, but they come in repeatedly and never seem to actually buy anything, instead "checking out" impossibly obscure volumes from strange corners of the store, all according to some elaborate, long-standing arrangement with the gnomic Mr. Penumbra. The store must be a front for something larger, Clay concludes, and soon he's embarked on a complex analysis of the customers' behavior and roped his friends into helping to figure out just what's going on. But once they bring their findings to Mr. Penumbra, it turns out the secrets extend far outside the walls of the bookstore.

With irresistible brio and dazzling intelligence, Robin Sloan has crafted a literary adventure story for the twenty-first century, evoking both the fairy-tale charm of Haruki Murakami and the enthusiastic novel-of-ideas wizardry of Neal Stephenson or a young Umberto Eco, but with a unique and feisty sensibility that's rare to the world of literary fiction. Mr. Penumbra's 24-Hour Bookstore is exactly what it sounds like: an establishment you have to enter and will never want to leave, a modern-day cabinet of wonders ready to give a jolt of energy to every curious reader, no matter the time of day.
---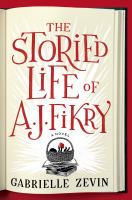 The Storied Life of A. J. Fikry by Gabrielle Zevin
book
large print book
Overdrive ebook
hoopla ebook
hoopla audiobook
Freading ebook
A. J. Fikry's life is not at all what he expected it to be. He lives alone, his bookstore is experiencing the worst sales in its history, and now his prized possession, a rare collection of Poe poems, has been stolen. But when a mysterious package appears at the bookstore, its unexpected arrival gives Fikry the chance to make his life over—and see everything anew.