Check out these musical selections for artist biographies, memoirs, and novels. Recommended by Willie Nettles.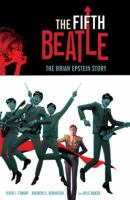 The Fifth Beatle: The Brian Epstein Story by Vivek Tiwary
book
hoopla comic
The Fifth Beatle is the untold true story of Brian Epstein, the visionary manager who discovered and guided The Beatles – from their gigs in a tiny cellar in Liverpool to unprecedented international stardom. Yet more than merely the story of "The Man Who Made The Beatles," The Fifth Beatle is an uplifting, tragic, and ultimately inspirational human story about the struggle to overcome seemingly insurmountable odds. Brian himself died painfully lonely at the young age of thirty-two, having helped The Beatles prove through "Sergeant Pepper's Lonely Hearts Club Band" that pop music could be an inspirational art form. He was homosexual when it was a felony to be so in the United Kingdom, Jewish at a time of anti-Semitism, and from Liverpool when it was considered just a dingy port town.
---
Creative Quest by Questlove
hoopla audiobook
Freading ebook
Questlove – musician, bandleader, designer, producer, culinary entrepreneur, professor, and all-around cultural omnivore – shares his wisdom on the topics of inspiration and originality in a one-of-a-kind guide to living your best creative life.  
In Creative Quest, Questlove synthesizes all the creative philosophies, lessons, and stories he's heard from the many creators and collaborators in his life, and reflects on his own experience to advise readers and fans on how to consider creativity and where to find it. He addresses many topics – what it means to be creative, how to find a mentor and serve as an apprentice, the wisdom of maintaining a creative network, coping with critics and the foibles of success, and the specific pitfalls of contemporary culture – all in the service of guiding admirers who have followed his career and newcomers not yet acquainted with his story. 
Whether discussing his own life or channeling the lessons he's learned from forefathers such as George Clinton, collaborators like D'Angelo, or like-minded artists including Ava DuVernay, David Byrne, Björk, and others, Questlove speaks with the candor and enthusiasm that fans have come to expect. Creative Quest is many things. Above all it is a wise and wide-ranging conversation around the eternal mystery of creativity.
---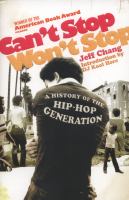 Can't Stop Won't Stop by Jeff Chang
book
hoopla audiobook
Forged in the fires of the Bronx and Kingston, Jamaica, hip-hop became the Esperanto of youth rebellion and a generation-defining movement. In a post-civil rights era defined by de-industrialization and globalization, hip-hop crystallized a multiracial, polycultural generation's worldview, and transformed American politics and culture. But that epic story has never been told with this kind of breadth, insight, and style. Based on original interviews with DJs, b-boys, rappers, graffiti writers, activists, and gang members, with unforgettable portraits of many of hip-hop's forebears, founders, and mavericks, including DJ Kool Herc, Afrika Bambaataa, Chuck D, and Ice Cube, Can't Stop Won't Stop chronicles the events, the ideas, the music, and the art that marked the hip-hop generation's rise from the ashes of the '60s into the new millennium. Here is a powerful cultural and social history of the end of the American century, and a provocative look into the new world that the hip-hop generation created.
---
Dolly Parton, Gender, and Country Music by Leigh Edwards
book
hoopla ebook
Dolly Parton is instantly recognizable for her iconic style and persona, but how did she create her enduring image? Dolly crafted her exaggerated appearance and stage personality by combining two opposing stereotypes – the innocent mountain girl and the voluptuous sex symbol. Emerging through her lyrics, personal stories, stage presence, and visual imagery, these wildly different gender tropes form a central part of Dolly's media image and portrayal of herself as a star and celebrity. By developing a multilayered image and persona, Dolly both critiques representations of femininity in country music and attracts a diverse fan base ranging from country and pop music fans to feminists and gay rights advocates. In Dolly Parton, Gender, and Country Music, Leigh H. Edwards explores Dolly's roles as musician, actor, author, philanthropist, and entrepreneur to show how Dolly's gender subversion highlights the challenges that can be found even in the most seemingly traditional form of American popular music. As Dolly depicts herself as simultaneously "real" and "fake," she offers new perspectives on country music's claims of authenticity.
---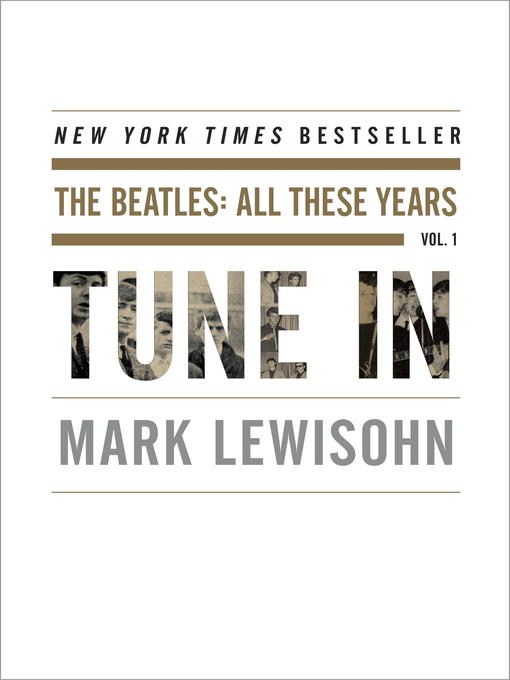 Tune In by Mark Lewisohn
OverDrive ebook
Tune In is the first volume of All These Years–a highly-anticipated, groundbreaking biographical trilogy by the world's leading Beatles historian. Mark Lewisohn uses his unprecedented archival access and hundreds of new interviews to construct the full story of the lives and work of John Lennon, Paul McCartney, George Harrison, and Ringo Starr.

Ten years in the making, Tune In takes the Beatles from before their childhoods through the final hour of 1962 when, with breakthrough success just days away, they stand on the cusp of a whole new kind of fame and celebrity. They have one hit record ("Love Me Do") behind them and the next ("Please Please Me") primed for release, their first album session is booked, and America is clear on the horizon. This is the lesser-known Beatles story, the pre-Fab years of Liverpool and Hamburg and in many respects the most absorbing and incredible period of them all. Here is the complete and true account of their family lives, childhoods, teenage years and their infatuation with American music. Here is the riveting narrative of their unforgettable days and nights in the Cavern Club, their laughs, larks and adventures when they could move about freely, before fame closed in.

For those who've never read a Beatles book before, this is the place to discover the young men behind the icons. For those who think they know John, Paul, George, and Ringo, it's time to press the reset button and tune into the real story, the lasting word.
---
Telegraph Avenue by Michael Chabon
book on MP3
book on CD
hoopla ebook
RB digital audiobook
New York Times bestselling, Pulitzer Prize-winning novelist Michael Chabon has transported readers to wonderful places: to New York City during the Golden Age of comic books (The Amazing Adventures of Kavalier & Clay); to an imaginary Jewish homeland in Sitka, Alaska (The Yiddish Policemen's Union); to discover The Mysteries of Pittsburgh. Now he takes us to Telegraph Avenue in a big-hearted and exhilarating novel that explores the profoundly intertwined lives of two Oakland, California families, one black and one white. In Telegraph Avenue, Chabon lovingly creates a world grounded in pop culture – Kung Fu, '70s Blaxploitation films, vinyl LPs, jazz and soul music – and delivers a bravura epic of friendship, race, and secret histories.
---
The Music Shop by Rachel Joyce
book
OverDrive ebook
OverDrive audiobook
1988. Frank owns a music shop. It is jam-packed with records of every speed, size and genre. Classical, jazz, punk – as long as it's vinyl he sells it. Day after day Frank finds his customers the music they need.

Then into his life walks Ilse Brauchmann.

Ilse asks Frank to teach her about music. His instinct is to turn and run. And yet he is drawn to this strangely still, mysterious woman with her pea-green coat and her eyes as black as vinyl. But Ilse is not what she seems. And Frank has old wounds that threaten to re-open and a past he will never leave behind.
---
Me by Elton John
book
large print book
OverDrive ebook
OverDrive audiobook
Christened Reginald Dwight, he was a shy boy with Buddy Holly glasses who grew up in the London suburb of Pinner and dreamed of becoming a pop star. By the age of twenty-three he was performing his first gig in America, facing an astonished audience in his bright yellow dungarees, a star-spangled T-shirt, and boots with wings. Elton John had arrived and the music world would never be the same again.
His life has been full of drama, from the early rejection of his work with song-writing partner Bernie Taupin to spinning out of control as a chart-topping superstar; from half-heartedly trying to drown himself in his LA swimming pool to disco-dancing with Princess Diana and Queen Elizabeth; from friendships with John Lennon, Freddie Mercury, and George Michael to setting up his AIDS Foundation to conquering Broadway with Aida, The Lion King, and Billy Elliot the Musical. All the while Elton was hiding a drug addiction that would grip him for over a decade.
In Me, Elton also writes powerfully about getting clean and changing his life, about finding love with David Furnish and becoming a father. In a voice that is warm, humble, and open, this is Elton on his music and his relationships, his passions and his mistakes. This is a story that will stay with you by a living legend.