Need some crochet inspiration? Check out these guides and pattern books for new project ideas. You can also log in to our Creativebug database for craft and art projects that feature video tutorials. All you need is your library card! Recommended by Kristine Price.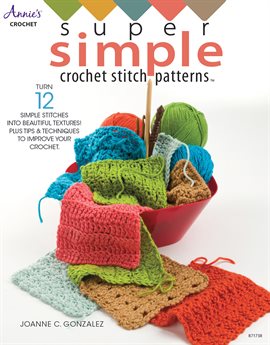 Super Simple Crochet Stitch Patterns by Joanne Gonzales
hoopla ebook
Freading ebook
This book includes instructions for 6 projects using twelve stitch patterns created with short, simple repeats using basic stitches that create textures that look more intricate than they are. Refer to the Project Box for each stitch where calculations are already done for you! The book also features a "Did You Know" section for information to improve your technique, plus up-close color photos throughout to make it easy to stay on track and turn simple stitches into beautiful textures. Skill Level: Beginner.
---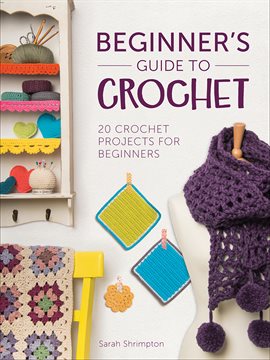 Beginner's Guide To Crochet by Sarah Shrimpton
20 Crochet Projects for Beginners
hoopla ebook
Freading ebook
Get hooked on crochet! The author of Supersize Crochet guides you through the basics so you can finish your first project in just one day.

In Beginner's Guide to Crochet, each new stitch is explained in easy steps with accompanying photographs and diagrams and is followed up with a project showing you how to utilize your newfound skills.

The twenty modern projects range from a super simple French press cozy to a granny square blanket. Plus, there is a section dedicated to "extreme crochet," using t-shirt yarn to create larger-than-life crocheted creations. In addition, crochet charts are included for each stitch and pattern, with the author explaining, in detail, how to read and follow charts.

The author's chatty, informal style will take you on your journey from newbie to fully-fledged crocheter, and before you know it, you'll be crocheting and making fantastic homemade presents for friends and family.

Crochet blogger Sarah Shrimpton of Annaboo's House is a self-taught crocheter and former teacher who started blogging for fun and now has over fifty-five thousand followers on Instagram.
---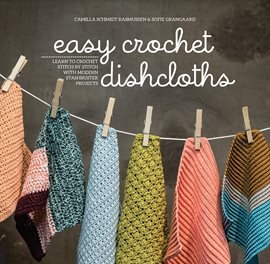 Easy Crochet Dishcloths by Camilla Schmidt Rasmussen and  Sofie Grangaard
Learn to Crochet Stitch by Stitch with Modern Stashbuster Projects
hoopla ebook
Add personality, sentiment, and coziness to your kitchen with Easy Crochet Dishcloths. Don't underestimate the effect crocheting your own dishcloths can have on a space! There's a difference between a house and a home, and there's definitely a difference between a kitchen and a cozy kitchen! Make your kitchen more than a room for cooking; crochet a cozy kitchen — crochet your own dishcloths! Easy Crochet Dishcloths offers 11 designs that are a great way to learn to crochet, try a new yarn or use some of your stash, and create a beautiful supply of colorful, environmentally friendly, reusable cloths for cleaning, display, and gifting. The "Crochet School" section presents the featured crochet stitches step-by-step to help beginners get started and to refresh more experienced crocheters. With designs ranging from very simple to more challenging, crocheters at all skill levels will find designs they'll love to make. Project instructions are provided in both words and international crochet symbols.
---
Crochet in a day : 42 fast & fun projects by Salena Baca
book
Looking for a quick crochet fix? Crochet in a Day has 42 sure-to-please patterns that can all be started and finished in a day or less. From wearables like cowls, hats, slippers, and even a poncho, to home items like place mats, dish cloths, and baskets, every item will crochet up fast!
This is a book you will turn to again and again when looking for a fun, speedy project that doesn't require a large time or yarn commitment. Perfect for using up stash yarn or to create something from that perfect skein you were saving, these patterns are creative, colorful, modern, and stylish. Get your hook ready, and crochet something today!
---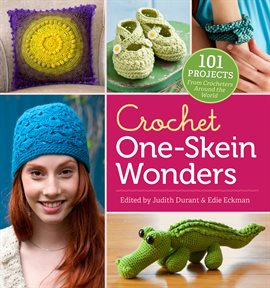 Crochet One-Skein Wonders: 101 Projects From Crocheters around the World by Judith Durant and Edie Eckman
book
hoopla ebook
OverDrive ebook
Freading ebook
Finally, a One-Skein Wonders® book just for crocheters! Edie Eckman and Judith Durant offer 101 exciting crochet projects – including jewelry, scarves, bags, hats, dresses, and home decor items – that each use just one skein of yarn. With projects organized by yarn type and weight, you'll be crocheting lacy shrugs for the springtime and heavy-duty beanies for the snowy winter months. Whatever your experience level, you're sure to find a delightfully portable project that suits your individual style.
---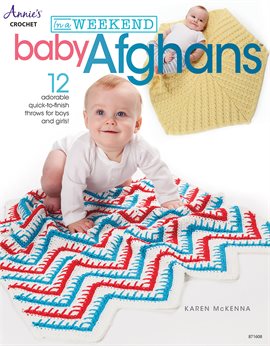 In a Weekend: Baby Afghans by Karen McKenna
hoopla ebook
Freading ebook
Part of the Annie's Crochet series
Afghans for boys, girls and either/or! Made using Dk or worsted-weight yarn. 12 designs for a baby that can be made in a weekend. Includes symbol crochet.
---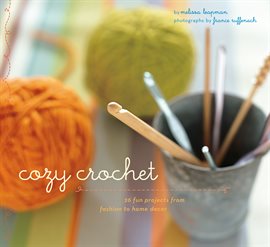 Cozy Crochet by Melissa Leapman
Learn to Make 26 Fun Projects From Fashion to Home Decor
hoopla ebook
Knitting is all the rage, but did you know crocheters outnumber knitters 3 to 1? Cozy Crochet does for the hook what Knitting Pretty did for needles, with 26 step-by-step projects that will appeal to the sophisticated tastes of the new generation of crocheters. Ranging from simple projects for new converts to more advanced patterns for seasoned crafters, the creations in Cozy Crochet are fresh and contemporary: stylish striped throw pillows, an embellished clutch purse, a delicate wrap for a night on the town. A comprehensive learn-to-crochet section teaches the basics in plain language with 65 helpful diagrams, and each project is accompanied by a beautiful full-color photograph. Appealing, accessible, and utterly original, the designs in Cozy Crochet will have readers hooked.
---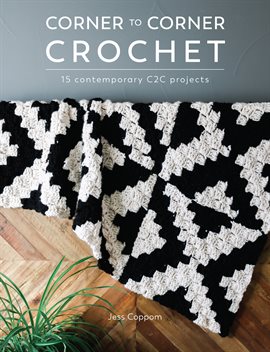 Corner to Corner Crochet : 15 Contemporary C2C Projects by Jess Coppmon
book
hoopla ebook
Freading ebook
Corner to Corner Crochet (also known as C2C crochet) is the perfect way to create colorful, graphic designs without having to learn complex colorwork techniques. Using basic crochet stitches, you can create stunning, contemporary designs for home decor items and accessories.
C2C projects also stitch up super-fast, so if you've been putting off tackling a crochet blanket because it would take too long, this is the technique for you!
Author Jess Coppom has brought a fresh take to this style of crochet with a collection of fifteen modern projects, all made using the C2C technique. Choose from patterns for six different afghans or blankets, including a monochrome chunky throw and a beautiful Mexican-style blanket. Other projects include pillows, a bathroom rug, and some stunning items to wear, such as a poncho, shawl, and cowl.
---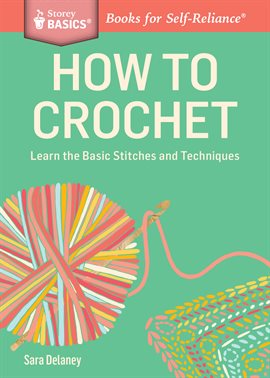 How to Crochet: Learn the Basic Stitches and Techniques by Sara Delaney
hoopla ebook
Freading ebook
Get hooked on crochet and bring handcrafted charm to your home and wardrobe. This fun introduction to crocheting presents all the basic techniques you'll need to get started. Sara Delaney provides easy-to-follow illustrated instructions for joining, fastening off, selecting color schemes, and much more. Learn how to read crochet patterns and work a basic chain with single or double stitches. You'll quickly be on your way to crafting your own pretty potholders and delicate scarves.
---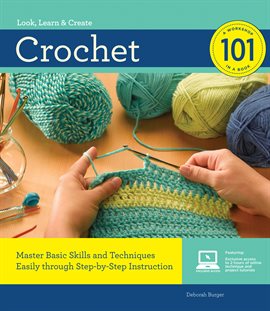 Crochet 101 by Deborah Burger
hoopla ebook
Written with the absolute beginner in mind, this engaging book teaches all the basics for learning to crochet with step-by-step instructions and photographs. Crocheting skills are learned by working on projects, beginning with something very easy and getting progressively more difficult as the reader works through the book. New skills are explored in depth as they are introduced. The introductory section covers all the basics of crochet-selecting yarn, hook types and sizes, other tools and accessories, crochet gauge, chaining, forming the basic stitches, reading patterns-making this the most comprehensive beginner's book available. The online video tutorials created to supplement this book are an additional learning tool demonstrating the essential techniques used in crochet.
---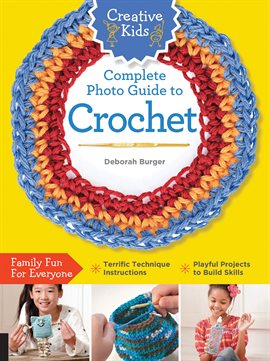 Creative Kids Complete Photo Guide to Crochet by Deborah Burger
book
hoopla ebook
Are you looking for the perfect guide to teach your child to crochet? Look no further! Creative Kids Complete Photo Guide to Crochet starts with the absolute basics about stitching, beginning with a discussion about hooks and yarn and how to make simple chains, then gradually introduces skills and techniques until kids are crocheting confidently. Veteran crochet author Deborah Burger, author of Crochet 101 and How to Make 100 Crochet Appliqués, will guide you and your children through projects. With over 200 photos and clear, concise instructions in language easily understood by grade-school kids, you're going to be creating crafty crochet projects with your child in no time! Each project lists the crocheting skills that will be exercised in making it and projects are rated for difficulty, so kids can learn and grow as they develop dexterity and coordination. Your children will learn to crochet by making simple projects and building skills by practicing the essentials, and this book provides a sound foundation for a lifetime of crocheting enjoyment.
---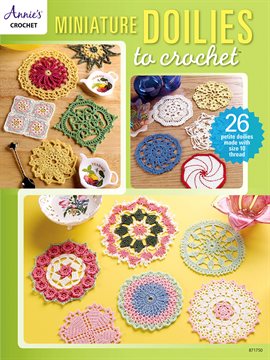 Miniature Doilies to Crochet by Annie's Crochet
hoopla ebook
Freading ebook
Show off your stitching with these beauties. They make great gifts you can slip into cards, or you can use them as coasters, package trims, sachets, party favors or much more. Made in a rainbow of colors, all are stitched using size 10 crochet thread.