Check out these resources for information to support a variety of educational needs. From print and digital ebooks and audiobooks to online databases and live tutoring help, Ascension Parish Library has you covered. Recommended by Ashley Lee.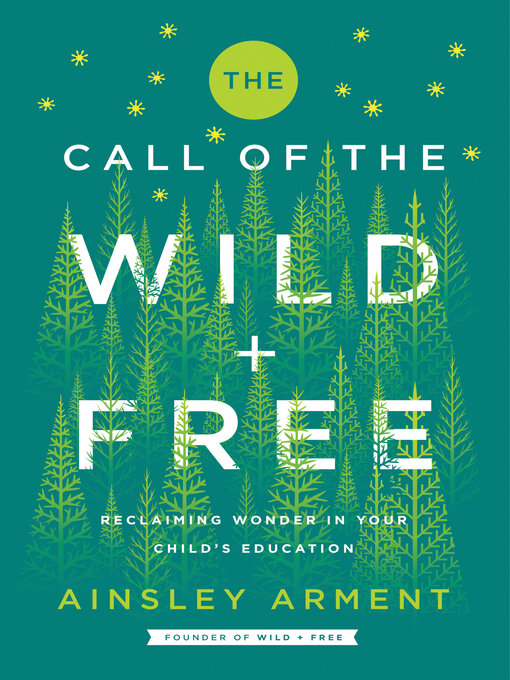 The Call Of The Wild And Free: Reclaiming Wonder In Your Child's Education by Ainsley Arment
OverDrive ebook
hoopla ebook
hoopla audiobook
Freading ebook
Allow your children to experience the adventure, freedom, and wonder of childhood with this practical guide that provides all the information, inspiration, and advice you need for creating a modern, quality homeschool education.
Inspired by the spirit of Henry David Thoreau ("All good things are wild and free"), mother of five Ainsley Arment founded Wild + Free. This growing online community of mothers and families want their children to receive a quality education at home by challenging their intellectual abilities and nurturing their sense of curiosity, joy and awe – the essence of a positive childhood.
The homeschool approach of past generations is gone, including the stigma of socially awkward kids, conservative clothes, and a classroom setting replicated in the home. The Wild + Free movement is focused on a love of nature, reading great books, pursuing interests and hobbies, making the entire world a classroom, and prolonging the wonder of childhood, an appealing philosophy that is unpacked during this audiobook.
The Call of the Wild and Free offers advice, information, and positive encouragement for parents considering homeschooling, those currently in the trenches looking for inspiration, as well as parents, educators, and caregivers who want supplementary resources to enhance their kids' traditional educations.
---
E-learning Companion : A Student's Guide to Online Success by Ryan Watkins and Michael Corry
book
This text serves as a resource and quick-reference guide for any course that demands technology skills. E-LEARNING COMPANION shows students how to adapt previously mastered skills such as time management, note-taking, and critical thinking to the online environment. The text also serves as a bridge for students who may be familiar with technologies such as real-time chats, online discussion boards, and e-mail as recreational tools, but have not learned how to apply these in a learning environment. Students learn technical terminology and how to troubleshoot, which allows them to become more flexible and capable learners. The skills they gain will support them throughout college and their future careers. The Third Edition features thoroughly updated, expanded, and edited content to ensure that it remains relevant for today's college students.
---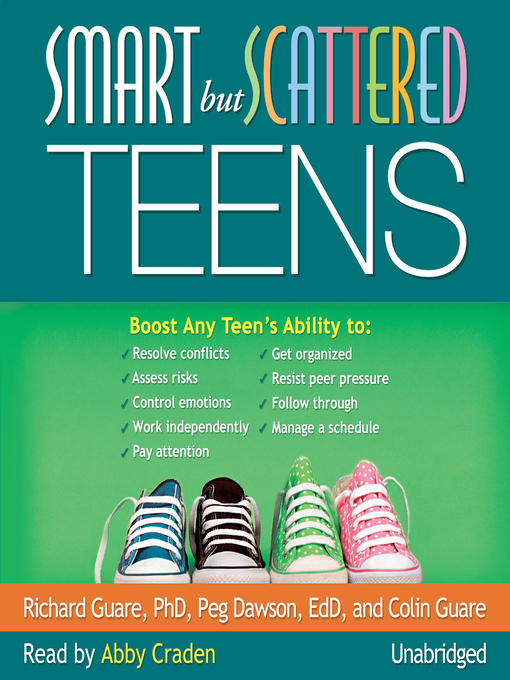 Smart but Scattered Teens by Richard Guare, PhD, Peg Dawson, EdD, and Colin Guare
OverDrive audiobook
Hoopla audiobook
"I told you, I'll do it later." "I forgot to turn in the stupid application." "Could you drive me to school? I missed the bus again." "I can't walk the dog. I have too much homework!" If you're the parent of a "smart but scattered" teen, trying to help him or her grow into a self-sufficient, responsible adult may feel like a never-ending battle. Now you have an alternative to micromanaging, cajoling, or ineffective punishments. This positive guide provides a science-based program for promoting teens' independence by building their executive skills, the fundamental brain-based abilities needed to get organized, stay focused, and control impulses and emotions. Executive skills experts Drs. Richard Guare and Peg Dawson are joined by Colin Guare, a young adult who has successfully faced these issues himself. Learn step-by-step strategies to help your teen live up to his or her potential now and in the future while making your relationship stronger.
---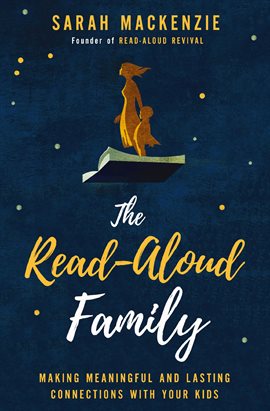 The Read-Aloud Family by Sarah Mackenzie
Making Meaningful and Lasting Connections with Your Kids
hoopla ebook
hoopla audiobook
Freading ebook
Connecting deeply with our kids can be difficult in our busy, technology-driven lives. Reading aloud offers us a chance to be fully present with our children. It also increases our kids' academic success, inspires compassion, and fortifies them with the inner strength they need to face life's challenges. As Sarah Mackenzie has found with her own six children, reading aloud long after kids are able to read to themselves can deepen relationships in a powerful way. Founder of the immensely popular Read-Aloud Revival podcast, Sarah knows first-hand how reading can change a child's life. In The Read-Aloud Family, she offers the inspiration and age-appropriate book lists you need to start a read-aloud movement in your own home. From a toddler's wonder to a teenager's resistance, Sarah details practical strategies to make reading aloud a meaningful family ritual. Reading aloud not only has the power to change a family. It has the power to change the world.
---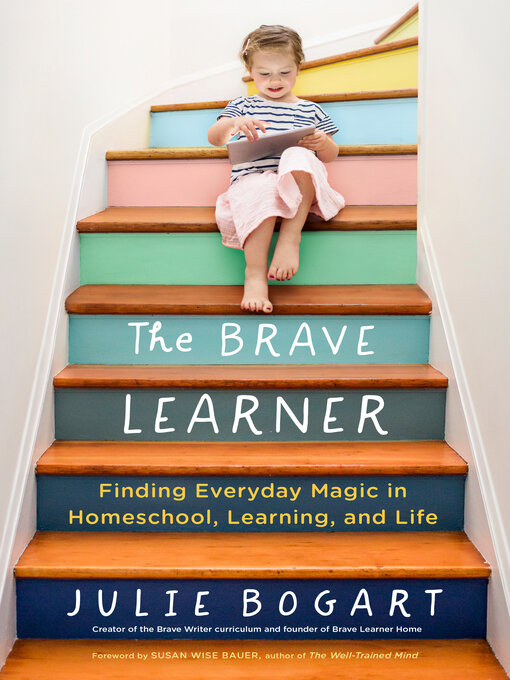 The Brave Learner by Julie Bogart
book
OverDrive ebook
Parents who are deeply invested in their children's education can be hard on themselves and their kids. When exhausted parents are living the day-to-day grind, it can seem impossible to muster enough energy to make learning fun or interesting. How do parents nurture a love of learning amid childhood chaos, parental self-doubt, the flu, and state academic standards?
In this book, Julie Bogart distills decades of experience—homeschooling her five now grown children, developing curricula, and training homeschooling families around the world—to show parents how to make education an exciting, even enchanting, experience for their kids, whether they're in elementary or high school.
Enchantment is about ease, not striving. Bogart shows parents how to make room for surprise, mystery, risk, and adventure in their family's routine, so they can create an environment that naturally moves learning forward. If a child wants to pick up a new hobby or explore a subject area that the parent knows little about, it's easy to simply say "no" to end the discussion and the parental discomfort, while dousing their child's curious spark. Bogart gently invites parents to model brave learning for their kids so they, too, can approach life with curiosity, joy, and the courage to take learning risks.
---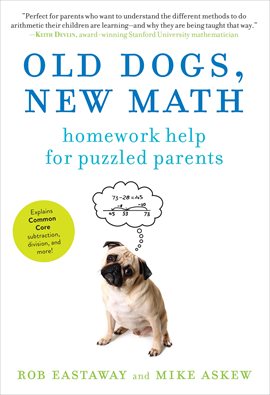 Old Dogs, New Math by Rob Eastaway and Mike Askew
Homework Help for Puzzled Parents
hoopla ebook
Freading ebook
"Can you help me with my math homework?" If, like most parents, this question fills you with a sense of dread (or even panic), then this is the book for you. So much for the good old days" when elementary students simply memorized their times tables and struggled through long division. Today, students are expected not just to find the right answer, but also to choose the best method for doing so and to explain why it works. On top of that, students are learning new strategies that look foreign to many parents: What are open number lines, decomposing and nets, and how do you multiply on a grid? If your attempts to help your child are met with "That's not how the teacher does it," then it's time to take the stress out of math homework. Old Dogs, New Math is your guide to: number lines, place value and negative numbers; long multiplication and division; fractions, percentages and decimals; shapes, symmetry and angles; data analysis, probability and chance. Complete with sample questions, examples of children's errors, and over 25 games and activities, Old Dogs, New Math will not only demystify math, but also help you and your child discover math all around you and have fun doing it!
---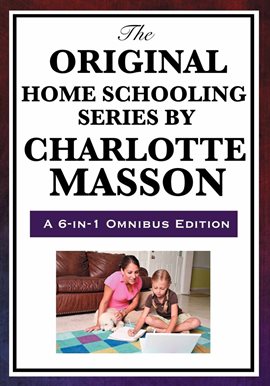 The Original Home School Series by Charlotte Mason
hoopla ebook
hoopla Charlote Mason ebook collection
This is the complete unabridged and authorized edition of the works of turn-of-the-century British educator Charlotte Mason, with a forward by Dr. John Thorley of The Charlotte Mason College. This six-volume set includes over 2400 pages on education, child training and parenting. Recognized as a pioneer in home education and major school reforms, Charlotte Mason's practical methods are as revolutionary today as when they were first written. These books were out of print for over 80 years until Dean & Karen Andreola brought them to America while returning from a mission trip in the spring of 1987. A Charlotte Mason educational revival soon followed. Charlotte Mason's writings reflect a lifetime of experience teaching children and training teachers. Her topics are meaty. Her ideas radiate brilliantly in the thoughts of those who take the time to ponder them. With each idea comes a practical how-to "for bringing up children within the educational life." The power of attention, moral character, the discipline of habit, safeguarding a child's curiosity, is a tiny peek at the topics presented. Although Miss Mason began writing in the 1880s, her principles still apply. Today's homeschool parents are seeing first-hand how wonderfully they work. After ten years of intense study and application of Miss Mason's principles with her own children, Karen Andreola wrote A Charlotte Mason Companion: Personal Reflections on the Gentle Art of Learning. Now today's parents can see what a Charlotte Mason education looks like in a contemporary setting while gleaning from its many benefits.
---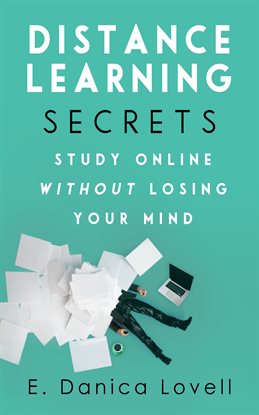 Distance Learning Secrets by E. Danica Lovell
hoopla ebook
If you're a working adult who's going back to school for the first time in years, you may be worried about trying to balance everything and keep up with your classmates.
This short, practical handbook covers everything you need to know about perfecting your approach to distance learning. From "to-don't" lists to stripped schedules, automation and a laser focus on which tasks to tackle first, effective time management is vital when you're undertaking an online education program. As an MBA graduate and a certified Project Management Professional (PMP), Lovell is a time management expert passionate about distance learning and productivity. In Distance Learning Secrets Lovell shares the insights she's developed throughout her career.
Whether you're a new or existing student, this book will make it easier than ever before to live your dreams and achieve your full potential.
---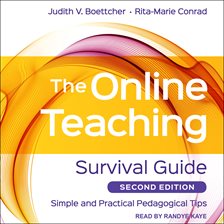 The Online Teaching Survival Guide : Simple and Practical Pedagogical Tips
book
hoopla audiobook
Covering all aspects of online teaching, this book reviews the latest research in cognitive processing and related learning outcomes while retaining a focus on the practical. A simple framework of instructional strategies mapped across a four-phase timeline provides a concrete starting point for both new online teachers and experienced teachers designing or revamping an online course. Essential technologies are explored in their basic and expanded forms, and traditional pedagogy serves as the foundation for tips and practices customized for online learning.
The theory and techniques of successful online teaching can be significantly different from those used face-to-face. With more and more classes being offered online, this book provides a valuable resource for taking your course to the next level.
• Understand the technology used in online teaching
• Learn specialized pedagogical tips and practices
• Examine new research on cognition and learning
• Adopt a clear framework of instructional strategies

The Online Teaching Survival Guide provides that essential resource, with a customizable framework and deeper exploration of effective online teaching.
---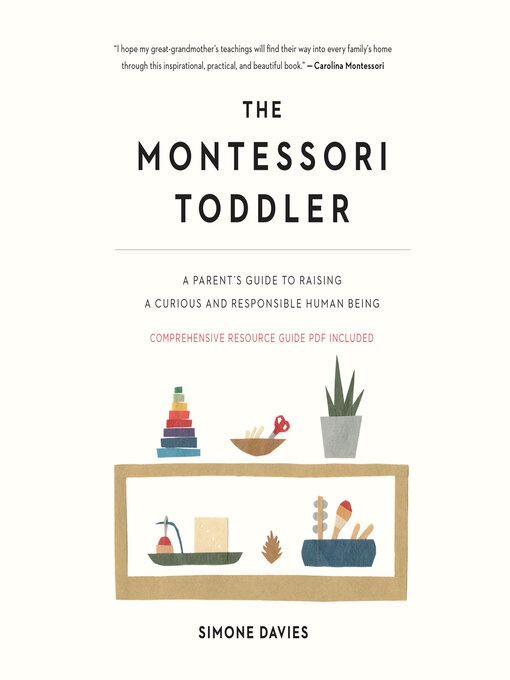 The Montessori Toddler : A Parent's Guide to Raising a Curious and Responsible Human Being by Simon Davies
book
OverDrive audiobook
hoopla ebook
hoopla audiobook
Freading ebook
It's time to change the way we see toddlers. Using the pedagogical principles developed by Dr. Maria Montessori, Simone Davies shows how to turn life with a "terrible two" into a mutually rich and rewarding time of curiosity, learning, respect, and discovery. With hundreds of practical ideas for every aspect of living with a toddler, you'll learn how to feed your child's natural curiosity while also cultivating daily routines, like brushing teeth, toilet-training, dealing with siblings, and losing the pacifier.
---
You, Your Child, and School: Navigate Your Way to the Best Education by Sir Ken Robinson, Phd, and Lou Aronica
book
An essential book for parents to help their children get the education they need to live happy, productive lives from The New York Times bestselling author of The Element and Creative Schools. Parents everywhere are deeply concerned about the education of their children, especially now, when education has become a minefield of politics and controversy. One of the world's most influential educators, Robinson has had countless conversations with parents about the dilemmas they face. As a parent, what should you look for in your children's education? How can you tell if their school is right for them, and what can you do if it isn't? In this important new book, he offers clear principles and practical advice on how to support your child through the K-12 education system, or outside it if you choose to homeschool or un-school. Dispelling many myths and tackling critical schooling options and controversies, You, Your Child, and School is a key book for parents to learn about the kind of education their children really need and what they can do to make sure they get it
---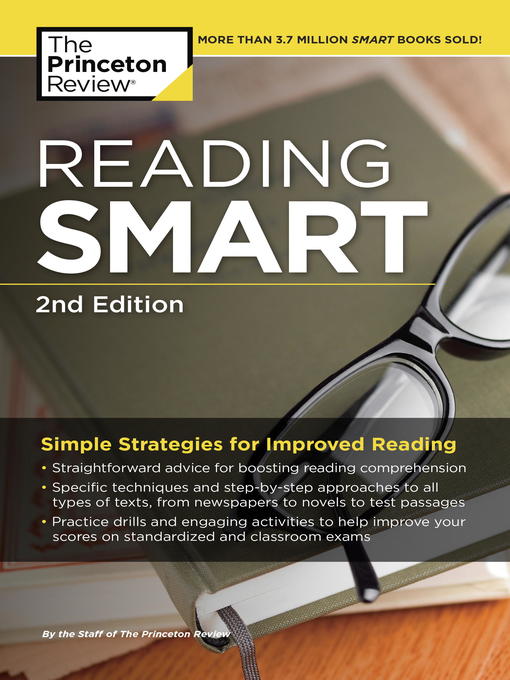 Reading Smart by Princeton Review
book
ebook
Being "good at reading" isn't just about speed. It's about being able to read through info, quickly sort out what's important, and draw useful connections. That's why we at The Princeton Review created Reading Smart, a book designed to help people who have a hard time keeping up with assignments, understanding novels, or even absorbing news articles. Reading Smart will give you the skills and strategies you need to read efficiently and build your confidence as both a reader and thinker.

Within Reading Smart, you'll find:
TECHNIQUES THAT ACTUALLY WORK.
• Straightforward advice for boosting reading comprehension
• Specific techniques and step-by-step approaches to all types of texts, from newspapers to novels to test passages
• Tips for pacing yourself to get the most out of what you read
• Comprehensive guidance on how to extract important information from passages, whether it's big-picture concepts or key details
PRACTICE YOUR WAY TO EXCELLENCE.
• Reading comprehension drills and exercises in every chapter to help improve your scores on standardized and classroom tests
• Sample passages to help you get comfortable with different kinds of texts
• Bonus online drills to help reinforce the reading skills and strategies covered in the book
---
500 AP Questions to Know by Test Day series 
biology
calculus AB/BC
chemistry
English language
English literature
environmental science
European history
human geography
microeconomics
physics I
physics B&C
psychology
U.S. government and politics
U.S. history
world history