Have your own personal horror-fest with these blood-chilling novels. Recommended by Cara Adams.
The Fireman by Joe Hill 
book
book on CD
hoopla ebook
hoopla audiobook
Freading ebook
From the award-winning, New York Times bestselling author of NOS4A2 and Heart-Shaped Box comes a chilling novel about a worldwide pandemic of spontaneous combustion that threatens to reduce civilization to ashes and a band of improbable heroes who battle to save it, led by one powerful and enigmatic man known as the Fireman. 
 
The fireman is coming. Stay cool. 
 
No one knows exactly when it began or where it originated. A terrifying new plague is spreading like wildfire across the country, striking cities one by one: Boston, Detroit, Seattle. The doctors call it Draco Incendia Trychophyton. To everyone else it's Dragonscale, a highly contagious, deadly spore that marks its hosts with beautiful black and gold marks across their bodies before causing them to burst into flames. Millions are infected; blazes erupt everywhere. There is no antidote. No one is safe. 
 
Harper Grayson, a compassionate, dedicated nurse as pragmatic as Mary Poppins, treated hundreds of infected patients before her hospital burned to the ground. Now she's discovered the telltale gold-flecked marks on her skin. When the outbreak first began, she and her husband, Jakob, had made a pact: they would take matters into their own hands if they became infected. To Jakob's dismay, Harper wants to live until the baby she is carrying comes to term. At the hospital, she witnessed infected mothers give birth to healthy babies and believes hers will be fine if she can live long enough to deliver the child. 
 
Convinced that his do-gooding wife has made him sick, Jakob becomes unhinged, and eventually abandons her as their placid New England community collapses in terror. The chaos gives rise to ruthless Cremation Squads – armed, self-appointed posses roaming the streets and woods to exterminate those who they believe carry the spore. But Harper isn't as alone as she fears: a mysterious and compelling stranger she briefly met at the hospital, a man in a dirty yellow fire fighter's jacket, carrying a hooked iron bar, straddles the abyss between insanity and death. Known as The Fireman, he strolls the ruins of New Hampshire, a madman afflicted with Dragonscale who has learned to control the fire within himself, using it as a shield to protect the hunted and as a weapon to avenge the wronged. 
 
In the desperate season to come, as the world burns out of control, Harper must learn the Fireman's secrets before her life, and that of her unborn child, goes up in smoke. 
---
The House on Cold Hill by Peter James 
hoopla ebook 
Freading ebook
Ollie and Caro Harcourt are moving house with their twelve-year-old daughter Jade. Ollie is desperate to leave the city. Caro is less sure. Then they view Cold Hill House, a dilapidated rural mansion, and fall instantly in love. It's expensive, but with its space, seclusion and huge grounds it seems like a brilliant idea. That is, until they arrive. 
 
It soon becomes apparent that they are not alone. A spectral woman appears on screens and walks the corridors, vanishing before she can be challenged. Strange occurrences become ever more common. Then Caro starts seeing faces, always looking out of the same upstairs window. The room behind it could hold the key to the disturbing secret behind the house's mysterious past. Except for the fact that the room doesn't seem to exist.
---
The Southern Book Club's Guide to Slaying Vampires by Grady Hendrix 
book
OverDrive ebook 
Steel Magnolias meets Dracula in this '90s-set horror novel about a women's book club that must do battle with a mysterious newcomer to their small Southern town.
 
Patricia Campbell's life has never felt smaller. Her husband is a workaholic, her teenage kids have their own lives, her senile mother-in-law needs constant care, and she's always a step behind on her endless to-do list. The only thing keeping her sane is her book club, a close-knit group of Charleston women united by their love of true crime. At these meetings they're as likely to talk about the Manson family as they are about their own families. 
One evening after book club, Patricia is viciously attacked by an elderly neighbor, bringing the neighbor's handsome nephew, James Harris, into her life. James is well traveled and well read, and he makes Patricia feel things she hasn't felt in years. But when children on the other side of town go missing, their deaths written off by local police, Patricia has reason to believe James Harris is more of a Bundy than a Brad Pitt. The real problem? James is a monster of a different kind and Patricia has already invited him in. 
 
Little by little, James will insinuate himself into Patricia's life and try to take everything she took for granted—including the book club—but she won't surrender without a fight in this blood-soaked tale of neighborly kindness gone wrong. 
---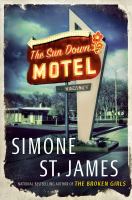 The Sun Down Motel by Simone St. James  
book
large print
OverDrive ebook 
Something hasn't been right at the roadside Sun Down Motel for a very long time, and Carly Kirk is about to find out why in this chilling new novel from the New York Times bestselling and award-winning author of The Broken Girls.
Upstate New York, 1982. Viv Delaney wants to move to New York City, and to help pay for it she takes a job as the night clerk at the Sun Down Motel in Fell, New York. But something isn't right at the motel, something haunting and scary.
Upstate New York, 2017. Carly Kirk has never been able to let go of the story of her aunt Viv, who mysteriously disappeared from the Sun Down before she was born. She decides to move to Fell and visit the motel, where she quickly learns that nothing has changed since 1982. And she soon finds herself ensnared in the same mysteries that claimed her aunt. 
---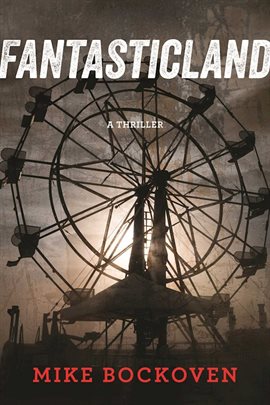 FantasticLand by Mike Bockoven 
hoopla ebook 
Since the 1970s, FantasticLand has been the theme park where "Fun is Guaranteed!" But when a hurricane ravages the Florida coast and isolates the park, the employees find it anything but fun. Five weeks later, the authorities who rescue the survivors encounter a scene of horror. Photos soon emerge online of heads on spikes outside of rides and viscera and human bones littering the gift shops, breaking records for hits, views, likes, clicks, and shares. How could a group of survivors, mostly teenagers, commit such terrible acts? 
 
Presented as a fact-finding investigation and a series of first-person interviews, FantasticLand pieces together a grisly series of events. Park policy was that the mostly college-aged employees surrender their electronic devices to preserve the authenticity of the FantasticLand experience. Cut off from the world and left on their own, the teenagers soon form rival tribes who viciously compete for food, medicine, social dominance, and even human flesh. This new social network divides the ravaged dreamland into territories ruled by the Pirates, the ShopGirls, the Freaks, and the Mole People. If meticulously curated online personas can replace private identities, what takes over when those constructs are lost?
FantasticLand is a modern take on Lord of the Flies meets Battle Royale that probes the consequences of a social civilization built online. 
---
Disappearance At Devil's Rock by Paul Tremblay 
book
large print book
book on CD
hoopla ebook 
hoopla audiobook
Freading book
A family is shaken to its core after the mysterious disappearance of a teenage boy in this eerie tale, a blend of literary fiction, psychological suspense, and supernatural horror from the author of A Head Full of Ghosts. Now, Tremblay returns with another disturbing tale sure to unsettle readers.
Late one summer night, Elizabeth Sanderson receives the devastating news that every mother fears: her thirteen-year-old son, Tommy, has vanished without a trace in the woods of a local park. The search isn't yielding any answers, and Elizabeth and her young daughter, Kate, struggle to comprehend Tommy's disappearance. Feeling helpless and alone, their sorrow is compounded by anger and frustration: the local and state police have uncovered no leads. Josh and Luis, the friends who were the last to see Tommy before he vanished, may not be telling the whole truth about that night in Borderland State Park, when they were supposedly hanging out at a landmark the local teens have renamed Devil's Rock.
Living in an all-too-real nightmare, riddled with worry, pain, and guilt, Elizabeth is wholly unprepared for the strange series of events that follow. She believes a ghostly shadow of Tommy materializes in her bedroom, while Kate and other local residents claim to see a shadow peering through their windows in the dead of night. Then, random pages torn from Tommy's journal begin to mysteriously appear, entries that reveal an introverted teenager obsessed with the phantasmagoric; the loss of his father, killed in a drunk-driving accident a decade earlier; a folktale involving the devil and the woods of Borderland; and a horrific incident that Tommy believed connects them.
As the search grows more desperate, and the implications of what happened become more haunting and sinister, no one is prepared for the shocking truth about that night and Tommy's disappearance at Devil's Rock. 
---
The Glass Hotel by Emily St. John Mandel 
book
large print book
OverDrive ebook
OverDrive audiobook
From the award-winning author of Station Eleven, an exhilarating novel set at the glittering intersection of two seemingly disparate events: a massive Ponzi scheme collapse and the mysterious disappearance of a woman from a ship at sea.
Vincent is a bartender at the Hotel Caiette, a five-star lodging on the northernmost tip of Vancouver Island. On the night she meets Jonathan Alkaitis, a hooded figure scrawls a message on the lobby's glass wall: "Why don't you swallow broken glass." High above Manhattan, a greater crime is committed. Alkaitis is running an international Ponzi scheme, moving imaginary sums of money through clients' accounts. When the financial empire collapses, it obliterates countless fortunes and devastates lives. Vincent, who had been posing as Jonathan's wife, walks away into the night. Years later, a victim of the fraud is hired to investigate a strange occurrence: a woman has seemingly vanished from the deck of a container ship between ports of call.
In this captivating story of crisis and survival, Emily St. John Mandel takes readers through often hidden landscapes: campgrounds for the near-homeless, underground electronica clubs, the business of international shipping, service in luxury hotels, and life in a federal prison. Rife with unexpected beauty, The Glass Hotel is a captivating portrait of greed and guilt, love and delusion, ghosts and unintended consequences, and the infinite ways we search for meaning in our lives. 
---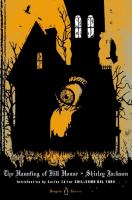 The Haunting of Hill House by Shirley Jackson 
book, book
OverDrive ebook
OverDrive audiobook 
First published in 1959, Shirley Jackson's The Haunting of Hill House has been hailed as a perfect work of unnerving terror. It is the story of four seekers who arrive at a notoriously unfriendly pile called Hill House: Dr. Montague, an occult scholar looking for solid evidence of a "haunting"; Theodora, his lighthearted assistant; Eleanor, a friendless, fragile young woman well acquainted with poltergeists; and Luke, the future heir of Hill House. At first, their stay seems destined to be merely a spooky encounter with inexplicable phenomena. But Hill House is gathering its powers—and soon it will choose one of them to make its own. 
---
Day 362 by Mark D. Campbell 
hoopla ebook 
A sudden apocalyptic event strikes the United States of America and catches the highest levels of government completely off-guard. The president and his best men are rushed deep inside a top secret White House bunker to ride out the storm underground. As the weeks turn into months, will the president and his men be able to maintain their own sense of humanity? Or will they each fall victim to their own animalistic natures? 
---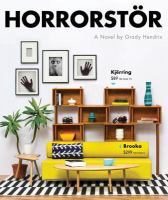 Horrorstor: A Novel by Grady Hendrix
OverDrive ebook
From the New York Times best-selling author of The Southern Book Club's Guide to Slaying Vampires comes a hilarious and terrifying haunted house story in a thoroughly contemporary setting: a furniture superstore.
Something strange is happening at the Orsk furniture superstore in Cleveland, Ohio. Every morning, employees arrive to find broken Kjerring bookshelves, shattered Glans water goblets, and smashed Liripip wardrobes. Sales are down, security cameras reveal nothing, and store managers are panicking.
To unravel the mystery, three employees volunteer to work a nine-hour dusk-till-dawn shift. In the dead of the night, they'll patrol the empty showroom floor, investigate strange sights and sounds, and encounter horrors that defy the imagination.