The second in a series of lists highlighting titles by people of color, these choices from our young adult collections will appeal to adults as well as teens. Recommended by Samantha Matherne.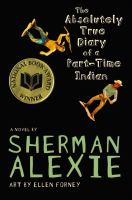 The Absolutely True Diary of a Part-Time Indian by Sherman Alexie
book
book on CD
OverDrive book
Bestselling author Sherman Alexie tells the story of Junior, a budding cartoonist growing up on the Spokane Indian Reservation. Determined to take his future into his own hands, Junior leaves his troubled school on the rez to attend an all-white farm town high school where the only other Indian is the school mascot.
Heartbreaking, funny, and beautifully written, The Absolutely True Diary of a Part-Time Indian, which is based on the author's own experiences, coupled with poignant drawings by Ellen Forney that reflect the character's art, chronicles the contemporary adolescence of one Native American boy as he attempts to break away from the life he was destined to live.
---
Superman: Dawnbreaker by Matt de la Peña
book
OverDrive book
OverDrive audiobook
When the dawn breaks, a hero rises. His power is beyond imagining.
Clark Kent has always been faster, stronger, better than everyone around him. But he wasn't raised to show off, and drawing attention to himself could be dangerous. Plus, it's not like he's earned his powers . . . yet.
But power comes with a price. Lately it's difficult to hold back and keep his heroics in the shadows. When Clark follows the sound of a girl crying, he comes across Gloria Alvarez and discovers a dark secret lurking in Smallville. Turns out, Clark's not the only one hiding something. Teaming up with his best friend, Lana Lang, he throws himself into the pursuit of the truth. What evil lies below the surface of his small town? And what will it cost Clark to learn about his past as he steps into the light to become the future Man of Steel? Because before he can save the world, he must save Smallville.
---
Give Me Some Truth by Eric Gansworth
book
hoopla audiobook
A powerful new book from Eric Gansworth, author of If I Ever Get Out of Here, that speaks the truth on race, relationships, and rock from two unforgettable perspectives.
Carson Mastick is entering his senior year of high school and is desperate to make his mark, on the reservation and off. A rock band — and winning the local Battle of the Bands, with its first prize of a trip to New York City — is his best shot. But things keep getting in the way. Small matters, like the lack of an actual band, or the fact that his brother just got shot confronting the racist owner of a local restaurant. Maggi Bokoni has just moved back to the reservation from the city with her family. She's dying to stop making the same traditional artwork her family sells to tourists (conceptual stuff is cooler), stop feeling out of place in her new (old) home, and stop being treated like a child. She might like to fall in love for the first time too. Carson and Maggi, along with their friend Lewis, will navigate loud protests, even louder music, and first love in this stirring novel about coming together in a world defined by difference.
---
Dread Nation by Justina Ireland
book
hoopla ebook
hoopla audiobook
Jane McKeene was born two days before the dead began to walk the battlefields of Civil War-era America — derailing the War Between the States and changing the nation forever. In this new nation, safety for all depends on the work of a few, and laws like the Native and Negro Re-education Act require certain children to attend combat schools to learn to put down the dead. But there are also opportunities, and Jane is studying to become an Attendant, trained in both weaponry and etiquette to protect the well-to-do. It's a chance for a better life for Negro girls like Jane. After all, not even being the daughter of a wealthy white Southern woman could save her from society's expectations.
But that's not a life Jane wants. Almost finished with her education at Miss Preston's School of Combat in Baltimore, Jane is set on returning to her Kentucky home and doesn't pay much mind to the politics of the eastern cities, with their talk of returning America to the glory of its days before the dead rose. But when families around Baltimore County begin to go missing, Jane is caught in the middle of a conspiracy, one that finds her in a desperate fight for her life against some powerful enemies. And the restless dead, it would seem, are the least of her problems.
At once provocative, terrifying, and darkly subversive, Dread Nation is Justina Ireland's stunning vision of an America both foreign and familiar — a country on the brink, at the explosive crossroads where race, humanity, and survival meet.
---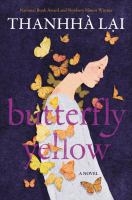 Butterfly Yellow by Thanhha Lai
book
hoopla audiobook
Perfect for fans of Elizabeth Acevedo, Ibi Zoboi, and Erika L. Sanchez, this gorgeously written and deeply moving own voices novel is the YA debut from the award-winning author of Inside Out & Back Again.
In the final days of the Việt Nam War, Hằng takes her little brother, Linh, to the airport, determined to find a way to safety in America. In a split second, Linh is ripped from her arms, and Hằng is left behind in the war-torn country.
Six years later, Hằng has made the brutal journey from Việt Nam and is now in Texas as a refugee. She doesn't know how she will find the little brother who was taken from her until she meets LeeRoy, a city boy with big rodeo dreams, who decides to help her.
Hằng is overjoyed when she reunites with Linh. But when she realizes he doesn't remember her, their family, or Việt Nam, her heart is crushed. Though the distance between them feels greater than ever, Hằng has come so far that she will do anything to bridge the gap.
---
The Library of Lost Things by Laura Taylor Namey
book
hoopla audiobook
She'll read a thousand happy endings before she finds her own.
From the moment she first learned to read, literary genius Darcy Wells has spent most of her time living in the worlds of her books. There, she can avoid the crushing reality of her mother's hoarding and pretend her life is simply ordinary. But when a new property manager becomes more active in the upkeep of their apartment complex, the only home Darcy has ever known outside of her books suddenly hangs in the balance.
While Darcy is struggling to survive beneath the weight of her mother's compulsive shopping, Asher Fleet, a former teen pilot with an unexpectedly shattered future, walks into the bookstore where she works and straight into her heart. For the first time in her life, Darcy can't seem to find the right words. Fairy tales are one thing, but real love makes her want to hide inside her carefully constructed ink-and-paper bomb shelter.
Still, after spending her whole life keeping people out, something about Asher makes Darcy want to open up. But securing her own happily-ever-after will mean she'll need to stop hiding and start living her own truth, even if it's messy.
---
The Astonishing Color of After by Emily X. R. Pan
Book
Leigh Chen Sanders is absolutely certain about one thing: When her mother died by suicide, she turned into a bird. Leigh, who is half Asian and half white, travels to Taiwan to meet her maternal grandparents for the first time. There, she is determined to find her mother, the bird. In her search, she winds up chasing after ghosts, uncovering family secrets, and forging a new relationship with her grandparents. And as she grieves, she must try to reconcile the fact that on the same day she kissed her best friend and longtime secret crush, Axel, her mother was taking her own life. Alternating between real and magic, past and present, friendship and romance, hope and despair, The Astonishing Color of After is a stunning and heartbreaking novel about finding oneself through family history, art, grief, and love.
---
Tantalize by Cynthia Leitich Smith
book
hoopla ebook
Quincie Morris has never felt more alone. Her parents are dead, and her hybrid-werewolf first love is threatening to embark on a rite of passage that will separate them forever. Then, as she and her uncle are about to unveil their hot vampire-themed restaurant, a brutal murder leaves them scrambling for a chef. Can Quincie transform their new hire into a culinary Dark Lord before opening night? Can he wow the crowd in his fake fangs, cheap cape, and red contact lenses – or is there more to this earnest face than meets the eye? As human and preternatural forces clash, a deadly love triangle forms, and the line between predator and prey begins to blur. Who's playing whom? And how long can Quincie play along before she loses everything? Tantalize marks Cynthia Leitich Smith's delicious debut as a preeminent author of dark fantasy.
---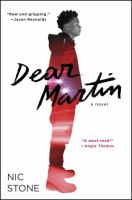 Dear Martin by Nic Stone
book
OverDrive book
Justyce McAllister is top of his class, captain of the debate team, and set for the Ivy League next year, but none of that matters to the police officer who just put him in handcuffs. He is eventually released without charges (or an apology), but the incident has Justyce spooked. Despite leaving his rough neighborhood, he can't seem to escape the scorn of his former peers or the attitude of his prep school classmates. The only exception: Sarah Jane, Justyce's gorgeous (and white) debate partner he wishes he didn't have a thing for.
Struggling to cope with it all, Justyce starts a journal to Dr. Martin Luther King Jr. But do Dr. King's teachings hold up in the modern world? Justyce isn't so sure.
Then comes the day Justyce goes driving with his best friend, Manny, windows rolled down, music turned up. Way up. Much to the fury of the white off-duty cop beside them. Words fly. Shots are fired. And Justyce and Manny get caught in the crosshairs. In that media fallout, it's Justyce who is under attack. The truth of what happened that night — some would kill to know. Justyce is dying to forget.
---
Disappeared by Francisco X. Stork
book
hoopla audiobook
A missing girl, a determined reporter, and a young man on the brink combine for a powerful story of choices, suspense, and survival.
Four months ago Sara Zapata's best friend, Linda, disappeared from the streets of Juarez, and ever since Sara has been using her job as a reporter to draw attention to the girls who have been kidnapped by the criminals who control the city. But now she and her family are being threatened. Meanwhile her younger brother, Emiliano, is being lured into the narcotics business by the promise of big money. Soon, the only way for both of them to escape is to risk the dangerous trek across the desert to the United States border.
---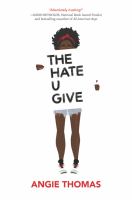 The Hate U Give by Angie Thomas
book
OverDrive book
OverDrive audiobook
DVD
Movie soundtrack
The Hate U Give is a groundbreaking, thought-provoking debut novel inspired by the Black Lives Matter movement, about a teen girl who is the only witness to her friend's fatal shooting by a police officer.
Sixteen-year-old Starr Carter moves between two worlds: the poor neighborhood where she lives and the fancy suburban prep school she attends. The uneasy balance between these worlds is shattered when Starr witnesses the fatal shooting of her childhood best friend Khalil at the hands of a police officer. Khalil was unarmed.
Soon afterward, his death is a national headline. Some are calling him a thug, maybe even a drug dealer and a gangbanger. Protesters are taking to the streets in Khalil's name. Some cops and the local drug lord try to intimidate Starr and her family. What everyone wants to know is: what really went down that night? And the only person alive who can answer that is Starr.
But what Starr does–or does not–say could upend her community. It could also endanger her life.
---
The Wrath & the Dawn by Renée Ahdieh
book
OverDrive book
A sumptuous and epically told love story inspired by A Thousand and One Nights.
Every dawn brings horror to a different family in a land ruled by a killer. Khalid, the eighteen-year-old Caliph of Khorasan, takes a new bride each night only to have her executed at sunrise. So it is a suspicious surprise when sixteen-year-old Shahrzad volunteers to marry Khalid. But she does so with a clever plan to stay alive and exact revenge on the Caliph for the murder of her best friend and countless other girls. Shazi's wit and will, indeed, get her through to the dawn that no others have seen, but with a catch. She's falling in love with the very boy who killed her dearest friend.
She discovers that the murderous boy-king is not all that he seems and neither are the deaths of so many girls. Shazi is determined to uncover the reason for the murders and to break the cycle once and for all.