Journalists and authors hunt down the truth in these true crime thrillers. Recommended by Samantha Matherne.
The Ghosts of Eden Park: The Bootleg King, the Women Who Pursued Him, and the Murder That Shocked Jazz-Age America by Karen Abbott
book
The epic true crime story of bootlegger George Remus and the murder that shocked the nation, from the New York Times bestselling author of Sin in the Second City and Liar, Temptress, Soldier, Spy. In the early days of Prohibition, long before Al Capone became a household name, a German immigrant named George Remus quits practicing law and starts trafficking whiskey. Within two years he's a multi-millionaire. The press calls him "King of the Bootleggers," writing breathless stories about the Gatsby-esque events he and his glamorous second wife, Imogene, host at their Cincinnati mansion, with party favors ranging from diamond jewelry for the men to brand-new Pontiacs for the women. By the summer of 1921, Remus owns 35 percent of all the liquor in the United States. Pioneering prosecutor Mabel Walker Willebrandt is determined to bring him down.
Willebrandt's bosses at the U.S. Attorney's office hired her right out of law school, assuming she'd pose no real threat to the cozy relationship they maintain with Remus. Eager to prove them wrong, she dispatches her best investigator, Franklin Dodge, to look into his empire. It's a decision with deadly consequences: with Remus behind bars, Franklin and Imogene begin an affair and plot to ruin him, sparking a bitter feud that soon reaches the highest levels of government–and that can only end in murder. Combining deep historical research with novelistic flair, The Ghosts of Eden Park is the unforgettable, stranger-than-fiction story of a rags-to-riches entrepreneur and a long-forgotten heroine, of the excesses and absurdities of the Jazz Age, and of the infinite human capacity to deceive"
---
Murder in the Bayou: Who Killed the Jeff Davis 8? by Ethan Brown
book
OverDrive ebook
"Part murder case, part corruption expos, and part Louisiana noir" (New York magazine), Murder in the Bayou chronicles the twists and turns of a high-stakes investigation into the murders of eight women in a troubled Louisiana parish.
Between 2005 and 2009, the bodies of eight women were discovered around the murky canals and crawfish ponds of Jennings, Louisiana, a bayou town of 10,000 in the heart of Jefferson Davis parish. The women came to be known as the Jeff Davis 8, and local law enforcement officials were quick to pursue a serial killer theory, opening a floodgate of media coverage and stirring a wave of panic across Jennings' class-divided neighborhoods. The Jeff Davis 8 had been among society's most vulnerable–impoverished, abused, and mired with mental illness. They engaged in sex work as a means of survival. And their underworld activity frequently occurred at a decrepit no-tell motel called the Boudreaux Inn.
As the cases went unsolved, the community began to look inward. Rumors of police corruption and evidence tampering, of collusion between street and shield, cast the serial killer theory into doubt. But what was really going on in the humid rooms of the Boudreaux Inn? Why were crimes going unsolved and police officers being indicted? What had the eight women known? And could anything be done do stop the bloodshed?
Mixing muckraking research and immersive journalism over the course of a five-year investigation, Ethan Brown reviewed thousands of pages of previously unseen homicide files to posit what happened during each victim's final hours.
---
Chase Darkness with Me: How One True-Crime Writer Started Solving Murders by Billy Jensen
hoopla ebook
Freading ebook
Have you ever wanted to solve a murder? Gather the clues the police overlooked? Put together the pieces? Identify the suspect?
Journalist Billy Jensen spent fifteen years investigating unsolved murders, fighting for the families of victims. Every story he wrote had one thing in common – they didn't have an ending. The killer was still out there.
But after the sudden death of a friend, crime writer and author of I'll Be Gone in the Dark, Michelle McNamara, Billy became fed up. Following a dark night, he came up with a plan. A plan to investigate past the point when the cops had given up. A plan to solve the murders himself.

You'll ride shotgun as Billy identifies the Halloween Mask Murderer, finds a missing girl in the California Redwoods, and investigates the only other murder in New York City on 9/11. You'll hear intimate details of the hunts for two of the most terrifying serial killers in history: his friend Michelle McNamara's pursuit of the Golden State Killer and his own quest to find the murderer of the Allenstown Four. And Billy gives you the tools and the rules to help solve murders yourself.

Gripping, complex, unforgettable, Chase Darkness with Me is an examination of the evil forces that walk among us, illustrating a novel way to catch those killers, and a true-crime narrative unlike any you've read before.
---
Say Nothing: A True Story of Murder and Memory in Northern Ireland by Patrick Radden Keefe
book
OverDrive ebook
OverDrive audiobook
In December 1972, Jean McConville, a thirty-eight-year-old mother of ten, was dragged from her Belfast home by masked intruders, her children clinging to her legs. They never saw her again. Her abduction was one of the most notorious episodes of the vicious conflict known as The Troubles. Everyone in the neighborhood knew the I.R.A. was responsible. But in a climate of fear and paranoia, no one would speak of it. In 2003, five years after an accord brought an uneasy peace to Northern Ireland, a set of human bones was discovered on a beach. McConville's children knew it was their mother when they were told a blue safety pin was attached to the dress—with so many kids, she had always kept it handy for diapers or ripped clothes.
Patrick Radden Keefe's mesmerizing book on the bitter conflict in Northern Ireland and its aftermath uses the McConville case as a starting point for the tale of a society wracked by a violent guerrilla war, a war whose consequences have never been reckoned with. The brutal violence seared not only people like the McConville children, but also I.R.A. members embittered by a peace that fell far short of the goal of a united Ireland, and left them wondering whether the killings they committed were not justified acts of war, but simple murders. From radical and impetuous I.R.A. terrorists such as Dolours Price, who, when she was barely out of her teens, was already planting bombs in London and targeting informers for execution, to the ferocious I.R.A. mastermind known as The Dark, to the spy games and dirty schemes of the British Army, to Gerry Adams, who negotiated the peace but betrayed his hardcore comrades by denying his I.R.A. past—Say Nothing conjures a world of passion, betrayal, vengeance, and anguish.
---
Lost Girls: An Unsolved American Mystery by Robert Kolker
hoopla ebook
hoopla audiobook
Freading ebook
The bestselling account of the lives of five young women whose fates converged in the perplexing case of the Long Island Serial Killer. Now updated, with a new epilogue by the author.

One late spring evening in 2010, Shannan Gilbert, after running through the oceanfront community of Oak Beach screaming for her life, went missing. No one who had heard of her disappearance thought much about what had happened to the twenty-four-year-old: she was a Craigslist escort who had been fleeing a scene – of what, no one could be sure. The Suffolk County police, too, seemed to have paid little attention-until seven months later, when an unexpected discovery in a bramble alongside a nearby highway turned up four bodies, all evenly spaced, all wrapped in burlap. But none of them Shannan's.
There was Maureen Brainard-Barnes, last seen at Penn Station in Manhattan three years earlier, and Melissa Barthelemy, last seen in the Bronx in 2009. There was Megan Waterman, last seen leaving a hotel in Hauppauge, Long Island, just a month after Shannon's disappearance in 2010, and Amber Lynn Costello, last seen leaving a house in West Babylon a few months later that same year. Like Shannan, all four women were petite, in their twenties, and had come from out of town to work as escorts, and they all had advertised on Craigslist and its competitor, Backpage.

Lost Girls is a portrait of unsolved murders in an idyllic part of America, of the underside of the Internet, and of the secrets we keep without admitting to ourselves that we keep them. Long considered "one of the best true-crime books of all time" (Time), this edition includes a new epilogue that speaks to developments in the case, including the shocking fate of Mari Gilbert, Shannan's mother, for whom this case became the crusade of a lifetime.
---
The Devil in the White City: Murder, Magic, and Madness at the Fair that Changed America by Erik Larson
book
book on CD (abridged)
OverDrive ebook
OverDrive audiobook
In The Devil in the White City, the smoke, romance, and mystery of the Gilded Age come alive as never before.
Two men, each handsome and unusually adept at his chosen work, embodied an element of the great dynamic that characterized America's rush toward the twentieth century. The architect was Daniel Hudson Burnham, the fair's brilliant director of works and the builder of many of the country's most important structures, including the Flatiron Building in New York and Union Station in Washington, D.C. The murderer was Henry H. Holmes, a young doctor who, in a malign parody of the White City, built his "World's Fair Hotel" just west of the fairgrounds—a torture palace complete with dissection table, gas chamber, and 3,000-degree crematorium.

Burnham overcame tremendous obstacles and tragedies as he organized the talents of Frederick Law Olmsted, Charles McKim, Louis Sullivan, and others to transform swampy Jackson Park into the White City, while Holmes used the attraction of the great fair and his own charms to lure scores of young women to their deaths. What makes the story all the more chilling is that Holmes really lived, walking the grounds of that dream city by the lake.
The Devil in the White City draws the reader into a time of magic and majesty, made all the more appealing by a supporting cast of real-life characters, including Buffalo Bill, Theodore Dreiser, Susan B. Anthony, Thomas Edison, Archduke Francis Ferdinand, and others. Erik Larson's gifts as a storyteller are magnificently displayed in this rich narrative of the master builder, the killer, and the great fair that obsessed them both.
---
I'll Be Gone in the Dark: One Woman's Obsessive Search for the Golden State Killer by Michelle McNamara
book
hoopla ebook
hoopla audiobook
OverDrive ebook
OverDrive audiobook
Freading ebook
For more than ten years, a mysterious and violent predator committed fifty sexual assaults in Northern California before moving south, where he perpetrated ten sadistic murders. Then he disappeared, eluding capture by multiple police forces and some of the best detectives in the area.
Three decades later, Michelle McNamara, a true crime journalist, who created the popular website TrueCrimeDiary.com, was determined to find the violent psychopath she called "the Golden State Killer." Michelle pored over police reports, interviewed victims, and embedded herself in the online communities that were as obsessed with the case as she was.
I'll Be Gone in the Dark—the masterpiece McNamara was writing at the time of her sudden death—offers an atmospheric snapshot of a moment in American history and a chilling account of a criminal mastermind and the wreckage he left behind. It is also a portrait of a woman's obsession and her unflagging pursuit of the truth. Utterly original and compelling, it has been hailed as a modern true crime classic—one which fulfilled Michelle's dream: helping unmask the Golden State Killer.
---
The Girls of Murder City: Fame, Lust, and the Beautiful Killers Who Inspired Chicago by Douglas Perry
book
hoopla audiobook
Chicago, 1924. There was nothing surprising about men turning up dead in the Second City. Life was cheaper than a quart of illicit gin in the gangland capital of the world. But two murders that spring were special – worthy of celebration. So believed Maurine Watkins, a wanna-be playwright and a "girl reporter" for the Chicago Tribune, the city's "hanging paper." Newspaperwomen were supposed to write about clubs, cooking, and clothes, but the intrepid Miss Watkins, a minister's daughter from a small town, zeroed in on murderers instead. Looking for subjects to turn into a play, she would make "Stylish Belva" Gaertner and "Beautiful Beulah" Annan – both of whom had brazenly shot down their lovers – the talk of the town. Love-struck men sent flowers to the jail, and newly emancipated women sent impassioned letters to the newspapers. Soon more than a dozen women preened and strutted on "Murderesses' Row" as they awaited trial, desperate for the same attention that was being lavished on Maurine Watkins's favorites.
In the tradition of Erik Larson's The Devil in the White City and Karen Abbott's Sin in the Second City, Douglas Perry vividly captures Jazz Age Chicago and the sensationalized circus atmosphere that gave rise to the concept of the celebrity criminal. Fueled by rich period detail and enlivened by a cast of characters who seemed destined for the stage, The Girls of Murder City is crackling social history that simultaneously presents the freewheeling spirit of the age and its sober repercussions.
---
The Stranger Beside Me by Ann Rule
book (2018 ed.)
book (2009 ed.)
hoopla audiobook (abridged)
OverDrive audiobook
hoopla movie
Meeting in 1971 at a Seattle crisis clinic, Ann Rule and Ted Bundy developed a friendship and correspondence that would span the rest of his life. Rule had no idea that when they went their separate ways, their paths would cross again under shocking circumstances.
The Stranger Beside Me is Rule's compelling firsthand account of not just her relationship with Bundy, but also his life — from his complicated childhood to the media circus of his trials. Astonishing in its intimacy and with Rule's clear-eyed prose, you can't help but share in her growing horror at discovering that her friend was one of the most notorious American serial killers.
An unforgettable and haunting work of research, journalism, and personal memories, The Stranger Beside Me is "as dramatic and chilling as a bedroom window shattering at midnight" (The New York Times).
---
A Tangled Web: A Cyberstalker, a Deadly Obsession, and the Twisting Path to Justice by Leslie Rule
hoopla ebook
hoopla audiobook
In the tradition of her acclaimed mother, Ann Rule, author of The Stranger Beside Me, bestselling author Leslie Rule delivers a riveting true story for our time as she exposes the years-long trail of a sadistic sociopath, identity thief, and killer at the dark heart of a real-life fatal attraction.

It was a bleak November in 2012 when Cari Lea Farver vanished from Omaha, Nebraska. Cari, thirty-seven, was a devoted mother, reliable employee, and loyal friend — not the type to shirk responsibilities, abandon her son, and run off on an adventure while her dying father took his last breaths. Yet, the many texts from her phone indicated she had done just that.

It appeared that Cari had dumped her new boyfriend, quit her job, and relinquished custody of her son to her mother — all by text. While Cari's boyfriend, Dave Kroupa, and her supervisor were bewildered by her abrupt disappearance, they accepted the texts at face value. Her mother, Nancy Raney, however, was alarmed and reported Cari missing. Police were skeptical of her claims that a cyber-impostor had commandeered her daughter's phone and online identity.

While Nancy was afraid for Cari, Dave Kroupa was growing afraid of her, for he believed Cari was stalking him. Never seen or heard, the stalker was aware of his every move and seemed obsessed with his casual girlfriend, Shanna "Liz" Golyar, often calling her "a fat whore" in the twelve thousand emails and texts he received in a disturbing three-year deluge.

How did the stalker know Dave's phone numbers immediately after he changed them, the names of his lady friends, even what he wore as he watched TV? He and Liz reported death threats, vandalism, and burglaries, but the stalker remained at large. The threats were vicious, vile and often obscene, sent mostly via text and always in Cari's name. There was some truth in the messages, but all of them contained one big lie. The culprit was not Cari, but had killed and planned to kill again.

With mesmerizing detail and compelling narrative skill, Leslie Rule tracks every step of the heart-pounding path to long-awaited justice — from a sociopath's twisted past to the deadly deception and the high-tech forensics that condemned the killer to prison.
---
All Good Things (2010); directed by Andrew Jarecki; starring Ryan Gosling, Kirsten Dunst, Frank Langella, Kristen Wiig, Nick Offerman, Lily Rabe.
hoopla movie
This psychological thriller was inspired by the 1982 disappearance of Kathie McCormack, wife of real estate heir Robert Durst. Mr. Durst was the subject of the HBO documentary The Jinx. Produced and directed by Andrew Jarecki (director of the Academy Award-nominated Capturing the Friedmans and producer of Catfish), this is a love story and murder mystery set against the backdrop of a New York City real estate dynasty.
---
Capote (2006); directed by Bennet Miller; screenplay by Dan Futterman; starring Philip Seymour Hoffman, Bob Balaban, Catherine Keener, Chris Cooper, Mark Pellegrino, Clifton Collins Jr., etc.
DVD
hoopla movie
Based on a true story, this film explores the events behind the creation of Truman Capote's true crime book, In Cold Blood. Capote went to a small Kansas town to write an article for the New Yorker based on a multiple murder. His research and reporting led to the writing of his book.
---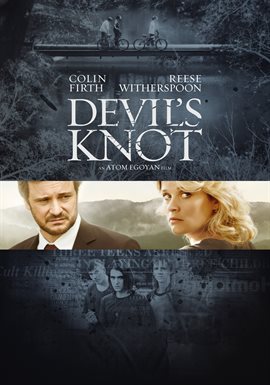 Devil's Knot (2014); directed by Atom Egoyan; written by Mara Leveritt, Scott Derrickson; produced by Christopher Woodrow, Paul Harris Boardman; starring Colin Firth, Reese Witherspoon, Kevin Durand.
Hoopla movie
Three young boys playing in the nearby woods never come home for dinner. In the rush to find and convict the killers, police focus on a trio of teenagers suspected of devil worship. Starring Reese Witherspoon and Colin Firth, Devil's Knot is based on the true story of the West Memphis 3.
---
Into the Abyss: A Tale of Death, A Tale of Life (2012); written, produced, and directed by Werner Herzog
DVD
Examines capital punishment through conversations with death row inmate Michael Perry and those affected by his crime.
---
Ken Burns: The Central Park Five (2013); directed by Ken Burns
DVD
hoopla documentary
This new film from award-winning filmmaker Ken Burns tells the story of the five black and Latino teenagers from Harlem who were wrongly convicted of raping a white woman in New York City's Central Park in 1989. The film chronicles the Central Park jogger case, for the first time from the perspective of the five young men whose lives were upended by this miscarriage of justice.
---
Murder on the Home Front (2014); produced by Christopher Hall; written by David Kane; directed by Geoffrey Sax; starring Patrick Kennedy, Tamzin Merchanct
DVD
During the London Blitz of 1940, Dr. Lennox Collins and his secretary Molly Cooper work to discover a serial killer who is at large and using the Blitz to cover his crimes.
---
The Strange Case of Lizzie Borden (2005); produced by Jaime Bernanke; hosted by Arthur Kent; narrated by Dan Ackroyd.
DVD
Examines the infamous nineteenth century murder case of Lizzie Borden, accused of killing her parents with an ax.
---
---
Find more true crime titles!
APL's true crime collection on Overdrive
hoopla's true crime general collection
hoopla's true crime ebooks
hoopla's true crime audiobooks