Get ready to LOL with these hilarious books for tweens. Recommended by Samantha Matherne.
A Boy Called Bat by Elana K. Arnold
book
hoopla ebook
hoopla audiobook
Freading ebook
For Bixby Alexander Tam (nicknamed Bat), life tends to be full of surprises – some of them good, some not so good. Today, though, is a good-surprise day. Bat's mom, a veterinarian, has brought home a stray baby skunk, which she needs to take care of until she can hand him over to a wild-animal shelter.
But the minute Bat meets the kit, he knows they belong together. And he's got one month to show his mom that a baby skunk might just make a pretty terrific pet.
From acclaimed author Elana K. Arnold comes a story of first friendship starring an unforgettable young boy on the autism spectrum.
---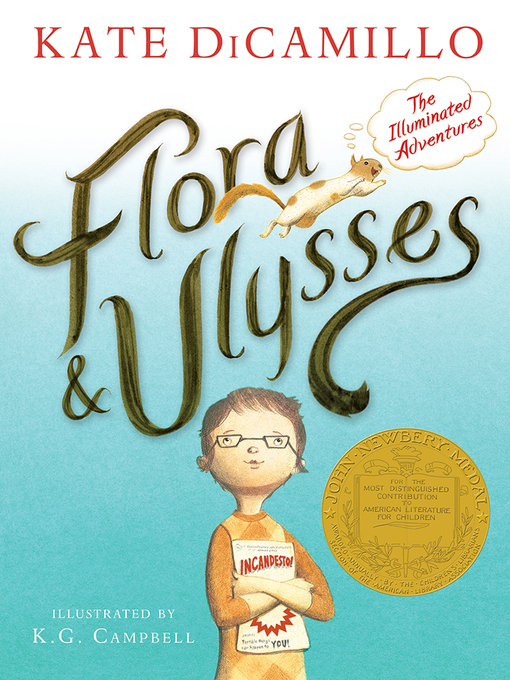 Flora & Ulysses: The Illuminated Adventures by Kate DiCamillio
book
OverDrive ebook
hoopla ebook
It begins, as the best superhero stories do, with a tragic accident that has unexpected consequences. The squirrel never saw the vacuum cleaner coming, but self-described cynic Flora Belle Buckman, who has read every issue of the comic book Terrible Things Can Happen to You!, is the just the right person to step in and save him. What neither can predict is that Ulysses (the squirrel) has been born anew, with powers of strength, flight, and misspelled poetry, and that Flora will be changed too, as she discovers the possibility of hope and the promise of a capacious heart. From Kate DiCamillo comes a laugh-out-loud story filled with eccentric, endearing characters and featuring an exciting new format: a novel interspersed with comic-style graphic sequences and full-page illustrations, all rendered in black-and-white by up-and-coming artist K. G. Campbell.
---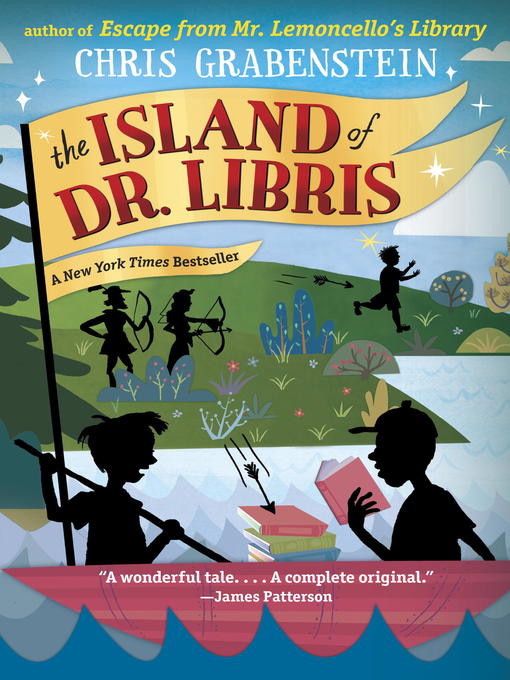 The Island of Dr. Libris by Chris Brabenstein
book
OverDrive ebook
What if your favorite characters came to life? Billy's spending the summer in a lakeside cabin that belongs to the mysterious Dr. Libris. But something strange is going on. Besides the security cameras everywhere, there's Dr. Libris's private bookcase. Whenever Billy opens the books inside, he can hear sounds coming from the island in the middle of the lake. The clash of swords. The twang of arrows. Sometimes he can even feel the ground shaking. It's almost as if the stories he's reading are coming to life! But that's impossible . . . isn't it?
---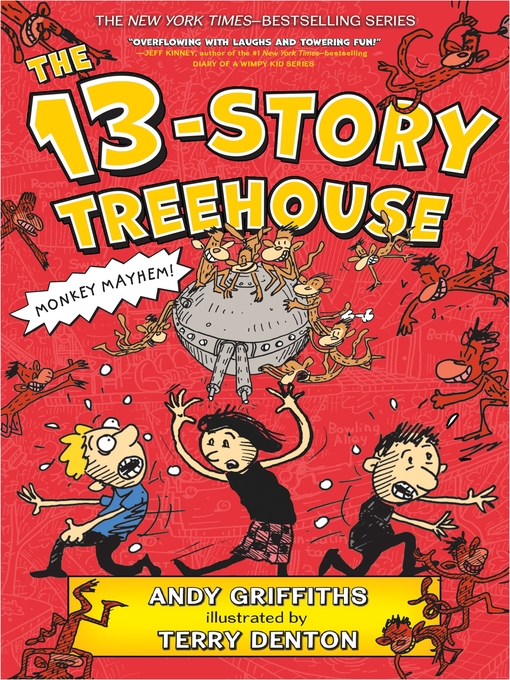 The 13-Story Treehouse by Andy Griffiths
OverDrive ebook
Freading ebook
Andy and Terry live in a treehouse. But it's not just any old treehouse, it's the most amazing treehouse in the world!
This treehouse has thirteen stories, a bowling alley, a see-through swimming pool, a secret underground laboratory, and a marshmallow machine that follows you around and automatically shoots marshmallows into your mouth whenever you are hungry.
Life would be perfect for Andy and Terry if it wasn't for the fact that they have to write their next book, which is almost impossible because there are just so many distractions, including thirteen flying cats, giant bananas, mermaids, sea monsters pretending to be mermaids, enormous gorillas, and dangerous burp gas-bubblegum bubbles!
---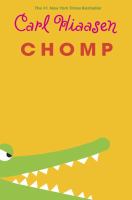 Chomp by Carl Hiaasen
book
OverDrive ebook
When Wahoo Cray's dad—a professional animal wrangler—takes a job with a reality TV show called Expedition Survival!, Wahoo figures he'll have to do a bit of wrangling himself to keep his father from killing Derek Badger, the show's inept and egotistical star. But the job keeps getting more complicated: Derek Badger insists on using wild animals for his stunts; and Wahoo's acquired a shadow named Tuna—a girl who's sporting a shiner courtesy of her father and needs a place to hide out.
They've only been on location in the Everglades for a day before Derek gets bitten by a bat and goes missing in a storm. Search parties head out and promptly get lost themselves. And then Tuna's dad shows up with a gun. It's anyone's guess who will actually survive Expedition Survival.
---
The Door in the Alley by Adrienne Kress
book
OverDrive audiobook
This is one of those stories that start with a pig in a teeny hat. It's not the one you're thinking about. (This story is way better than that one.)
This pig-in-a-teeny-hat story starts when a very uninquisitive boy stumbles upon a very mysterious society. After that, there is danger and adventure; there are missing persons, hired thugs, a hidden box, a lost map, and famous explorers; and there is a girl looking for help that only uninquisitive boys can offer.
The Explorers: The Door in the Alley is the first book in a series that is sure to hit young readers right in the funny bone.
---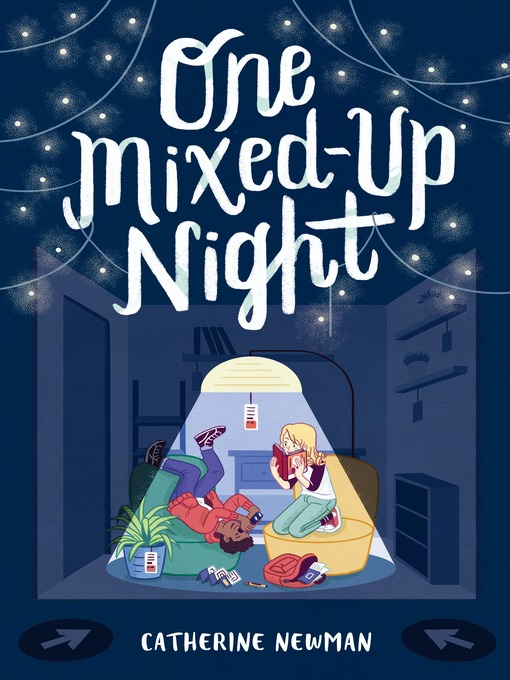 One Mixed-Up Night by Catherine Newman
OverDrive ebook
Two best friends on the run… to IKEA.

Frankie and Walter aren't really running away. Just like the kids in their favorite book, they are running to somewhere. Specifically, a massive furniture store. They've been obsessed with the Ikea catalog for years. So they make a plan, pack their backpacks, give their parents the sleepover switcheroo . . . and they're in.
One night all on their own, with no grown-ups or little brothers.
One night of couch jumping, pillow forts, and unlimited soda refills.
One night of surprises and twinkle lights and secrets they have been keeping and waiting to share.
One unforgettable night in Ikea.
---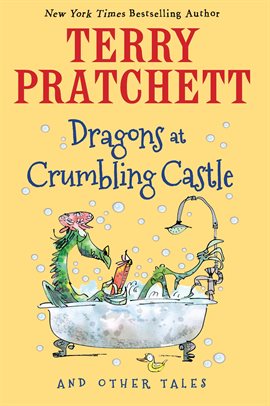 Dragons at Crumbing Castle by Terry Pratchett
hoopla ebook
This never-before-published collection of fourteen funny and inventive tales by acclaimed author Sir Terry Pratchett features a memorable cast of inept wizards, sensible heroes, and unusually adventuresome tortoises. Including more than one hundred black-and-white illustrations, the appealingly designed book celebrates Pratchett's inimitable wordplay and irreverent approach to the conventions of storytelling. These accessible and mischievous tales are an ideal introduction for young readers to this beloved author. Established fans of Pratchett's work will savor the playful presentation of the themes and ideas that inform his best-selling novels.
---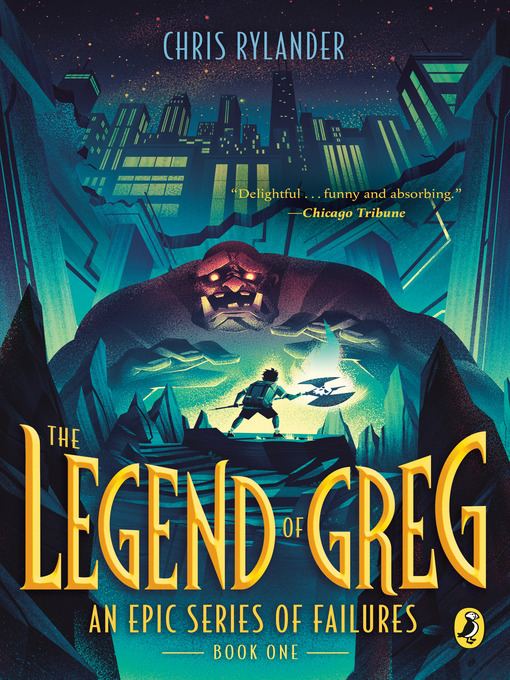 The Legend of Greg by Chris Rylander
book
Risk-averse Greg Belmont is content with being ordinary. He's got a friend (that's right, just one) at his fancy prep school, and a pretty cool dad (even if he is obsessed with organic soaps that smell like a mix of salted pork and Icelandic bog). The problem is, Greg isn't ordinary. He's actually an honest-to-goodness, fantastical Dwarf!
He discovers the truth the day his dad brings home a gross new tea—one that awakens bizarre abilities in Greg. Then a murderous Bro-Troll kidnaps his dad and Greg is whisked away to the Underground, where Dwarves have lived for centuries right beneath the subways of Chicago.
With the help of some awesome new friends and a talking ax, Greg learns all about the history of the Dwarves, which has been marked with tales of epic failure since the dawn of time. However, the return of the magic they once wielded means big changes are afoot, escalating tensions with the Dwarves' sworn enemy: the Elves. Brimming with humor and action, Chris Rylander's The Legend of Greg turns dwarf lore on its head, delivering an adventure readers won't be able to resist.
---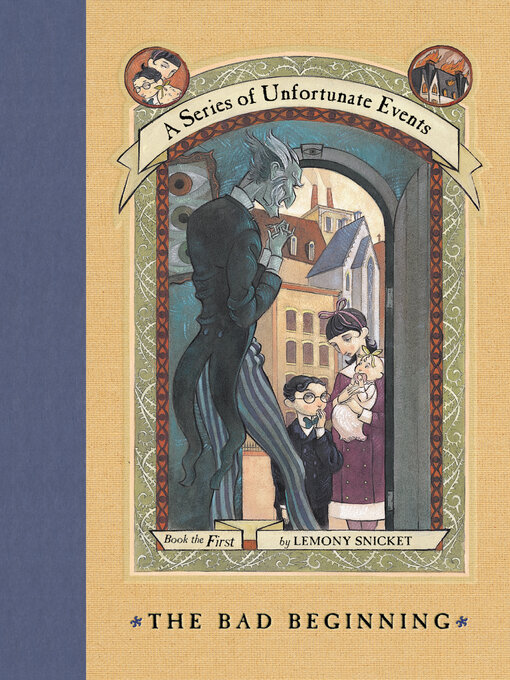 The Bad Beginning by Lemony Snicket
book
OverDrive ebook
OverDrive audiobook
hoopla audiobook
Are you made fainthearted by death? Does fire unnerve you? Is a villain something that might crop up in future nightmares of yours? Are you thrilled by nefarious plots? Is cold porridge upsetting to you? Vicious threats? Hooks? Uncomfortable clothing?
It is likely that your answers will reveal A Series of Unfortunate Events to be ill-suited for your personal use. A librarian, bookseller, or acquaintance should be able to suggest books more appropriate for your fragile temperament. But to the rarest of readers we say, "Proceed, but cautiously."