The Case of the Missing Marquess is the first in the series of middle grade fiction novels by Nancy Springer featuring intrepid sleuth, Enola Holmes. The film adaptation is now available on Netflix starring Millie Bobby Brown, Helena Bonham Carter, Henry Cavill, and Sam Claflin. You can check out the entire series from the library!
The Case of the Missing Marquess by Nancy Springer
book
OverDrive audiobook
hoopla audiobook
A new series featuring Sherlock Holmes' much-younger sister Enola begins. What a 14th-birthday surprise for Enola Holmes! Her elderly mother is nowhere to be found. Not even her estranged brothers Mycroft and Sherlock can find any useful clues. But the precocious teen can. Using the birthday gifts Lady Holmes left behind, Enola uncovers cleverly stashed money and cryptic clues that send her racing across the wild heaths toward 1888 London. As she searches for her mother, Enola becomes distracted by the strange disappearance of a young Marquess and quickly finds herself in the foul clutches of his captors. But how can Enola escape these slimy ruffians, avoid clever pursuers, and find her missing mother?
---
The Case of the Left-Handed Lady by Nancy Springer
book
OverDrive audiobook
hoopla audiobook
In her follow-up to The Case of the Missing Marquess, Springer brings readers back to the danger and intrigue of Victorian London as she continues the adventures of Sherlock Holmes's sister. When Enola learns of a missing left-handed artist, she uses a series of clever disguises to brave lurking dangers and follow cryptic clues that lead to the young Lady Cecily.
---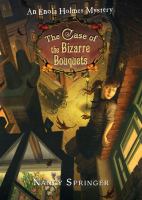 The Case of the Bizarre Bouquets by Nancy Springer
book
OverDrive audiobook
hoopla audiobook
Dr. Watson, the right-hand man of master sleuth Sherlock Holmes, has gone missing. This prompts Sherlock to enlist the assistance of Enola Holmes, his intrepid younger sister. She investigates Watson's home just in time to witness the arrival of a bizarre bouquet blooming with convolvulus, hawthorn, and white poppies — flowers that symbolize death!
---
The Case of the Peculiar Pink Fan by Nancy Springer
book
OverDrive audiobook
hoopla audiobook
When Enola Holmes encounters her friend Lady Cecily hiding behind a pink fan, she finds it peculiar. In fact, she realizes Cecily is in danger! But what, exactly, is the matter? And how can Enola help? After examining the clues, Enola discovers Lady Cecily is being held hostage in an abysmal orphanage, and if she isn't rescued, she'll be forced into a miserable marriage!
This complicated case has Sherlock and Enola (literally) running into each other all over London. If Enola joins forces with the brother she has fought desperately to elude, she risks her freedom. Yet, if she doesn't, Lady Cecily could be doomed!
---
The Case of the Cryptic Crinoline by Nancy Springer
book
OverDrive audiobook
hoopla audiobook
Enola's landlady, Mrs. Tupper, is the closest thing Enola has to family these days, besides her occasional run-ins with her brother Sherlock. Even though Mrs. Tupper is nearly deaf and can barely cook, she's an endearing presence as Enola longs for her absent mother. So imagine her horror when Enola comes home to find Mrs. Tupper kidnapped. Who would take her, and why? And what does Florence Nightingale have to do with it?
---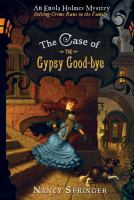 The Case of the Gypsy Good-bye by Nancy Springer
book
OverDrive audiobook
hoopla audiobook
As Enola searches for the missing Lady Blanchefleur del Campo, she discovers that her brother Sherlock is just as diligently searching for Enola herself. And this time he really needs to catch her! He is in possession of a most peculiar package, a message from their long-lost mother that only Enola can decipher. Sherlock, along with their brother Mycroft, must follow Enola into the reeking tunnels of London's dark underbelly as they solve a triple mystery: What has happened to their mother? And to Lady Blanchefleur? And what does either have to do with Mycroft, who holds Enola's future in his ever-so-proper hands?
No one, not even Sherlock, is left unchanged in this brilliant conclusion to the Enola Holmes mystery series.