These historical fiction picks are centered on World War II. Settings range from the homefront to occupied zones to the battlefield. Recommended by Kristine Price and Carrie Goodall.
All The Ways We Said Goodbye by Beatriz Williams, Lauren Willig, and Karen White
large print book
OverDrive ebook
hoopla ebook
Freading ebook
France, 1914. As war breaks out, Aurelie becomes trapped on the wrong side of the front with her father, Comte Sigismund de Courcelles. When the Germans move into their family's ancestral estate, using it as their headquarters, Aurelie discovers she knows the German Major's aide de camp, Maximilian Von Sternburg. She and the dashing young officer first met during Aurelie's debutante days in Paris. Despite their conflicting loyalties, Aurelie and Max's friendship soon deepens into love, but betrayal will shatter them both, driving Aurelie back to Paris and the Ritz, the home of her estranged American heiress mother, with unexpected consequences.
France, 1942. Raised by her indomitable, free-spirited American grandmother in the glamorous Hotel Ritz, Marguerite "Daisy" Villon remains in Paris with her daughter and husband, a Nazi collaborator, after France falls to Hitler. At first reluctant to put herself and her family at risk to assist her grandmother's Resistance efforts, Daisy agrees to act as a courier for a skilled English forger known only as Legrand, who creates identity papers for Resistance members and Jewish refugees. But as Daisy is drawn ever deeper into Legrand's underground network, committing increasingly audacious acts of resistance for the sake of the country and the man she holds dear, she uncovers a devastating secret . . . one that will force her to commit the ultimate betrayal, and to confront at last the shocking circumstances of her own family history.
France, 1964. For Barbara "Babs" Langford, her husband, Kit, was the love of her life. Yet their marriage was haunted by a mysterious woman known only as La Fleur. On Kit's death, American lawyer Drew Bowdoin appears at her door. Hired to find a Resistance fighter turned traitor known as "La Fleur," the investigation has led to Kit Langford. Curious to know more about the enigmatic La Fleur, Babs joins Drew in his search, a journey of discovery that that takes them to Paris and the Ritz-and to unexpected places of the heart.
---
Resistance Women by Jennifer Chiaverini
book
large print book
hoopla ebook
hoopla audiobook
Freading ebook
After Wisconsin graduate student Mildred Fish marries brilliant German economist Arvid Harnack, she happily accompanies him to his homeland, where a promising future awaits. In the thriving intellectual culture of 1930s Berlin, the newlyweds create a rich new life filled with love, friendships, and rewarding work; however, the rise of a malevolent new political faction inexorably changes their fate.
As Adolf Hitler and his Nazi Party wield violence and lies to seize power, Mildred, Arvid, and their friends resolve to resist. Mildred gathers intelligence for her American contacts, including Martha Dodd, the vivacious and very modern daughter of the U.S. ambassador. Her German friends, aspiring author Greta Kuckhoff and literature student Sara Weitz, risk their lives to collect information from journalists, military officers, and officials within the highest levels of the Nazi regime.
For years, Mildred's network stealthily fights to bring down the Third Reich from within. But when Nazi radio operatives detect an errant Russian signal, the Harnack resistance cell is exposed, with fatal consequences. Inspired by actual events, Resistance Women is an enthralling, unforgettable story of ordinary people determined to resist the rise of evil, sacrificing their own lives and liberty to fight injustice and defend the oppressed.
---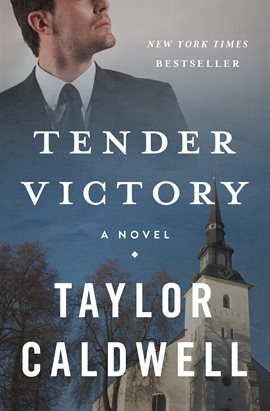 Tender Victory by Taylor Caldwell
hoopla ebook
Freading ebook
Rev. Johnny Fletcher serves wounded soldiers from the battlefield as a military chaplain during World War II. His forté is spiritual solace in the darkest of times, but his life changes when he performs a public heroic act: facing down an angry mob intent on attacking five young Holocaust survivors. Upon learning they have no homes or families to return to, Fletcher decides to bring them to America. To his dismay, his coal-mining community of Barryfield, Pennsylvania, greets this makeshift family with prejudice and distrust. Beneath the town's placid surface run buried religious divisions. Fletcher's commitment to raising the children according to their individual faiths – two Protestant, two Catholic, and one Jewish – meets with horrific levels of intolerance. Dealing with such prejudice turns more sinister still when a local newspaper publisher cynically uses the story for his own purposes. Together with Lorry Summerfield, the beautiful, disillusioned daughter of Barryfield's most powerful figure, Fletcher must try to awaken the townspeople to the better angels of their nature before it's too late.
---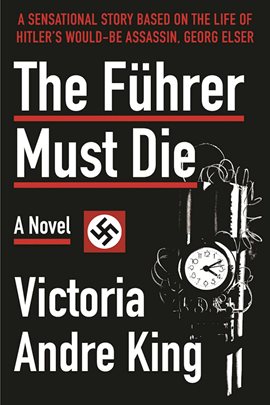 The Führer Must Die by Victoria Andre King
hoopla ebook
On November 8, 1939, a nondescript German clockmaker named Georg Elser placed a bomb in a Munich beer hall where Hitler was scheduled to give a speech. His simple intent: to stop the impending onset of World War II.
The bomb's explosion missed the Fuhrer by only minutes, still killing more than 150 members of the Nazi Old Guard. After the attack, Elser was caught by happenstance at the porous Swiss border. When his family was threatened, he immediately confessed. There was only one problem: The Gestapo couldn't accept his confession as a lone assassin.
Elser fit none of the assassin profiles drawn up by the police. To them, it was inconceivable that a lone attempt could have been perpetrated by one of Hitler's faithful and adoring citizens. A British conspiracy? Sure. But one of the Fatherland's faithful? Impossible.
The Führer Must Die is as much the policemen's story as it is Elser's, narrating the account of the detectives he destroyed and the Gestapo men he drove crazy.
---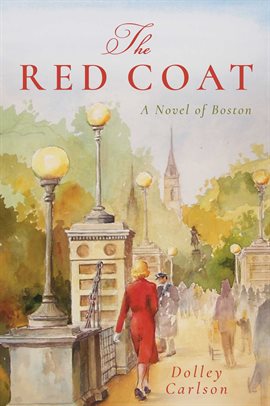 The Red Coat by Dolley Carlson
hoopla ebook
hoopla audiobook
Think Downton Abbey, set in the heart of Boston.
Irish domestic worker Norah King's decision to ask her wealthy employer, Caroline Parker, for an elegant red coat that the Beacon Hill matriarch has marked for donation ignites a series of events that neither woman could have fathomed. The unlikely exchange will impact their respective daughters and families for generations to come, from the coat's original owner, marriage-minded collegian Cordelia Parker, to the determined and spirited King sisters of South Boston, Rosemary, Kay, and Rita. As all of these young women experience the realities of life – love and loss, conflict and joy, class prejudices and unexpected prospects – the red coat reveals the distinction between cultures, generations, and landscapes in Boston during the 1940s and 50s, a time of change, challenge, and opportunity.
Meet the proud, working-class Irish and staid, upper-class Brahmins through the contrasting lives of these two families and their friends and neighbors. See how the Parkers and the Kings each overcome sudden tragedy with resolve and triumph. And witness the profound impact of a mother's heart on her children's souls. Carlson brings us front and center with her knowing weave of Celtic passion – both tragic and joyful – words of wisdom, romance, humor, and historical events. Dive into Boston feet first! The Red Coat is a rich novel that chronicles the legacy of Boston from both sides of the city, Southie and the Hill.
---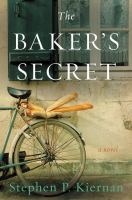 The Baker's Secret by Stephen P. Kiernan
book
large print book
hoopla ebook
hoopla audiobook
Freading ebook
On June 5, 1944, as dawn rises over a small town on the Normandy coast of France, Emmanuelle is making the bread that has sustained her fellow villagers in the dark days since the Germans invaded her country.
Only twenty-two, Emma learned to bake at the side of a master, Ezra Kuchen, the village baker since before she was born. Apprenticed to Ezra at thirteen, Emma watched with shame and anger as her kind mentor was forced to wear the six-pointed yellow star on his clothing. She was likewise powerless to help when they pulled Ezra from his shop at gunpoint, the first of many villagers stolen away and never seen again.
In the years that her sleepy coastal village has suffered under the enemy, Emma has silently, stealthily fought back. Each day, she receives an extra ration of flour to bake a dozen baguettes for the occupying troops. And each day, she mixes that precious flour with ground straw to create enough dough for two extra loaves–contraband bread she shares with the hungry villagers. Under the cold, watchful eyes of armed soldiers, she builds a clandestine network of barter and trade that she and the villagers use to thwart their occupiers.
But her gift to the village is more than these few crusty loaves. Emma gives the people a taste of hope–the faith that one day the Allies will arrive to save them.
---
The Rising Tide by Jeff Shaara
book
large print book
Utilizing the voices of the conflict's most heroic figures, some immortal and some unknown, Jeff Shaara tells the story of America's pivotal role in World War II: fighting to hold back the Japanese conquest of the Pacific while standing side-by-side with her British ally, the last hope for turning the tide of the war against Germany. As British and American forces strike into the soft underbelly of Hitler's Fortress Europa, the new weapons of war come clearly into focus.
In North Africa, tank battles unfold in a tapestry of dust and fire unlike any the world has ever seen. In Sicily, the Allies attack their enemy with a barely tested weapon: the paratrooper. As battles rage along the coasts of the Mediterranean, the momentum of the war begins to shift, setting the stage for the Battle of Normandy. The first book in a trilogy about the military conflict that defined the twentieth century, The Rising Tide is an unprecedented and intimate portrait of those who waged this astonishing global war.
---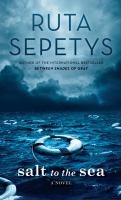 Salt to the Sea by Ruta Sepetys
large print book
OverDrive ebook
OverDrive audiobook
World War II is drawing to a close in East Prussia and thousands of refugees are on a desperate trek toward freedom, many with something to hide. Among them are Joana, Emilia, and Florian, whose paths converge en route to the ship that promises salvation, the Wilhelm Gustloff. Forced by circumstance to unite, the three find their strength, courage, and trust in each other tested with each step closer to safety.
Just when it seems freedom is within their grasp, tragedy strikes. Not country, nor culture, nor status matter as all ten thousand people—adults and children alike—aboard must fight for the same thing: survival.
Told in alternating points of view and perfect for fans of Anthony Doerr's Pulitzer Prize-winning All the Light We Cannot See, Erik Larson's Dead Wake, and Elizabeth Wein's Printz Honor Book Code Name Verity, this masterful work of historical fiction is inspired by the real-life tragedy that was the sinking of theWilhelm Gustloff—the greatest maritime disaster in history. As she did in Between Shades of Gray, Ruta Sepetys unearths a shockingly little-known casualty of a gruesome war, and proves that humanity and love can prevail, even in the darkest of hours.
---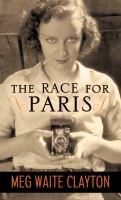 The Race for Paris by Meg Waite Clayton
book
hoopla ebook
hoopla audiobook
Freading ebook
Normandy, 1944. To cover the fighting in France, Jane, a reporter for the Nashville Banner, and Liv, an Associated Press photographer, have already had to endure enormous danger and frustrating obstacles – including strict military regulations limiting what women correspondents can do. Even so, Liv wants more. Encouraged by her husband, the editor of a New York newspaper, she's determined to be the first photographer to reach Paris with the Allies, and capture its freedom from the Nazis. However, her Commanding Officer has other ideas about the role of women in the press corps. To fulfill her ambitions, Liv must go AWOL. She persuades Jane to join her, and the two women find a guardian angel in Fletcher, a British military photographer who reluctantly agrees to escort them. As they race for Paris across the perilous French countryside, Liv, Jane, and Fletcher forge an indelible emotional bond that will transform them and reverberate long after the war is over.
Based on daring, real-life female reporters on the front lines of history like Margaret Bourke-White, Lee Miller, and Martha Gellhorn – and with cameos by other famous faces of the time – The Race for Paris is an absorbing, atmospheric saga full of drama, adventure, and passion. Combining riveting storytelling with expert literary craftsmanship and thorough research, Meg Waite Clayton crafts a compelling, resonant read. Meg Waite Clayton is the New York Times bestselling author of four novels: The Four Mrs. Bradwells; The Wednesday Sisters; The Language of Light, and The Wednesday Daughters.
---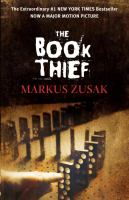 Book Thief by Markus Zusak
book
book on CD
OverDrive ebook
OverDrive audiobook
movie on DVD
When Death has a story to tell, you listen. It is 1939. Nazi Germany. The country is holding its breath. Death has never been busier, and will become busier still.
Liesel Meminger is a foster girl living outside of Munich, who scratches out a meager existence for herself by stealing when she encounters something she can't resist – books. With the help of her accordion-playing foster father, she learns to read and shares her stolen books with her neighbors during bombing raids as well as with the Jewish man hidden in her basement.
In superbly crafted writing that burns with intensity, award-winning author Markus Zusak, author of I Am the Messenger, has given us one of the most enduring stories of our time.