Step back in time with these historical Christian fiction books that take you from America to Europe to Egypt. Recommended by Ashley Lee.
Becoming Mrs. Lewis: The Improbable Love Story of Joy Davidman and C.S. Lewis by Henry, Patti Callahan
book
large print book
OverDrive ebook
OverDrive audiobook
hoopla ebook
hoopla audiobook
hoopla bonus Behind the Scenes of Becoming Mrs. Lewis
In a most improbable friendship, she found love. In a world where women were silenced, she found her voice. From New York Times bestselling author Patti Callahan comes an exquisite novel of Joy Davidman, the woman C. S. Lewis called "my whole world." When poet and writer Joy Davidman began writing letters to C. S. Lewis – known as Jack – she was looking for spiritual answers, not love. Love, after all, wasn't holding together her crumbling marriage. Everything about New Yorker Joy seemed ill-matched for an Oxford don and the beloved writer of Narnia, yet their minds bonded over their letters. Embarking on the adventure of her life, Joy traveled from America to England and back again, facing heartbreak and poverty, discovering friendship and faith, and against all odds, finding a love that even the threat of death couldn't destroy. In this masterful exploration of one of the greatest love stories of modern times, we meet a brilliant writer, a fiercely independent mother, and a passionate woman who changed the life of this respected author and inspired books that still enchant us and change us. Joy lived at a time when women weren't meant to have a voice. Yet her love for Jack gave them both voices they didn't know they had. At once a fascinating historical novel and a glimpse into a writer's life, Becoming Mrs. Lewis is above all a love story: a love of literature and ideas and a love between a husband and wife that, in the end, was not impossible at all.
---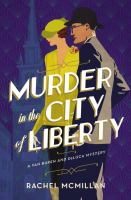 Murder in the City of Liberty by Rachel McMillan
book
large print book
hoopla ebook
hoopla audiobook
Freading ebook
Hamish DeLuca and Regina "Reggie" Van Buren have a new case, and this one brings the war in Europe dangerously close to home. Determined to make a life for herself, Regina "Reggie" Van Buren bid goodbye to fine china and the man her parents expected her to marry and escaped to Boston. What she never expected to discover was that an unknown talent for sleuthing would develop into a business partnership with the handsome, yet shy, Hamish DeLuca. Their latest case arrives when Errol Parker, the leading base stealer in the Boston farm leagues, hires Hamish and Reggie to investigate what the Boston police shove off as a series of harmless pranks. Errol believes these are hate crimes linked to the outbreak of war in Europe, and he's afraid for his life. Hamish and Reggie quickly find themselves in the midst of an escalating series of crimes that seem to link Boston to Hamish's hometown of Toronto.When an act of violence hits too close to home, Hamish is driven to a decision that may sever him from Reggie forever.
---
A Respectable Actress by Dorothy Love
book
hoopla ebook
hoopla audiobook
Freading ebook
India Hartley, a famous and beautiful actress, is now alone after her father's death and embarks upon a tour of theaters across the South. Her first stop is Savannah's Southern Palace. On the eve of the second night's performance, something goes horribly wrong. Her co-star, Arthur Sterling, is shot dead on stage in front of a packed house, and India is arrested and accused of the crime.
A benefactor hires Philip Sinclair, the best and most handsome lawyer in Savannah to defend India. A widower, Philip is struggling to reinvent his worn-out plantation on St. Simons Island. He needs to increase his income from his law practice in order to restore Indigo Point, and hardly anything will bring him more new clients than successfully defending a famous actress on a murder charge.
India is charmed by the beauty of the Georgia lowcountry and is increasingly drawn to Philip. But a locked room that appears to be a shrine to Philip's dead wife and the unsolved disappearance of a former slave girl raise troubling questions. Piecing together clues in an abandoned boat and a burned-out chapel, India discovers a trail of dark secrets that lead back to Philip, secrets that ultimately may hold the key to her freedom. If only he will believe her.
---
Butterfly Palace by Colleen Coble
large print book
hoopla ebook
hoopla audiobook
Freading ebook
Elegance and wealth. Privilege and politics. The extravagance of the Butterfly Palace overwhelmed Lily's senses and nearly smothered her painful memories. She pushed away her misgivings. She was perfectly safe in this huge house.
Austin, Texas – 1904: Abandoned by the love of her life and still mourning the loss of her mother, Lily Donaldson has turned her back on the pain and come to Austin for a fresh start, working for the Marshall family as a kitchen maid in their luxurious mansion, the Butterfly Palace. The tasks before her are legion, and her mistress less than pleasant, but at least Lily's new life will be, if nothing else, distracting. But one night, while serving at a dinner party, Lily recognizes the man who abandoned her, Andy, her liaison from the livery stable, sitting among the distinguished guests. Though he recognizes her, Andy does not acknowledge her, and Lily is left reeling, flabbergasted, and irate. But before she can get an explanation, the path of the Servant Girl Killer swerves very close to the Butterfly Palace, sowing terror among the maids. Having come to Austin to start anew, Lily suddenly feels trapped in a spider web. How can she know who to trust in a house where lies come dressed in fine suits and deceit in silk gowns the colors of butterfly wings?
---
A.D. 33: A Novel by Ted Dekker
book
book on CD
They call her the Queen of the Outcasts. Maviah, a woman whose fate was sealed on her birth by this world – unwanted, illegitimate, female, a slave – subject to the whims of all. But then she met a man named Yeshua who opened her eyes. She found strength in his words, peace from the brutal word around her. Because of what he taught her, she has gathered her own traveling kingdom of outcasts deep in the desert, wielding an authority few have seen. But when her growing power threatens the rulers around her, they set out to crush all she loves, leaving her reeling as a slave once more. She must find Yeshua to save her people, but when she does, she will be horrified to discover that he faces his own death. Enter a story full of intrigue, heart-wrenching defeat, uncompromising love and staggering victory; one that re-examines everything you thought you knew about the heart of Jesus's stunning message and the power that follows for those who follow his easily forgotten way.
---
If I Were You by Lynn Austin
book
OverDrive ebook
hoopla ebook
hoopla audiobook
From bestselling and eight-time Christy Award-winning author Lynn Austin comes a remarkable novel of sisterhood and self-discovery set against the backdrop of WWII.
1950. In the wake of the war, Audrey Clarkson leaves her manor house in England for a fresh start in America with her young son. As a widowed war bride, Audrey needs the support of her American in-laws, whom she has never met. But she arrives to find that her longtime friend Eve Dawson has been impersonating her for the past four years. Unraveling this deception will force Audrey and Eve's secrets and the complicated history of their friendship to the surface.
1940. Eve and Audrey have been as different as two friends can be since the day they met at Wellingford Hall, where Eve's mother served as a lady's maid for Audrey's mother. As young women, those differences become a polarizing force until the threat of Nazi invasion reunites them. With London facing relentless bombardment, Audrey and Eve join the fight as ambulance drivers, battling constant danger together. An American stationed in England brings dreams of a brighter future for Audrey, and the collapse of the class system gives Eve hope for a future with Audrey's brother. But in the wake of devastating loss, both women must make life-altering decisions that will set in motion a web of lies and push them both to the breaking point long after the last bomb has fallen.
---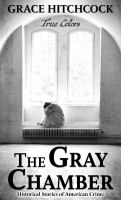 The Gray Chamber by Grace Hitchcock
large print
OverDrive ebook
Will Edyth prove her sanity before it is too late?
On Blackwell's Island, New York, a hospital was built to keep its patients from ever leaving.
With her late parents' fortune under her uncle's care until her twenty-fifth birthday in the year 1887, Edyth Foster does not feel pressured to marry or to bow to society's demands. She freely indulges in eccentric hobbies like fencing and riding her velocipede in her cycling costume about the city for all to see. Finding a loophole in the will, though, her uncle whisks Edyth off to the women's lunatic asylum just weeks before her birthday. And Edyth fears she will never be found.
At the asylum she meets another inmate, who, upon discovering Edyth's plight, confesses that she is Nellie Bly, an undercover journalist for The World. Will either woman find a way to leave the terrifying island and reclaim her true self?
---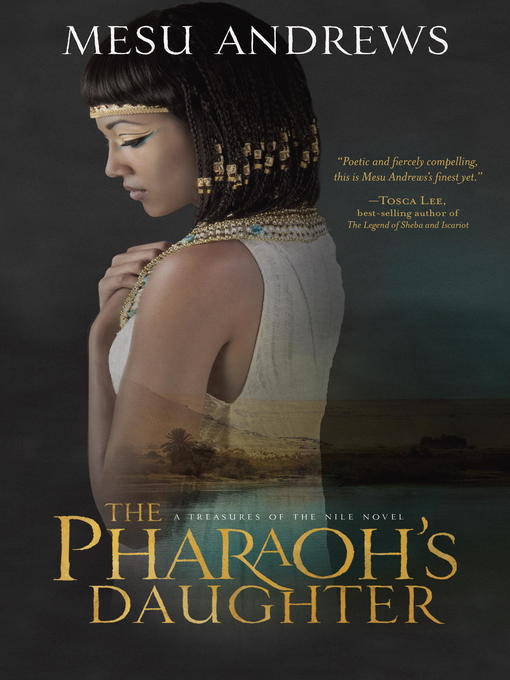 The Pharaoh's Daughter by Mesu Andrews
OverDrive ebook
hoopla audiobook
Anippe has grown up in the shadows of Egypt's good god Pharaoh, aware that Anubis, god of the afterlife, may take her or her siblings at any moment. She watched him snatch her mother and infant brother during childbirth, a moment which awakens in her a terrible dread of ever bearing a child. When she learns that she is to be become the bride of Sebak, a kind but quick-tempered Captain of Pharaoh Tut's army, Anippe launches a series of deceptions with the help of the Hebrew midwives in order to provide Sebak the heir he deserves and yet protect herself from the underworld gods.
When she finds a baby floating in a basket on the great river, Anippe believes Egypt's gods have answered her pleas, entrenching her more deeply in deception and placing her and her son Mehy, whom handmaiden Miriam calls Moses, in mortal danger. As bloodshed and savage politics shift the balance of power in Egypt, the gods reveal their fickle natures and Anippe wonders if her son, a boy of Hebrew blood, could one day become king. Or does the god of her Hebrew servants, the one they call El Shaddai, have a different plan for them all?
---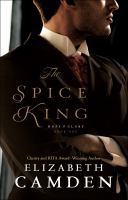 The Spice King by Elizabeth Camden
book
large print book
hoopla ebook
Gray Delacroix has dedicated his life to building his very successful global spice empire, but it has come at a cost. Resolved to salvage his family before it spirals out of control, he returns to his ancestral home to save his brother and sister before it's too late. As a junior botanist for the Smithsonian, Annabelle Larkin has been charged with the impossible task of gaining access to the notoriously private Delacroix plant collection. If she fails, she will be out of a job and the family farm in Kansas will go under. She has no idea that in gaining entrance to the Delacroix world, she will unwittingly step into a web of dangerous political intrigue far beyond her experience. Unable to deny her attraction to the reclusive business tycoon, Annabelle will be forced to choose between her heart and loyalty to her country. Can Gray and Annabelle find a way through the storm of scandal without destroying the family Gray is fighting to save?
---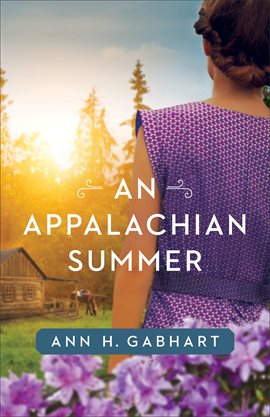 An Appalachian Summer by Ann H. Gabhart
hoopla ebook
In 1933 Louisville, Kentucky, even the ongoing economic depression cannot keep Piper Danson's parents from insisting on a debut party. After all, their fortune came through the market crash intact, and they've picked out the perfect suitor for their daughter. Braxton Crandall can give her the kind of life she's used to. The only problem? This is not the man, or the life, she really wants.
When Piper gets the opportunity to volunteer as a horseback Frontier Nursing courier in the Appalachian Mountains for the summer, she jumps at the chance to be something other than a dutiful daughter or a kept wife in a loveless marriage. The work is taxing, the scenery jaw-droppingly gorgeous, and the people she meets along the way open up a whole new world to her. The longer she stays, the more an advantageous marriage slips from her grasp. But something much more precious is drawing ever closer.
Bestselling author Ann H. Gabhart invites you into the storied hills of Eastern Kentucky to discover what happens when one intrepid young woman steps away from the restrictive past into a beautiful, wide-open future.
---
In the shadow of Denali by Tracie Peterson
book
large print book
book on CD
OverDrive ebook
hoopla ebook
Cassidy Ivanoff and her father, John, work at the new and prestigious Curry Hotel outside Mt. McKinley. While John will be expedition and wilderness exploration guide for the wealthy tourists, Cassidy has signed on as a cook's assistant. Both are busy as the hotel prepares to welcome the president of the United States on his way to drive in the golden spike to officially complete the railroad.
Allan Brennan travels to the Curry Hotel to be an apprentice of a seasoned Alaska mountain guide. Ever since his father's death climbing Mt. McKinley, he's worked to earn enough money to make the trek to the Alaska territory himself. His father's partner blames their guide for the death of his father, but Allan wants to find the truth for himself. He finds an unlikely ally in Cassidy, and as the two begin to look into the mystery, they suddenly find that things are much less clear, and much more dangerous, than either could ever imagine.
---
Masquerade by Nancy Moser
book
They risk it all for adventure and romance, but find that love only flourishes in truth.
1886. Charlotte Gleason embarks from England with conflicting emotions. She is headed for New York to marry one of America's wealthiest heirs, a man she has never even met. When her doubts gain the upper hand, she swaps identities with her maid Dora. She wants a chance at "real life," even if it means giving up financial security. For Charlotte, it's a risk she's willing to take. But what begins as the whim of a spoiled rich girl becomes a test of survival beyond her blackest nightmare. For Dora, it's the chance of a lifetime. She is thrust into a fairy tale amid ball gowns and lavish mansions, yet is tormented by the possibility of discovery and humiliation. And what of the man who believes she is indeed his intended? Is this what her heart truly longs for?