The fourth list in a series highlighting titles by people of color, these children's books are sure to please the picture book crowd. Recommended by Samantha Matherne.
Thunder Boy Jr. by Sherman Alexie
book
hoopla audiobook
Thunder Boy Jr. wants a normal name…one that's all his own. Dad is known as big Thunder, but little thunder doesn't want to share a name. He wants a name that celebrates something cool he's done like Touch the Clouds, Not Afraid of Ten Thousand Teeth, or Full of Wonder.
But just when Little Thunder thinks all hope is lost, dad picks the best name…Lightning! Their love will be loud and bright, and together they will light up the sky.
---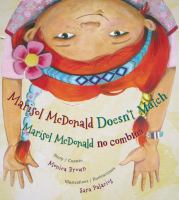 Marisol McDonald Doesn't Match by Monica Brown
book
Bilingual English/Spanish. Mismatched and fabulous Marisol McDonald celebrates her Peruvian and Scottish heritage.
Marisol McDonald has flaming red hair and nut-brown skin. Polka dots and stripes are her favorite combination. She prefers peanut butter and jelly burritos in her lunch box. To Marisol, these seemingly mismatched things make perfect sense together. Other people wrinkle their nose in confusion at Marisol. Can't she just choose one or the other? Try as she might, in a world where everyone tries to put this biracial, Peruvian-Scottish-American girl into a box, Marisol McDonald doesn't match. And that's just fine with her.
---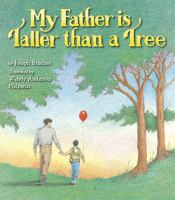 My Father is Taller than a Tree by Joseph Bruchac
book
Award-winning author Joseph Bruchac delivers a charming and heart-warming story about fathers and sons. Perfect with other Father's Day gems like Alison Ritchie's Me and My Dad and Sam McBratney's Guess How Much I Love You.
In this tender tribute to dads everywhere, lyrical rhymes capture heartwarming moments shared between thirteen diverse father-and-son pairs. Everyday activities, like bike riding and raking leaves, become a reminder that life's simple pleasures can offer the greatest rewards.
---
The Story of Kites by Ying Chang Compestine
book
hoopla ebook
Long ago in China, three brothers become tired of chasing birds from their family's rice fields and experiment with ways to make the job easier. The Kang brothers imagine making wings to fly and drive the birds from their rice fields! With paper, straw, and feathers, what else can they create? This story recounts how the creative Kang brothers discovered one of China's famed inventions.
---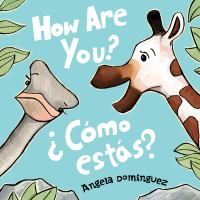 How are you? = Cómo estás? by Angela Dominguez
book
In the follow-up to How Do You Say? / Cómo se dice?, two young giraffes meet a baby ostrich and must guess how their potential new friend is feeling. Friendship awaits in this book about feelings, expressed both in English and in Spanish.
---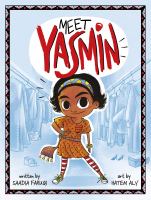 Meet Yasmin by Saadia Faruqi
book
Meet Yasmin. Yasmin is a spirited second-grader who's always on the lookout for those aha moments to help her solve life's little problems. Taking inspiration from her surroundings and her big imagination, she boldly faces any situation, assuming her imagination doesn't get too big, of course A creative thinker and curious explorer, Yasmin and her multi-generational Pakistani American family will delight and inspire readers.
---
That is My Dream! By Langston Hughes
book
An African-American boy faces the harsh reality of segregation and racial prejudice, but he dreams of a different life, one full of freedom, hope, and wild possibility, where he can fling his arms wide in the face of the sun. Dream Variation, one of Hughes' most celebrated poems, is now stunningly illustrated by Daniel Miyares.
---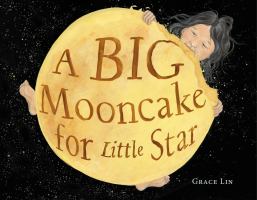 A Big Mooncake for Little Star by Grace Lin
book
hoopla movie
hoopla movie with read along
Little Star's soft feet tiptoed to the Big Mooncake. Little Star loves the delicious Mooncake that she bakes with her mama. But she's not supposed to eat any yet! What happens when she can't resist a nibble? In this stunning, heartwarming original story that shines as bright as the stars in the sky, Newbery Honor author Grace Lin explains the phases of the moon.
---
Baby Bear by Kadir Nelson
book
Baby Bear is lost and trying to find his way home. As he walks through the forest, he meets other animals who offer wise advice. Trust yourself. Listen to your heart. Keep walking and you will find your way home.
As each encounter moves Baby Bear farther along on his journey, he gains courage and the comforting feeling that he is loved and never alone.
With poetic text and stunning illustrations, Baby Bear is a powerful addition to the canon of timeless picture-book classics.
---
Crossing Bok Chitto : a Choctaw Tale of Friendship & Freedom by Tim Tingle
book
Seven slaves cross the big river to freedom, led by a Choctaw angel walking on water.
There is a river called Bok Chitto that cuts through Mississippi. In the days before the War Between the States, in the days before the Trail of Tears, Bok Chitto was a boundary. On one side of the river lived the Choctaws. On the other side lived the plantation owners and their slaves. If a slave escaped and made his way across Bok Chitto, the slave was free.
Thus begins Crossing Bok Chitto, told by award-winning Choctaw storyteller Tim Tingle and brought to life with the rich illustrations of Jeanne Rorex Bridges.
---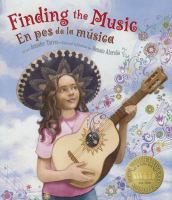 Finding the Music by Jennifer Torres
book
Bilingual English/Spanish. In this cheerful book, a determined Latina girl accidentally breaks her grandfather's vihuela and discovers his legacy as a mariachi player.
---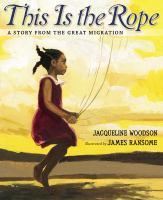 This is the Rope: A Story from the Great Migration by Jacqueline Woodson
book
hoopla audiobook
hoopla movie
Jacqueline Woodson is the 2018-2019 National Ambassador for Young People's Literature
The story of one family's journey north during the Great Migration starts with a little girl in South Carolina who finds a rope under a tree one summer. She has no idea the rope will become part of her family's history. But for three generations, that rope is passed down, used for everything from jump rope games to tying suitcases onto a car for the big move north to New York City, and even for a family reunion where that first little girl is now a grandmother.