Stop loafing around and make some bread. Straight from our cookbooks to your oven. Recommended by Ashley Lee.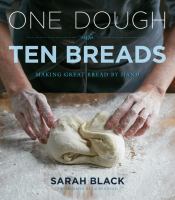 One Dough, Ten Breads: Making Great Bread By Hand by Sarah Black 
book 
hoopla ebook 
An introduction to making bread by hand, from one easy dough to ten classic loaves to infinite possibilities For anyone who's ever wanted to bake homemade bread but doesn't know where to begin, One Dough, Ten Breads is the answer: With just a few ingredients, one's own two hands, and this book, even a novice baker is well on the way to making artisan-style breads. Baking instructor Sarah Black starts with the simplest "plain white" dough, then makes small changes to ingredients, proportions, and shapes to take the reader through ten "foundation" breads, from baguettes to ciabatta to whole-wheat pain de campagne to sourdough. Notes and teaching moments, shaping instructions, clear step-by-step photography, and additional recipes build on this foundation to create new and varied breads that will appeal to bakers of all skill levels, including: sandwich loaves, rustic country-style breads, dinner rolls, pizza and focaccia, crackers, and hearty breads studded with dried fruits, nuts, seeds, or whole grains. 
---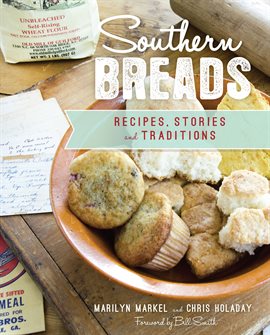 Southern Bread: Recipes, Stories, and Traditions 
by Marilyn Markel and Chris Holaday 
hoopla ebook 
Freading ebook 
The warmth of the oven and the smell of fresh-baked bread conjure comforting memories of tradition and place. Aside from being a staple on every table in the South, these breads and their recipes detail the storied history of the region. Biscuits emerged from Native American and European traditions. Cornbread, with its vast variety, is a point of debate among Southerners over which recipe yields the most delicious results. The hushpuppy, developed possibly to quiet whining dogs, is a requirement for any true catfish or barbecue meal. Author Chris Holaday and top culinary instructor Marilyn Markel offer the mouthwatering history, famous recipes and heartwarming stories of Southerners in their kitchens. 
---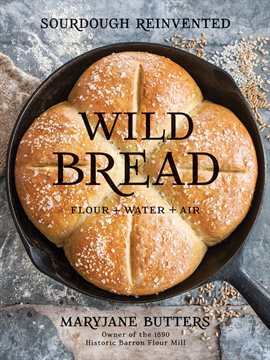 Wild Bread by MaryJane Butters 
hoopla ebook 
Freading ebook 
Until now, sourdough was perceived as too much work and sour-tasting, artisan-style-only loaves. In Wild Bread, her quick and easy 1 minute 2xday technique demonstrates the use of eight different types of flours for each bread featured – everything from gluten-free brown-rice flour to quinoa to common white to heirloom whole wheat – for a whopping 295 recipes and 475 photographs.
Using her step-by-step method, every style of bread imaginable, including gluten-free, will loft with wild abandon without the purchase of a single packet of not-so-healthy, store-bought yeast. In nutritionally superior wild-yeast bread, fermentation triggers the release of vital nutrients and breaks down carbohydrates. In MaryJane's world, there's no such thing as too much bread because once you convert to slow-rise wild-bread making, that bagel you've been thinking about is more like a vitamin pill than a source of "carb-loaded" guilt.
Lessons gleaned from MaryJane Butters' diverse pioneering background, from carpenter to dairy owner to former wilderness ranger turned organic farmer, led her eventually to stewardship of the 4-story, historic Barron Flour Mill. It was only natural that her years spent living on remote Forest Service fire-watch towers with only a living, breathing sourdough "mother" for companionship would lead her to write a pioneering wild-yeast bread book. She is the author of eight books; editor of MaryJanesFarm magazine, now in its 18th year of publication; and lives on an organic farm in Idaho. Two of her grown children and their spouses are employed full-time at her farm and she is "Nanny" to half a dozen grandchildren.
---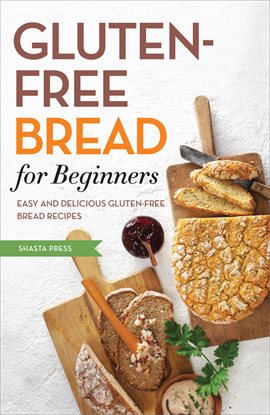 Gluten Free Bread for Beginners by The Shasta Press 
Easy and Delicious Gluten Free Bread Recipes
hoopla ebook
Millions of people are now embracing a gluten-free lifestyle, driven by new scientific breakthroughs surrounding the diagnosis of celiac disease, severe wheat allergies, and gluten intolerance. Gluten has been proven to be the culprit in everything from weight gain to recurring medical issues. Adopting a gluten-free diet can help you find relief, but it shouldn't mean having to give up the foods you love! Following a gluten-free diet can be a challenge, especially when it comes to finding gluten-free bread and pastries that fit into your diet. Gluten-Free Bread for Beginners will show you how to create tasty gluten-free bread in your own kitchen, with 75 easy recipes and practical tips on living gluten-free in the real world.
• 75 delicious gluten-free bread recipes, including Whole-Grain Olive Bread, Sweet Cinnamon Rolls, and Pear Almond Muffins
• 15 strategies for baking gluten-free bread that will please your entire household
• Comprehensive guide to the top substitutes for wheat, rye, and barley flours to use in your gluten-free bread
• Simple tips on how to make your home gluten-free
• Important information on identifying the symptoms of gluten reactions Going gluten-free is a lifestyle change that requires diligence and creativity.
---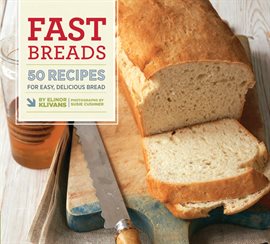 Fast Breads: 50 Recipes for Easy, Delicious Bread by Elinor Klivans
hoopla ebook
Best-selling author and baking authority Elinor Klivans presents 65 of the finest and fastest recipes for baking homemade breads. With simple, easy-to-master techniques, anyone can quickly make such delightful treats as Apricot Corn Muffins, Butter Crescents, plus really super-fast favorites like Pumpkin Chocolate Chip Pancakes and Very Big Popovers, all with a minimum of sweat in the kitchen. From morning treats like crumpets, muffins, and sticky breads to savory and nutritious multigrains and dark ryes, Fast Breads will make a master bread maker of any baker in record fast time, too!
---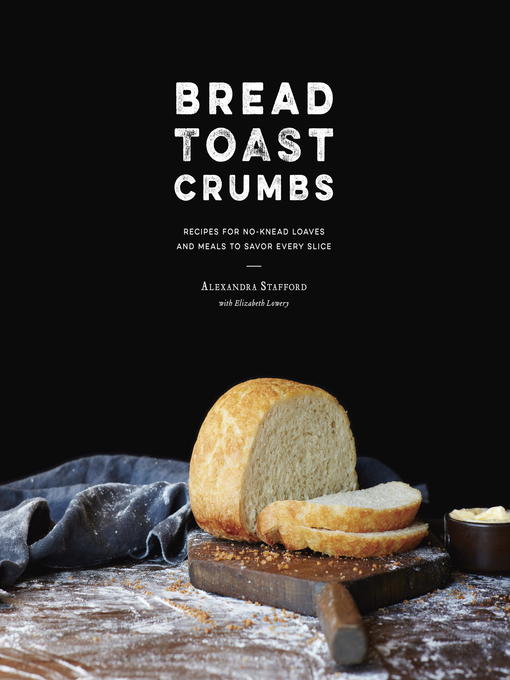 Bread Toast Crumbs : Recipes for No-Knead Loaves and Meals to Savor Every Slice by Alexandra Stafford
book
With praise from Dorie Greenspan, Jim Lahey, and David Lebovitz, this is the definitive bread-baking book for a new generation. But this book isn't just about baking bread– it's about what to do with the slices and heels and nubs from those many loaves you'll bake. Alexandra Stafford grew up eating her mother's peasant bread at nearly every meal, the recipe for which was a closely-guarded family secret. When her blog, Alexandra's Kitchen, began to grow in popularity, readers started asking how to make the bread they'd heard so much about; the bread they had seen peeking into photos. Finally, Alexandra's mother relented, and the recipe went up on the internet. It has since inspired many who had deemed bread-baking an impossibility to give it a try, and their results have exceeded expectations. The secret is in its simplicity: the no-knead dough comes together in fewer than five minutes, rises in an hour, and after a second short rise, bakes in buttered bowls. After you master the famous peasant bread, you'll work your way through its many variations, both in flavor (Cornmeal, Jalapeno, and Jack; Three Seed) and form (Cranberry Walnut Dinner Rolls; Cinnamon Sugar Monkey Bread). You'll enjoy bread's usual utilities with Food Cart Grilled Cheese and the Summer Tartine with Burrata and Avocado, but then you'll discover its true versatility when you use it to sop up Mussels with Shallot and White Wine or juicy Roast Chicken Legs. Finally, you'll find ways to savor every last bite, from Panzanella Salad Three Ways to Roasted Tomato Soup to No-Bake Chocolate-Coconut Cookies.
---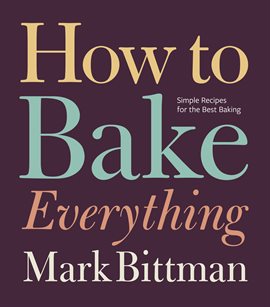 How to Bake Everything by Mark Bittman
Simple Recipes for the Best Baking
hoopla ebook
In the most comprehensive book of its kind, Mark Bittman offers the ultimate baker's resource. Finally, here is the simplest way to bake everything, from American favorites (Crunchy Toffee Cookies, Baked Alaska) to of-the-moment updates (Gingerbread Whoopie Pies). It explores global baking, too: Nordic ruis, New Orleans beignets, and Afghan snowshoe naan. The recipes satisfy every flavor craving thanks to more than 2,000 recipes and variations: a pound cake can incorporate polenta, yogurt, ricotta, citrus, hazelnuts, ginger, and more. New bakers will appreciate Bittman's opinionated advice on essential equipment and ingredient substitutions, plus extensive technique illustrations. The pros will find their creativity unleashed with guidance on how to adapt recipes to become vegan, incorporate new grains, improvise tarts, or create customized icebox cakes using a mix-and-match chart. Demystified, deconstructed, and debunked—baking is simpler and more flexible than you ever imagined.
---
The Allergy-free Cook Bakes Bread by Laurie Sadowski
book
Dealing with any food allergy is a challenge, especially when you find yourself coping with more than one of the common food allergens: gluten, wheat, dairy, or eggs, as well as soy, corn, tree nuts, or peanuts. Food writer and critic Laura Sadowski delivers recipes that are gluten-free, vegan, and healthful with a few indulgences, classic essentials, and everything in between. The Allergy-Free Cook Bakes Bread proves that restricted ingredients do not equal restricted diets. These recipes have universal appeal and are everyone's favorites: rich sweet breads, muffins cinnamon rolls, and doughnuts, as well as tasty crackers, biscuits, tortillas, and soft, hearty yeast breads, rolls, pitas, bagels, and pizza crusts. Also provided is information on how to interpret ingredient labels, keep food allergens out of your environment, and get all the nutrients you need on a specialized diet along with essential information on gluten-free flours, stocking a gluten-free pantry, and how to make substitutions for milk, eggs, butter, and other problem ingredients.
---
Breaking Bread by Martin Philip
A Baker's Journey Home in 75 Recipes
hoopla ebook
Freading ebook
A brilliant, moving meditation on craft and love, and an intimate portrait of baking and our communion with food complete with seventy-five original recipes and illustrated with dozens of photographs and original hand-drawn illustrations from the head bread baker of King Arthur Flour.

Yearning for creative connection, Martin Philip traded his finance career in New York City for an entry-level baker position at King Arthur Flour in rural Vermont. A true Renaissance man, the opera singer, banjo player, and passionate amateur baker worked his way up, eventually becoming head bread baker. But Philip is not just a talented craftsman; he is a bread shaman. Being a baker isn't just mastering the chemistry of flour, salt, water, and yeast; it is being an alchemist, perfecting the transformation of simple ingredients into an elegant expression of the soul.

Breaking Bread is an intimate tour of Philip's kitchen, mind, and heart. Through seventy-five original recipes and life stories told with incandescent prose, he shares not only the secrets to creating loaves of unparalleled beauty and flavor but the secrets to a good life. From the butter biscuits, pecan pie, and whiskey bread pudding of his childhood in the Ozarks to French baguettes and focaccias, bagels and muffins, cinnamon buns and ginger scones, Breaking Bread is a guide to wholeheartedly embracing the staff of life.

Philip gently guides novice bakers and offers recipes and techniques for the most advanced levels. He also includes a substantial technical section covering the bread-making process, tools, and ingredients. As he illuminates an artisan's odyssey and a life lived passionately, he reveals how the act of baking offers spiritual connection to our pasts, our families, our culture and communities, and, ultimately, ourselves. Exquisite, sensuous, and delectable, Breaking Bread inspires us to take risks, make bolder choices, live more fully, and bake bread and break it with those we love.
---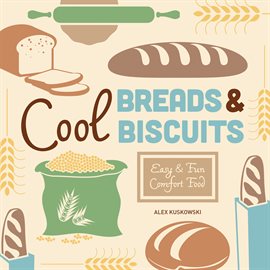 Cool Breads & Biscuits by Alex Kuskowski
Easy & Fun Comfort Food
hoopla ebook
Bake magnificent bread at home with recipes from Cool Breads & Biscuits! From biscuit rolls to sweet cinnamon bread, each recipe in this book makes a delicious loaf. Making food at home is fun and easy. You can make each dish just how you like it. Fresh bread is a must have for home cooked meals. Every recipe is kid-tested and also has photos for basic techniques, tools, and ingredients. Part of the Cool Home Cooking series.
---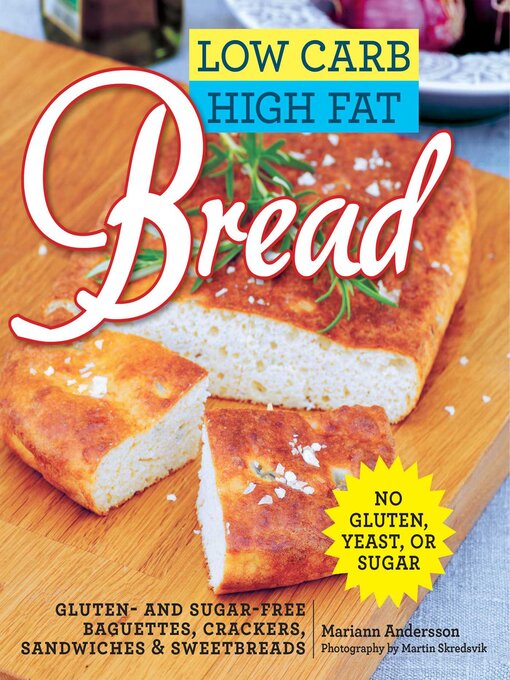 Low Carb High Fat Bread by Mariann Anderson
OverDrive ebook
hoopla ebook
Suitable for paleo, ketogenic, Atkins, and gluten-free diets. Contains recipes that help people on low-carb diets satisfy their bread cravings. Instructions are easy to follow.
Bread is such a staple in many people's diets that it can be what we miss the most when trying to be low-carb or gluten-free. The energy people have at the beginning of a diet can lead to cravings as time passes. With Low Carb, High Fat Bread, anyone following low-fat or gluten-free diets can satisfy their cravings for carbs without cheating on their diet. The breads in this guide are protein-rich, and the recipes are suitable for beginners and expert cooks.