Feel the thrills and the chills with these spooky tales for middle grade readers. Recommended by Isabel Naquin.
The Girl in the Locked Room by Mary Downing Hanh
book
OverDrive audiobook
hoopla audiobook
A family moves into an old abandoned house. Jules's parents love the house, but Jules is frightened and feels a sense of foreboding. When she sees a pale face in an upstairs window, though, she can't stop wondering about the eerie presence on the top floor in a room with a locked door. Could it be someone who lived in the house a century earlier? Her fear replaced by fascination, Jules is determined to make contact with the mysterious figure and help unlock the door. Past and present intersect as she and her ghostly friend discover—and change—the fate of the family who lived in the house all those many years ago.

---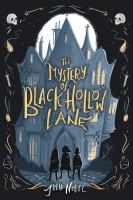 The Mystery of Black Hollow Lane by Julia Nobel
book
hoopla audiobook
hoopla ebook
Freading ebook
With a dad who disappeared years ago and a mother who's a bit too busy to parent, Emmy is shipped off to Wellsworth, a prestigious boarding school in England, where she's sure she won't fit in. But then she finds a box of mysterious medallions in the attic of her home with a note reading: These belonged to your father.
When she arrives at school, she finds the strange symbols from the medallions etched into walls and books, which leads Emmy and her new friends, Jack and Lola, to Wellsworth's secret society: The Order of Black Hollow Lane.
Emmy can't help but think that the society had something to do with her dad's disappearance, and that there may be more than just dark secrets in the halls of Wellsworth.
---
Serafina and the Black Cloak by Robert Beatty
book
OverDrive ebook
hoopla ebook
Serafina has never had a reason to disobey her pa and venture beyond the grounds of the Biltmore estate. There's plenty to explore in her grand home, although she must take care to never be seen. None of the rich folk upstairs know that Serafina exists; she and her pa, the estate's maintenance man, have secretly lived in the basement for as long as Serafina can remember. But when children at the estate start disappearing, only Serafina knows who the culprit is: a terrifying man in a black cloak who stalks Biltmore's corridors at night.
Following her own harrowing escape, Serafina risks everything by joining forces with Braeden Vanderbilt, the young nephew of the Biltmore's owners. Braeden and Serafina must uncover the Man in the Black Cloak's true identity before all of the children vanish one by one. Serafina's hunt leads her into the very forest that she has been taught to fear. There she discovers a forgotten legacy of magic, one that is bound to her own identity. In order to save the children of Biltmore, Serafina must seek the answers that will unlock the puzzle of her past.
---
The Bone Garden by Heather Kassner
book
hoopla audiobook
Irréelle fears she's not quite real. Only the finest magical thread tethers her to life—and to Miss Vesper. But for all her efforts to please her cruel creator, the thread is unraveling. Irréelle is forgetful as she gathers bone dust. She is slow returning from the dark passages beneath the cemetery. Worst of all, she is unmindful of her crooked bones.
When Irréelle makes one final, unforgivable mistake by destroying a frightful creature just brought to life, Miss Vesper threatens to imagine her away once and for all. Defying her creator for the very first time, Irréelle flees to the underside of the graveyard and embarks on an adventure to unearth the mysterious magic that breathes bones to life, even if it means she will return to dust and be no more.
With echoes of Neil Gaiman's The Graveyard Book, debut author Heather Kassner's The Bone Garden is a gorgeously written story—illustrated by Matt Saunders—humming with magic, mystery, and dark imaginings. Perfect for fans of Holly Black, Jonathan Auxier, and Katherine Arden.
---
The Jumbies by Tracey Baptise
book
OverDrive ebook
OverDrive audiobook
hoopla ebook
hoopla audiobook
Freading ebook
Corinne La Mer isn't afraid of anything. Not scorpions, not the boys who tease her, and certainly not jumbies. They're just tricksters parents make up to frighten their children. Then one night Corinne chases an agouti all the way into the forbidden forest. Those shining yellow eyes that followed her to the edge of the trees, they couldn't belong to a jumbie. Or could they?

When Corinne spots a beautiful stranger speaking to the town witch at the market the next day, she knows something unexpected is about to happen. And when this same beauty, called Severine, turns up at Corinne's house, Corinne is sure that danger is in the air. She soon finds out that bewitching her father, Pierre, is only the first step in Severine's plan to claim the entire island for the jumbies. Corinne must call on her courage and her friends and learn to use ancient magic she didn't know she possessed to stop Severine and to save her island home.
---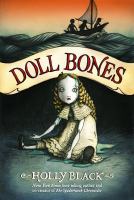 Doll Bones by Holly Black
book
Zach, Poppy, and Alice have been friends forever. And for almost as long, they've been playing one continuous, ever-changing game of pirates and thieves, mermaids and warriors. Ruling over all is the Great Queen, a bone-china doll cursing those who displease her. But they are in middle school now. Zach's father pushes him to give up make-believe, and Zach quits the game. Their friendship might be over, until Poppy declares she's been having dreams about the Queen and the ghost of a girl who will not rest until the bone-china doll is buried in her empty grave.

Zach and Alice and Poppy set off on one last adventure to lay the Queen's ghost to rest. But nothing goes according to plan, and as their adventure turns into an epic journey, creepy things begin to happen. Is the doll just a doll or something more sinister? And if there really is a ghost, will it let them go now that it has them in its clutches?
---
A Babysitter's Guide to Monster Hunting by Joe Ballarini
book
hoopla ebook
hoopla audiobook
Freading ebook
When middle schooler Kelly Ferguson's Halloween plans switch from party-going to babysitting, she thinks the scariest part of her night will be the death of her social life. But then Baby Jacob gets kidnapped by the Boogeyman's minions and Kelly learns there's a whole lot more to childcare than free snacks and Netflix. Like chasing shadow monsters, drop-kicking Toadies, and mastering monster-fighting moves like the Naptime Headlock and Playground Punch.
Now, with the help of an ancient handbook and a secret society of butt-kicking babysitters, Kelly sets out to destroy the Boogeyman before he brings Jacob's nightmares to life. But when the monsters' trail leads to her school's big Halloween bash, Kelly will have to prove she can save the world—without totally embarrassing herself in front of her friends.
Packed with black-and-white illustrations and insider secrets from the world of monster hunting, The Babysitter's Guide to Monster Hunting is full of tricks, treats, and terrifying twists!
---
Small Spaces by Katherine Arden
book
OverDrive ebook
OverDrive audiobook
After suffering a tragic loss, eleven-year-old Ollie only finds solace in books. So when she happens upon a crazed woman at the river threatening to throw a book into the water, Ollie doesn't think—she just acts, stealing the book and running away. As she begins to read the slender volume, Ollie discovers a chilling story about a girl named Beth, the two brothers who both loved her, and a peculiar deal made with "the smiling man," a sinister specter who grants your most tightly held wish, but only for the ultimate price.
Ollie is captivated by the tale until her school trip the next day to Smoke Hollow, a local farm with a haunting history all its own. There she stumbles upon the graves of the very people she's been reading about. Could it be the story about the smiling man is true? Ollie doesn't have too long to think about the answer to that. On the way home, the school bus breaks down, sending their teacher back to the farm for help. But the strange bus driver has some advice for the kids left behind in his care: "Best get moving. At nightfall they'll come for the rest of you." Nightfall is, indeed, fast descending when Ollie's previously broken digital wristwatch, a keepsake reminder of better times, begins a startling countdown and delivers a terrifying message: RUN.
Only Ollie and two of her classmates heed the bus driver's warning. As the trio head out into the woods—bordered by a field of scarecrows that seem to be watching them—the bus driver has just one final piece of advice for Ollie and her friends: "Avoid large places. Keep to small." And with that, a deliciously creepy and hair-raising adventure begins.
---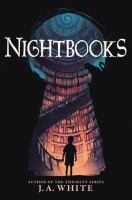 Nightbooks by J.A. White
book
hoopla audiobook
hoopla ebook
Freading ebook
Alex's original hair-raising tales are the only thing keeping the witch Natacha happy, but soon he'll run out of pages to read from and be trapped forever. He's loved scary stories his whole life, and he knows most don't have a happily ever after. Now that Alex is trapped in a true terrifying tale, he's desperate for a different ending—and a way out of this twisted place.
This modern spin on the Scheherazade story is perfect for fans of Coraline and A Tale Dark and Grimm. With interwoven tips on writing with suspense, adding in plot twists, hooks, interior logic, and dealing with writer's block, this is the ideal book for budding writers and all readers of delightfully just-dark-enough tales.
---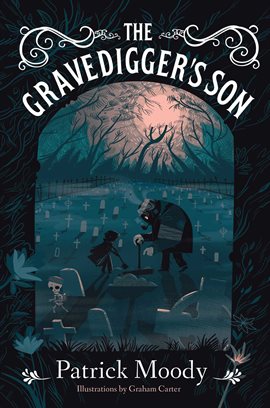 The Grave Digger's Son by Patrick Moody
hoopla ebook
Ian Fossor is last in a long line of Gravediggers. It's his family's job to bury the dead and then, when Called by the dearly departed, to help settle the worries that linger beyond the grave so spirits can find peace in the Beyond.

But Ian doesn't want to help the dead. He wants to be a Healer and help the living. Such a wish is, of course, selfish and impossible. Fossors are Gravediggers. So he reluctantly continues his training under the careful watch of his undead mentor, hoping every day that he's never Called and carefully avoiding the path that leads into the forbidden woods bordering the cemetery.

Just as Ian's friend, Fiona, convinces him to talk to his father, they're lured into the woods by a risen corpse that doesn't want to play by the rules. There, the two are captured by a coven of Weavers, dark magic witches who want only two things: to escape the murky woods where they've been banished, and to raise the dead and shift the balance of power back to themselves.
Only Ian can stop them. With a little help from his friends. And his long-dead ancestors.