---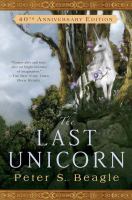 The Last Unicorn by Peter S. Beagle
book
graphic novel
DVD
The unicorn lived in a lilac wood, and she lived all alone. So she ventured out from the safety of the enchanted forest on a quest for others of her kind. Joined along the way by the bumbling magician Schmendrick and the indomitable Molly Grue, the unicorn learns all about the joys and sorrows of life and love before meeting her destiny in the castle of a despondent monarch and confronting the creature that would drive her kind to extinction.
---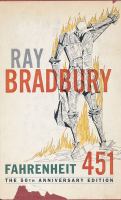 Fahrenheit 451 by Ray Bradbury
book
60th Anniversary Edition book
large print book
book on CD
DVD
hoopla audiobook
OverDrive ebook
OverDrive audiobook
The hauntingly prophetic classic novel set in a not-too-distant future where books are burned by a special task force of firemen.
Guy Montag is a fireman. His job is to burn books, which are forbidden, being the source of all discord and unhappiness. Even so, Montag is unhappy; there is discord in his marriage. Are books hidden in his house? The Mechanical Hound of the Fire Department, armed with a lethal hypodermic, escorted by helicopters, is ready to track down those dissidents who defy society to preserve and read books.
The classic novel of a post-literate future, Fahrenheit 451 stands alongside Orwell's 1984 and Huxley's Brave New World as a prophetic account of Western civilization's enslavement by the media, drugs, and conformity.
Bradbury's powerful and poetic prose combines with uncanny insight into the potential of technology to create a novel which over fifty years from first publication, still has the power to dazzle and shock.
---
---
The Sisterhood of the Traveling Pants by Ann Brashares
book
book on CD
OverDrive ebook
Carmen got the jeans at a thrift shop. They didn't look all that great: they were worn, dirty, and speckled with bleach. On the night before she and her friends part for the summer, Carmen decides to toss them. But Tibby says they're great. She'd love to have them. Lena and Bridget also think they're fabulous. Lena decides that they should all try them on. Whoever they fit best will get them. Nobody knows why, but the pants fit everyone perfectly. Even Carmen (who never thinks she looks good in anything) thinks she looks good in the pants. Over a few bags of cheese puffs, they decide to form a sisterhood and take the vow of the Sisterhood of the Traveling Pants. The next morning, they say good-bye. And then the journey of the pants — and the most memorable summer of their lives — begins.
---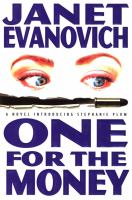 One for the Money by Janet Evanovich
book
OverDrive ebook
OverDrive audiobook
OverDrive audiobook
hoopla audiobook
hoopla audiobook
First in the Stephanie Plum mystery series. Trenton native Stephanie Plum is out of work, out of money, and out of luck. So she blackmails her bail bondsman cousin, Vinnie, into giving her a try as an apprehension agent. Her first assignment: nail Joe Morelli, a former vice cop on the run from a charge of murder one. He's also the irresistible macho pig who took Stephanie's virginity at sixteen and then wrote the details on the sub shop's bathroom wall. The chase should be interesting.
---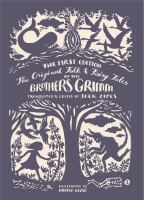 The Original Folk and Fairy Tales of the Brothers Grimm by Jacob and Wilhelm Grimm
book
hoopla ebook editions
Freading ebook
When Jacob and Wilhelm Grimm published their Children's and Household Tales in 1812, followed by a second volume in 1815, they had no idea that such stories as Rapunzel, Hansel and Gretel, and Cinderella would become the most celebrated in the world. Yet few people today are familiar with the majority of tales from the two early volumes, since in the next four decades the Grimms would publish six other editions, each extensively revised in content and style. For the very first time, The Original Folk and Fairy Tales of the Brothers Grimm makes available in English all 156 stories from the 1812 and 1815 editions. These narrative gems, newly translated and brought together in one beautiful book, are accompanied by sumptuous new illustrations from award-winning artist Andrea Dezso.
From The Frog King to The Golden Key, wondrous worlds unfold–heroes and heroines are rewarded, weaker animals triumph over the strong, and simple bumpkins prove themselves not so simple after all. Esteemed fairy tale scholar Jack Zipes offers accessible translations that retain the spare description and engaging storytelling style of the originals. Indeed, this is what makes the tales from the 1812 and 1815 editions unique–they reflect diverse voices, rooted in oral traditions, that are absent from the Grimms' later, more embellished collections of tales. Zipes's introduction gives important historical context, and the book includes the Grimms' prefaces and notes.
A delight to read, The Original Folk and Fairy Tales of the Brothers Grimm presents these peerless stories to a whole new generation of readers.
---
Water for Elephants by Sara Gruen
book
large print book
book on CD
DVD
OverDrive ebook
hoopla ebook
hoopla audiobook
Freading ebook
An atmospheric, gritty, and compelling novel of star-crossed lovers set in the circus world circa 1932, by the bestselling author of Riding Lessons. When Jacob Jankowski, recently orphaned and suddenly adrift, jumps onto a passing train, he enters a world of freaks, grifters, and misfits, a second-rate circus struggling to survive during the Great Depression, making one-night stands in town after endless town. A veterinary student who almost earned his degree, Jacob is put in charge of caring for the circus menagerie. It is there that he meets Marlena, the beautiful young star of the equestrian act, who is married to August, the charismatic but twisted animal trainer. He also meets Rosie, an elephant who seems untrainable until he discovers a way to reach her. Beautifully written, Water for Elephants is illuminated by a wonderful sense of time and place. It tells a story of a love between two people that overcomes incredible odds in a world in which even love is a luxury that few can afford.
---
The Ten Thousand Doors of January by Alix E. Harrow
book
book on CD
OverDrive ebook
OverDrive audiobook
In the early 1900s, a young woman embarks on a fantastical journey of self-discovery after finding a mysterious book in this captivating and lyrical debut. In a sprawling mansion filled with peculiar treasures, January Scaller is a curiosity herself. As the ward of the wealthy Mr. Locke, she feels little different from the artifacts that decorate the halls: carefully maintained, largely ignored, and utterly out of place. Then she finds a strange book. A book that carries the scent of other worlds, and tells a tale of secret doors, of love, adventure, and danger. Each page turn reveals impossible truths about the world, and January discovers a story increasingly entwined with her own. Lush and richly imagined, a tale of impossible journeys, unforgettable love, and the enduring power of stories awaits in Alix E. Harrow's spellbinding debut. Step inside and discover its magic.
---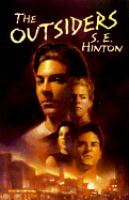 The Outsiders by S. E. Hinton
book
50th Anniversary Edition book
book on CD
Playaway audiobook
DVD Complete Novel Edition
OverDrive audiobook
Three brothers struggle to stay together after their parents' death, as they search for an identity among the conflicting values of their adolescent society in which they find themselves "outsiders."
Two rival gangs – the "haves" and "have-nots" – fight it out on the streets of an Oklahoma city.
When it was first published in 1967, The Outsiders defied convention with its immediate, deeply sympathetic portrayal of Ponyboy and his struggle to find a place for himself in a difficult world. Thirty years later, it speaks to teenagers as powerfully as ever.
---
Sorcery of Thorns by Margaret Rogerson
book
All sorcerers are evil. Elisabeth has known that as long as she has known anything. Raised as a foundling in one of Austermeer's Great Libraries, Elisabeth has grown up among the tools of sorcery—magical grimoires that whisper on shelves and rattle beneath iron chains. If provoked, they transform into grotesque monsters of ink and leather.

Then an act of sabotage releases the library's most dangerous grimoire, and Elisabeth is implicated in the crime. With no one to turn to but her sworn enemy, the sorcerer Nathaniel Thorn, and his mysterious demonic servant, she finds herself entangled in a centuries-old conspiracy. Not only could the Great Libraries go up in flames, but the world along with them.

As her alliance with Nathaniel grows stronger, Elisabeth starts to question everything she's been taught—about sorcerers, about the libraries she loves, even about herself. For Elisabeth has a power she has never guessed, and a future she could never have imagined.
---
Gumbo Ya-Ya compiled by Lyle Saxon
book
Long considered the finest collection of Louisiana folktales and customs, this book chronicles the stories and legends that have emerged from the bayou country.