Mirror, mirror, on the wall, who loves a fairy tale retelling most of all? We do! Here is a collection of middle grade and young adult books that feature re-imaginings of classic fairy tales. Recommended by Samantha Matherne.
Middle Grade
Flunked (Fairy Tale Reform School #1) by Jen Calonita 
book 
OverDrive ebook 
hoopla ebook 
hoopla audiobook 
hoopla audiobook booktrack edition 
Freading ebook 
Would you send a villain to do a hero's job? Full of regret, Cinderella's wicked stepmother, Flora, has founded the Fairy Tale Reform School with the mission of turning the wicked and criminally mischievous into upstanding members of Enchantasia. Impish, sassy 12-year old Gilly has a history of petty theft and she's not too sorry about it. When she lifts a hair clip, she gets tossed in reform school for at least three months. But when she meets fellow students Jax and Kayla, she learns there's more to this school than its sweet mission. There's a battle brewing and she starts to wonder: Can a villain really change?
---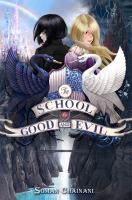 The School for Good and Evil (School for Good and Evil #1) by Soman Chainani
book
OverDrive ebook
hoopla ebook
hoopla audiobook
Freading ebook
Welcome to the School for Good and Evil, where best friends Sophie and Agatha are about to embark on the adventure of a lifetime. With her glass slippers and devotion to good deeds, Sophie knows she'll earn top marks at the School for Good and join the ranks of past students like Cinderella, Rapunzel, and Snow White. Meanwhile, Agatha, with her shapeless black frocks and wicked black cat, seems a natural fit for the villains in the School for Evil. The two girls soon find their fortunes reversed. Sophie's dumped in the School for Evil to take Uglification, Death Curses, and Henchmen Training, while Agatha finds herself in the School for Good, thrust among handsome princes and fair maidens for classes in Princess Etiquette and Animal Communication. But what if the mistake is actually the first clue to discovering who Sophie and Agatha really are? The School for Good and Evil is an epic journey into a dazzling new world, where the only way out of a fairy tale is to live through one.
---
The Isle of the Lost (Descendants #1) by Melissa de la Cruz
book
book on CD
OverDrive ebook
OverDrive audiobook
hoopla ebook
hoopla graphic novel
hooopla audiobook
Evil tree. Bad Apple?
Twenty years ago, all the evil villains were banished from the kingdom of Auradon to the Isle of the Lost, a dark and dreary place protected by a force field that makes it impossible for them to leave. Stripped of their magical powers, the villains now live in total isolation, forgotten by the world.
Mal learns from her mother, Maleficent, that the key to true darkness, the Dragon's Eye, is located inside her scepter in the forbidden fortress on the far side of the island. The eye is cursed, and whoever retrieves it will be knocked into a deep sleep for a thousand years. But Mal has a plan to capture it. She'll just need a little help from her "friends." In their quest for the Dragon's Eye, these four kids begin to realize that just because you come from an evil family tree, being good ain't so bad.
---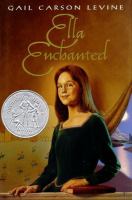 Ella Enchanted by Gail Carson Levine
book
DVD (2004)
DVD (2011)
hoopla movie soundtrack
OverDrive ebook
In this novel based on the story of Cinderella, Ella struggles against the childhood curse that forces her to obey any order given to her.
At her birth, Ella of Frell receives a foolish fairy's gift, the "gift" of obedience. Ella must obey any order, whether it's to hop on one foot for a day and a half, or to chop off her own head. But strong-willed Ella does not accept her fate.
Against a bold backdrop of princes, ogres, giants, wicked stepsisters, and fairy godmothers, Ella goes on a quest to break the curse forever.
---
Fairest of All (Whatever After #1) by Sarah Mlynowski
book
hoopla audiobook
OverDrive ebook
Mirror, mirror, on the basement wall . . .
Once upon a time my brother and I were normal kids. The next minute? The mirror in our basement slurped us up and magically transported us inside Snow White's fairy tale. I know it sounds crazy, but it's true.
But hey — we're heroes! We stopped Snow White from eating the poisoned apple. Hooray! Or not. If Snow White doesn't die, she won't get to meet her prince. And then she won't get her happy ending. Oops.
Now it's up to us to:
– Avoid getting poisoned
– Sneak into a castle
– Fix Snow White's story
– And then, fingers crossed, find our way home.
---
Grounded: The Adventures of Rapunzel (Tyme #1) by Megan Morrison
book
hoopla audiobook
In all of Tyme, from the Redlands to the Grey, no one is as lucky as Rapunzel. She lives in a magic tower that obeys her every wish; she reads wonderful books starring herself as the heroine; her hair is the longest, most glorious thing in the world. And she knows this because Witch tells her so; her beloved Witch, who protects her from evil princes, the dangerous ground under the tower, even unhappy thoughts. Rapunzel can't imagine any other life.
Then a thief named Jack climbs into her room to steal one of her enchanted roses. He's the first person Rapunzel's ever met who isn't completely charmed by her (well, the first person she's met at all, really), and he is infuriating, especially when he hints that Witch isn't telling her the whole truth. Driven by anger at Jack and her own nameless fears, Rapunzel descends to the ground for the first time, and finds a world filled with more peril than Witch promised. And more beauty, wonder, and adventure than she could have dreamed.
---
Rump: The True Story of Rumpelstiltskin (True Story series) by Liesl Shurtliff
book
OverDrive ebook
OverDrive audiobook
In a magic kingdom where your name is your destiny, 12-year-old Rump is the butt of everyone's joke. But when he finds an old spinning wheel, his luck seems to change. Rump discovers he has a gift for spinning straw into gold. His best friend, Red Riding Hood, warns him that magic is dangerous, and she's right. With each thread he spins, he weaves himself deeper into a curse.
To break the spell, Rump must go on a perilous quest, fighting off pixies, trolls, poison apples, and a wickedly foolish queen. The odds are against him, but with courage and friendship–and a cheeky sense of humor–he just might triumph in the end.
---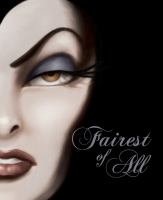 Fairest of All: A Tale of the Wicked Queen (Villians #1) by Serena Valentino
book
OverDrive ebook
hoopla ebook
For anyone who's seen Walt Disney's Snow White, you'll know that the Wicked Queen is one evil woman. After all, it's not everyone who wants to cut out their teenage step-daughter's heart and have it delivered back in a locked keepsake box. (And even if this sort of thing is a common urge, we don't know many people who have acted upon it.)
Now, for the first time, we'll examine the life of the Wicked Queen and find out just what it is that makes her so nasty. Here's a hint: the creepy-looking man in the magic mirror is not just some random spooky visage. And he just might have something to do with the Queen's wicked ways.
---
Young Adult
Tiger Lily by Jodi Lynn Anderson
book
Before Peter Pan belonged to Wendy, he belonged to the girl with the feather in her hair.
In this stunning reimagining of J. M. Barrie's beloved classic Peter Pan, New York Times bestselling author Jodi Lynn Anderson expertly weaves a gripping tale of love, loss, and adventure.
When fifteen-year-old Tiger Lily meets the alluring teenage Peter Pan deep in the forbidden woods of Neverland, the two form an unbreakable bond. As the leader of the Lost Boys, the most fearsome of Neverland's inhabitants, Peter is an unthinkable match for Tiger Lily. And yet, she is willing to risk everything–her family, her future–to be with him.
Then an English girl named Wendy Darling arrives on the island. With dangers tightening around them, Tiger Lily soon finds out how far she is willing to go to keep Peter with her in Neverland and discovers that the deadliest enemies lurk inside even the most loyal and loving heart.
---
Forest of a Thousand Lanterns by Julie C. Dao
book
Set in an East Asian-inspired fantasy world, this reimagining of the Evil Queen legend is about one peasant girl's quest to become Empress and the darkness she must unleash to achieve her destiny.
Beautiful eighteen-year-old Xifeng, raised by a cruel aunt who says the stars destine her to be Empress of Feng Lu, chooses to spurn the man who loves her and exploit the dark magic that can make her dream real.
---
Stepsister by Jennifer Donnelly
book
hoopla audiobook
A startling, fiercely feminist re-imagining of Cinderella from the bestselling, award-winning author Jennifer Donnelly.
Don't just fracture the fairy tale. Shatter it.
Isabelle should be blissfully happy. She's about to win the handsome prince. Except Isabelle isn't the beautiful girl who lost the glass slipper and captured the prince's heart. She's the ugly stepsister who cut off her toes to fit into Cinderella's shoe, which is now filling with blood.
Isabelle tried to fit in. She cut away pieces of herself in order to become pretty. Sweet. More like Cinderella. But that only made her mean, jealous, and hollow. Now she has a chance to alter her destiny and prove what ugly stepsisters have always known: it takes more than heartache to break a girl.
Evoking the darker, original version of the Cinderella story, Stepsister shows us that ugly is in the eye of the beholder, and uses Jennifer Donnelly's trademark wit and wisdom to send an overlooked character on a journey toward empowerment, redemption, and a new definition of beauty.
---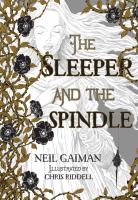 The Sleeper and the Spindle by Neil Gaiman
book
hoopla ebook
hoopla audiobook
Freading ebook
Neil Gaiman and Chris Riddell have twisted together the familiar and the new as well as the beautiful and the wicked, and the result is a captivating and darkly funny illustrated story that will hold fans spellbound from start to finish.
In a beautiful collaboration, New York Times-bestselling and Newbery and Carnegie Medal-winning author Neil Gaiman and Kate Greenaway-winning illustrator Chris Riddell have created a thrillingly reimagined fairy tale, "told in a way only Gaiman can" and featuring "stunning metallic artwork" (GeekInsider.com).
In this captivating and darkly funny tale, Neil Gaiman and Chris Riddell have twisted together the familiar and the new as well as the beautiful and the wicked to tell a brilliant version of Snow White's (sort of) and Sleeping Beauty's (almost) stories.
---
Splintered by A. G. Howard
book
book on CD
hoopla ebook
hoopla audiobook
Freading ebook
This stunning debut captures the grotesque madness of Underland, as well as a girl's pangs of first love and independence. Alyssa Gardner hears the whispers of bugs and flowers, precisely the affliction that landed her mother in a mental hospital years before. This family curse stretches back to her ancestor Alice Liddell, the real-life inspiration for Lewis Carroll's Alice's Adventures in Wonderland. Alyssa might be crazy, but she manages to keep it together. For now.
When her mother's mental health takes a turn for the worse, Alyssa learns that what she thought was fiction is based in terrifying reality. The real Wonderland is a place far darker and more twisted than Lewis Carroll ever let on. There, Alyssa must pass a series of tests, including draining an ocean of Alice's tears, waking the slumbering tea party, and subduing a vicious bandersnatch, to fix Alice's mistakes and save her family. She must also decide whom to trust: Jeb, her gorgeous best friend and secret crush, or the sexy but suspicious Morpheus, her guide through Wonderland, who may have dark motives of his own.
---
A Curse So Dark and Lonely by Brigid Kemmerer
book
OverDrive ebook
In a lush, contemporary fantasy retelling of Beauty and the Beast, Brigid Kemmerer gives readers another compulsively readable romance perfect for fans of Marissa Meyer. Fall in love, break the curse. It once seemed so easy to Prince Rhen, the heir to Emberfall. Cursed by a powerful enchantress to repeat the autumn of his eighteenth year over and over, he knew he could be saved if a girl fell for him. But that was before he learned that at the end of each autumn, he would turn into a vicious beast hell-bent on destruction. That was before he destroyed his castle, his family, and every last shred of hope.
Nothing has ever been easy for Harper. With her father long gone, her mother dying, and her brother barely holding their family together while constantly underestimating her because of her cerebral palsy, she learned to be tough enough to survive. But when she tries to save someone else on the streets of Washington, DC, she's instead somehow sucked into Rhen's cursed world. Break the curse, save the kingdom. A prince? A monster? A curse? Harper doesn't know where she is or what to believe. But as she spends time with Rhen in this enchanted land, she begins to understand what's at stake. And as Rhen realizes Harper is not just another girl to charm, his hope comes flooding back. But powerful forces are standing against Emberfall, and it will take more than a broken curse to save Harper, Rhen, and his people from utter ruin.
---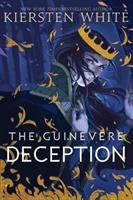 The Guinevere Deception by Kiersten White
book
Princess Guinevere has come to Camelot to wed a stranger, the charismatic King Arthur. With magic clawing at the kingdom's borders, the great wizard Merlin conjured a solution; send in Guinevere to be Arthur's wife and his protector from those who want to see the young king's idyllic city fail. The catch? Guinevere's real name, and her true identity, is a secret. She is a changeling, a girl who has given up everything to protect Camelot.
To keep Arthur safe, Guinevere must navigate a court in which the old, including Arthur's own family, demand things continue as they have been, and the new, those drawn by the dream of Camelot, fight for a better way to live. And always, in the green hearts of forests and the black depths of lakes, magic lies in wait to reclaim the land. Arthur's knights believe they are strong enough to face any threat, but Guinevere knows it will take more than swords to keep Camelot free.
Deadly jousts, duplicitous knights, and forbidden romances are nothing compared to the greatest threat of all: the girl with the long black hair, riding on horseback through the dark woods toward Arthur. Because when your whole existence is a lie, how can you trust even yourself?