Hanukkah is the Jewish Festival of Lights that is celebrated all around the world with lighting of menorahs, playing dreidel, and eating tasty food like latkes (potato pancakes) or sufganiyot (round jelly doughnuts). Learn more about the holiday with this selection of books for both children and adults. Happy Hanukkah, and may you the feel the warmth of the lights all through the year! Recommended by Ashley Lee.
For Children
The Hanukkah Magic of Nate Gadol by Arthur A Levine
book
hoopla audiobook
Nate Gadol is a great big spirit with eyes as shiny as golden coins and a smile that is lantern bright. He can make anything last as long as it is needed, like a tiny bit of oil that must stretch for eight nights, a flower that needs to stay fresh to cheer up someone ailing, or a small lump of chocolate that grows to allow the Glasers to treat their children over the holiday and, during a harsh winter when medicine is needed more than sweets, spurs them to share what little they have with the O'Malleys. In this charming holiday hybrid story, well-known children's author and editor Arthur A. Levine pairs with award-winning illustrator Kevin Hawkes to offer a mythical, magical take on the way Jewish families came to give and receive gifts over Hanukkah, just as their Christian neighbors do at Christmas, thanks to a loving spirit named Nate Gadol working behind the scenes–together with a certain jolly old soul.
---
Simon and the Bear: A Hanukkah Tale by Eric A. Kimmel, Matthew Trueman
book
Stranded on an iceberg on his way to America, Simon remembers his mother's parting words and lights the first candle on his menorah while praying for a miracle, which soon arrives in the form of a friendly polar bear.
---
Maccabee!: The Story of Hanukkah by Tilda Balsley
book
hoopla ebook
hoopla audiobook
Judah and the little army of Maccabees fight to free Jerusalem from the cruel King Antiochus in this vibrant and action-filled rhyming version of the famous Hanukkah story.
---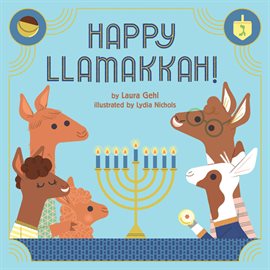 Happy Llamakkah! by Laura Gehl, Lydia Nichols
hoopla ebook
freading ebook
Celebrate Hanukkah with the Llama family in this joyful, rhyming picture book.
Follow along with the Llama family's Hanukkah traditions as they light their menorah, spin the dreidel, fry latkes, and more. Laura Gehl's lively rhyming text and Lydia Nichols's vibrant illustrations make for a festive read. The book also features kid-friendly back matter, with expanded information on the holiday's history and traditions.
---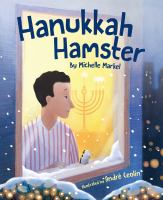 Hanukkah Hamster by Michelle Markel
book
hoopla ebook
The holiday season is a busy time, with people bustling about. And it's a busy time for Edgar, a cabdriver who conveys passengers around the city. All day long Edgar drives his cab; many people going to many different places. At the end of one busy day, Edgar is so tired he climbs into the backseat of his cab to take a nap. But he discovers he is not alone. A little hamster has somehow been left behind from one of the many fares Edgar has driven. Edgar dutifully reports the hamster to the cab company's Lost and Found department, but in the meantime the little creature needs to be taken care of. Edgar brings the hamster to his apartment, making it a bed, feeding it, and even giving it a name, Chickpea. As Edgar starts his Hanukah observance, with no family nearby to share in it, the little hamster becomes more than a casual companion to the lonely man. But what happens when Chickpea's owner is found?
---
The Eight Knights of Hanukkah by Leslie Kimmelman
book
The whole kingdom has gathered to celebrate Hanukkah, but a dastardly dragon keeps interrupting the festivities. Can the Eight Knights of Hanukkah set things right?
It's the last night of Hanukkah and everyone is doing their part for the big celebration, but a dragon called Dreadful has other ideas. He roams the countryside, interrupting the party preparations. Lady Sadie must call upon the Eight Knights of Hanukkah to perform deeds of awesome kindness and stupendous bravery and put an end to the dragon's shenanigans. When Dreadful eats all the special donuts the baker made, Sir Lily helps the baker make more sufganiyot. Sir Alex makes a young lad a new dreidel after Dreadful scorched his original one. And on the Knights go. But when they finally catch up to Dreadful, a funny surprise awaits them. Back matter includes a note on the traditions of Hanukkah and directions for playing the dreidel game.
---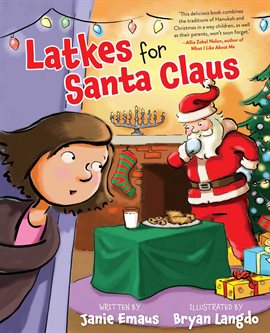 Latkes for Santa Claus by Janie Emaus, Bryan Langdo
hoopla ebook
To: Santa
From: Anna
My new dad and stepbrother celebrate Christmas, so you're coming to my house for the very first time. And I think you must be REALLY tired of cookies. I'm going to leave you the best Santa treat ever.
Anna is excited that Santa will be visiting her house for the first time, and she wants to leave Santa a treat that blends the holidays her new family celebrates: Christmas and Hanukkah.
She expresses this idea to her stepbrother, Michael, who insists that Santa doesn't need anything but his sugar cookies. Anna imagines Santa has to be bored with cookies by now and is determined to find a Jewish recipe that he'll enjoy. The catch? It has to be something easy for Santa to grab and go.
It can't be matzo ball soup. Soup in a sleigh with galloping reindeer will never do….
---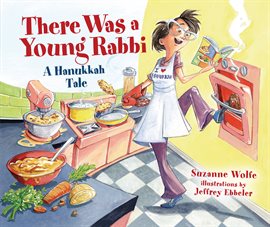 There Was A Young Rabbi by Suzanne Wolfe, Jeffrey Ebbeler
hoopla ebook
hoopla read-along ebook
Hanukkah is a very busy time! Join the young rabbi as she makes festive preparations: spinning the dreidel, cooking a tasty meal, lighting the menorah, and more in this cumulative, rhyming story reminding readers of the Hanukkah miracle of long ago! Learn about Hanukkah's festivities and rituals, and about the Jewish holiday itself.
---
For Adults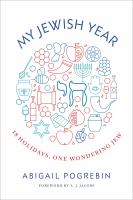 My Jewish Year: 18 Holidays, One Wondering Jew by Abigail Pogrebin
book
The much-dissected Pew Research Center study of 2013, "A Portrait of Jewish Americans," revealed that most U.S. Jews locate their Jewishness in their ancestry and culture, not in religion. Abigail Pogrebin wondered if perhaps that's because we haven't all looked at religion closely enough. Although she grew up following some holiday rituals, Pogrebin realized how little she knew about their foundational purpose and current relevance. She wanted to understand what had kept these holidays alive and vibrant, in some cases for thousands of years. Her curiosity led her to embark on an entire year of intensive research, observation, and writing about the milestones on the Jewish calendar. My Jewish Year travels through this calendar's signposts with candor, humor, and a trove of information, capturing the arc of Jewish observance through the eyes of a relatable, wandering–and wondering–Jew. The chapters are interspersed with brief reflections from prominent rabbis and Jewish thinkers. Maybe you're seeking an accessible, digestible roadmap for Jewish life. Maybe you'd appreciate a fresh exploration of what you've mastered. Whatever your motivation, you'll be educated, entertained, and inspired by Pogrebin's unusual journey and by My Jewish Year.
---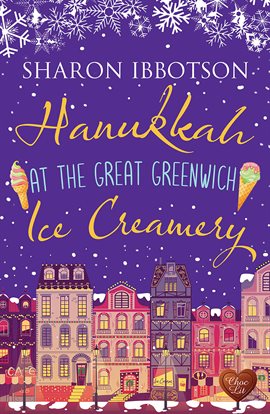 Hanukkah At The Great Greenwich Ice Creamery by Sharon Ibbotson
hoopla ebook
freading ebook
Hanukkah days, Christmas nights and strawberry ice cream . . .
Cohen Ford is a man who could do with a little bit of sweetening up. It's no surprise that when he walks into The Great Greenwich Ice Creamery on a typically gloomy London day before Christmas, he insists on a black coffee rather than his childhood favorite – strawberry ice cream.
But then he meets River de Luca, the woman behind the flavors. After their first encounter, Cohen begins visiting the ice creamery every Tuesday, gradually learning more about the intriguing River. Could her influence encourage cynical Cohen to become the man who embraces Christmas, Hanukkah and even strawberry ice cream?
---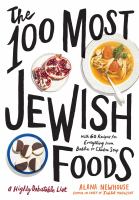 The 100 Most Jewish Foods: A Highly Debatable List edited by Alana Newhouse
book
freading ebook
This list of the 100 most Jewish foods is not about the most popular Jewish foods, or the tastiest, or even the most enduring. It's a list of the most significant foods culturally and historically to the Jewish people, explored deeply with essays, recipes, stories, and context. Some of the dishes are no longer cooked at home, and some are not even dishes in the traditional sense (store-bought cereal and Stella D'oro cookies, for example). The entire list is up for debate, which is what makes this book so much fun. Many of the foods are delicious (such as babka and shakshuka). Others make us wonder how they've survived as long as they have (such as unhatched chicken eggs and jellied calves' feet). As expected, many Jewish (and now universal) favorites like matzo balls, pickles, cheesecake, blintzes, and chopped liver make the list. The recipes are global and represent all contingencies of the Jewish experience. Contributors include Ruth Reichl, Éric Ripert, Joan Nathan, Michael Solomonov, Dan Barber, Gail Simmons, Yotam Ottolenghi, Tom Colicchio, Amanda Hesser and Merrill Stubbs, Maira Kalman, Action Bronson, Daphne Merkin, Shalom Auslander, Dr. Ruth Westheimer, and Phil Rosenthal, among many others. Presented in a gifty package, The 100 Most Jewish Foods is the perfect book to dip into, quote from, cook from, and launch a spirited debate.
---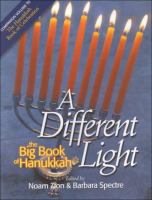 A Different Light, a Pluralist Anthology: The Big Book of Hanukkah by Noam Zion
book
Hanukkah thoughts and perspectives by such contemporary Jewish thinkers as David Hartman, Irving Greenberg, Chaim Potok, Daniel Gordis, and the Lubavitcher Rebbe. These pluralistic perspectives help explain how different communities and denominations find their particular identity symbolized in the light of the Menorah.
---
Flying couch: A Graphic Memoir by Amy Kurzweil
book
hoopla ebook
freading ebook
Flying Couch, Amy Kurzweil's debut, tells the stories of three unforgettable women. Amy weaves her own coming-of-age as a young Jewish artist into the narrative of her mother, a therapist, and Bubbe, her grandmother, a World War II survivor who escaped from the Warsaw Ghetto by disguising herself as a gentile. Captivated by Bubbe's story, Amy turns to her sketchbooks, teaching herself to draw as a way to cope with what she discovers. Entwining the voices and histories of these three wise, hilarious, and very different women, Amy creates a portrait not only of what it means to be part of a family, but also of how each generation bears the imprint of the past.
A retelling of the inherited Holocaust narrative now two generations removed, Flying Couch uses Bubbe's real testimony to investigate the legacy of trauma, the magic of family stories, and the meaning of home. With her playful, idiosyncratic sensibility, Amy traces the way our memories and our families shape who we become. The result is this bold illustrated memoir, both an original coming-of-age story and an important entry into the literature of the Holocaust.
---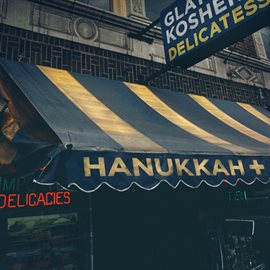 Hanukkah+
hoopla music
Hanukkah music by Jack Black, Yo La Tengo, Haim, The Flaming Lips, Alex Frankel, Buzzy Lee, Tommy Guerrero, Loudon Wainwright III, Watkins Family Hour, Craig Wedren, Adam Green
---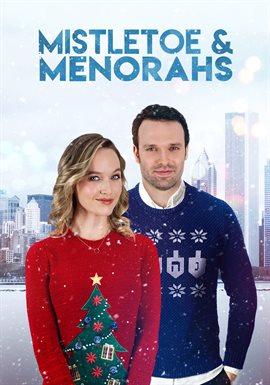 Mistletoe & Menorahs
hoopla movie
When a man and a woman make a deal to learn each other's holiday traditions, they realize they have a lot more in common than they imagined.