It's time to get creative with holiday crafts and recipes. Whether you make gifts and decorations or cook up some festive food, your Christmas is sure to be merry and bright! Recommended by Samantha Matherne.
100 Little Christmas Gifts to Make
book
100 Little Christmas Gifts to Make contains projects that cover a wide variety of crafts including papercraft, sewing, knitting, crochet, sugar craft, felt decorations, jewelry making, cross stitch, mosaic making, decoupage, polymer clay decorations, and needlepoint. All projects are simple enough for experienced beginners and will also appeal to seasoned crafters. The tools and materials are inexpensive and widely available and these charming Christmas items make fabulous gifts for family and friends.
---
Christmas at Highclere: Recipes & Traditions from the Real Downton Abbey by Fiona Carnarvon
book
Highclere Castle, known as "the real Downton Abbey," bustles with activity at the best of times, but it is never more alive than at Christmas. Christmas at Highclere is a look behind the scenes at the routines and rituals that make the castle the most magical place to be throughout the festive season.
Lady Carnarvon will guide you through Advent, Christmas preparations, and Christmas Eve all the way through to the day itself, and beyond. Learn how the castle and grounds are transformed by decorations, including the raising of a twenty-foot tree in the saloon, the gathering of holly and mistletoe from the grounds. All the intricacies of the perfect traditional Christmas are here: from crackers to carol singers. The festive feeling is carried through to Highclere's Boxing Day traditions, the restorative middle days, and the New Year's Eve celebrations.
This book also tells the story of historic Christmases at Highclere, of distinguished guests warming themselves by the fire after a long journeys home through the snow, unexpected knocks on the door, and, always, the joy of bringing family and staff together after a busy year.
As well as telling the stories of Highclere Christmases past and present, Lady Carnarvon provides recipes, tips and inspiration from her kitchen so that readers can bring a quintessentially British festive spirit to their own home. Lady Carnarvon divulges the secret to perfectly flakey mince pies, the proper way to wrap presents so that you and your guests are guaranteed a Christmas to remember.
---
Christmas at Home: Holiday Decorating, Crafts, Recipes edited by Valerie Rains
book
OverDrive ebook
Country Living knows how to make Christmas memorable, and that's why this spectacular book will become your new go-to resource every year. It's filled with more than 200 fun and easy decorating ideas, recipes, and crafts, plus tips and stunning photos of Christmas projects, table settings, trees, and gourmet-worthy main entrees from Turkey Roulade with Sausage-Cornbread Filling to sweet treats like Red Velvet Snowballs.
---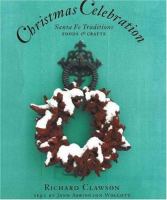 Christmas Celebration: Sante Fe Traditions: Foods & Crafts by Richard P. Clawson
book
Presents a plethora of traditions and ideas, recipes, party plans, and decoration and gift crafts aimed to bring enjoyment to the Christmas celebrations. This book traces the history of Christmas in Santa Fe and describes old traditions that remain alive, such as the masked Matachines dancers, traditional feasts and decorations, and others.
---
Christmas Cookie Swap! More Than 100 Treats to Share This Holiday Season
book
Spread the holiday spirit with this classic collection for ultimate swapping inspiration.
Baked goods define the holiday season. In this keepsake book of cookies, brownies, bars, and confections, home cooks will find 120 perennial favorites ranging from Eggnog Crackle Cookies and Spiced Sorghum Snowflakes to Cherry-Lemon Candy Canes and Peppermint Brownie Bars. Easy-to-follow recipes are accompanied by gorgeous photographs, with cookie swap secrets, creative packaging suggestions, and how-to tips sprinkled throughout. Whether a seasoned baker or new to this fun tradition, every reader will discover baked creations to share with loved ones for years to come.
---
Christmas in the Kitchen: The Ultimate guide to Cooking for the Holidays
book
Readers trust "Southern Living" for all the best holiday recipes, entertaining, and decorating ideas. With this book, readers will enjoy all the tips, ideas, and recipes needed to prepare amazing holiday meals.
---
Christmas Slow Cooker Feasts: 650 Easy Holiday Recipes by Phyllis Pellman Good
book
hoopla ebook
Take your slow cooker out of the pantry and put away the stress of holiday cooking and baking this year. "You absolutely can make holiday meals with ease and with pleasure!" says slow cooker champion Phyllis Good. Here are 600 slow cooker recipes–plus 50 delicious go-alongs (sides, salads, and beverages)–that will wow your friends and family and free you up to spend quality time with loved ones. From Honey-Dijon Holiday Ham to Stuffed Acorn Squash to Eggnog Gingersnap Custard, there are recipes here to indulge every palate. Phyllis Good is beloved for providing recipes that are simple and made with ingredients you can find easily if you don't already have them in your cupboard. Who has time to search for obscure, gourmet ingredients around the holidays? Holiday cooking has never been easier or more delicious.
---
A Cowboy Christmas: Western Celebrations, Recipes, and Traditions by Shanna Hatfield
book
Create your own memorable western-style Christmas through A Cowboy Christmas, a holiday collection of decor, traditions, delicious food, and the unique lifestyle of cowboys. Infused with the stories of real-life ranch families and rodeo cowboys, discover their favorite Christmas traditions. Learn tips and glean ideas for decorating your home, wrapping presents like a pro, entertaining guests with ease, and giving gifts people will love. Traditional, classic, and fresh recipes cover every topic from appetizers to decadent desserts. You'll also find each recipe photographed in full color to help you recreate the results at home. The special touches woven throughout the book make for a heartfelt, down-home cowboy Christmas. Filled with the joy of the season and brimming with love, this book is a true celebration of the holidays.
---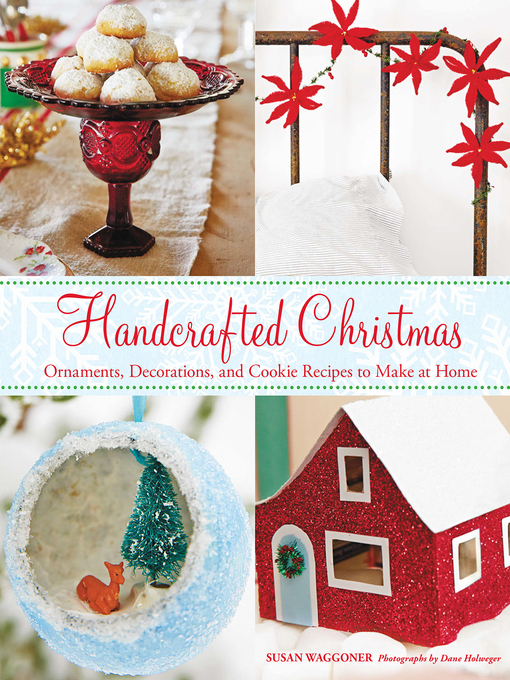 Handcrafted Christmas: Ornaments, Decorations, and Cookie Recipes to Make at Home by Susan Waggoner
hoopla ebook
OverDrive ebook
Fans of nostalgia can craft their way through the holiday season with this newest volume by popular Christmas author Susan Waggoner. The 40 easy projects range from charming punched-tin votive holders, to Russian teacakes for holiday parties, to your very own edible gingerbread house, complete with miniature snowmen on the front lawn. Peppered with engaging facts about the holidays gone by, this is the perfect book for crafters who long for that vintage holiday look.
---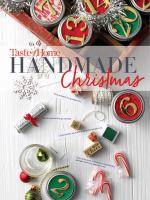 Handmade Christmas edited by Mark Hagen
book
From whimsical elves made of felt to clever custom greeting cards, these inspired ideas promise to make everyone's holiday merry and bright. Whether readers are new to crafting or longtime pros, projects such as Canning Lid Coasters, Pinecone Fire Starters, and Silver Chain Earrings are presents to enjoy creating and receiving.
---
Handmade Christmas: Over 35 Step-by-Step Projects and Inspirational Ideas for the Festive Season by Emma Hardy
book
Save money and have fun with this beautiful collection of Christmas makes. Split into three chapters covering a wide range of different crafting techniques, Handmade Christmas will show you how to perfect your card making, embroidery skills, and sugar craft with projects from different festive cultures and traditions. Start with 'Decorations', where you will find delightful ideas such as a traditional advent calendar and colorful embroidered Christmas stockings, as well as tin candleholders that will glimmer and shine. Then move on to 'Cards and Gift Wrap', which includes inspired ways to present your thoughtful gifts. Learn how to make goody bags and labels in the shape of gingerbread men, or get the kids involved with making the potato print star gift-wrap. And lastly, 'Handmade Gifts' has something to please everyone. With tasty edible treats such as button bites, chocolate coins, and traditional German lebkuchen, you will be the envy of every household. Every project comes with clear step-by-step instructions and illustrations, requires no specialist equipment, and many can be made in an afternoon, so you can get started right away.
---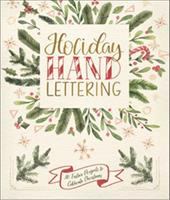 Holiday Hand Lettering: 30 Festive Projects to Celebrate Christmas
book
Nothing brings holiday cheer like beautifully hand-lettered cards, gift tags, and decorations. With this illustrated how-to guide, you'll learn how to use hand-lettering to make your season merry and bright. Each of the 30 projects in this book offers a design idea that you can use or adapt for your own crafts. You'll learn how to send good tidings with watercolor, incorporate doodles into your masterpieces, combine different fonts for maximum visual interest, and find ideas for creating hand-lettered chalkboard signs, Christmas ornaments, mugs, and coasters.
---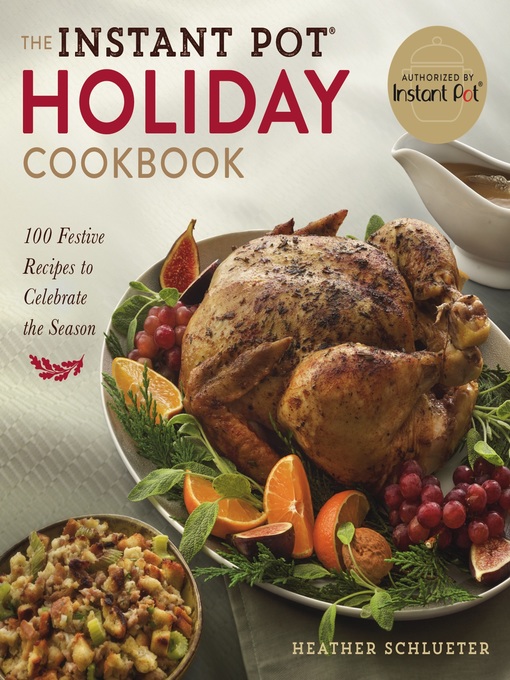 The Instant Pot Holiday Cookbook: 100 Festive Recipes to Celebrate the Season by Heather Schlueter
book
OverDrive ebook
Holidays can be busy and stressful — but fortunately, your Instant Pot® can make preparing that special meal for family and friends so much easier. This official cookbook features 100 fabulous recipes for Easter and Christmas, along with an introduction full of tips and advice on using this must-have appliance. It goes from festive beginnings, such as appetizers, first courses, and welcoming drinks, to show-stopping entrees (including turkey, of course), side dishes, dressings, and desserts. Plus, there's a dedicated chapter for leftover makeovers! You'll even find ideas for gifts from the kitchen that everyone will love.
---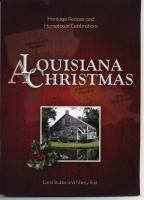 A Louisiana Christmas: Heritage Recipes and Hometown Celebrations by Carol Stubbs and Nancy Rust
book
Traditional recipes and statewide celebrations fill this holiday cookbook. Savory offerings from restaurant chefs and home cooks include Deer Sausage Braids and Red Beans and Rice. Delicious sweets such as Chewy Plantation Pie and Southern Ambrosia round out the meals. More than merely a collection of recipes, this book features historical tidbits that complement listings and descriptions of Yuletide events across the Pelican State. Readers will delight in this authentic collection.
---
Making Christmas Bright with Papercrafts: More Than 40 Festive Projects! by Alice Hörnecke
book
hoopla ebook
Christmas is an ideal time to get in the spirit of the season by creating festive decorations and gifts with a personal touch. This delightful collection of 43 unique papercraft projects will get everyone in a festive mood with its decorative suggestions for the home and the holiday table, Christmas tree ornaments, handmade gifts, and much more.
The book abounds in photos, templates, and easy-to-follow instructions for everything from a beautiful origami wreath to cut-out snowflakes, place-setting accessories, gift-wrapping accents, and an Advent candle holder. Each project is accompanied by helpful tips as well as a list of materials and measurements. The splendid variety of options make this the perfect guide and resource for papercrafters at every level of experience.
---
Scandinavian Christmas Crafts and Recipes by Helene S. Lundberg
book
How to make 35 small and simple Christmas decorations and gifts with a subtle Scandinavian look. Simple designs, both modern and traditional, for stockings, advent calendars, wreaths, table decorations, tree skirts, ornaments, cards, and more. Also includes 5 delicious recipes for traditional Scandinavian Christmas baked goods. Uses simple sewing, papercraft, and cooking techniques.
---
A Very Merry Paper Christmas: 25 Creative Ornaments & Decorations
book
It's the most wonderful time of the year, so celebrate in style with festive, homemade paper crafts. From wreaths and buntings to table settings, tree toppers, and ornaments, this collection of 25 projects offers a bounty of beautiful decorative items. They all use straightforward techniques like cutting, folding, stapling, and taping, and include plenty of helpful how-to illustrations along with templates.