Fa-la-la-la-love! Grab a cup of cocoa or eggnog and spice up your holidays with these new romances. For even more ebooks and audiobooks, visit our OverDrive curated list. If you're looking for holiday movies, check out our hoopla Bonus Borrows Collection. Recommended by Carrie Goodall.
Mistletoe and Mr. Right by Sara Morgenthaler
book
OverDrive ebook
hoopla ebook
hoopla audiobook
The holidays are happier when you find a place to belong, especially if it's with your true love and a Scrooge-like moose…
Lana Montgomery has loved Moose Springs since she was a child, and she's determined to show she belongs, but she's getting the cold shoulder from the locals. When an elusive and vengeful moose comes to town, hell-bent on destroying everyone's decorations, Lana agrees to help rid Moose Springs of the antlered menace in the hope of winning the town over for good.
Rick Harding has been hit hard with a painful divorce and failing business. He's barely scraping by, and he fully expects an eviction notice for Christmas. But when Lana accidentally tranquilizes him instead of the Santa Moose, it's obvious that they both need a little holiday help.
---
An Ivy Hill Christmas by Julie Klassen
book
OverDrive ebook
hoopla ebook
Haunted by an old secret and the shadows of his past, gentleman Richard Brockwell prefers to stay away from Ivy Hill–until his mother threatens to stop funding his carefree life unless he returns for Christmas. Will Christmastime in Ivy Hill, with all of its divine hope, unforeseen surprises, and unexpected romantic encounters, work its magic in his heart?
---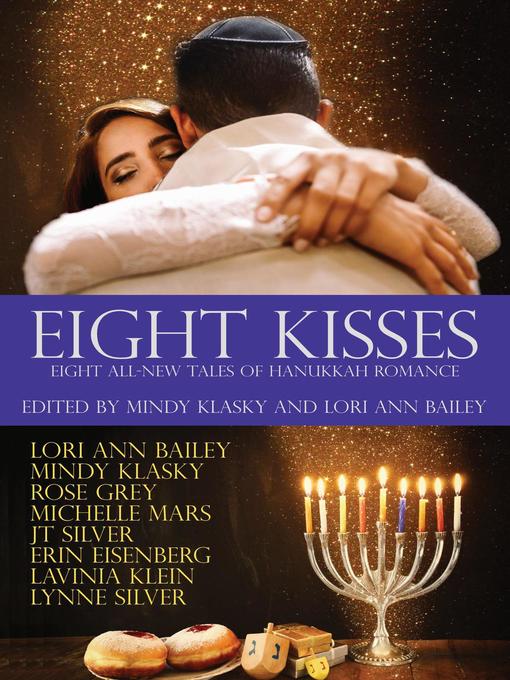 Eight Kisses: Eight All-New Tales of Hanukkah Romance
OverDrive ebook
Hanukkah is the Festival of Lights, celebrating an ancient miracle with candles, fried foods, and family gatherings. What better time to find true love?
From Regency Scotland to contemporary New York City, from sweet short stories to super-spicy novellas, Eight Kisses spreads a feast of love. Interfaith opposites attract. A small-town reunion offers a second chance. An interracial couple rises above initial misunderstandings. Online dating yields unexpected foodie dreams. A Jewish mourner discovers solace at a Catholic feast. A hometown visit heals old wounds. The girl next door is something more. Seasoned lovers reaffirm true love.
Eight Kisses includes the following stories by USA Today bestselling authors, award-winning authors, and exciting debut authors:
Lori Ann Bailey – "A Highlander for Hanukkah"
Mindy Klasky – "Harmony Lights"
Rose Grey – "Can't Help Falling"
Michelle Mars – "Frisky Connections"
JT Silver – "Love and Latkes"
Erin Eisenberg – "Hanukkah Kisses"
Lavinia Klein – "Bubbe Linda's Menorah"
Lynne Silver – "Rededication"
---
Royal Holiday by Jasmine Guillory
book
large print book
OverDrive ebook
Vivian Forest has been out of the country a grand total of one time, so when she gets the chance to tag along on her daughter Maddie's work trip to England to style a royal family member, she can't refuse. She's excited to spend the holidays taking in the magnificent British sights, but what she doesn't expect is to become instantly attracted to a certain Private Secretary and his charming accent and unyielding formality. Malcolm Hudson has been the Queen's Private Secretary for years and has never given a personal, private tour…until now. He is intrigued by Vivian the moment he meets her and finds himself making excuses just to spend time with her. When flirtatious banter turns into a kiss under the mistletoe, things snowball into a full-on fling. Despite a ticking timer on their holiday romance, they are completely fine with ending their short, steamy fling come New Year's Day…or are they?
---
A Princess for Christmas by Jenny Holiday
book
OverDrive ebook
Leo Ricci's already handling all he can, between taking care of his little sister Gabby, driving a cab, and being the super of his apartment building in the Bronx. But when Gabby spots a "princess" in a gown outside of the UN trying to hail a cab, she begs her brother to stop and help. Before he knows it, he's got a real-life damsel in distress in the backseat of his car.
Princess Marie of Eldovia shouldn't be hailing a cab, or even be out and about. But after her mother's death, her father has plunged into a devastating depression and the fate of her small Alpine country has fallen on Marie's shoulders. She's taken aback by the gruff but devastatingly handsome driver who shows her more kindness than she's seen in a long time.
When Marie asks Leo to be her driver for the rest of her trip, he agrees, thinking he'll squire a rich miss around for a while and make more money than he has in months. He doesn't expect to like and start longing for the unpredictable Marie. And when he and Gabby end up in Eldovia for Christmas, will the princess who is all wrong for him also be the woman who is his perfect match?
---
Christmas with the Okafors by Ashley Antoinette
book
T'was the night before Christmas and all through house
A whole family slept soundly, three kids, two grandchildren, a husband and his spouse…
Ezra "Ethic" Okafor and his family are finally complete. After years of loneliness, Ethic has met his match in Alani. She's the queen of his castle and is a doting mother figure to his children. Only a few months have passed since they wed, but they've spent them happily and peacefully. Alani can't wait to start new traditions with her family, and she is determined to make the twelve days before Christmas memorable for them all. Catch up with the Okafors as they spread a bit of nostalgia and some Christmas cheer in this surprise release by Ashley Antoinette.
---
Spirit of the Season by Fern Michaels
book
large print book
OverDrive audiobook
hoopla ebook
hoopla audiobook
Joy Preston misses her beloved late grandmother dearly. But when she learns the terms of Nana's will, she's shocked and more than a little irked. Joy moved to Colorado years ago and is now CEO of a successful nail polish company. Her life and career are in Denver. How can Nana have expected her to give that up, even temporarily, to take over a bed and breakfast in North Carolina for six months? Yet there's no denying Heart and Soul's charm, especially at holiday time. The B&B is always elaborately decorated for the season, with themed guest rooms and dazzling lawn displays created for the annual Parade of Homes competition. The entire town takes part in the festivities, and soon Joy, too, is joining in the gingerbread house contest and letting her reservations melt away. There's another special reason for Heart and Soul's popularity. Rumor has it that during holiday season, guests can be reunited with the spirit of a loved one who's passed on. Joy's skeptical, yet she feels her beloved Nana's influence all around her . . . perhaps even indulging in a little matchmaking between Joy and handsome estate attorney Will Drake. A special homecoming and the glow of new beginnings will combine to make the holiday magical.
---
Twelve Dates of Christmas by Jenny Bayliss
book
OverDrive ebook
When it comes to relationships, thirty-four-year-old Kate Turner is ready to say "Bah, humbug." The sleepy town of Blexford, England, isn't exactly brimming with prospects, and anyway, Kate's found fulfillment in her career as a designer, and in her delicious side job baking for her old friend Matt's neighborhood café. But then her best friend signs her up for a dating agency that promises to help singles find love before the holidays. Twenty-three days until Christmas. Twelve dates with twelve different men. The odds must finally be in her favor… right? Yet with each new date more disastrous than the one before–and the whole town keeping tabs on her misadventures–Kate must remind herself that sometimes love, like mistletoe, shows up where it's least expected. And maybe, just maybe, it's been right under her nose all along.
---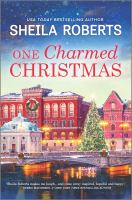 One Charmed Christmas by Sheila Roberts
book
OverDrive ebook
hoopla audiobook
Catherine Pine is hoping her Christmas is a bit more jolly than last year's. That one was her first without her husband, and with her kids and their families absent this year, she's worried. But things change when her good friend invites her on a Christmas cruise to lift her spirits. Suddenly every day is an adventure and she's making a bunch of new friends, including the lovable Sophie Miles.
It's like a gift from Santa when Sophie and Catherine meet the charming Dr Rudy Nichols, a perfect match for hypochondriac Sophie. But he comes with a two-legged lump of coal, his guard-dog daughter. And then there's chocolatier Trevor March, who's also interested in the scrumptious Sophie. Can he convince her that chocolate is the perfect cure for what ails her? Who knows what Santa has in store for these holiday travelers? Anything could happen this charmed Christmas!
---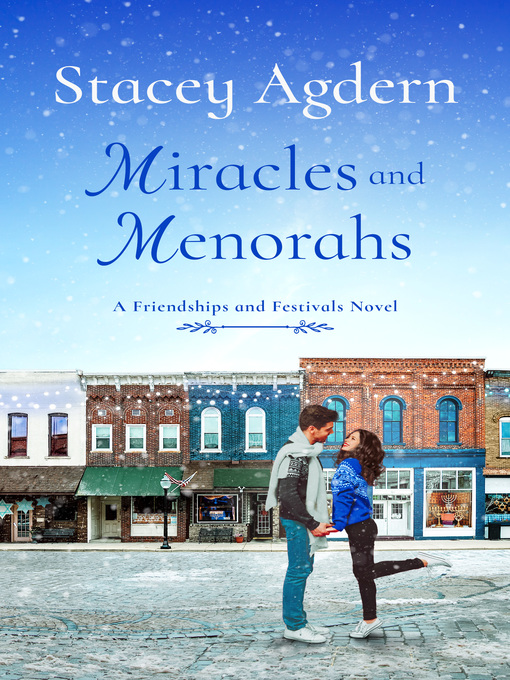 Miracles and Menorahs
OverDrive ebook
Sarah Goldman loves Hanukkah, and she's thrilled to be appointed as vice chair of the Hollowville Hanukkah Festival. So when the festival is threatened with cancellation, she comes up with an idea: a new slogan and advertising campaign topped off with a metal menorah large enough to fill the center of town. But even though her heart and dreams are large, the committee's budget constraints threaten to stop her grand plans right in their tracks.
Famous metal sculptor Isaac Lieberman also loves Hanukkah. But his vision of a perfect Hanukkah isn't a commercial community event—it's spending time with family, following age-old traditions. He's not interested in the festival, no matter how many times his grandmother, his bubbe, asks him to contribute one of his sculptures.
Then Sarah comes tumbling into his life. Can she change his mind about more than just the holidays?
---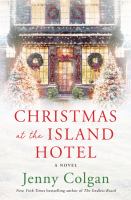 Christmas at the Island Hotel by Jenny Colgan
book
New York Times bestselling author Jenny Colgan returns to the setting of Christmas on the Island and Endless Beach for a heartwarming new novel celebrating the season and Scotland.
On the tiny, beautiful, and remote island of Mure, halfway between Scotland and Norway, a new hotel opening is a big event. New mother Flora MacKenzie and her brother Fintan are working themselves half to death to get it ready in time for Christmas.
The new hotel's impressive kitchens throw together two unlikely new friends: Isla Gregor is the hardworking young girl who has been a waitress in the island's cafe, dreaming of a bigger, better life now that she's at a proper fancy hotel. Konstantin Pederson is working his way up in the hotel's kitchens too; however he is also, secretly, the only son of the Duke of Utsire. Konstantin has been sent to learn what it is to work hard for a living, before receiving his inheritance. Although he's initially resentful, the place grows on him; he has never met anyone quite like Isla and her fellow Murians before.
As the island's residents and special VIP guests gather for the hotel's grand opening gala, Christmas is in the air. But so are more than a few small-town secrets…
---
The Christmas Swap by Melody Carlson
book
OverDrive ebook
hoopla ebook
When songwriter West Prescott tries a vacation trade for Christmas, he accidentally ends up playing the caretaker of his own house and falling in love with the struggling musician staying there. Will keeping his true identity from her hinder their blossoming romance?
---
One More for Christmas by Sarah Morgan
book
OverDrive ebook
hoopla audiobook
A brush with mortality compels a tough-love businesswoman to gather her estranged family for a Christmas reunion in Scotland, where she teams up with her adorable granddaughter to help her daughters reconcile.