These urban fiction titles focus on the joys and the struggles of family relationships. If you're in the holiday mood, check out the family Christmas novel by best seller Ashley Antoinette. Recommended by Carrie Goodall.
Christmas with the Okafors by Ashley Antoinette
book
More titles by Ashley Antoinette
More titles by Ashley Antoinette on OverDrive
More titles by Ashley Antoinette on hoopla
T'was the night before Christmas and all through house, a whole family slept soundly, three kids, two grandchildren, a husband and his spouse. Ezra "Ethic" Okafor and his family are finally complete. After years of loneliness Ethic has met his match in Alani. She's the queen of his castle and is a doting mother figure to his children. Only a few months have passed since they wed, but they've spent them happily and peacefully. Alani can't wait to start new traditions with her family and she is determined to make the twelve days before Christmas memorable for them all. Catch up with the Okafors as they spread a bit of nostalgia and some Christmas cheer. Grab a cup of hot chocolate, spike it with something strong (because that's the Ash Army way), hit play on the holiday playlist, and snuggle up by the fire as this novel gets you into the Christmas spirit. Merry Christmas Ash Army!
---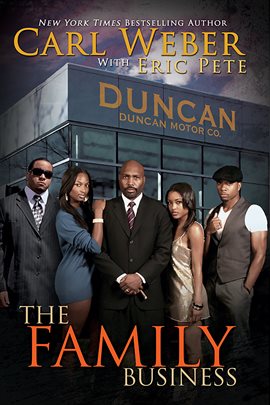 The Family Business by Carl Weber
book
OverDrive ebook
OverDrive audiobook
hoopla ebook
hoopla audiobook
More titles by Carl Weber
More titles by Carl Weber on OverDrive
More titles by Carl Weber on hoopla
By day, the Duncans are an upstanding family who run a thriving car dealership in Queens. By night, they live a dangerous secret life! Carl Weber and Eric Pete deliver a thrilling underworld drama in The Family Business. L.C. Duncan, patriarch of the family, is at the age when he's starting to think about retirement in sunny Florida. But the recession is taking a bite out of the business and, worrying more, he has to decide which of his children should take over. When his workaholic son Orlando gets the nod, Orlando's siblings — including the favorite son Vegas, conniving daughter London, glamorous party girl Paris and flamboyant nightclub owner Rio — are up in arms. But so are the Zunigas, a rival family whose fragile business alliance with the Duncans may explode at any moment.When Vegas suddenly breaks away from the family, London's lawyer husband, Harris, makes a play for the company and all hell breaks loose. Selling cars, it turns out, is only a small part of the Duncans' family business. Each member of the family has a secret expertise to reveal. And now, under siege from the Mafia, Mexican drug cartels and the Zunigas, the Duncans will have to stick together — or die separately!
---
Goodfellas by Carl Weber, Ty Marshall, and Marlon PS White
book
book on CD
OverDrive ebook
OverDrive audiobook
hoopla ebook
hoopla audiobook
Headlined by New York Times bestseller Carl Weber, three authors bring readers tales of power, greed, and ambition set in some of the country's roughest neighborhoods.
"Sibling Rivalry" by Carl Weber: They say the parent's sins always fall into the children's laps. Twins Kayden and Jayden Vincent have walked in their father's kingpin shadow as two princes fighting for the same throne since they were children. Now, finally at the age where the transition is inevitable, it seems as if the twins are going head to head when it comes to everything around them. What they don't know is that the crown they are fighting for comes with its own burdens — like a past the kingpin forgot to tell them about. It's a past that, if not dealt with, will leave both men without an empire to inherit.
"Love Seldom, Trust Never" by Ty Marshall: While attending his estranged father's funeral, East is approached by the legendary Ricardo Wheeler, who offers him the opportunity of a lifetime. Wheeler takes the young man under his wing, but when Wheeler's son and heir-in-waiting becomes jealous, his excessive ambition and quest for power lead to betrayal. A treacherous war is set in motion that will force the powerful legend to choose between his two sons. Anything built on a lie will eventually crumble. When no one and nothing are what they seem, who can you trust?
"The Bag Is In" by Marlon PS White: Slow grinding for years, Greedy and GiGi are ready to step up their game, with a thirst to be Detroit's King and Queen of the Trap. The struggle is real, but the payoff will be major. After cashing out their middleman up front, the couple's hood dream tragically turns into a nightmare. The middleman is popped, and the infamous Mexican pipeline is broken. Greedy and GiGi devise a seemingly flawless plan to not only recoup their invested cash, but to link up with one of the most notorious cartels across the border. What seems like sunshine quickly turns to rain, however, and chaos erupts.
---
Mattie's Call by Stacy Dean Campbell
book
When their mother goes missing from her nursing home, three estranged siblings must fulfill the requests left in her will before they can find closure–or receive their inheritance.
Mattie Benson feels trapped in Grand Oak Acres Nursing Home. Abandoned by her adult children and missing her deceased husband, she takes matters into her own hands and leaves the facility. A Mattie's Call is issued, and soon, the siblings learn things about their mother they never knew — namely, her ability to bring them together through the conditions of her will.
Gabrielle, the eldest daughter, must stop living life on her looks, get a job, and move out of the family home. This feat proves difficult for a forty-nine-year-old woman accustomed to the generosity of wealthy men.
Joshua, the runaway groom, must reconnect with the son he never knew existed. He isn't against the idea, but facing the only love of his life proves more difficult than he anticipated.
Alice, Mattie's baby girl, has been trapped in a loveless marriage for years. The stipulation that she complete her college degree scares her more than climbing a mountain, but an unforgivable moment with her husband proves she must move forward with her life.
Stumbling and ultimately rising to the challenge, the siblings get to know one another as their parents' legacy mends old wounds and paves the way for new beginnings.
---
My Mama's Drama by La Jill Hunt
book
book on CD
More titles by La Jill Hunt
More titles by La Jill Hunt on OverDrive
More titles by La Jill Hunt on hoopla
The love/hate relationship between Diane and Kendra Williams takes mother-daughter drama to entirely different level.
Diane is a single mother who prides herself on being a master manipulator. She has no problem using anything or anyone to get what she wants. Whether it's treating her sister, Celia, as her personal ATM or seducing unlikely, unsuspecting men, she will do whatever it takes to get ahead.
Her daughter, Kendra, is a hardworking student who does a better job parenting her younger twin sisters than their mom does. She is determined to be nothing like her mother, and instead, strives to follow in her Aunt Celia's footsteps to get the car, house, and career of her dreams. After meeting Bilal, a handsome, streetwise entrepreneur, she may just land the man of her dreams as well.
When tragedy strikes one of the twins, instead of being there for her family, Diane sees it as one more opportunity to exploit for her own personal gain. And when a secret that both Diane and Kendra have been keeping comes out, the entire family is ripped apart. Will Kendra be able to hold on to everything that means the world to her, or will her mama's drama snatch it all away?
---
Anointed by Patricia Haley
large print book
OverDrive ebook
OverDrive audiobook
hoopla ebook
hoopla audiobook
More titles by Patricia Haley
More titles by Patricia Haley on OverDrive
More titles by Patricia Haley on hoopla
Dave Mitchell is relishing the success of his start-up company, DMI. Success, however, has come at a tremendous price on the home front. The closeness he once shared with his wife of twelve years is gone. Dave spends most of his time working, while Madeline is struggling with balancing her job and home. When she elects to take time off and let Dave run the business, their lives are forever changed.
Revered by others as a man of strong faith, Dave is not above temptation. His professional relationship with his new secretary eventually crosses the line, and the two share a night of passion. Madeline is crushed when she discovers the affair, but she has sacrificed too much already to let go. She digs her heels in, refusing to give up her marriage, her family, her company, or her place in Dave's heart.
---
Heart of the Hustle by A'zayler
Large Print book
OverDrive ebook
hoopla ebook
hoopla audiobook
More titles by A'zayler
More titles by A'zayler on OverDrive
More titles by A'zayler on hoopla
They inherited ultimate power. Heir to the infamous DeLuca drug cartel fortune, Angel DeLuca walked away from it all for a normal life, until a wrenching betrayal shattered his belief in anything but saving his family's hard-won legacy. He's come back to lead the DeLuca empire no matter the cost. But his most dangerous rival is the one woman whose fierce determination he can't resist.
Emilia East grew up in the game, virtually a daughter to Angel's mother. In fact, she's been the one enforcing the cartel rules and expanding the business, so she's not about to step aside for someone who threw everything away. But when two rival cartels put a target on her back, going on the run with Angel is her only chance to survive. And his unexpected strength and concealed passion sparks a love Emilia can't get enough of. Now they have one last shot to save their empire and themselves.
---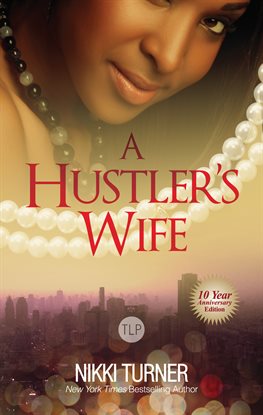 A Hustler's Wife by Nikki Turner
hoopla ebook
hoopla audiobook
More titles by Nikki Turner
More titles by Nikki Turner on OverDrive
More titles by Nikki Turner on hoopla
Yarni, a sweet and innocent girl from a well-to-do family, by chance meets Richmond's notorious drug kingpin, Des. The spark between them immediately blossoms into an astronomical love, which separates Yarni from her family and friends. But when Des is sentenced to life in prison, Yarni will learn that being a hustler's wife isn't all that easy with her sole provider behind bars.
A decade after its original release Nikki Turner's debut novel is back and in digital form for the very first time. Nikki Turner takes readers along for the ride as Yarni struggles to survive. At times she plays the game, at other times the game plays her. It is a journey filled with laughter and tears, failures and triumphs.
---
Ride Wit' Me by Joy Deja King
book
More titles by Joy Deja King
Mercedes, 16, is rich and black; she attends an exclusive private boarding school on the East Coast, but returns home to her family's mansion in the Chicago suburbs every summer. She knows that her father is an entrepreneur, but he dismisses questions about his business with a simple, Mo' money, mo' problems. When Mercedes falls in love with sexy, confident, 17-year-old Dalvin, her father prohibits the relationship and reveals to his daughter that he and Dalvin's father are big-time criminals who each own half of Chicago's streets. The star-crossed lovers break up under duress, but a near tragedy brings them back together and later even strengthens their bond.