Read a book set in Louisiana.
If you've got the envie to pass a good time, read a book set in the bayou state. And don't forget to tell ya mama an' them about this challenge! Find recommendations for adults, teens, middle graders, and children. Get more information about the Read 2021 Challenge here.
Adults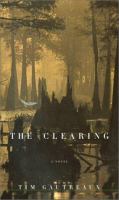 The Clearing by Tim Gautreaux
book
book on CD
hoopla audiobook
OverDrive audiobook
Before the Great War, Byron Aldridge had led a charmed life as the heir apparent to a Pennsylvania timber empire, and as guide and idol to his younger brother. After returning from France, he disappeared altogether until he's discovered working in a remote Louisiana sawmill. His brother, assuming charge of the mill, struggles to understand him, even as their wives contend with their own hopes and disappointments, and the future grows fearsome for them all.
---
In the Sanctuary of Outcasts by Neil White
book
OverDrive ebook
OverDrive audiobook
hoopla audiobook
In the Sanctuary of Outcasts tells the stories of magazine publisher Neil White during the time he spent incarcerated in Carville, La., and the criminals and "secret people" he met in prison who helped him transform his life.
Before his conviction for check kiting, White was living the good life in a world of beautiful people. In prison, he felt decidedly out of place. He was sympathetic to the plight of the leprosy patients, but he also was afraid of contracting their disease. Then he had an idea that he was sure would lead to fame and fortune after he was freed: He would write an expose about Carville. White began to interview patients, inmates, priests, and nuns. He made friends. Disfigurements and disabilities faded into the background as he got to know and appreciate his new neighbors.
Then his world shattered. His wife decided to file for divorce. He faced a future living apart from his two young children. In his despair, he faced his sin of pride, admitted the full extent of his guilt, and questioned his goals.
---
The Feathered Bone by Julie Cantrell
book
large print book
OverDrive ebook
hoopla ebook
hoopla audiobook
Freading ebook
In the pre-Katrina glow of New Orleans, Amanda Salassi is anxious about chaperoning her daughter's sixth grade field trip to the Big Easy during Halloween. And then her worst fears come true. Her daughter's best friend, Sarah, disappears amid the magic and revelry—gone, without a trace.
Unable to cope with her guilt, Amanda's daughter sinks into depression. And Amanda's husband turns destructive as he watches his family succumb to grief. Before long, Amanda's whole world has collapsed. Amanda knows she has to save herself before it's too late. As she continues to search for Sarah, she embarks on a personal journey, seeking hope and purpose in the wake of so much tragedy and loss.
Set amidst the murky parishes of rural Louisiana and told through the eyes of two women who confront the darkest corners of humanity with quiet and unbreakable faith, The Feathered Bone is Julie Cantrell's master portrait of love in a fallen world.
---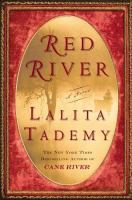 Red River by Lalita Tademy
book
large print book
book on CD
For the newly-freed black residents of Colfax, Louisiana, the beginning of Reconstruction promised them the right to vote, own property and at last control their own lives. Tademy saw a chance to start a school for his children and neighbors. His friend Israel Smith was determined to start a community business and gain economic freedom. But in the space of a day, marauding whites would "take back" Colfax in one of the deadliest cases of racial violence in the South. In the bitter aftermath, Sam and Israel's fight to recover and build their dreams will draw on the best they and their families have to give and the worst they couldn't have foreseen. Sam's hidden resilience will make him an unexpected leader, even as it puts his conscience and life on the line. Israel finds ironic success and the bitterest of betrayals. And their greatest challenge will be to pass on to their sons and grandsons a proud heritage never forgotten and the strength to meet the demands of the past and future in their own unique ways. An unforgettable achievement, a history brought to vibrant life through one of the most memorable families in fiction, Red River is about fathers and sons, husbands and wives, and the hopeful, heartbreaking choices we all must make to claim the legacy that is ours.
---
Zeitoun by Dave Eggers
book
book
book on CD
OverDrive audiobook
hoopla audiobook
When Hurricane Katrina struck New Orleans, Abdulrahman Zeitoun, a prosperous Syrian-American and father of four, chose to stay through the storm to protect his house and contracting business. In the days after the storm, he traveled the flooded streets in a secondhand canoe, passing on supplies and helping those he could. A week later, on September 6, 2005, Zeitoun abruptly disappeared. Eggers's riveting nonfiction book explores Zeitoun's roots in Syria, his marriage to Kathy, an American who converted to Islam, their children, and the surreal atmosphere (in New Orleans and the United States generally) in which what happened to Abdulrahman Zeitoun was possible.
---
A Lesson Before Dying by Ernest Gaines
book
book on CD
book on CD
OverDrive ebook
A Lesson Before Dying is a deep and compassionate novel about a young man who returns to 1940s Cajun country to visit a black youth on death row for a crime he didn't commit. Together they come to understand the heroism of resisting.
---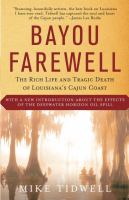 Bayou Farewell by Mike Tidwell
book
Mike Tidwell knew nothing of the disappearing bayou country when he first visited the Cajun coast of Louisiana, but the evidence was all around him: the skeletons of oak trees killed by the salinity of the groundwater, whole cemeteries sinking into swampland and out of sight, telephone poles in deep, standing water. Thanks to human hands, the storied Louisiana coast was eroding, subsiding, and joining the Gulf of Mexico, making it the fastest disappearing landmass on Earth. Yet no one seemed to know how to talk about the problem. Tidwell, a celebrated travel and environmental writer, decided to begin the much-needed conversation, and this vivid, elegiac book is the result.
Tidwell introduces us to the surprisingly varied population of the area: the Cajun men and women who work the seasonal shrimp harvest, the Vietnamese fishermen, and the Houma Indians driven to the farthest ends of the bayou by the first European settlers. He describes the food, the music, the culture, and the life of all those who live along the bayous. And under his keenly observant eye, the bayou itself becomes a compelling character, reminding us of how much we stand to lose if we fail to address the problems facing this most vibrant of places.
---
Divine Secrets of the Ya-Ya Sisterhood by Rebecca Wells
book
hoopla ebook
hoopla audiobook (unabridged)
Hoopla audiobook (abridged)
Freading book
A poignant, funny, outrageous, and wise novel about a lifetime friendship between four Southern women, Divine Secrets of the Ya-Ya Sisterhood brilliantly explores the bonds of female friendship, the often-rocky relationship between mothers and daughters, and the healing power of humor and love.
---
All the King's Men by Robert Penn Waren
book
book on CD
OverDrive ebook
hoopla ebook
hoopla audiobook
Set in the 1930s, this beloved book traces the rise and fall of Willie Stark, who resembles the real-life Huey Long of Louisiana. Stark begins his political career as an idealistic man of the people but soon becomes corrupted by success. First published in 1946, All the King's Men won the Pulitzer Prize, among other national book awards, and was made into an Academy Award-Winning film in 1949. One of the classics of American literature, All the King's Men is as relevant today as ever.
---
Queen Sugar by Natalie Baszile
book
large print book
OverDrive ebook
OverDrive audiobook
hoopla audiobook
Why exactly Charley Bordelon's late father left her eight hundred acres of sugarcane land in Louisiana is as mysterious as it was generous. Recognizing a chance to start over, Charley and her young daughter leave Los Angeles and arrive just in time for growing season in a Louisiana that's mired in the past. As the summer unfolds, Charley must balance the challenges of her farm with the demands of her family and the startling desires of her own heart.
---
The Acadian Diaspora by Christopher Hodson
book
This book tells the extraordinary story of thousands of Acadians expelled from Nova Scotia and scattered throughout the Atlantic world beginning in 1755. Following them to the Caribbean, the South Atlantic, and western Europe, historian Christopher Hodson illuminates a long-forgotten world of imperial experimentation and human brutality.
Young Adults
The Beautiful by Rene Ahdieh
book
OverDrive ebook
In 1872, New Orleans is a city ruled by the dead. But to seventeen-year-old Celine Rousseau, New Orleans is a safe haven after she's forced to flee her life as a dressmaker in Paris. Taken in by the sisters of the Ursuline convent in the middle of the carnival season, Celine is quickly enraptured by the vibrant city, from its music to its fancy soirees and even its danger. She becomes embroiled in the city's glitzy underworld, known as La Cour des Lions, after catching the eye of the group's enigmatic leader, Sebastien Saint Germain.
When the body of one of the girls from the convent is found in Sebastien's own lair–the second dead girl to turn up in recent weeks–Celine battles her attraction to Sebastien and suspicions about his guilt along with the shame of her own horrible secret.
After a third murder, New Orleans becomes gripped by the terror of a serial killer on the loose, one who has now set Celine in his sights. As the murderer stalks her, Celine finally takes matters into her own hands, only to find herself caught in the midst of an age-old feud between the darkest creatures of the night, where the price of forbidden love is her life.
---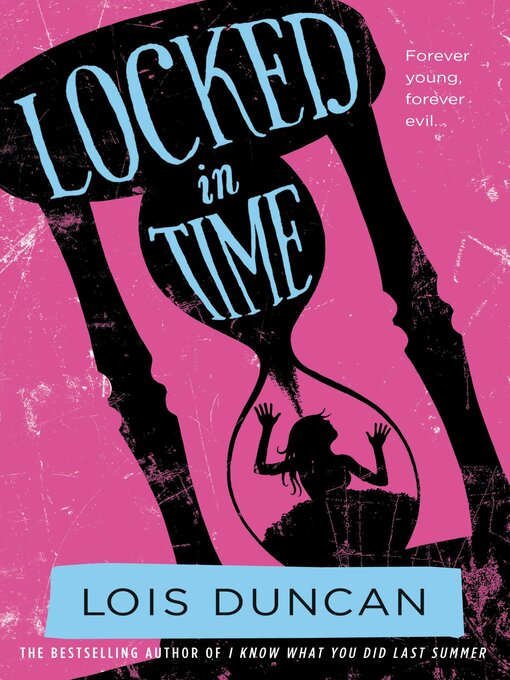 Locked in Time by Lois Duncan
book
Playaway audiobook
OverDrive ebook
OverDrive audiobook
Nore Roberts didn't ask for a new life, but now that her mom is gone and her dad is newly married, she has to settle in at Shadow Grove, the old Civil War mansion her step-family calls home. When she meets her stepmother, Lisette, Nore is shocked by her youth, beauty, and a hint of something sinister. There's hope of becoming friends with her stepbrother and sister, until Nore realizes they're hiding something. When she begins to feel like the target of a deadly plan, Nore starts digging into her step-family's past. The skeletons in their closet are more real than she ever imagined. Can Nore expose her stepmother's dark secret before an old and evil magic swallows her up?
---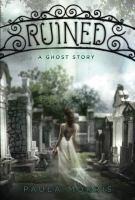 Ruined by Paula Morris
book
Rebecca couldn't feel more out of place in New Orleans, where she comes to spend the year while her dad is traveling. She's staying in a creepy old house with her aunt. And at the snooty prep school, the filthy-rich girls treat Rebecca like she's invisible. Only gorgeous, unavailable Anton Grey seems to give Rebecca the time of day, but she wonders if he's got a hidden agenda. Then one night, in Lafayette Cemetery, Rebecca makes a friend. Sweet, mysterious Lisette is eager to talk to Rebecca, and to show her the nooks and crannies of the city. There's just one catch: Lisette is a ghost. A ghost with a deep, dark secret, and a serious score to settle.
---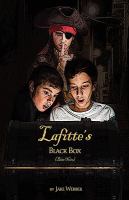 Lafitte's Black Box by Jake Webber
book
When he can no longer control what is real and what is imagined, Deveraux Parker realizes that his dream has become reality. Discovering a box that has been buried for two centuries, he finds himself on a quest for Lafitte's treasure through modern day New Orleans. Since moving to the Big Easy, Parker has had a hard time fitting in and finding friends, but as events unravel, he makes some unsavory pals and begins an unexpected adventure taking him to the oldest and most mysterious places in old New Orleans. The past and present collide as he tries to escape from his dream before he becomes part of the past.
A lifelong resident of Louisiana, author Jake Webber enjoys researching and studying history. He attended Louisiana State University and is a graduate of the University of Louisiana at Monroe. His professional background is in the medical field. He is married and lives in Baton Rouge with his wife and two children.
---
The Casquette Girls by Alys Arden
book
book
After the Storm of the Century rips apart New Orleans, Adele Le Moyne and her father are among the first to return to the city following the mandatory evacuation. Adele wants nothing more than for life to return to normal, but with the silent city resembling a mold-infested war zone, a parish-wide curfew, and mysterious new faces lurking in the abandoned French Quarter, normal will have to be redefined. The Storm has passed, but as the flood waters recede, the body count continues to rise. Mother Nature couldn't drain the joie de vivre from New Orleans, but someone or something is draining life from its residents. Amidst the mayhem, strange events (too unnatural even for New Orleans) lead Adele to an attic where she accidentally opens a Pandora's box, one that has been sealed for three hundred years. The chaos she unleashes threatens not only her life but everyone she knows. Caught suddenly in a hurricane of eighteenth-century myths and monsters, Adele must quickly untangle a web of magic and follow the threads back to the source. But who can you trust in a city where everyone has a secret, and where keeping them can be a matter of life and death – unless, that is, you're immortal.
---
The Agony House by Cherie Priest
book
hoopla audiobook
Seventeen-year-old Denise Farber, her mom, and her stepfather are moving back to New Orleans, into the Argonne house, which is over 100 years old, and really showing its age, but which her mother plans to turn into a bed-and-breakfast–but old houses have histories, and sometimes ghosts, and a mysterious old comic book that Denise finds in the attic may hold the answer to a crime and the terrifying things that keep happening in what she thinks of as the "Agony" house.
Middle Graders
Bayou Magic by Jewell Parker Rhodes
book
book on CD
OverDrive audiobook
hoopla audiobook
A magical coming-of-age story from Coretta Scott King honor author Jewell Parker Rhodes, rich with Southern folklore, friendship, family, fireflies and mermaids, plus an environmental twist.
It's city-girl Maddy's first summer in the bayou, and she just falls in love with her new surroundings: the glimmering fireflies, the glorious landscape, and something else, deep within the water, that only she can see. Could it be a mermaid? As her grandmother shares wisdom about sayings and signs, Maddy realizes she may be the only sibling to carry on her family's magical legacy. And when a disastrous oil leak threatens the bayou, she knows she may also be the only one who can help. Does she have what it takes to be a hero? Jewell Parker Rhodes weaves a rich tale celebrating the magic within.
---
Spy Recruit by Erin Osborne
book
When summer arrives for fifteen-year-old Tobey Freeman, he looks forward to long days of laser tag and adventures on the bayou. However, an unexpected invitation into the world of espionage interrupts his plans. Soon secrecy and suspense replace his carefree days, and he must make some difficult decisions in order to protect his friends and family. One day while playing video games, an undercover agent from the Central Intelligence Adolescent Agency offers Tobey the chance to compete for an opening. Tobey accepts the challenge and envisions himself as a daring agent, until he discovers that his best friends are vying for the very same spot. While Tobey sets out on assignments with his fellow recruits, he realizes that his friendships are more important than the missions. Knowing they are stronger together than individually, the group works as a team to untangle the web of secrets and stays one step ahead of the CIAA. Through a series of surprising twists and turns, readers follow Tobey on his intriguing missions and as he navigates through adolescence into adulthood. Along the way, he learns the importance of friends, family, teamwork, and making moral choices.
---
King and the Dragon Flies by Kacen Callender
book
hoopla audiobook
Twelve-year-old Kingston James is sure his brother Khalid has turned into a dragonfly. When Khalid unexpectedly passed away, he shed what was his first skin for another to live down by the bayou in their small Louisiana town. Khalid still visits in dreams, and King must keep these secrets to himself as he watches grief transform his family.
It would be easier if King could talk with his best friend, Sandy Sanders. But just days before he died, Khalid told King to end their friendship, after overhearing a secret about Sandy: that he thinks he might be gay. You don't want anyone to think you're gay too, do you?
But when Sandy goes missing, sparking a town-wide search, and King finds his former best friend hiding in a tent in his backyard, he agrees to help Sandy escape from his abusive father, and the two begin an adventure as they build their own private paradise down by the bayou and among the dragonflies. As King's friendship with Sandy is reignited, he's forced to confront questions about himself and the reality of his brother's death.
---
My Louisiana Sky by Kimberly Willis Holt
book
OverDrive ebook
OverDrive audiobook
Tiger Ann Parker wants nothing more than to get out of the rural town of Saitter, Louisiana, far away from her mentally disabled mother, her "slow" father who can't read an electric bill, and her classmates who taunt her. So when Aunt Dorie Kay asks Tiger to spend the summer with her in Baton Rouge, Tiger can't wait to go. But before she leaves, the sudden revelation of a dark family secret prompts Tiger to make a decision that will ultimately change her life.

Set in the South in the late 1950s, this coming-of-age novel explores a twelve-year-old girl's struggle to accept her grandmother's death, her mentally deficient parents, and the changing world around her. It is a novel filled with beautiful language, unforgettable characters, and the importance of family and home.
---
I Survived Hurricane Katrina, 2005 by Lauren Tarshis
book
OverDrive audiobook
hoopla audiobook
The storm of the century—and the survival story of a lifetime! It's the end of August 2005, and a big hurricane is blowing in to New Orleans, Louisiana. Barry's family plans to evacuate the Ninth Ward with everyone else, but when Barry's little sister gets violently ill, they must return to their home and stick out the storm. At first, everything seems fine. But then the levees break, the water rises, Barry is swept out of his home, and everything changes. Stranded in the floodwaters with no idea where he is and only a stranded dog by his side, Barry must find the courage to survive the storm of the century. Lauren Tarshis brings history's most exciting and terrifying events to life in this new fictional series. Readers will be transported by stories of amazing kids and how they survived!
Children
Before the Saltwater Came by Wendy Wilson Billiot
book
America's vanishing wetlands are an issue at the forefront of the nation's consciousness. Join La Loutre, the grandmotherly otter, as she gently tells of her life in the Louisiana marsh and how wetland loss is affecting her family, other wildlife, plants and humans. A story as suitable for adults as it is for children, Before the Saltwater Came is easy to read with fun illustrations.
---
Today is Monday in Louisiana by Johnette Donning
book
Red beans, po' boys, gumbo, jambalaya, catfish, crawfish, and beignets are foods most Louisianians have grown up eating, but for non-natives and visitors, these new words and tastes are a discovery upon their arrival in New Orleans, Lafayette, Shreveport, or Baton Rouge. In Today Is Monday in Louisiana, singer and songwriter Johnette Downing adapts a popular Louisiana song for everyone's enjoyment. Now, kids all over the country can "come and eat it up. "
Told with delicious repetition, this chronological culinary journey takes readers through the days of the week, describing one Louisiana dish a day. On Monday there are red beans to eat and on Tuesday, po' boys. On Wednesday gumbo is served, and on it goes through Sunday, when New Orleans' favorite breakfast treat, beignets, are enjoyed with a warm cup of cafe au lait. The glossary at the end of the book explains the origins and ingredients of the dishes and includes even more new words, like okra, sassafras, and lagniappe. A recipe for red beans and rice is included, encouraging readers to begin their week the Louisiana way.
---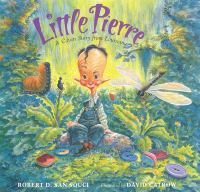 Little Pierre by Robert San Souci
book
Little Pierre may be small, but he's got more marbles rolling round in his itty-bitty noggin than his four big, lazy brothers heaped together. Yet they just call him runt and ignore him. Course, when the good-for-nothing brothers flub their attempt to rescue a damsel in distress from the Swamp Ogre, it falls on Little Pierre to rescue them. Will this half-pint hero find out that his brothers were right all along–brains don't beat brawn?
---
Hercules on the Bayou by Connie Collins Morgan
book
Including battles with a twelve-clawed crawfish and the taming of a raging hurricane, this Cajun re-imagining of the Hercules legend stirs together myth, culture, and Louisiana spice. Sent down to the hot and humid bayou from his kingdom in the clouds, Hercules must perform four daring labors to escape the immortal queen's wrath. Luckily, Hercules has godlike strength, bravery, and his new bayou family to help him conquer every incredible feat. This pourquois tale is told in the style of a gentle Cajun storyteller and features vibrant and whimsical illustrations.